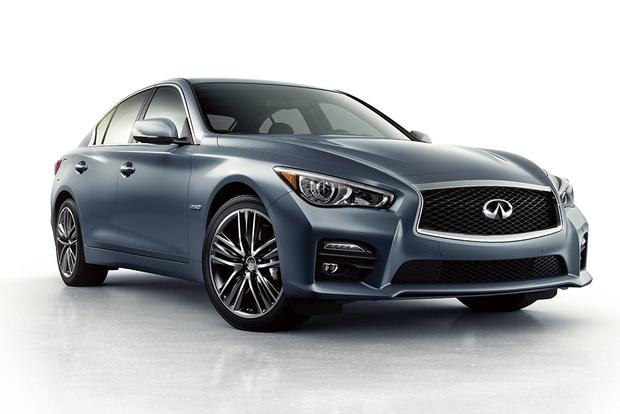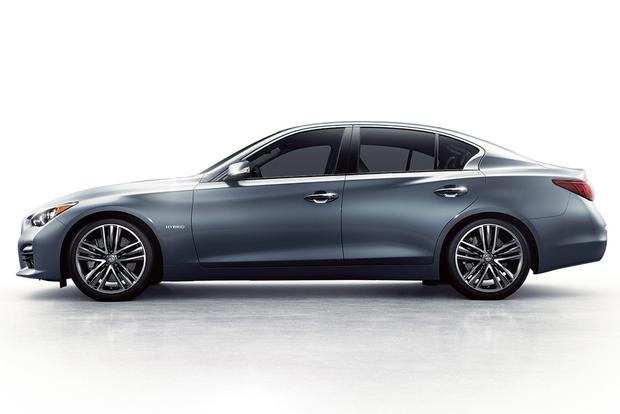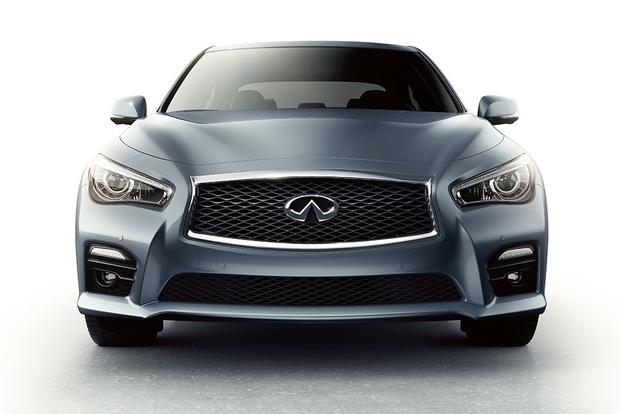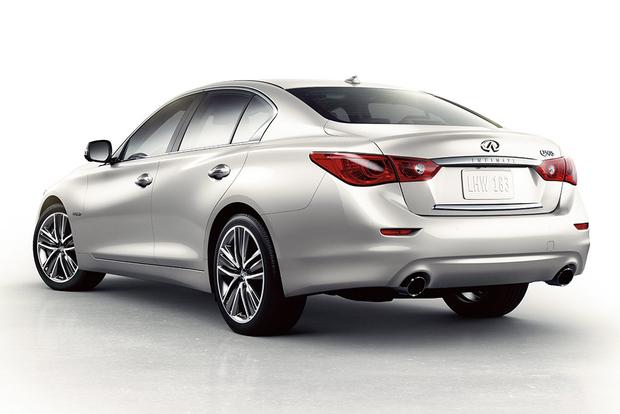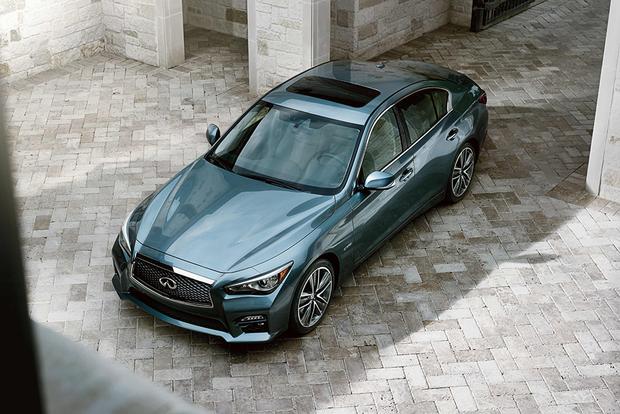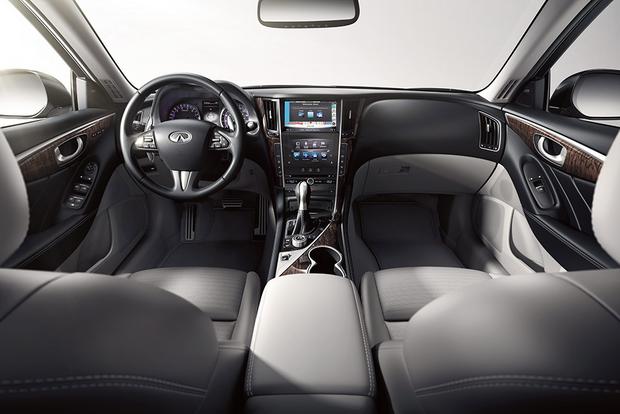 If you're looking for a thoroughly enjoyable luxury performance sedan, and you've grown bored with the BMW 3 Series, Mercedes-Benz C-Class or Cadillac ATS, the 2015 Infiniti Q50 deserves a good, long look. Its seductive body won't be mistaken for anything else on the road, and its impressive credentials include razor-sharp handling, a proven and powerful V6 engine, and a stunning cabin that is both warm and inviting.
The Q50 lineup for 2015 is as extensive as it luxurious, giving buyers a choice of rear- or all-wheel drive, and a choice of a gasoline or hybrid powertrain.
What's New for 2015?
For 2015, a new tire and wheel package, featuring lightweight Rays 19-inch alloy wheels, joins the options list.
What We Like
Silky styling; handsome interior; Hybrid model offers gutsy 360-horsepower powerplant; techy features ease the stress of driving in traffic; hard buttons and dual touchscreens make multimedia navigation easier
What We Don't
Steer-by-wire feature feels disconcerting during hard cornering; sophisticated driver-assist systems aren't for everyone, can feel intrusive; differing resolutions make dual touchscreens feel mismatched
How Much?
$38,055-$58,500
Fuel Economy
Nonhybrid Q50 models are powered by a 3.7-liter V6 that delivers 20 miles per gallon in the city and 29 mpg on the highway in the base Q50 3.7 model. Step up to the Q50's all-wheel-drive variants (Q50 3.7 AWD, Q50 3.7 AWD Premium and Q50S 3.7 AWD Premium models) and fuel economy downgrades to 19 mpg city/27 mpg hwy. The Q50 3.7 Premium and Q50S 3.7 models achieve 20 mpg city/29 mpg hwy.
The Q50 Hybrid Premium achieves 29 mpg city/36 mpg hwy, while the all-wheel-drive version dips to 28 mpg city/35 mpg hwy. The sportier Q50S Hybrid is rated at 28 mpg city/34 mpg hwy, while the Q50S Hybrid AWD receives the lowest rating of the hybrid models: 27 mpg city/31 mpg hwy.
Standard Features & Options
The 2015 Infiniti Q50 is available in six nonhybrid and four hybrid trim levels.
The Q50 3.7 model ($38,055) comes with 17-in alloy wheels, dual-zone climate control, dual multimedia displays, Bluetooth and LED headlights.
Stepping up to the Q50 3.7 AWD model ($38,855) adds all-wheel drive.
The next level up is the Q50 3.7 Premium ($40,905), which includes a 14-speaker Bose sound system, a moonroof, heated front seats and a HomeLink universal garage door opener, while the Q50 3.7 AWD Premium ($42,705) tops that list off with all-wheel drive.
Driving enthusiasts might be drawn to the Q50S 3.7 ($44,555), which features 19-in alloy wheels, more aggressive brakes, sports seats with 10-way power adjustable driver settings, firmer suspension, a sportier front bumper and magnesium paddle shifters. The Q50S 3.7 AWD ($46,355) adds all-wheel drive and a heated steering wheel.
A la carte options include a moonroof ($1,000 on Q50 3.7 and Q50 3.7 AWD models), navigation ($1,400 on Q50 3.7 Premium and Q50S 3.7 and Hybrid models) and leather seats ($1,000 for the Q50 3.7 Premium model). A Deluxe Touring Package is available on Q50 3.7 Premium and Q50S 3.7 models for $3,100 and adds direct adaptive steering, a power tilt-telescopic steering wheel, wood trim, 60/40 fold-down rear seats, an around-view monitor and rain-sensing wipers. A $3,200 Technology Package for Q50 3.7 Premium and Q50S 3.7 models includes predictive forward-collision warning, intelligent cruise control, lane departure warning and backup collision intervention, among other features.
Hybrid lovers will find a wide range of Q50 options, starting with the Q50 Hybrid Premium ($45,305), which comes with heated front seats, a moonroof, a rearview monitor and a 14-speaker Bose sound system.
Opt for the Q50 Hybrid AWD Premium ($47,105) and you'll get all-wheel drive and a heated steering wheel on top of those items.
The Q50S Hybrid ($47,705) includes 19-in alloy wheels, sport brakes, a more aggressive front bumper, aluminum-trimmed pedals, magnesium paddle shifters and sport seats with 8-way driver's seat adjustability.
The top-of-the-line Q50S Hybrid AWD ($49,505) includes all-wheel drive and a heated steering wheel.
A Deluxe Technology Package can be ordered on Q50 Hybrid Premium and Q50S Hybrid models for $5,000. It combines Deluxe Touring and Technology packages for $5,000, but does not include fold-down rear seats.
Safety
The Infiniti Q50 was crash-test rated by the National Highway Transportation Safety Administration (NHTSA) and earned a 5-star overall rating, with four stars in the front crash test and five stars for the side-impact and rollover tests. The Insurance Institute for Highway Safety (IIHS) gives the Q50 its best rating of Good in all but the small-overlap front-crash test, which earned a rating of Acceptable.
Also aiding the Q50's safety cause are features such as an optional predictive system that gauges the speed of the vehicle two cars ahead and an available lane departure warning system with Active Lane Control.
Behind the Wheel
Neither Q50 models are slouches: The internal combustion 328-hp 7-speed lineup produces brisk acceleration and smooth shifts, while the Hybrid models deliver even more grunt thanks to their total output of 360 hp. But the big (and controversial) news with the Q50 is the world's first steer-by-wire system, which interprets steering-wheel input through an electronic control unit and turns the front wheels via two electric motors. Should the system fail, an electric clutch engages a mechanical linkage, which lacks power-assist but enables the driver to maintain control of the vehicle. Using the smaller 7-in screen, parameters can be set, including steering effort and quickness.
While the steer-by-wire setup delivers what it promises in adjustability and isolation from vibrations, something starts to feel like it's missing during higher-speed corners. It's as though the system can only fabricate so much feedback until the car's physics catch up with the electronics. The Q50 drives with a secure, surefooted and swift grasp of the road. But real driving enthusiasts will want to skip the electronic steering and stick with the standard hydraulic system. There are, however, other reasons to tick the Direct Adaptive Steering box, including a lane-minding system that helps keep the car centered in its lane (when the road stays generally straight). Other techy driving features include distance control, which helps maintain a safety cushion between you and the car ahead of you.
Other Cars to Consider
2015 Audi A4 -- Audi's A4 delivers a more restrained package that nonetheless manages to attract a strong share of car shoppers in this segment. We think it has one of the nicest interiors in the class.
2015 BMW 3 Series -- The BMW 320i sedan opens up the Bavarian brand to more buyers, but its turbocharged 4-cylinder might not appeal to luxury buyers, and there is no all-wheel-drive hybrid model.
2015 Lexus IS 250 -- The other Japanese offering in this hotly contested category, the Lexus IS 250, delivers solid styling and comfort, but its interior isn't as cohesive or elegant as the Infiniti.
Used Infiniti M45 -- A 2011-2013 Infiniti M offers similar styling, the option of V8 engine and a more luxurious interior, all while staying within the Infiniti family.
Autotrader's Advice
With so many versions of the Q50, it's hard to say which is best. If we were looking for the most content at the best price, the Q50 3.7 Premium has just about everything you need with enough wiggle room to add a few options and still keep the price well under $50,000. The Q50S 3.7 is a great driver's car, but its ride may be too harsh for a nonenthusiast. If you want maximum fuel economy, all-season traction and just a hint of being green, the Q50 all-wheel-drive Hybrid Premium would be our second choice.