Car Comparison
2015 Jeep Cherokee vs. 2015 Jeep Grand Cherokee: What's the Difference?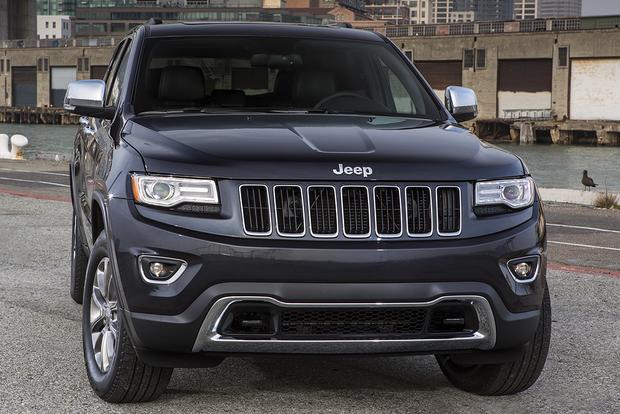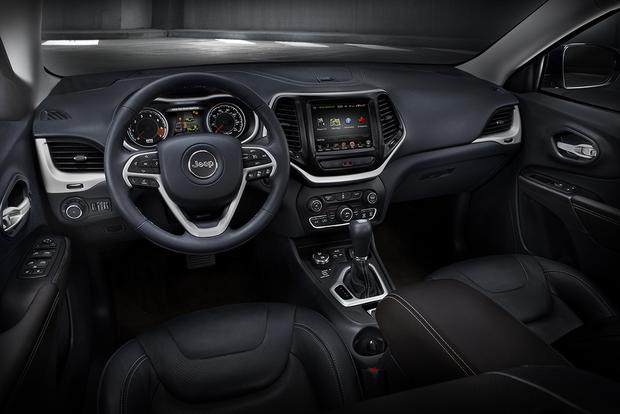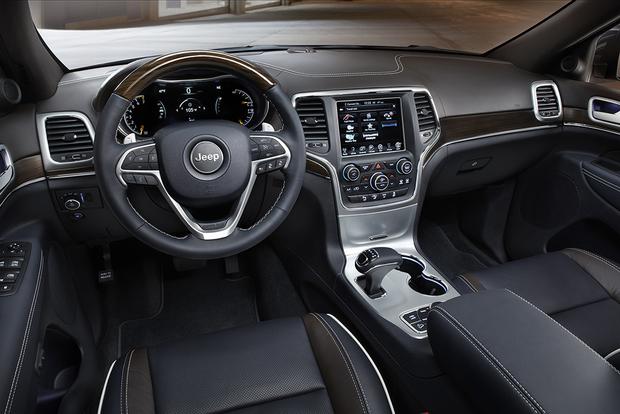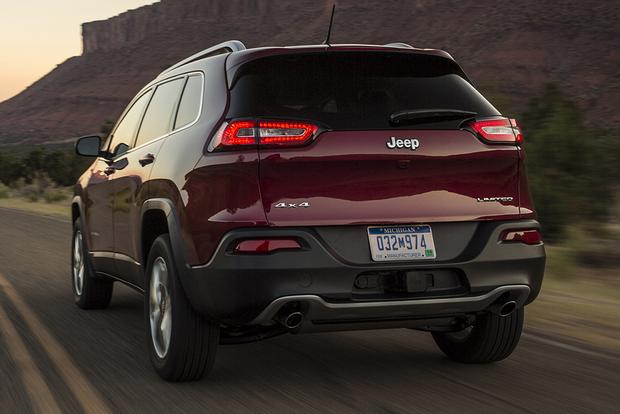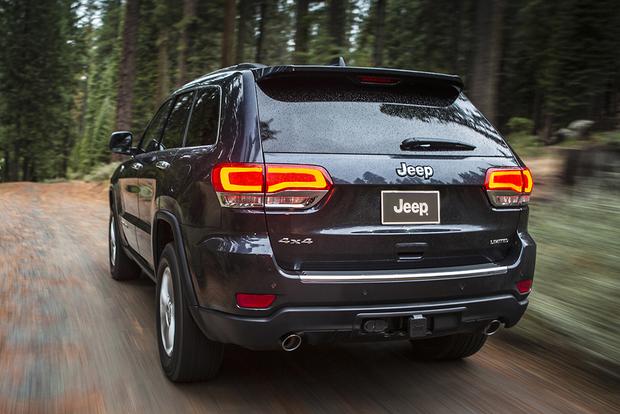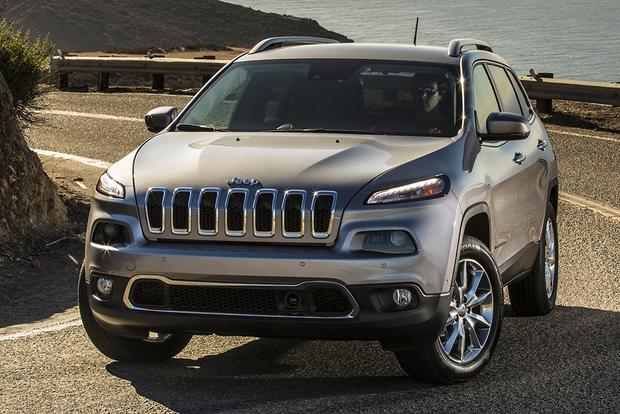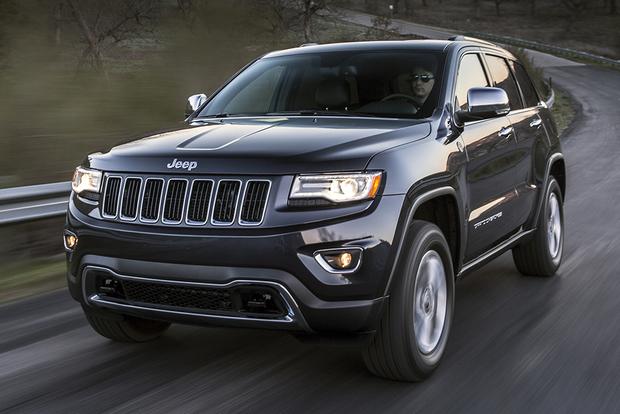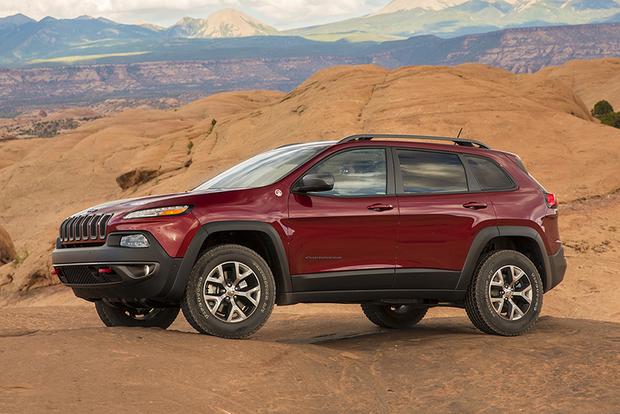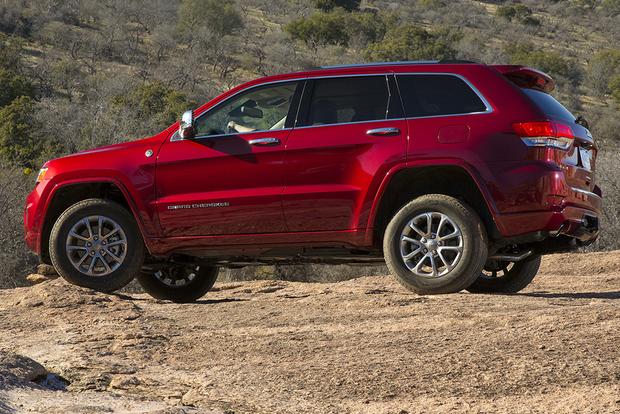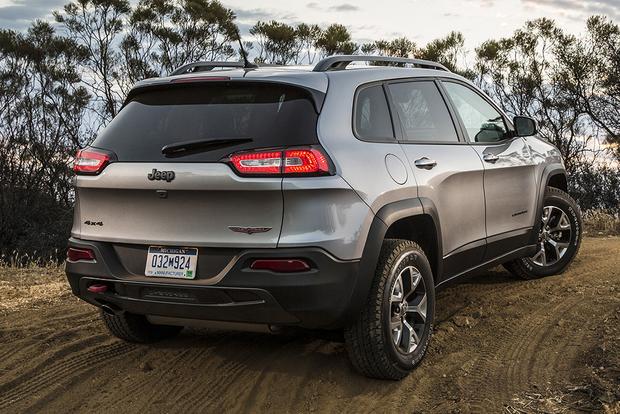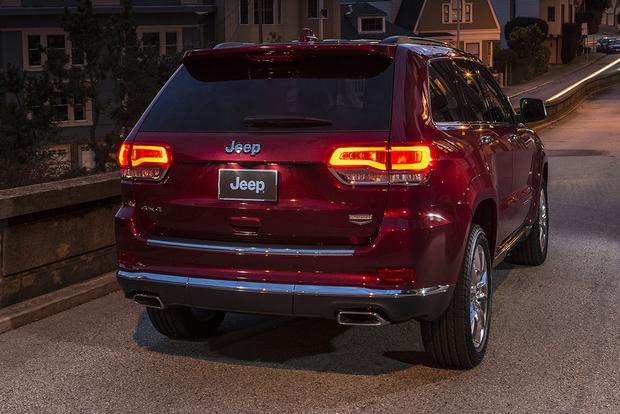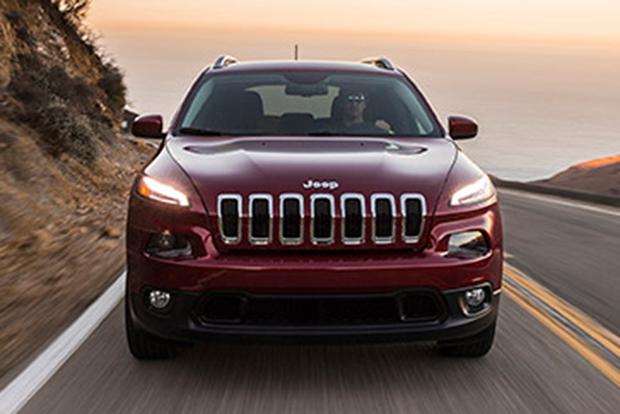 For the last several years, Jeep has offered a midsize SUV called the Grand Cherokee and a smaller one called the Liberty. But that recently changed: The Liberty is now gone and the old-school Cherokee moniker is back on a slightly larger vehicle. But with the Cherokee's increase in size, how exactly is the 2015 Jeep Cherokee different from the 2015 Jeep Grand Cherokee? To help you understand the differences, we've covered all the key distinctions that separate Jeep's two most popular SUVs.
Exterior
The Cherokee and Grand Cherokee clearly share some design elements on the outside, but a closer look reveals some substantial differences. The Cherokee is smaller, for example, and it uses an unusual grouping of three headlights on each side, compared to the Grand Cherokee's more traditional setup with a single headlight and fog light. The Grand Cherokee also offers a totally different rear end and more upright styling that stays true to its off-road-friendly image.
Interior
As you might expect, the Cherokee and Grand Cherokee offer similar, but still slightly divergent, interiors. The most obvious difference relates to interior space: While the Grand Cherokee offers a roomy cabin, the Cherokee feels a bit more claustrophobic, and hip room and legroom aren't quite up to the Grand Cherokee's generous levels.
Cabin materials also aren't quite on par with the Grand Cherokee. While both Jeeps share some switchgear, the Grand Cherokee's dashboard, plastics and trim are a cut above the Cherokee's, especially if you compare the top-end trim levels of both models. While we aren't disappointed with the Cherokee's appointments, high-level Grand Cherokee models can feel like luxury SUVs.
Mechanicals
The Cherokee offers two available engines, which are both smaller than the Grand Cherokee's available powerplants in keeping with its smaller size. Base-level Cherokee models use a 184-horsepower 2.4-liter 4-cylinder engine, while drivers looking for more power can upgrade to a 271-hp 3.2-liter V6. Fuel economy tops out at 22 miles per gallon in the city and 31 mpg on the highway with the 4-cylinder engine, or a surprisingly efficient 21 mpg city/29 mpg hwy with the V6.
The Grand Cherokee boasts four engine choices. Standard is a smooth 290-hp 3.6-liter V6, which returns up to 17 mpg city/24 mpg hwy. Optional for drivers interested in better fuel economy is a 240-hp 3.0-liter turbodiesel V6, capable of up to 21 mpg city/28 mpg hwy. Meanwhile, more power is offered in the form of a 360-hp 5.7-liter V8 that tops out at 14 mpg city/22 mpg hwy. For drivers especially interested in speed, the high-performance Grand Cherokee SRT uses a 475-hp 6.4-liter V8 that manages only 13 mpg city/19 mpg hwy.
Although that's a lot of information to digest, the general gist is this: The Cherokee offers better gas mileage and smaller engines, while the Grand Cherokee offers more grunt and a wider variety of powertrain options, including V6, V8, diesel and high-performance SRT models.
Features & Technology
We're happy to report that just about everything you could possibly want on the Cherokee is also available on the Grand Cherokee, and vice versa. Drivers won't be stuck spending extra money for a larger vehicle (the Grand Cherokee) or compromising on a smaller car with a newer body style (the Cherokee) just to get certain features they want.
Most importantly, both cars offer a wide variety of impressive standard features and options, which puts them ahead of the competition in nearly all cases. There's an available forward-collision warning system with automatic braking, for instance, along with lane-departure warning, a blind spot monitoring system and rear cross-traffic alert. Both cars offer adaptive cruise control, a navigation system and automatic high-beam control. Both also tout Chrysler's unique Uconnect system, which is one of the best infotainment systems in the industry.
One of the only real differences is that if you want Chrysler's new automated parking system, which covers both parallel and perpendicular spots, you'll have to get the Cherokee, as it's not yet available in the Grand Cherokee. Meanwhile, if you want extra off-road ability, the Grand Cherokee is the SUV for you, as it offers a wider array of off-road features and options, not to mention more ground clearance.
Driving Experience
The Grand Cherokee and Cherokee offer much different driving experiences. These are the kind of differences that clearly separate a small SUV from a larger one.
For example, the Cherokee feels lighter, easier to maneuver and smaller on the road (because it is). On the other hand, the Grand Cherokee's steering seems to be a little more vague, though its ride is more comfortable. Of course, the Grand Cherokee also offers a more commanding view of the road, and it seems to boast better rearward visibility, too.
In the end, both of these vehicles fall roughly in the middle of their segments when it comes to driving experience. The Cherokee feels like a traditional compact SUV, with compact SUV dimensions and maneuverability, while the Grand Cherokee feels more like a midsize or large SUV with the fuel economy, the seating position and the floaty, comfortable ride to go with it.
Safety
In government crash tests, both the Cherokee and the Grand Cherokee earned an overall four out of five stars. Meanwhile, in crash tests carried out by the nonprofit Insurance Institute for Highway Safety (IIHS), both SUVs earned generally high marks, though the Grand Cherokee scored a worrying Marginal rating on the difficult small front overlap crash test. The Cherokee has not yet completed that same test.
In terms of equipment, both the Cherokee and the Grand Cherokee offer roughly the same level of features, including standard items, such as side-curtain airbags and anti-lock brakes, and a wide range of safety options, such as lane-departure warning, a blind spot monitoring system, forward-collision alert and more. If safety is your top priority, rest assured that both of these SUVs will be good picks.
Conclusions
Despite similar names, the 2015 Jeep Cherokee and the 2015 Jeep Grand Cherokee are highly different vehicles in most ways. The Grand Cherokee is larger, more powerful, roomier and more luxurious, and it's better off-road than the smaller Cherokee. Meanwhile, the Cherokee offers improved fuel efficiency and a more carlike driving experience. Both SUVs tout roughly the same level of standard features, optional features and crashworthiness.
As a result, the difference between the Grand Cherokee and the Cherokee mainly comes down to size and price. Some shoppers will prefer the larger size of the Grand Cherokee, while others would rather have the easier-to-drive and less-expensive Cherokee. Regardless of your choice, both SUVs are highly recommended by us.