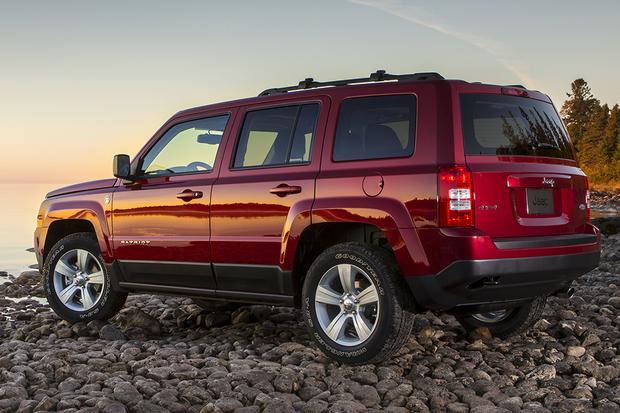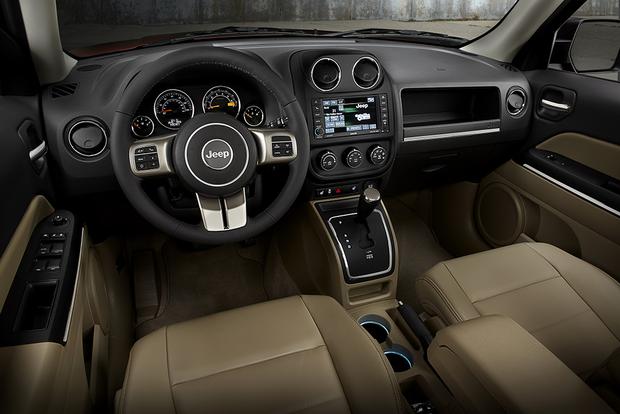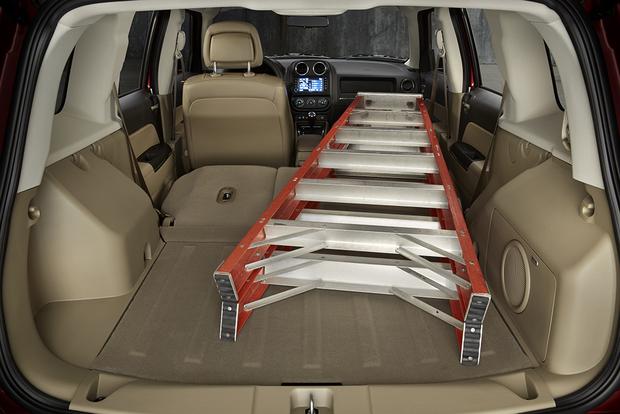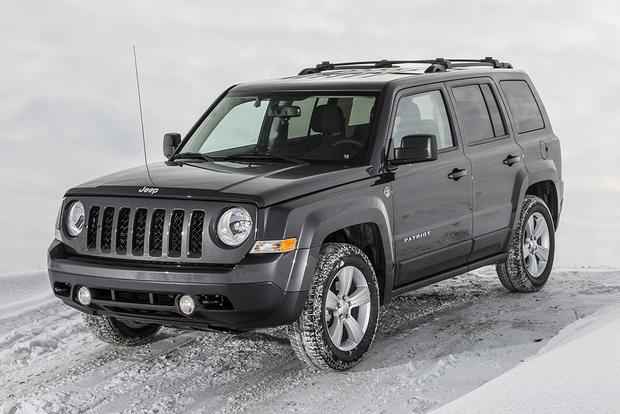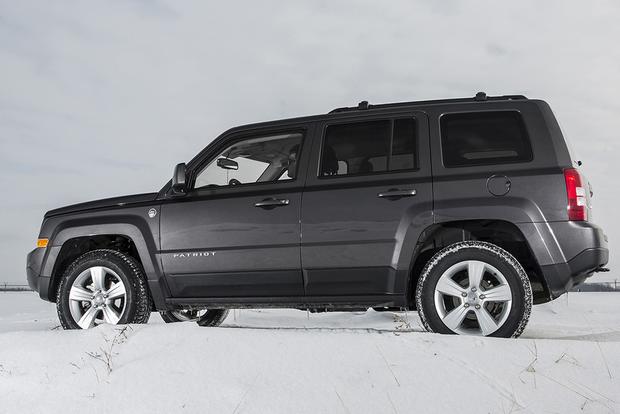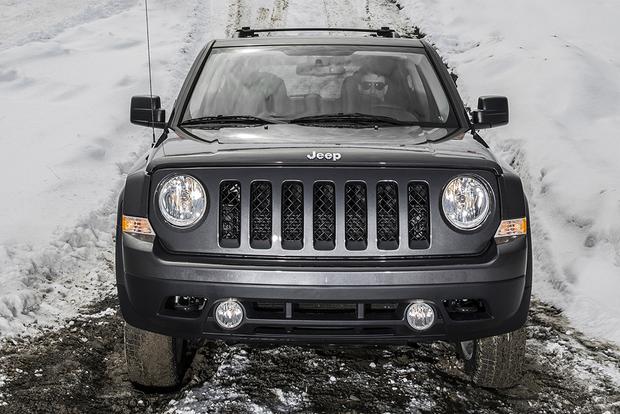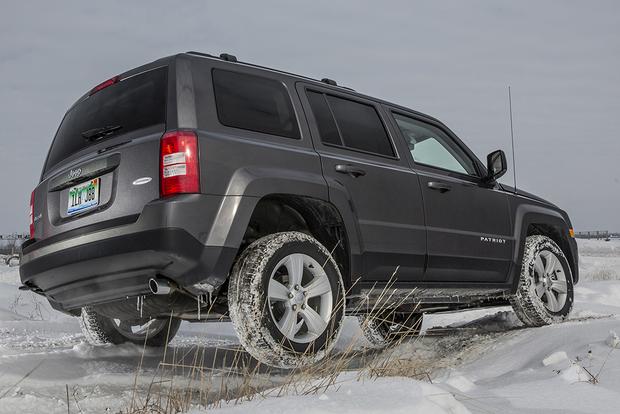 The 2015 Jeep Patriot is billed as one of the most affordable crossover SUVs in America. That may be true, but as the old axiom goes, you get what you pay for. In the Patriot, you get a compact crossover SUV that shares its powertrains and platform with the underwhelming Jeep Compass. Both the Patriot and the Compass are descendants of the humble Dodge Caliber hatchback, yet the Patriot does its best to wear the Jeep name with pride.
With styling that recalls Jeep products of the mid-1990s, the Patriot rocks a semi-retro vibe that may work for first-time Jeep buyers. And because the Patriot offers a Trail-Rated version with a 4x4 crawl mode, it's more effective off the road than light-duty rivals such as the Honda CR-V and Kia Sportage, though the pricey rock-crawling hardware takes a bite out of the Jeep's value proposition. At the very least, Jeep's engineers deserve a round of applause for taking the frumpy, front-wheel-drive Caliber and somehow turning it into a fairly serious mud machine. Just keep in mind that the Patriot is approaching the end of its production run, with the perky new Renegade ready to take its place.
What's New for 2015?
The 2015 Patriot is essentially unchanged for the 2015 model year.
What We Like
Low entry price; standard manual transmission; real off-road capability with Freedom Drive II
What We Don't
Crude engines; unpleasant continuously variable transmission (CVT); poor acceleration with base engine; budget interior; elevated road noise; iffy crash-test scores
How Much?
$17,690-$25,690
Fuel Economy
The base Patriot engine is a 2.0-liter 4-cylinder rated at 158 horsepower. Front-wheel drive is mandatory. The transmission is either a 5-speed manual or a 6-speed automatic. When equipped with the manual, the vehicle is rated at 23 miles per gallon in the city and 30 mpg on the highway by the Environmental Protection Agency (EPA). The automatic returns 21 mpg city/28 mpg hwy.
If you opt for the Altitude or High Altitude package, you get the 2.0-liter engine paired with an automatic CVT. That tandem returns 22 mpg city/27 mpg hwy.
The upgraded engine (standard on Limited) is a 2.4-liter 4-cylinder, good for 172 hp. Front-wheel drive is standard, but two different all-wheel-drive (AWD) systems can be ordered, including the off-road-ready Freedom Drive II, which uses the CVT and features simulated low-range gearing. All other 2.4-liter Patriot models roll with the 5-speed manual or the 6-speed automatic. Fuel economy starts at 23 mpg city/29 mpg hwy with the manual, dropping to 21 mpg city/28 mpg hwy with the 6-speed automatic (21 mpg city/27 mpg hwy with AWD) and a sobering 20 mpg city/23 mpg hwy with the Freedom Drive II/CVT team.
Standard Features & Options
The 2015 Jeep Patriot is available in three main trim levels: Sport, Latitude or Limited. The Altitude and High Altitude are special-edition models that occupy a middle ground between Sport and Limited.
The Sport ($17,690) starts with 16-inch wheels, fog lights, cruise control, a tilt-adjustable steering wheel and a 4-speaker audio system with an auxiliary audio input. Remarkably, air conditioning is not standard, nor are power windows or locks. But they can be added for a fee.
The Altitude ($19,585) adds the CVT, 17-in black aluminum wheels and glossy black accents but is otherwise similarly equipped.
The Latitude ($21,090) classes things up with air conditioning, power accessories, a leather-wrapped steering wheel with auxiliary controls, heated front seats (including driver height adjustment), reclining rear seatbacks and a 115-volt power outlet.
The High Altitude ($24,670) adds a number of extras, including a sunroof, gray wheels, a power driver seat and leather upholstery.
The Limited ($25,690) tacks on the 2.4-liter engine (optional on other trims), silver wheels, bright roof rails, automatic climate control and an upgraded sound system with satellite radio.
Specifying the Freedom Drive I all-wheel-drive system on non-Limited trims inflates the bottom line considerably, because it also requires the 2.4-liter engine. Freedom Drive II is available at additional cost and adds simulated low-range gearing, skid plates, an oil cooler and other off-road-oriented driving aids. Also available are a touchscreen infotainment interface with digital music storage, a navigation system, a USB port, Bluetooth and premium Boston Acoustics audio (with flip-down tailgate speakers).
Safety
Standard safety equipment includes anti-lock brakes with 4-wheel discs on all-wheel-drive models but inferior rear drums on front-wheel-drive models (except Limited FWD), stability control and six airbags (front, front-side and full-length side-curtain).
The Patriot received four stars overall in government crash tests, including three stars for frontal impacts and five for side impacts. The Insurance Institute for Highway Safety (IIHS) gave the Patriot its highest rating of Good in all crash-test categories except the small-overlap front test, where it downgraded the Patriot to Poor (the lowest rating of four).
Behind the Wheel
The Patriot may look like a cool SUV in photos, but it quickly reveals its mediocrity once you hop inside. The cabin materials are about as cheap as you'll find these days, and we can hardly believe that the Sport comes standard with crank windows, manual locks and no air conditioning. Even with all the optional luxuries specified, the Patriot's interior still has a low-budget vibe.
On the road, both engines are rather loud, and only the 2.4-liter unit accelerates with anything approaching verve. At least a manual transmission comes standard, a rare treat in this segment. In terms of self-shifting options, the 6-speed automatic is more satisfying than the CVT, but it can only do so much. While the Patriot delivers a fairly smooth ride, its steering is vague, with lots of play in the wheel and sluggish responses.
If you opt for Freedom Drive II, the Patriot will do a decent impression of a real SUV in the bushes, but at just 23 mpg hwy, you'll feel the pain at the gas pump. Adding insult to injury, you'll be stuck with the CVT, which is one of the least pleasant examples of its breed. This is also a reason to avoid the CVT-equipped Altitude and High Altitude models.
Still, if you're looking for a compact crossover with genuine off-road chops, the Patriot with Freedom Drive II is on a very short list of candidates. Don't forget to check out the new Renegade, too, as it's a capable little bugger in its own right.
Other Cars to Consider
2015 Ford Escape -- The sophisticated Escape handles like a Focus on stilts, which is essentially what it is, and its technology offerings are top notch.
2016 Mazda CX-5 -- The CX-5 is arguably the most rewarding compact crossover to drive on pavement, and its fuel economy puts the Patriot to shame.
2015 Subaru Forester -- Roomier and more refined than the Patriot, the Forester offers standard all-wheel drive and an optional turbocharged engine.
Used Jeep Grand Cherokee -- If you poke around at enough Jeep dealers, you can find a lightly used Grand Cherokee V6 for the price of a well-equipped Patriot, and the larger JGC is a far better vehicle.
Autotrader's Advice
Although the Freedom Drive II doesn't come cheap, it's the Patriot's clearest advantage over the competition. If off-roading is a pastime or necessity for you, consider trying this pumped-up Patriot on for size.