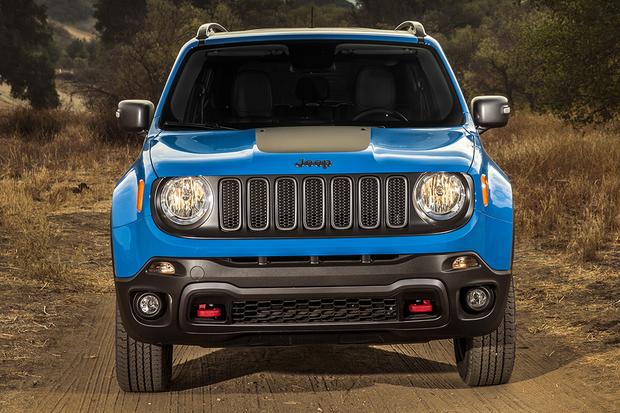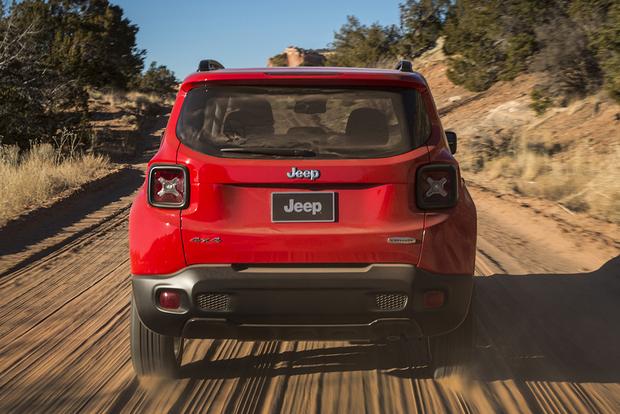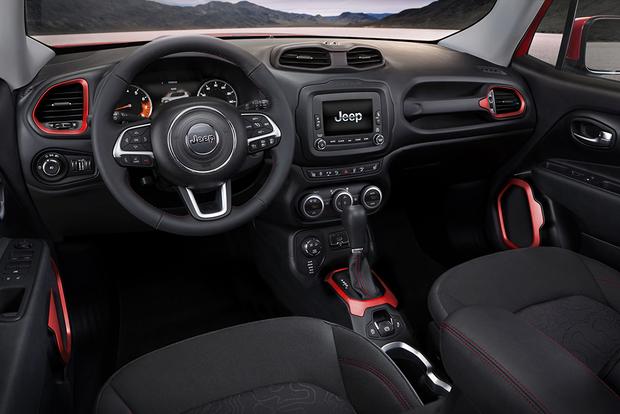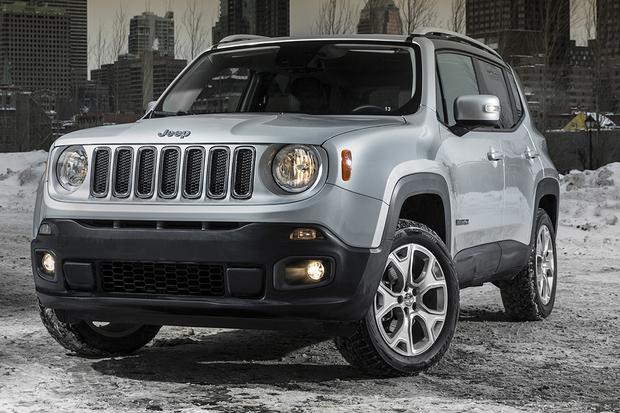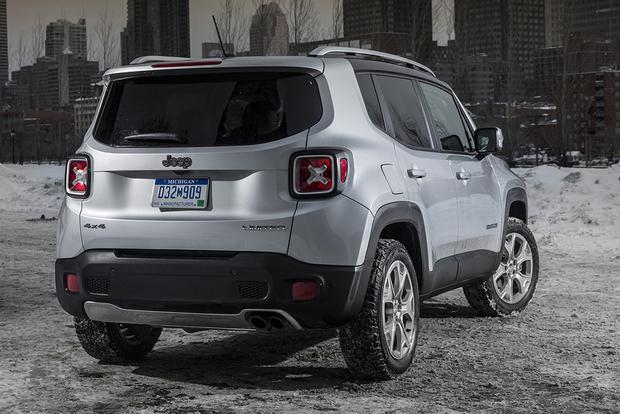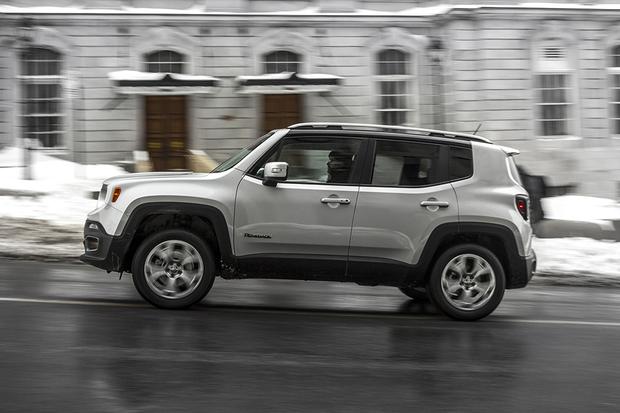 Jeep does SUVs, and only SUVs. And with such a limited product focus, the only ways to expand the lineup are to go bigger or go smaller.
Enter the 2015 Jeep Renegade. This subcompact crossover SUV is Jeep's new entry-level model, but that doesn't make it an econobox with no redeeming value. On the contrary, the Renegade offers Jeep's Trail Rated off-road capability, fun dynamics and an interior with more space and higher quality materials than we expected in such a small and affordable vehicle.
Three Varieties of Road Manners
The Renegade provides a different driving character depending on the model. With 6.7 inches of ground clearance, the base 4x2 model sits the lowest, and Jeep has tuned it to be the sportiest. On the road, the 4x2 is very controlled and carlike, making it a strong competitor for the Kia Soul and Subaru XV Crosstrek. Delightfully quick steering gives it sharp responses, and the low ride height and short wheelbase make it agile and downright fun to drive. The suspension also soaks up most bumps quite nicely.
Four-wheel-drive versions sit 1.2 inches higher. This height introduces a bit more body lean through turns, but the Renegade stays well controlled. The Trailhawk model sits another 0.8 inches higher, adding more body lean but providing the Renegade Jeep's Trail Rated off-road capability.
The Trailhawk features the more aggressive of Jeep's two 4-wheel-drive systems. The base system, Jeep Active Drive, works full time and disconnects the rear wheels while cruising. The Trailhawk's Active Drive Low adds a 20:1 crawl ratio and hill-descent control. The Trailhawk also comes with underbody skid plates, front and rear tow hooks, and unique front and rear fascias that improve the approach and departure angles.
As part of our test drive, we took the Trailhawk off road, where it earned its Trail Rated badge. The Trailhawk moseyed down a steep hill at a snail's pace, powered through offset bumps that left it on just two kitty corner wheels and trudged through deep ruts that bottomed out the suspension but left the vehicle no worse for wear thanks to those skid plates.
Two Engines, Not Much Difference
The Renegade's base engine is a turbocharged 1.4-liter 4-cylinder that scares up 160 horsepower and 184 lb-ft of torque, mated to a 6-speed manual transmission or a 9-speed automatic. Buyers can also opt for a 2.4-liter 4-cylinder that comes exclusively with the 9-speed and makes 180 hp and 177 lb-ft of torque.
We found the 1.4 to be more fun, especially when paired with the manual transmission. This engine's small size means it needs to be in the correct gear to access its torque. If you leave it in sixth on the highway, you'll have a tough time climbing a hill. Its power band delivers smoothly, however, and the turbo kicks in early enough to provide oomph that'll get you ahead of traffic. The manual transmission is also easy to shift, though the second gear-engagement point is too close to the end of the gearshift travel, which could cause you to grind the gears.
The 2.4 has about the same amount of usable power, but it's delivered differently. Its larger size gets the vehicle moving with ease and keeps it going on the highway. However, the 2.4 feels and sounds gruff during acceleration. It works well with the smooth-shifting 9-speed transmission, but, like other Chrysler products with this advanced gearbox, it rarely has enough torque to enter ninth gear.
Class-Above Interior
Jeep has outfitted the Renegade's cabin with materials and amenities befitting a more expensive vehicle. The dash and armrests are soft to the touch, a center console with a padded cover is standard and buyers can stay connected. The available infotainment system is a lesser version of Chrysler-FIAT's Uconnect, which comes with a 6.5-inch touchscreen and offers access to a navigation system, the Yelp local search app and text-to-speech capability. Like other versions of Uconnect, this one is refreshingly easy to use.
Space is limited but well utilized, and front-seat occupants have plenty of room. While a fairly wide cabin can seat three people across in the second row, rear passengers lose legroom if anyone in the front or rear is taller than average. Keeping the rear seats up yields 18.5 cu ft. of rear cargo space, which is more than a sedan's trunk. That expands to 50.8 cu ft. with the rear seats folded down, which is average for the class but still quite handy.
Our Take
The 2015 Jeep Renegade's small size makes it a good city vehicle, but its useful space and Jeep's traditional off-road prowess open the vehicle up to singles, couples or small families who enjoy an active lifestyle. Value priced, fun to drive and dripping with character, the Renegade is a winner.