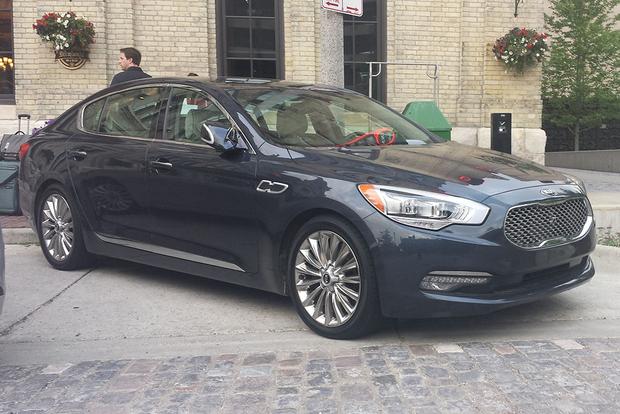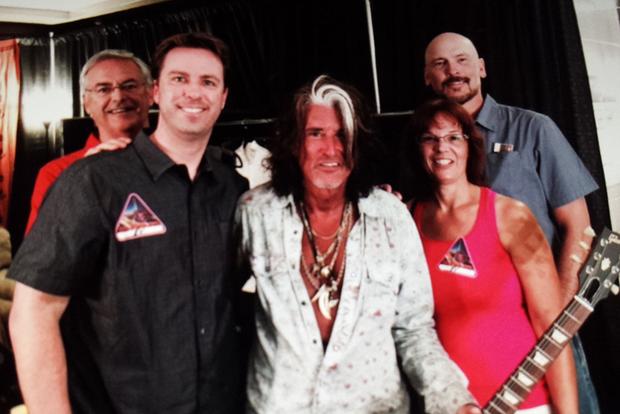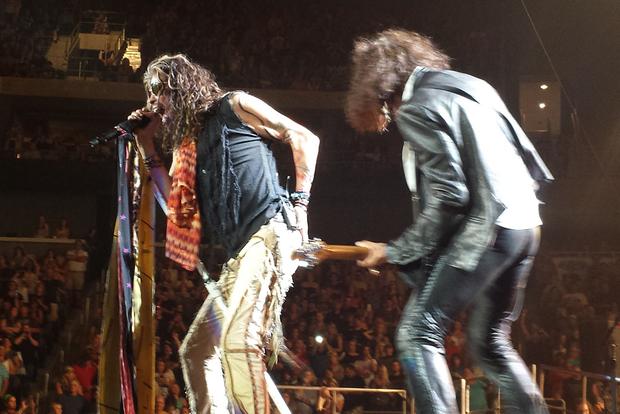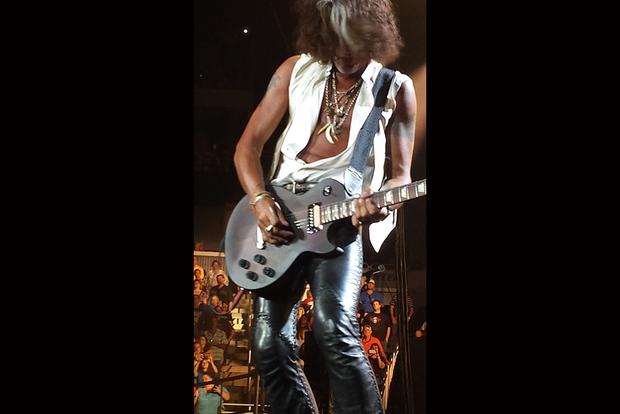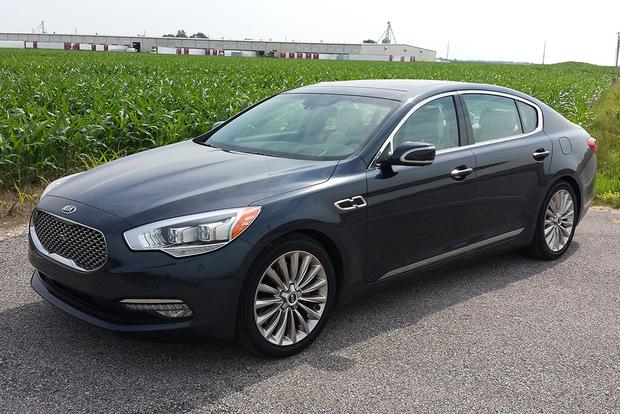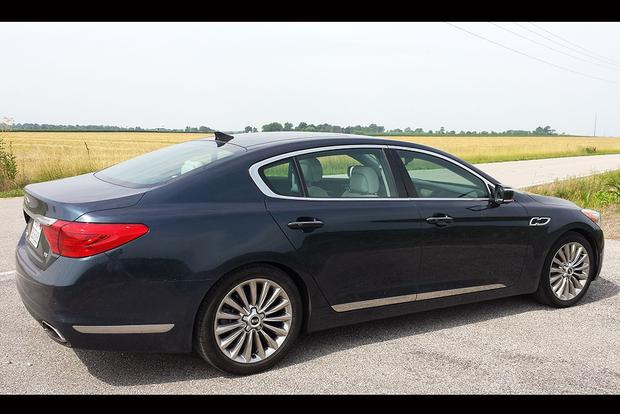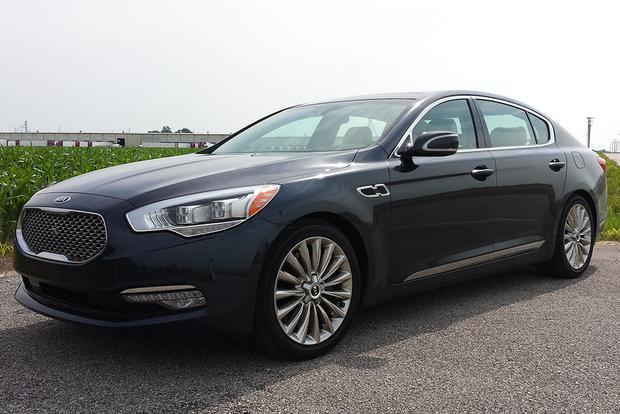 My Kia K900 awaits me bright and early. I'm awake, but barely. The Stones were amazing. Jagger, at age 71, has more energy and charisma than most 25-year-olds. The opener, Buddy Guy, was also on fire, another excellent example that age is only a number. Though the band grows older, the music is timeless. Buddy Guy joined Mick on stage for a soulful rendition of "Champagne and Reefer," bringing a flashback to the 1970s, when Buddy and Junior Wells opened for the Stones' European tour. Jagger's voice is strong, rising above Richards' and Woods' guitars. He even keeps pace with a backup singer filling the roll of Merry Clayton on "It's Just a Shot Away." I don't care how old you are or what your taste is in music, everyone should see the Rolling Stones live at least once.
You Can't Always Get What You Want
For this 52-year-old, six hours of sleep is not enough, but we have a 400-mile journey to Evansville, Indiana, and a 7 p.m. date with Joe Perry and Steven Tyler. Aerosmith live is the next stop on my 3-day musical sojourn.
For this drive, I'm glad to have the K900. Its seats are marvelously comfortable, heated and ventilated and offering power adjustments for every movable part, including the head restraint. Joining me on this leg is my copilot and sister, Terry. She is the perfect driving companion, as we are both Sagittarians, and therefore cycle in and out of our mood swings at exactly the same times. We have the same taste in music and food, and we both have a desire to explore out-of-the-way places.
My intended route from Milwaukee is State Route 41 south, a two-lane asphalt ribbon passing through rural towns and the occasional tourist trap. I say intended, because the K900's navigation system seems to have other ideas in mind. No matter what I tried, I couldn't get the navigation system to see my intended route and finally had to fall back on my cell phone for directions. Sometimes technology leapfrogs product cycles, so while newer models, such as the Kia Sorento, are equipped with a modern touchscreen navigation unit, the K900 is saddled with one heavily modeled after the BMW iDrive and Audi MMI systems. As with so many high-end technologies, this one isn't very intuitive. It surrenders far too much authority to the console-mounted controller, which must be used to do everything from inputting navigation data to changing the radio's bass, treble and balance. Over time, however, one eventually learns the system's particulars. My attempt at using the voice activation met with equal frustration, although our Kia rep informed me that if I had the UVO app on my smartphone, I could have simply programmed my route using Google Maps and then uploaded the route guidance to the K900's navigation.
UVO is Kia's app-based infotainment system, and it greatly improves the user experience with the navigation and audio screen. It provides direct access to Pandora and Bluetooth audio, and it allows for such clever features as the Parking Minder app that helps locate the car in a crowded parking lot. Other UVO services include the eServices app, which includes vehicle maintenance updates, 24-hour roadside assistance and Points of Interest storage.
But If You Try Sometimes, You Get What You Need
The Kia K900 is a big car. It's an attractive car, with not-so-subtle styling cues lifted from Jaguar, BMW and Maserati. The car gets noticed and so does the big Kia badge above the grille. In a class where name recognition ranks right up there with power and amenities, it might be a good idea to take a page from the Hyundai Genesis' playbook and downplay the company logo. On the other hand, Kia's advertising campaign seems to be working well, as evidenced by our encounter at a small rural gas station about 150 miles outside Evansville. While topping off the tank, I hear a voice from a blue Jeep Cherokee yell out, "Hey, is that LeBron's car?" I smile and reply, "Yup, wanna check it out?" Our new Kia groupie doesn't hesitate to take me up on my offer. "Man, this is nice. Are those seats white leather?" "Yup." "Man, that's class, how much is this car?" My response is straight to the point, "$70,000." Our new friend stands up, steps back and says, "Too rich for my blood. No wonder LeBron likes it so much."
The K900 is the rolling embodiment of a boulevard cruiser. Kia says its main competition is the Lexus LS and Audi A8, and I can see that. Inside, the K900's premium leather seating with black piping and piano-black inlays impress, as does the thin-film-transistor (TFT) screen that can be configured to display three different meters, including a fully analog gauge cluster. I actually prefer the K900's interior to that of the Lexus, but the Audi is still the benchmark to beat. Another nice thing about the K900 is the logical way in which complex technology is made easy to use. With the exception of the aforementioned multimedia controller, every control is logically placed and intuitive to operate. The Advanced Smart Cruise Control, for example, is controlled by a small button adjacent to the steering wheel cruise control. There is no scrolling through screens trying to remember where the program resides. A graphic in the TFT cluster allows the driver to choose how far or how close the K900 should maintain its distance to the vehicle ahead. It's simple and easy to use, and the adaptive cruise control works marvelously, even bringing the car to a complete stop, if necessary.
We pull into Evansville none the worse for wear. A 7-hour road trip usually leaves one aching to stretch and take a hot shower, but Terry and I emerge from the K900 relaxed and comfortable. I'm ready for a night of big hair and head banging.