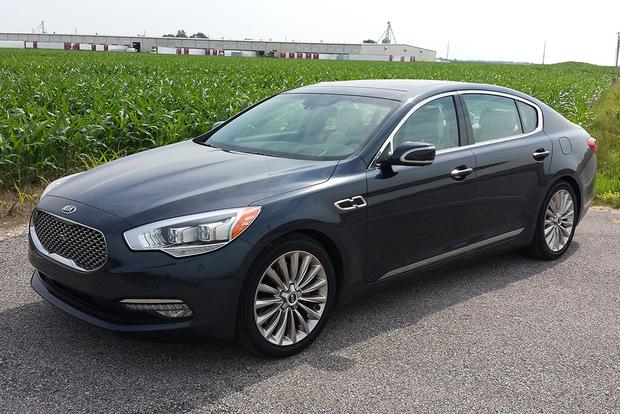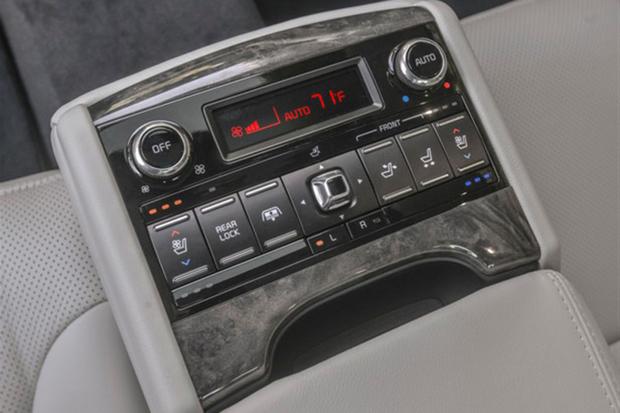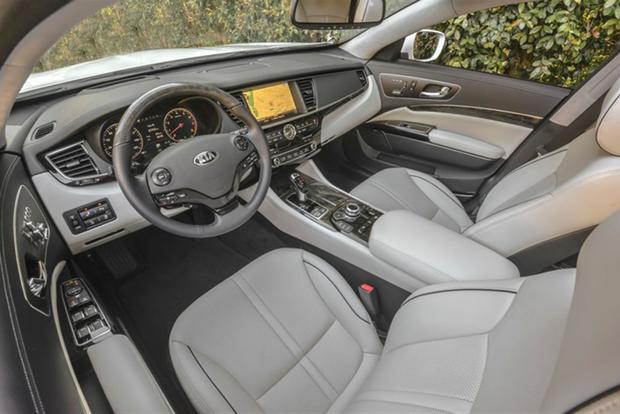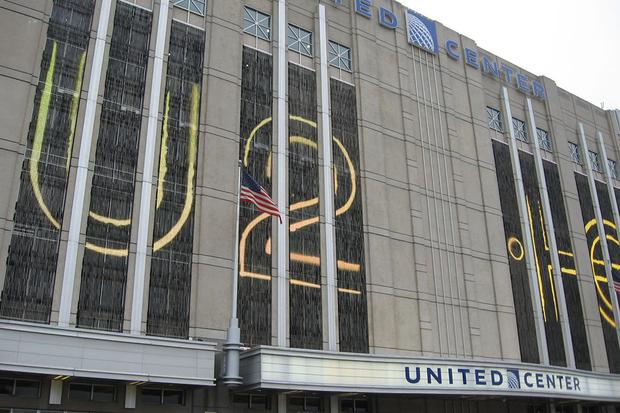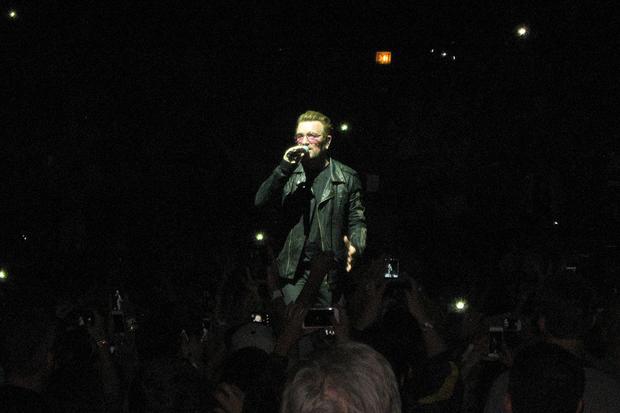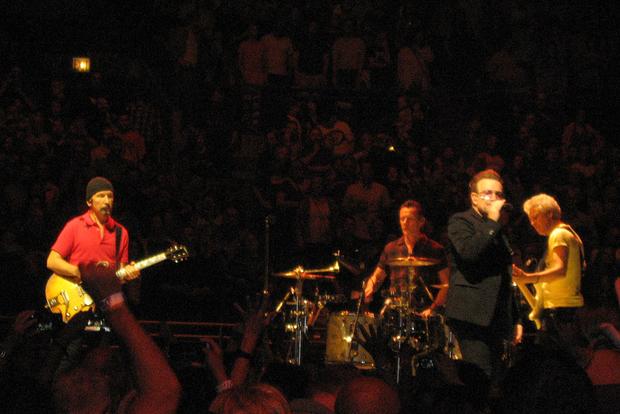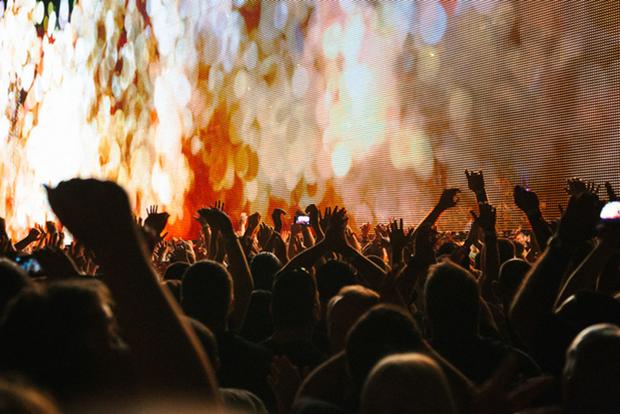 Like my time in the Kia K900, Aerosmith did not disappoint. Steven Tyler is the consummate rock front man, and Joe Perry's guitar seems wedded to his hands. We actually got a chance to go backstage and meet with Joe, who turns out to be, among other things, an avid car guy. He tells us he prefers the bus when traveling. Wheels on the road just feel right to him. He's a road trip guy, just like me. We get some autographs and then head to our seats, which happen to be one row from the front. I forget my earplugs, a mistake I will regret in two hours.
Back in the Saddle Again
Up bright and early, I prepare for the final leg of my road trip in the Kia K900. A short jaunt back up the 41 to Chicago, where Bono and U2 await. I still can't hear very well. Voices sound like they are on helium, and there is a constant clicking in my ears. I won't be enjoying the Lexicon audio system today, but perhaps things will improve as the day goes by.
It's 9 a.m., and the Indiana sun is already starting to heat up the car. As my traveling companion chose to play the slots in the hotel casino rather than get a good night's rest, I suggest taking advantage of the K900's reclining rear seat and catching some shut-eye during the trip. Turns out she already had this in mind. Terry quickly discovers a button in the fold-down center armrest that moves the front passenger seat forward to create maximum legroom for stretching out. The same armrest console also contains controls for the heated and cooling rear seats, climate control and the power rear sunshade. The side windows include a manual sunshade, too, so one can avoid that nasty sunburn or burdensome paparazzi. I find myself playing chauffeur for the better part of the drive. I still can't hear anything.
This is now my third day in the K900, and it's beginning to feel quite natural. I find even the navigation and rotary controller less frustrating. My hand has learned the buttons and mastered the rotary knob's sensitivity. As I motor north toward the Windy City, the K900 cruises effortlessly, assisting me at every step. When I stop for lunch, its surround-view camera automatically activates while I attempt to parallel park, and when I pull back into traffic, numerous electronic eyes alert me to the possibility of other motorists that may be approaching outside my field of view. I feel spoiled inside this car, and a little nervous about the complexity of the technology surrounding me. I'm equally impressed with the way the K900 drives. The V8 is assertive, smooth and refined, and its 8-speed transmission delivers crisp and precise shifts without the hunting or lag experiences on some other luxury cars burdened with too many gears.
I'm growing used to this way of motoring, and I'm not sure that's a good thing. You see, I don't have adaptive cruise control, blind spot monitoring, ventilated seats or a head-up display in my own personal car, which after living with the K900 for a few days, makes it very difficult to go without. It's like giving someone who's never experienced chocolate access to an entire Ghirardelli shop and then locking them out three days later. Chicago is upon us in no time, although I'm still shocked at how rural the land is just 20 miles outside the city limits. Open roads and groovy little family diners give way to traffic, billboards, fast-food chains and then our final destination at the plush Renaissance Blackstone hotel. As I hand the keys over to the valet, my time with the K900 seems too short. Of course, I have to ask his opinion of the car, and he replies, "Yeah, it's nice. I've parked a few them. This is LeBron's car, right?" Someone at Kia's ad agency deserves a raise.
Still Haven't Found (Exactly) What I'm Looking For
The K900 is an impressive car. On their first attempt, Kia has managed to nail down what other manufacturers have taken two or three go-arounds to perfect. Although not a performance sedan, the K900 is an excellent cruiser. The steering is fairly precise without feeling overweight or vague, and the suspension settings are tuned for a nice balance between ride comfort and cornering ability. The big 19-inch wheels don't soak up large bumps or potholes very well, but then again, neither do any of the K900 rivals with similar size wheels.
Could the K900 do with a better navigation interface, an all-wheel-drive option or a hybrid model? Sure, it could, and those features would likely add to the already lofty price. A base Premium at around $56,000 is doable, but once you start pushing toward $70,000, my "uh-oh" meter goes off. While many people still care about the image their car projects, there is an increasingly equal amount of well-off people that simply want to get the most for their money. Therein lies the rub for Kia. It's not that I don't think the K900 is worth its asking price, quite frankly, you'll pay about $10,000 more for a similarly equipped Audi A8 or Lexus LS. I'm worried that the K900 may not hold its value as well as its competitors, and for those watching their dollars more closely than in past decades, this may be the K900's biggest question mark.
If resale value is a concern, leasing may be the better option. Either way, the K900 won't disappoint. It's a lovely car with an appealing hook: Traveling comfortably for less. I knew I could work that in somehow.