Car Comparison
2015 Kia Rio vs. 2015 Kia Forte: What's the Difference?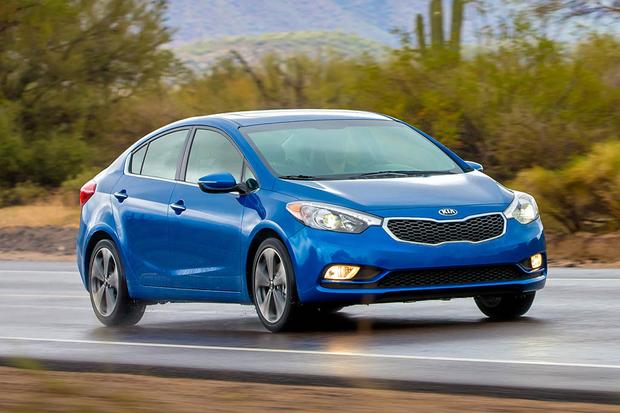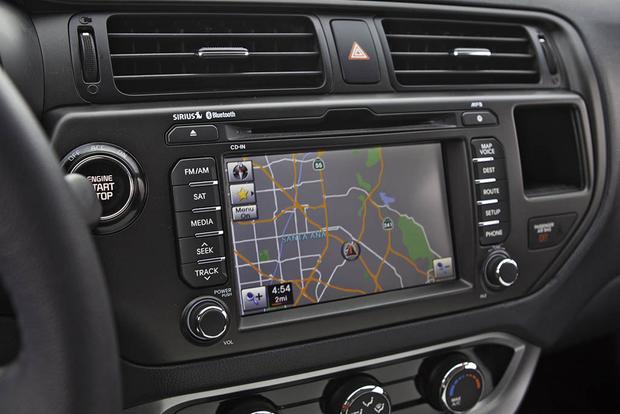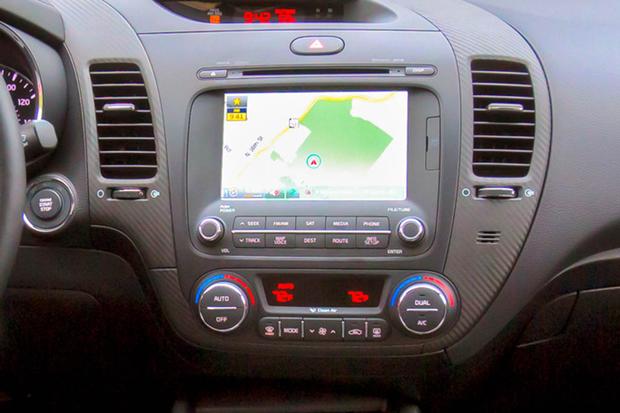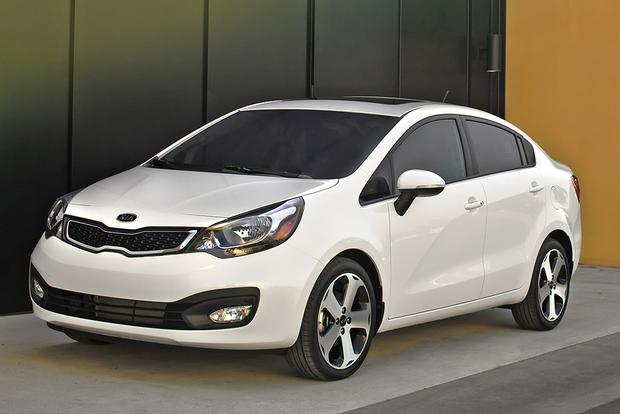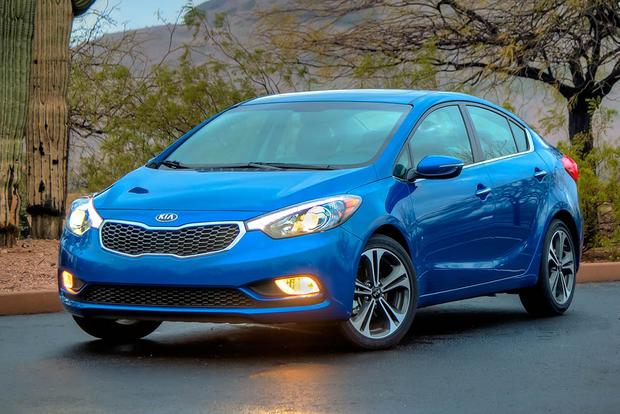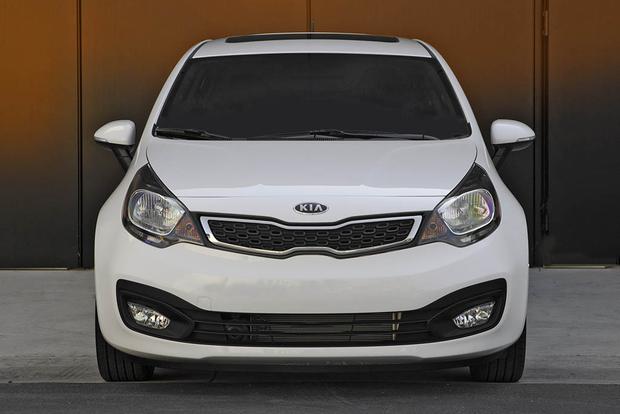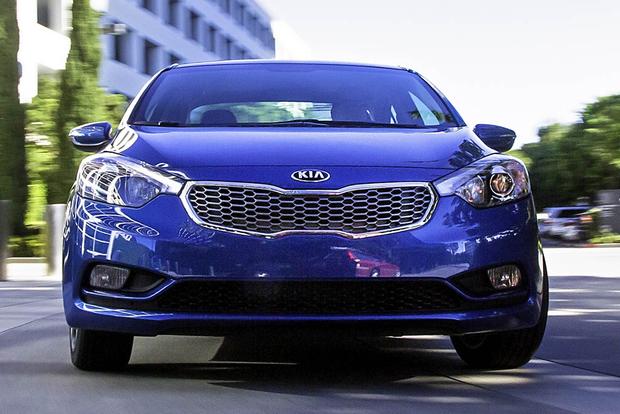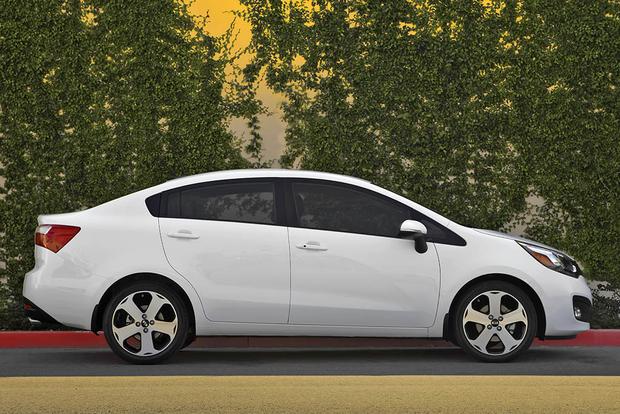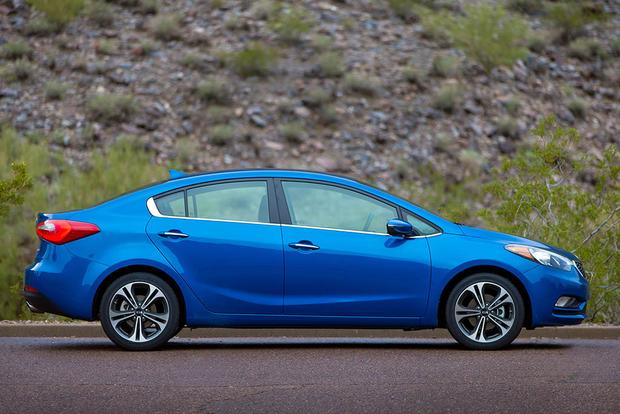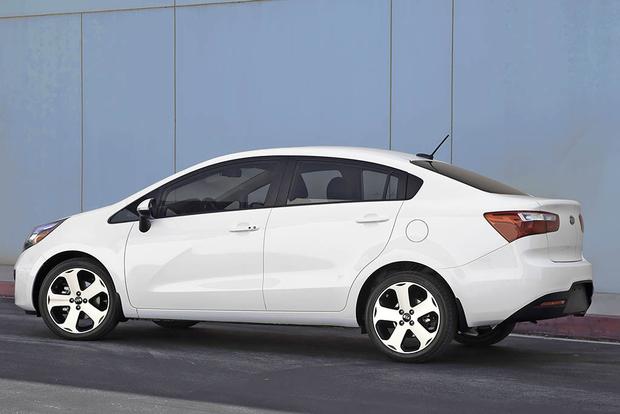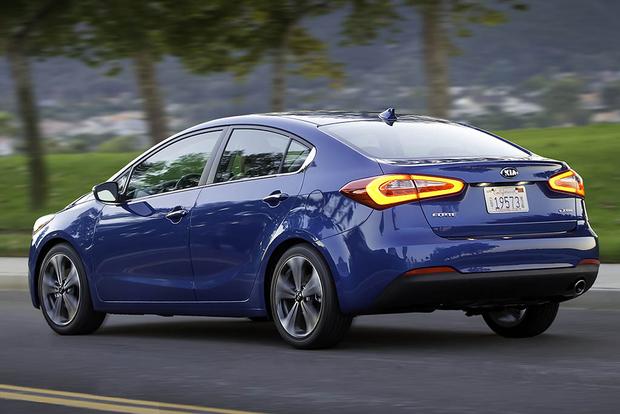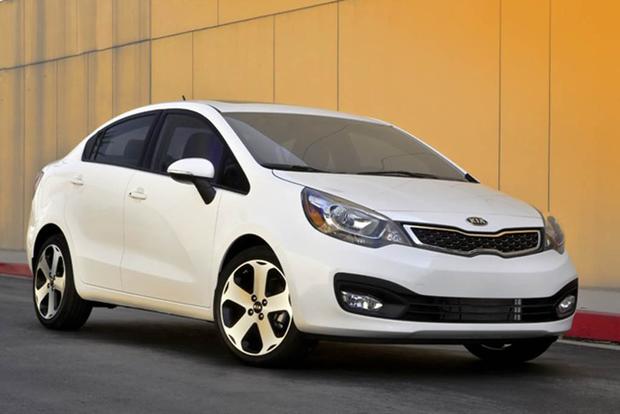 If you're interested in buying a new small car, you might have the 2015 Kia Rio and the 2015 Kia Forte on your shopping list. Both are reasonably priced, attractive and well-equipped -- and both come with Kia's impressive powertrain warranty, which lasts for up to 10 years or 100,000 miles. But what exactly is the difference between these two small Kia models? What sets them apart? And which one should you buy? In order to help you answer these questions, we've created a close comparison that details all the key differences -- and similarities -- between the Rio and the Forte.
Exterior
When you compare the Forte and the Rio on the outside, you'd be forgiven for having trouble telling these two cars apart. They both share a lot of styling touches -- especially in sedan form, where the only real difference between the two models is the Forte's slightly larger sizing. As hatchbacks, the two models are a little more distinct: The Forte clearly has a longer roofline than the Rio, which makes its larger size more obvious. Finally, only the Forte is offered as a 2-door coupe.
Interior
There are more differences inside the Forte and Rio than on the outside. The two cars boast distinct instrument panels with slightly different appearances that will be obvious with even a casual glance. They even offer different dashboard designs, different climate-control vent designs and different steering wheels. And there's no question that the Forte has a little more room inside -- both for passengers and cargo -- than its smaller Rio stablemate.
Mechanicals
The Kia Rio offers only one available engine: a 1.6-liter 4-cylinder that makes 138 horsepower and 123 lb-ft of torque. A 6-speed manual transmission is standard, while a 6-speed automatic is optional, and both transmissions return up to 27 miles per gallon in the city and 37 mpg on the highway.
Meanwhile, the Forte offers three engine choices -- all with more muscle than the Rio's powerplant, owing to its larger size. Base-level Forte models use a 145-hp 1.8-liter 4-cylinder, which returns up to 26 mpg city/39 mpg hwy. Drivers looking for more power can upgrade to the Forte EX's 173-hp 2.0-liter 4-cylinder, which returns up to 25 mpg city/36 mpg hwy. Finally the sporty Forte SX (offered in coupe or hatchback guise only) boasts an available 201-hp 1.6-liter turbocharged 4-cylinder and fuel economy numbers that reach as high as 22 mpg city/30 mpg hwy.
Features & Technology
When it comes to features and technology, the larger and more expensive Forte offers some major benefits over the cheaper Rio. In fact, there's a long list of features and options exclusive to the Forte that you can't get in the Rio such as xenon headlights, a heated steering wheel, dual-zone climate control, a ventilated driver's seat, rear air vents and a cooling glove box.
With that said, the Rio isn't exactly low on features when you compare it to other subcompact cars. Unusually luxurious offerings include available paddle shifters, keyless ignition and entry, leather upholstery, heated front seats, a navigation system and Kia's UVO electronics interface. Still, while the Rio may be a standout for its segment, drivers looking for the latest in technology and equipment will want to pick the Forte.
Driving Experience
Although the Rio's 1.6-liter 4-cylinder is surprisingly potent for its class, the same can be said about the Forte's optional 1.8- and turbocharged 1.6-liter powerplants. The result is that both the Rio and most Forte models feel fairly spry for their respective size classifications. The exception is Forte models equipped with the standard 1.8-liter 4-cylinder, which offers only mediocre acceleration.
The Forte and Rio also offer roughly the same driving experience around corners, which is to say merely average handling and steering feel. Although the Forte will feel a little larger to seasoned drivers, many people will likely find the driving experience relatively similar between both models. The same can be said for braking and visibility.
The major standout? That would be the Forte SX, which is offered as either a coupe or a hatchback. It feels not just spry but downright quick, owing to its 201-hp turbocharged 4-cylinder engine. If you're looking to have fun behind the wheel, you'll want to skip the Rio and other Forte models and head straight for the SX.
Safety
In crash testing carried out by the federal government's National Highway Traffic Safety Administration, both the Forte and the Rio earned an overall 4-star rating. Both models received merely mediocre ratings from the nonprofit Insurance Institute for Highway Safety after earning a troubling Marginal score in the firm's challenging small front-overlap test.
As for safety features, neither the Rio nor the Forte really goes above and beyond. Both come standard with side-curtain airbags and anti-lock brakes, offering a backup camera and Kia's UVO telematics services as the sole high-tech safety options. Don't expect to find lane-departure warning, lane-keep assist, rear cross-traffic alert, a blind spot monitoring system or forward-collision warning as standard or optional equipment on these two models.
Conclusions
Although there are many major similarities between the 2015 Kia Rio and the 2015 Kia Forte, there are also two primary differences: size and price. The Rio is a subcompact car with a starting price of $15,000, while the larger compact Forte starts at a pricier $17,000 -- a big difference in the world of inexpensive small cars.
For drivers on a tight budget, we recommend the Rio, as it offers the Forte's main highlights for less money. Those looking to spend a bit more will likely be happier with the Forte and its larger interior, longer list of equipment, wider range of available powerplants and available coupe body style.