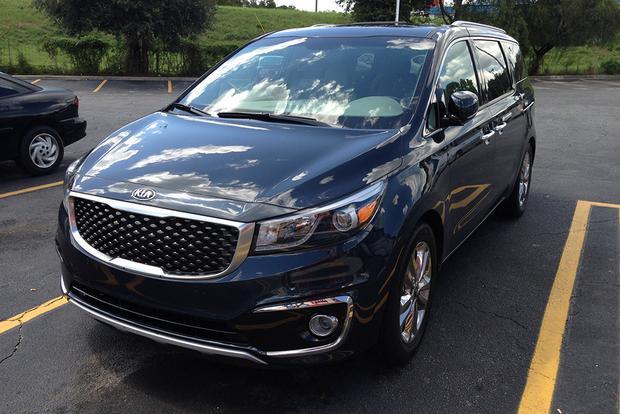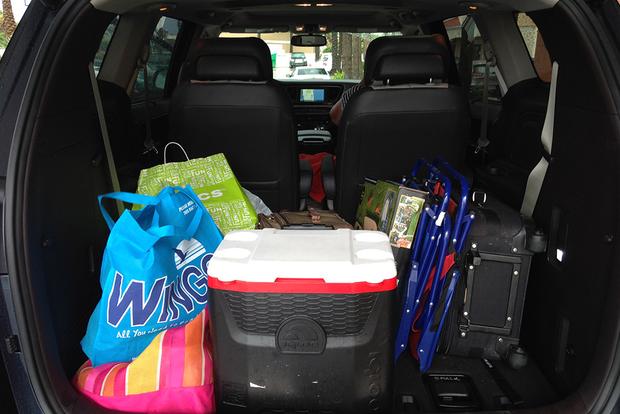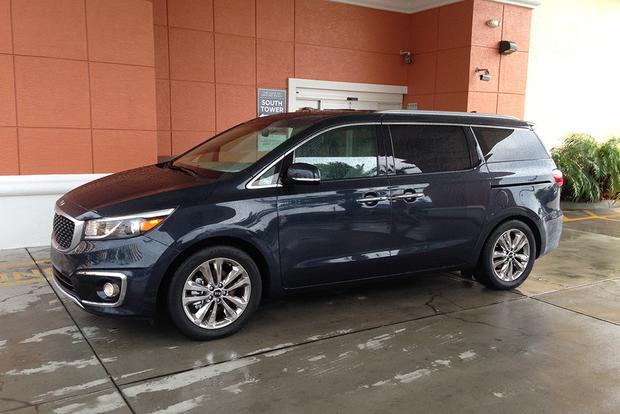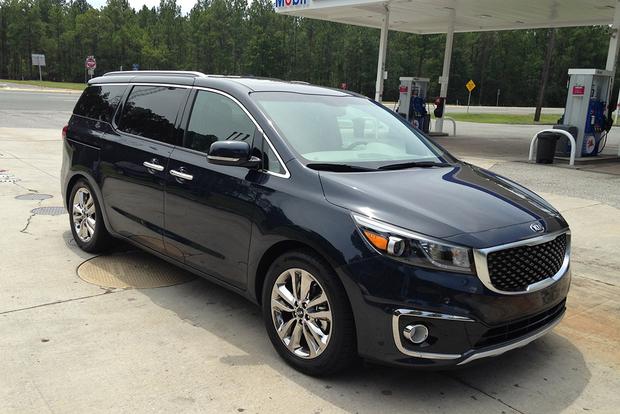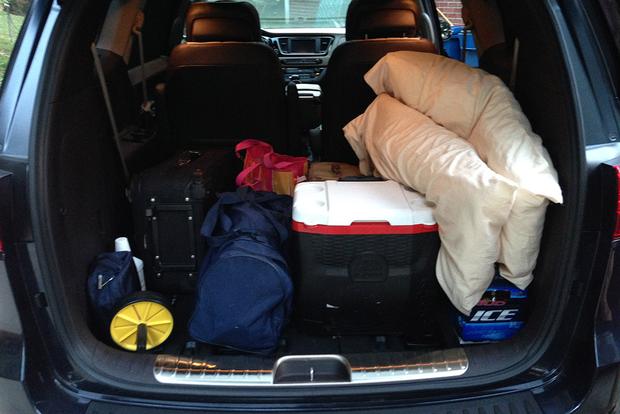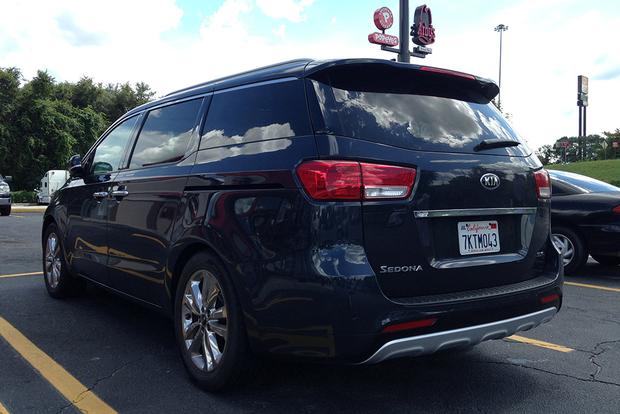 After driving our long-term 2015 Kia Sedona around Atlanta, my attitude toward minivans has started to change. After my first drive, I realized the 2015 Kia Sedona felt more like a luxury SUV and less like a minivan. It rides great, has plenty of power and comes with a surprising amount of standard amenities that make the driving experience a pleasurable one. When it was time for my late summer road trip to Florida with my girlfriend, I chose to take the Sedona along for the ride. Originally, I picked a popular SUV for the trek to Daytona, but after driving the Sedona, I quickly changed my mind. Would I regret my decision and wish I had opted for the SUV? Let's find out.
Road Manners
The 276-horsepower V6 engine and 6-speed transmission combination work well together. There's plenty of power when you need it for passing or merging into traffic. The transmission rarely struggled to find the right gear. One of the first things we appreciated about the Sedona was the ride quality. The ride is firm but not harsh or jolting. It rides just as well, if not better, as a premium SUV. The steering is light and didn't require any tussling, even on bumpy or rough patches of pavement. Another trait we came to appreciate is how well the Sedona holds the road. During our trip, we encountered several heavy thunderstorms. We noticed numerous accidents where the cars had spun out of control and skidded off the highway. Thanks to the Sedona's traction and stability control, we didn't feel any loss of control or hydroplaning.
The Sedona features three driving modes: Normal, Comfort and Eco. On the way to Daytona, we drove in Eco mode and experienced fuel economy between 24.5 to 25.2 miles per gallon. On the return trip, we drove in Comfort mode and experienced between 23.6 and 24.3 mpg. We were surprised to see we only saw about 1 mpg better gas mileage overall in Eco mode. We quickly learned Comfort mode is best suited for city driving and Eco mode works best out on the open road. Eco mode greatly reduces throttle response and alters the transmission's shift points, so driving in Eco around town makes the Sedona feel underpowered.
Luxurious Interior
One of the first things that captured my attention is how the dashboard and console layout is similar to our previous long-term Cadenza. Everything is within easy reach of the driver, and there's plenty of storage space in the console for cellphones and other small items. The premium 2-tone, Nappa leather seats are stylish and extremely comfortable and feature adjustable driver lumbar support. One night, my girlfriend and I ate dinner with some friends at one of our favorite seafood restaurants in Ormond Beach. Our friends were impressed with the comfort and adjustability of the second-row lounge seats, especially the adjustable footrests. There's a surprising amount of legroom in back for stretching out and enjoying the ride around town. Passengers in back can also indulge in the Sedona's creature comforts, such as their own temperature settings, manual sunshades and a rear-seat entertainment system.
Talk about convenience. The Sedona features dual power-sliding rear doors and a great feature called Smart Power Liftgate. This feature comes in handy when your arms are full and you can't reach the tailgate release button. As long as you have the key fob in your pocket, all you have to do is stand next to the tailgate for 3 seconds and it automatically opens. With the third-row seats folded into the floor, there's a generous amount of storage in back. We had enough room for two large roller suitcases and four overnight bags. We also had space for beach chairs, a corn hole game and everything we bought on an outlet mall shopping run.
Technology Galore
Kia's navigation system is one of my favorites. It's relatively easy to program and has features I have yet to see on other manufacturers' navigation systems. The system can be configured to show upcoming gas stations, restaurants and even banks. It helps keep up with the posted speed limit and gives warnings well in advance of accidents and heavy traffic. We also liked that the system kept up with the number of miles left and time it would take until we reached our destination.
There were a couple minor grievances we had with the Sedona. With the sunroof open, the sunlight occasionally caused a glare on the navigation screen, making it difficult to read. Also, adjusting the second-row seats takes some time to figure out and can be a little frustrating.
The Verdict
Overall, the Sedona was quite an unexpected surprise. It drives more like an SUV and has creature comforts you wouldn't expect to find in a luxury minivan. I really hope to have more time behind the wheel for trips planned in the coming months to Tennessee and Florida.