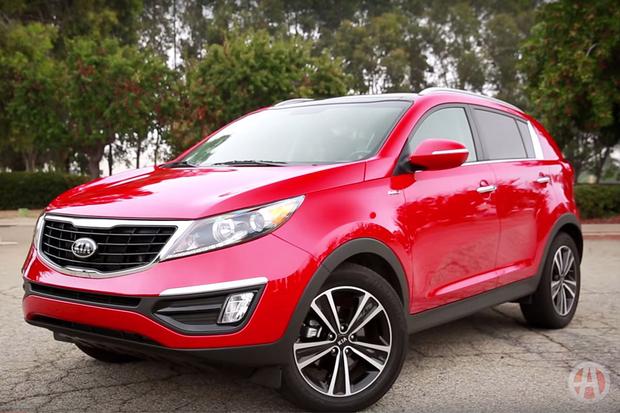 The 2015 Kia Sportage isn't a vehicle that's been redesigned lately, so it doesn't get the headlines like its newer Kia siblings. But if you look at what the Sportage has to offer, it's still one of the most interesting small crossovers on the market. It looks great, drives well, and offers great value for what it costs. Here are five reasons to give this head-turning Kia a chance.
Fashion Forward
The Sportage was one of the first Kia models to benefit from the company's new styling direction, and it hasn't aged a day. Kia hired Audi's former design chief to raise the company's profile, and in the Sportage's case, the result is a European-flavored exterior that's miles ahead of most affordable crossovers. If style's a top priority, it's hard to do better than this Kia, even if you can afford to spend more.
Nimble On The Road
Small crossovers typically put comfort first, but the Sportage -- true to its name -- is more concerned with performance. Don't get us wrong; the ride's actually supple enough for most tastes. But every Sportage has a sport-tuned suspension, which gives it a tenacious feel in tight corners. It's genuinely fun to drive.
Feature-Rich Interior
You expect a lot of features for the money in any Kia, and the Sportage doesn't disappoint. Even the base LX boasts reclining rear seats and Bluetooth and USB connectivity, while most models also come with UVO voice controls and a rearview camera. On higher trims, there's even a panoramic sunroof, a 7-inch touchscreen with navigation, Infinity audio and leather upholstery. Not bad for an entry-level crossover.
Two Advanced Engines
Many small crossovers only offer a single engine, but the Sportage gives you a choice of two. The base 2.4-liter 4-cylinder delivers a spunky 177 horsepower and up to 28 miles per gallon on the highway, which is a great mix for most shoppers. But if you want a little extra, the turbocharged 2.0-liter four pumps out 260 hp, yielding acceleration that some luxury crossovers would envy. Having to pick a winner from this pair is a nice problem to have.
Worry-Free Warranty
Like other Kias, the Sportage comes with a killer warranty, including 5-year/60,000-mile comprehensive coverage and 10-year/100,000-mile powertrain coverage. Worried about that fancy turbo engine, for example? Whatever your concerns may be, Kia's industry-leading warranty should put your mind at ease.
Autotrader Says
Don't let the 2015 Kia Sportage's low profile dissuade you. If you want a small crossover with a lot of character, this Kia is at the top of its game.