Editor's note: You may want to read more of Autotrader's model vs. model comparison car reviews as well as the 2015 Lexus RX review and the 2015 Lexus NX review.
If you're looking for a luxury crossover, it would be hard to overlook Lexus. The brand's RX is among the most popular luxury SUVs on sale, while the all-new NX is making headlines for becoming the latest addition to Lexus' growing SUV stable. So what exactly is the difference between the 2015 Lexus NX and the 2015 Lexus RX? We took a close look to help you figure out exactly what separates Lexus' two crossovers and help you determine which one is the best choice for you.
Exterior
Although the Lexus RX and its baby brother NX are similar in size and segment position, there's no mistaking the two SUVs. The RX offers a more traditional luxury-crossover look and sports Lexus' rather bold new grille, but the NX looks like it's from the future, with a wide array of sharp lines, big creases and distinctive flair. Spend just a few seconds studying photos of these two SUVs, and we suspect that you'll never confuse them. There is, however, an all-new RX coming for the 2016 model year, which boasts a redesigned look that resembles the NX's styling.
Interior
Inside, the NX and RX also offer substantially different appearances. In the RX, Lexus shows its more traditional older look: There's a regular-looking gear lever, wood accents and a fairly conservative dashboard design. The NX, on the other hand, offers more of a sporty appearance, with narrower seats, a short gear lever with a leather shift boot, and the latest in the brand's center controls and infotainment technology. Essentially, if you aren't quite ready to transition to Lexus' latest round of interior design, the RX offers one more year of reprieve with a simple, traditional look before the 2016 model adopts much of the NX's in-cabin styling.
As for interior room, the RX offers more of it than the NX — especially in the back seat, where the NX can feel just a little cramped for taller drivers. But don't go looking for a third row. Even though some rivals of both the NX and RX offer 3-row seating, Lexus hasn't yet added the feature to its crossovers.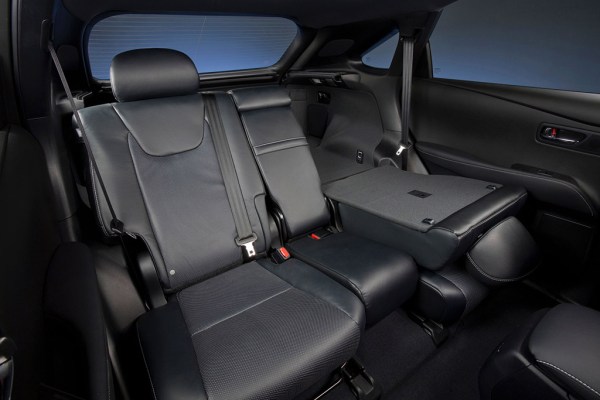 Mechanicals
Both the NX and the RX offer gasoline and hybrid engine choices, but the NX's engines are smaller, which corresponds with its status as a slightly smaller vehicle.
The NX 200t comes standard with a 2.0-liter turbocharged 4-cylinder that makes 235 horsepower, is mated to a 6-speed automatic transmission, and returns up to 22 miles per gallon in the city and 28 mpg on the highway. The RX 350, meanwhile, comes with a 270-hp 3.5-liter V6 that's also mated to a 6-speed automatic, though it returns a slightly less efficient 18 mpg city/25 mpg hwy.
The NX 300h version uses a 194-hp 2.5-liter hybrid 4-cylinder capable of returning an excellent 35 mpg city/31 mpg hwy. The larger RX 450h uses a 3.5-liter hybrid V6 that makes 295 hp and returns 32 mpg city/28 mpg hwy. In both cases, the NX is a little more efficient than its RX stablemate — as you'd expect given that the NX is a little smaller than the RX.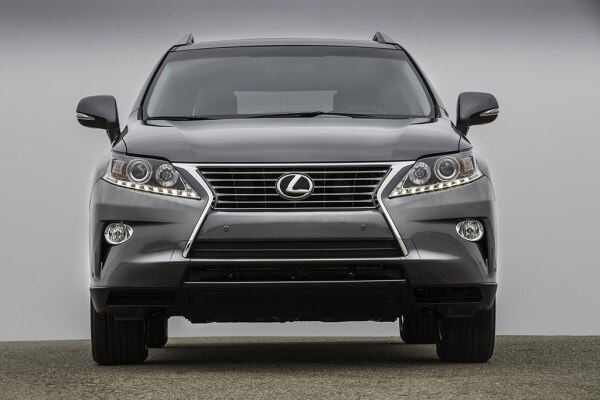 Features & Technology
Although the Lexus RX uses an older design than the recently released NX, Lexus has done an excellent job of keeping the RX current with the latest in automotive technology and equipment. As a result, the RX offers a lot of high-tech items and modern features, such as a 7-inch display screen, heated and ventilated front seats, adaptive cruise control, a pre-collision warning and automatic braking system, a heads-up display, Lexus's Remote Touch controller for the SUV's infotainment system and Lexus's Enform app suite, which allows you to bring many of your cellphone's apps on the road.
In fact, we don't see any major technological differences between the NX and the RX, which is highly unusual when comparing an aging model to a much newer one. Perhaps the NX's only real upgrade is that it offers a wireless charging tray, which admittedly is an excellent feature for drivers who have compatible smartphones.
As a result, we have to say that gadget lovers won't find much difference between these two SUVs: Both are near the cutting edge in terms of equipment, though not quite on it, and both offer virtually everything you'd expect from a modern luxury crossover.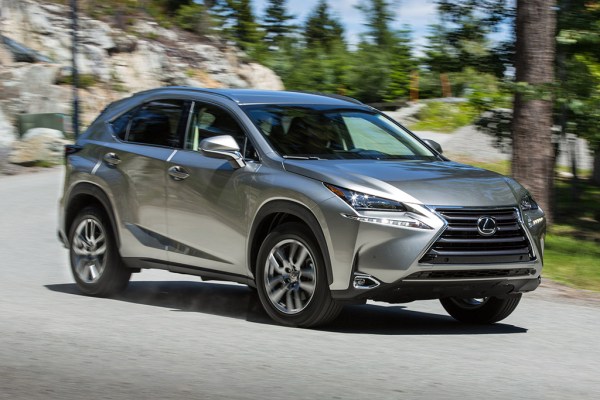 Driving Experience
Despite Lexus' best efforts, the NX doesn't quite feel as sporty as the automaker's advertising might suggest. On the contrary, we think it still rides like a Lexus, albeit one with slightly smaller dimensions, slightly sharper handling and a slightly more responsive transmission. The NX 200t F Sport is especially quick around corners, but it's still leagues behind rival sport SUVs, such as the BMW X3 or Audi Q5, when it comes to handling and cornering capabilities.
But that isn't necessarily a bad thing. On the contrary, we think the NX and the RX actually drive pretty similarly, with only minor differences noticeable on some very sharp corners. Both the NX and the RX tout smooth rides, quiet powerplants, hushed interiors and average acceleration when compared to rivals. As a result, neither SUV is a sports car, and both end up on the luxury side of luxury sport utility vehicle.
Safety
In crash testing carried out by the federal government's National Highway Traffic Safety Administration, both the Lexus RX and the NX earned perfect 5-star overall scores. In testing carried out by the nonprofit Insurance Institute for Highway Safety, the NX earned the firm's highest possible Top Safety Pick+ score, but the RX has not yet been submitted to every possible test in order to qualify for the same rating.
When it comes to safety features, both the NX and the RX offer the same level of equipment. Standard items on both SUVs include anti-lock brakes, side-curtain airbags, a backup camera and Lexus' Safety Connect telematics system. Optional features include adaptive cruise control, a blind spot monitoring system, rear cross-traffic alert, lane-departure warning and a forward-collision warning system with automatic braking. Simply put, these two crossovers are nearly identical when it comes to safety, with neither one holding any distinct advantages over the other.
Conclusions
Aside from their interior and exterior styling, the 2015 Lexus NX and the 2015 Lexus RX are a lot alike, and that's by design. The RX is wildly popular, so it only makes sense for Lexus to shape the NX's traits around its most successful SUV. As a result, we think there are only two major differences between the NX and the RX. One is size: Drivers looking to maximize interior room will still want the RX, though neither SUV offers sought-after 3-row seating. The other difference is appearance: The 2015 RX offers a more staid, traditional look compared to the NX's bold, futuristic styling, both inside and out. We suspect your Lexus crossover choice will largely come down to whether you prefer the bold, exciting look of the NX or the more traditional, conventional appearance of the RX.