Editor's note: You may be interested in reading more of Autotrader's model vs. model car comparison reviews as well as the 2015 Lexus IS review and the 2015 Ininiti Q50 review.
If you're interested in a sporty luxury sedan that offers bold styling, lots of technology and big power, without the high prices associated with most German models, then you might be considering the 2015 Lexus IS and the 2015 Infiniti Q50. Both are among today's top luxury sport sedans, and both were recently redesigned to offer a new look, new features and more. But which one is better? We're taking a closer look at the two models to find out. But first, let's see what's new with these sedans for 2015.
2015 Lexus IS
Following a recent redesign, the IS sees only minimal changes for 2015. Updates are limited to a newly available Enform Remote mobile app and, in all-wheel-drive models, a newly optional heated steering wheel. See the 2015 Lexus IS models for sale near you
2015 Infiniti Q50
Following a full redesign for 2014, the Q50 is unchanged for the 2015 model year. See the 2015 Infiniti Q50 models for sale near you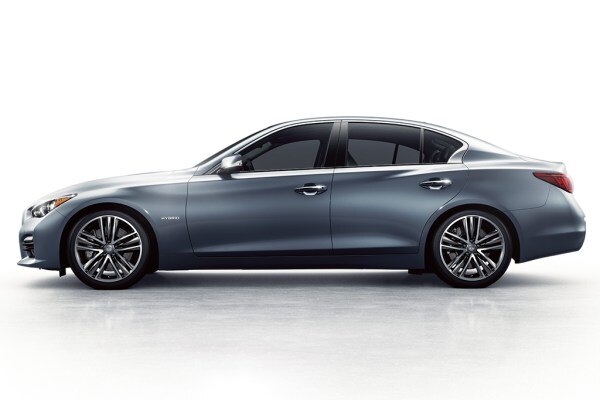 Reliability
Both the Infiniti Q50 and the Lexus IS earned strong reliability scores from experts at J.D. Power: four circles in the firm's Power Circle Ratings, indicating better-than-average reliability. And warranty length is virtually identical; each sedan offers a 6-year or 70,000-mile powertrain warranty, with the Q50's 4-year or 60,000-mile bumper-to-bumper warranty beating out the IS model's warranty by just 10,000 miles. As a result, reliability is a toss-up.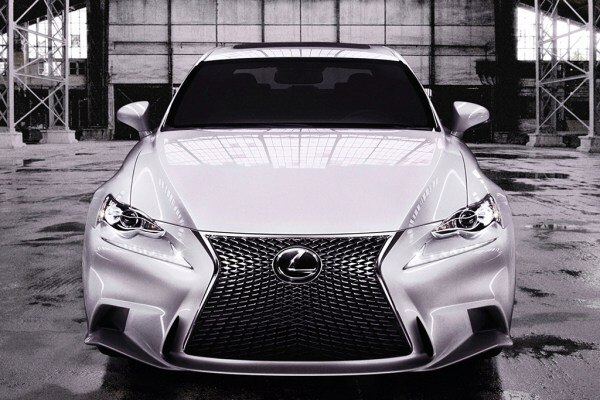 Fuel Economy
The Q50 offers two engines. Most models get a 328-horsepower 3.7-liter V6, which returns 20 miles per gallon in the city and 29 mpg on the highway with rear-wheel drive or 19 mpg city/27 mpg hwy with all-wheel drive. Drivers who want extra power can upgrade to the Q50 Hybrid, which boasts a 360-hp 3.5-liter hybrid V6 and fuel economy ratings as high as 29 mpg city/36 mpg hwy.
The IS also offers two engines. Standard in the base-level IS 250 is a 204-hp 2.5-liter V6, which returns 21 mpg city/30 mpg hwy with rear-wheel drive or 20 mpg city/27 mpg hwy with all-wheel drive. The more muscular IS 350 offers a 306-hp 3.5-liter V6, which touts 19 mpg city/28 mpg hwy with rear-wheel drive and 19 mpg city/26 mpg highway with optional all-wheel drive.
The Q50 is the real fuel economy star between these two cars, though we're also impressed with the powerful IS 350's numbers, which lag only slightly behind the gas-powered Q50's figures. The only disappointment is the IS 250, which should do better given its mediocre power figure.
Safety
In National Highway Traffic Safety Administration (NHTSA) crash-testing, both the Q50 and the IS earned a perfect 5-star overall score. The Q50 also earned a Top Safety Pick+ rating from the nonprofit Insurance Institute for Highway Safety (IIHS), a score the IS is undoubtedly gunning for once it takes part in the agency's full battery of tests.
As for safety features, the Q50 and the IS each offer everything you might expect, including anti-lock brakes, side-curtain airbags and traction control. But it's the Q50 that pulls ahead in terms of safety options with its multi-angle camera system, a forward-collision alert system with automatic braking (the Lexus's system doesn't slow the car down) and an active lane-control feature that can steer if the driver becomes fatigued. Sure, the Lexus has several important safety options, such as blind spot monitoring, rear cross-traffic alert and lane departure warning, but the Infiniti has those, too.
Since the Infiniti boasts some additional safety features and the IIHS's coveted Top Safety Pick+ distinction, we have to give the safety category to the Q50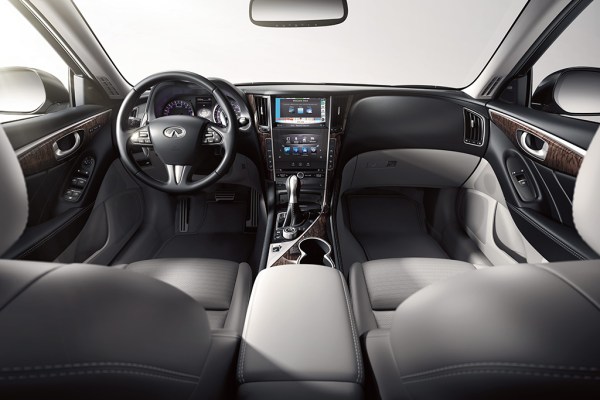 Technology
Although the Infiniti Q50 offers some substantial benefits over the Lexus IS in terms of safety technology, the two cars offer no major differences when it comes to more traditional gadgets, features and technology. Both offer everything you'd expect: a multi-speaker sound system, adaptive cruise control, automatic wipers, automatic headlights, an infotainment system, USB ports for music and more. But neither car touts any significant technological advantages over the other, outside the realm of safety, so we have to consider this category a draw.
Value
Value is possibly the easiest category in our comparison, since the winner is so obvious. Consider these numbers: The IS 250 starts at $37,500 and features 204 hp, while the Q50 starts at $38,000 with 328 hp. The Infiniti offers an advantage in fuel economy and interior size. It also comes with more standard features, such as a heated steering wheel in all-wheel-drive models (optional in the Lexus) and a backup camera (optional in the Lexus). And then there's that longer warranty and the additional safety options.
If you want your IS to come close to the Infiniti's horsepower number, you'd have to opt for the IS 350 model, which starts at $41,000 with shipping. For that money, you could have a Q50 Premium with additional features including heated seats, a 14-speaker Bose sound system and a power sunroof. Only the sunroof is standard on the Lexus; the sound system and heated seats are optional.
When the discussion turns to value, the Infiniti wins easily. In fact, the Q50 offers possibly the best value of any midsize luxury sport sedan on the market.
Autotrader's Advice
The 2015 Infiniti Q50 and the 2015 Lexus IS are both excellent luxury sport sedans, but we strongly prefer the Infiniti. It's not because the Lexus is a bad car. On the contrary, the Lexus offers an excellent combination of bold styling, respectable engine performance (in the IS 350 model) and ample standard and optional equipment. But the Q50 manages to do more for less, and in the competitive world of the luxury sport sedan, that's a huge selling point. Find a Lexus IS for sale or Find an Infiniti Q50 for sale