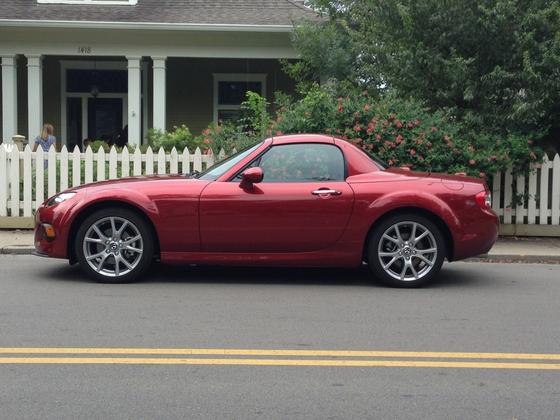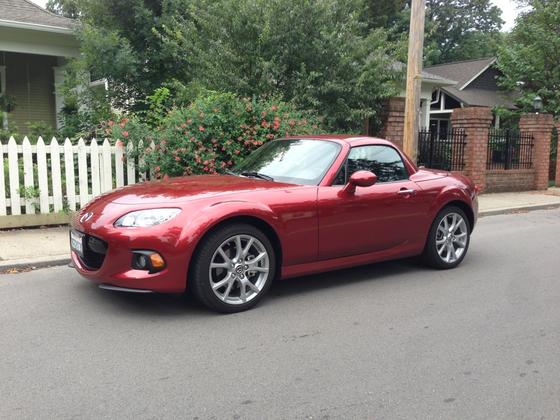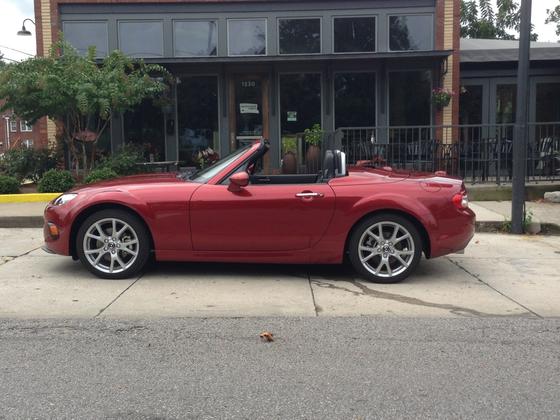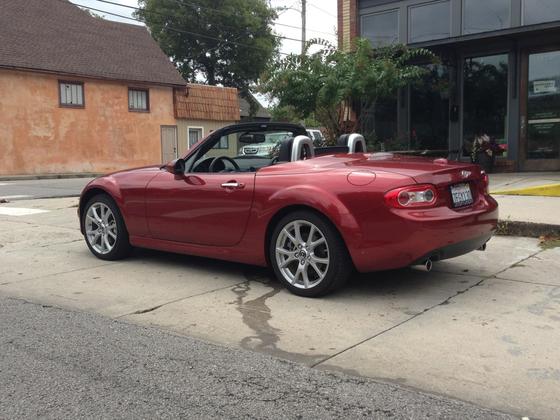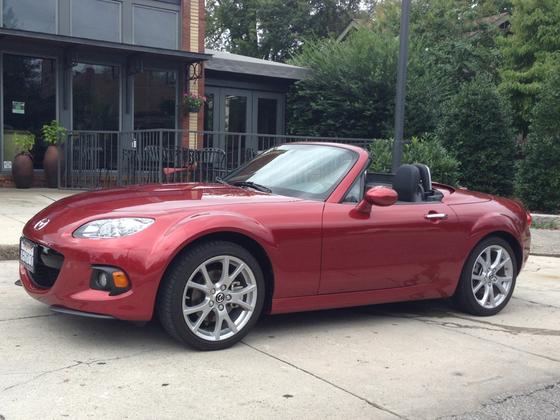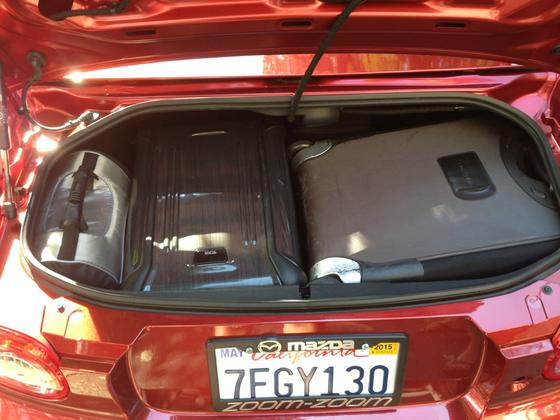 Ever since the Mazda Miata's introduction back in 1989, nearly everyone who has driven one would agree that it is one of the best handling, fun-to-drive vehicles -- a sports car in the purest sense. It is one of the most inexpensive ways to get that top-down, wind-in-your-hair driving experience. A Mazda Miata could be considered the perfect second car that's used mostly for running around town on the weekends. A used Miata is an affordable, practical "starter" race car.
But what if you were headed on a road trip? Would all the qualities that make the Miata such a fun car have the exact opposite effect on it being a practical vacationer? Where do you put all of your stuff? How much stuff can you bring? To find out, we borrowed a 2015 Mazda Miata Grand Touring Hard Top for a weekend visit to Nashville, TN from our home base of Atlanta, GA.
Pack Lightly
Unlike many other convertibles, Mazda has designed the Miata's trunk so that the amount of storage space stays the same whether the top is open or closed. While this means you can open and close the top without having to rearrange your luggage, you only have 5.3 cu ft. of available trunk space, so it's important to only bring what you need. For the long weekend trip, my girlfriend and I only needed a carry-on-sized bag each, and -- with some careful placement -- there was room left to pack a small cooler for snacks and water for the 250-mile trip.
Where's the Grand Touring?
Having been around in its current form since 2006, there are some aspects of the Miata that make it feel dated -- and not in a nostalgic way. I don't mind that there is no factory navigation available because I prefer to use my smartphone as opposed to most in-car systems. However, there is no USB port either, which meant that I had to bring a USB converter for the cigarette lighter. Thankfully, this kept my phone's battery powered, but I still couldn't stream my music via Bluetooth; that's not an available option. The only way to play music is by using an auxiliary cable.
The Grand Touring trim does come standard with leather on the seats, steering wheel, shifter knob and parking brake, plus synthetic leather on the door panels so everything you touch has a nice luxury feel. The seats themselves are designed more toward the sporty side, pretty narrow and with little padding, so frequent stops are recommended for stretching. These stops will also be a good time to get a break from the somewhat cramped interior, which also tends to get a bit loud when the hardtop is up.
All minor criticisms are forgotten when the top is dropped. This is when the Miata truly shines. You can tell just how many design and feature choices were made with this type of driving in mind. All hardtop versions include a specially designed wind-blocker. The Grand Touring trim includes heated seats with five different levels to help you choose the perfect setting in cooler weather and a Bose AudioPilot stereo, which automatically adjusts to compensate for vehicle speed and exterior noise level.
Is It Worth it?
In a word: yes. Minor limitations aside, the 2015 Mazda Miata is a driver's car at its core. It definitely does have its shortcomings -- limited trunk space, old-school technology, and a less-than-impressive top-up experience. All of those issues are minor when compared to the pure joy that results after a ride in the Miata. With the all-new 2016 Mazda Miata just around the corner, it should only get better.