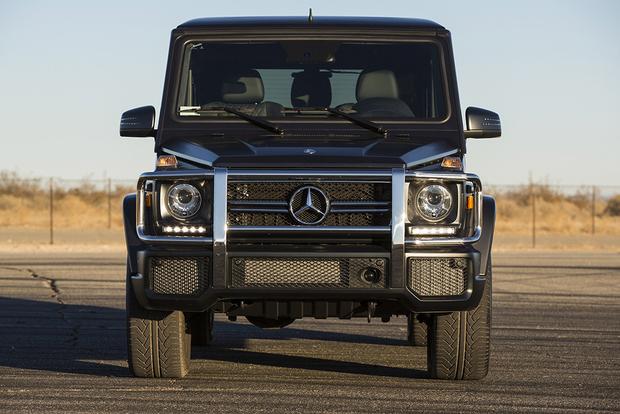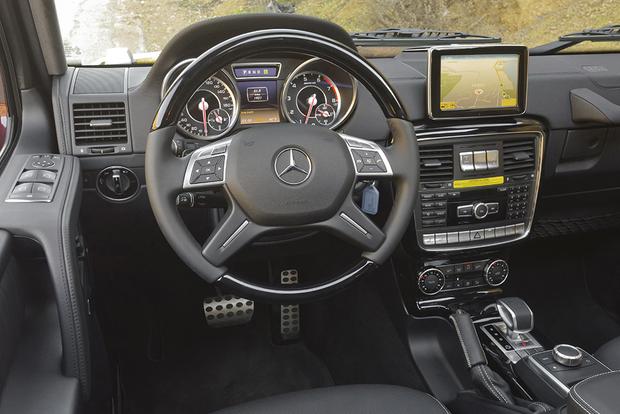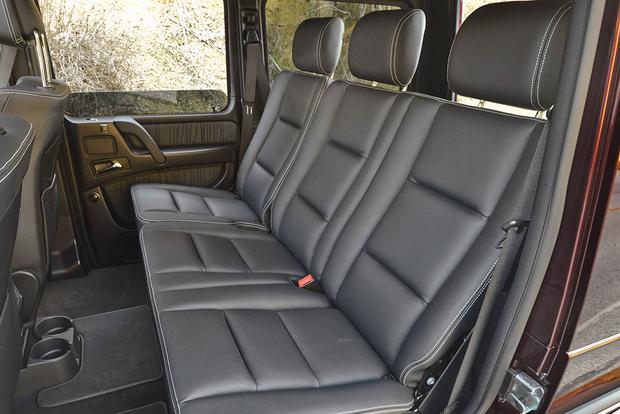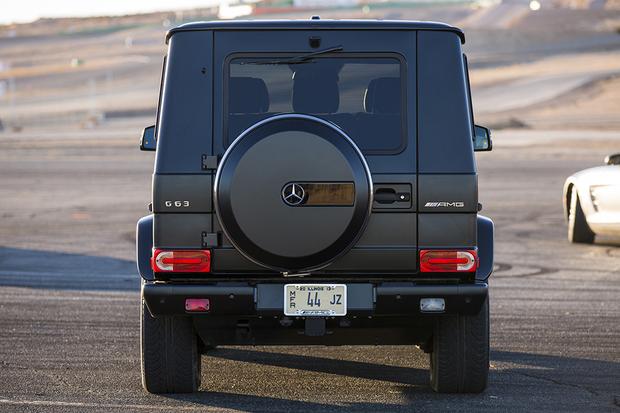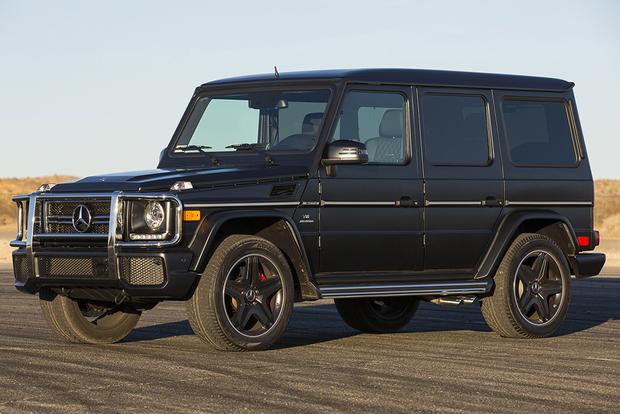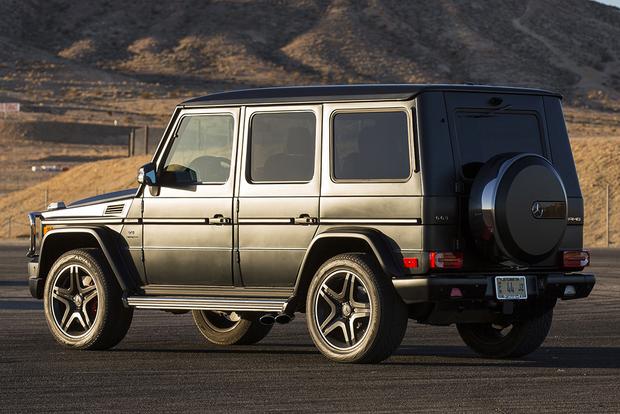 If you're looking for information on a newer Mercedes-Benz G-Class, we've published an updated review: 2018 Mercedes-Benz G-Class Review
Long before the Mercedes-Benz G-Class became a fixture in hip-hop videos and Beverly Hills driveways, the so-called G-Wagen made its name as a Cold War-era German military vehicle. Its first year of civilian production was 1979, and the current-generation model hit the streets way back in 1990. Over the years, the G-Wagen has earned worldwide admiration for its exceptional combination of toughness and class. More recently, it's been stuffed full of the best engines Mercedes offers, including the glorious 5.5-liter twin-turbocharged 536-horsepower V8 that powers the G63 AMG.
But let's be clear: If you buy a 2015 Mercedes-Benz G-Class, you'll be dropping six figures on a glorified German Jeep that debuted during the Carter administration. Then again, is there anything wrong with that?
Not if you ask Hollywood celebrities, who gobble up G-Wagens the way reasonable folks buy Honda Civics. And not if you ask genuine G-Wagen fans, who will tell you that Mercedes got most of the details right back in the day and that most of the car's shortcomings have been addressed by regular powertrain updates and a recent interior overhaul.
As such, we concede that the 2015 Mercedes-Benz G550 and G63 AMG deserve their spot at the top of the automotive heap. This boxy Benz may be a relic from a bygone era, but for buyers with the requisite means, it still doesn't get much better than a G-Wagen.
What's New for 2015?
The 2015 Mercedes-Benz G-Class receives no significant changes. See the 2015 Mercedes-Benz G-Class models for sale near you
What We Like
World-class engines; go-anywhere skill set; steeped in tradition; plenty of modern technology
What We Don't
Decades-old platform; possibly the worst vehicle on the market for going around corners; crude ride quality
How Much?
$116,325-$138,075
Fuel Economy
All G-Wagens are outfitted with a 7-speed automatic transmission, a sophisticated 4-wheel-drive system with low-range gearing and locking front, center and rear differentials. The G550 employs a 5.5-liter V8 engine rated at 382 hp and 391 lb-ft of torque, while the G63 AMG boasts a twin-turbo 5.5-liter V8 that pumps out 536 hp and 560 lb-ft.
The Environmental Protection Agency rates both G models at 13 miles per gallon overall. If you're keeping score at home, the G550 noses out the G63 on the highway, 15 mpg to 14 mpg, but both return a dismal 12 mpg in urban driving.
Standard Features & Options
The 2015 Mercedes-Benz G-Class is available in two trim levels: G550 and G63 AMG.
The G550 ($116,325) comes with a rich list of standard items, including alloy wheels, xenon headlights, LED lighting accents, a sunroof, front and rear parking sensors, adaptive cruise control, a blind spot monitoring system, keyless entry/start, heated and ventilated power front seats with memory settings, a Harman Kardon surround-sound audio system and the COMAND infotainment system with a navigation system and a 7-inch central display.
The G63 AMG ($138,075) adds 20-in wheels, special styling cues and designo leather upholstery.
Options are minimal for the G-Class lineup, highlighted by a rear-passenger entertainment system and a heated steering wheel.
Safety
The 2015 Mercedes G550 and G63 AMG come with standard stability control, 4-wheel anti-lock disc brakes and just four airbags: two in front and two full-length side-curtain units.
Electronic safety aids include a blind spot monitoring system, a rearview camera and the mbrace2 telematics system, which features automatic collision reporting, a stolen-vehicle locator, an SOS button and remote door-locking.
Zero crash tests of the G-Wagen have been conducted on our shores thus far, and this trend is not likely to change.
Behind the Wheel
The G-Class feels a lot more elevated than it looks, if you can believe that. This is obviously a tall and narrow vehicle, but these qualities are somehow magnified when you're behind the wheel, so if there's a tight corner ahead, take it slow. The G-Wagen is more like the Sprinter cargo van than an ordinary Benz in this respect.
However, the G-Class excels at highway cruising, limited only by its terrible aerodynamics and the significant wind noise that results. It's even more adept off the road, provided you haven't installed 22-in chrome rims with low-profile street tires (you wouldn't do that, right?).
The fact is, people generally don't buy a G-Class for the way it drives, but we think the fortunate few who take up the keys will be pleasantly surprised by how well this military-grade Benz handles the road.
Other Cars to Consider
2015 Infiniti QX80 -- Based on the excellent overseas Nissan Patrol SUV, the QX is a legitimate off-roader, and its styling rivals that of the G-Class model for sheer audacity. Plus, it costs tens of thousands less.
2015 Land Rover Range Rover -- The recently redesigned Range Rover is much lighter than its predecessor, enabling it to run circles around the portly G-Wagen. But does it look as hardcore as the Benz? You be the judge.
2016 Porsche Cayenne -- If you like to take the occasional aggressive corner, the G-Class won't get the job done, but Porsche's athletic crossover just might. It's definitely the driver's choice in this class.
Used Mercedes-Benz G-Wagen -- Since the G-Class's current platform dates back to 1990, you can pick up a used model and save a bundle while still enjoying the same styling and driving character.
Autotrader's Advice
The cheaper G550 delivers a reasonably competent drive, and its V8 is surprisingly responsive, but for those seeking snorting, thrilling performance, the gaudy yet potent G63 AMG is the G-Wagen of choice. Either way, spendy SUV shoppers are in for a unique treat when they opt for a Mercedes-Benz G-Class. Find a Mercedes-Benz G-Class for sale