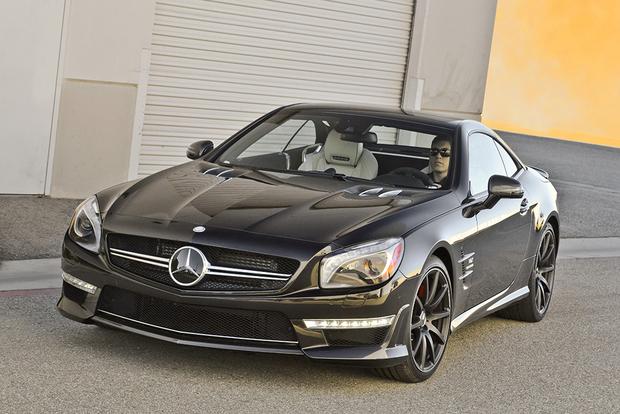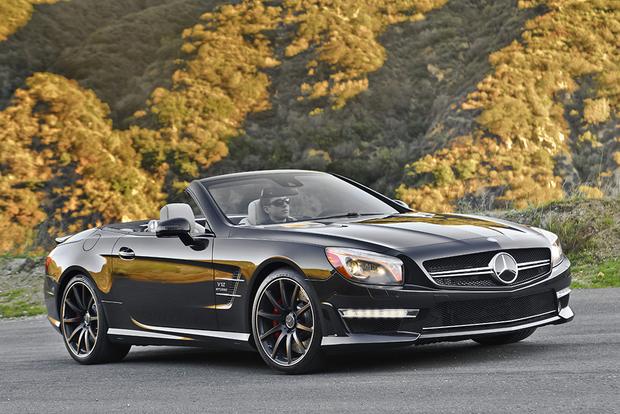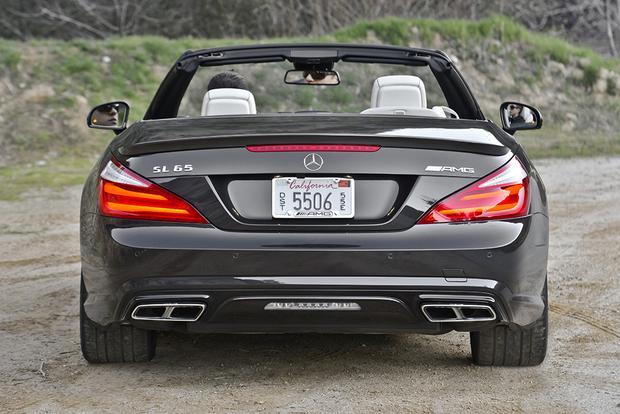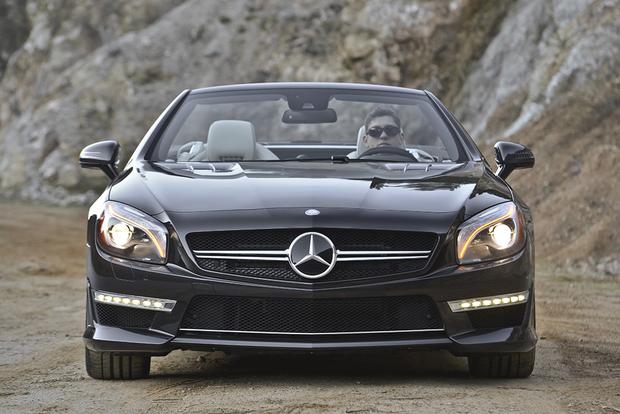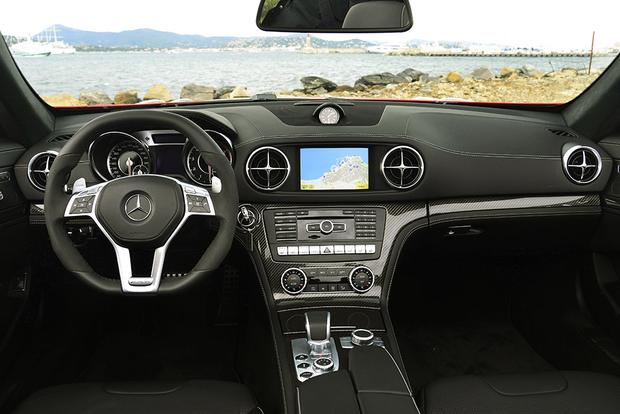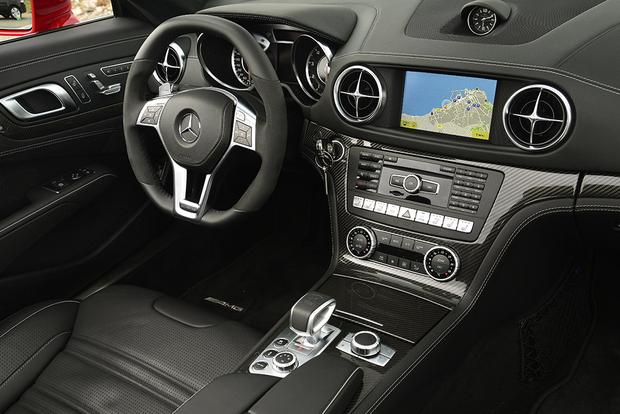 If you're looking for information on a newer Mercedes-Benz SL-Class, we've published an updated review: 2019 Mercedes-Benz SL-Class Review
It may not boast the timeless looks of its predecessors, but the 2015 Mercedes-Benz SL-Class lays claim to serious improvements in performance, engineering and design.
Thanks to a comprehensive redo for the 2013 model year, the current SL offers a richer list of standard features, as well as a baseline curb weight that's more than 200 pounds lighter.
As before, a power-folding hardtop keeps the elements at bay, but this time around, an impressive array of turbocharged engines combine stump-pulling power with surprising efficiency. Though it still can't touch the Porsche 911's steering precision, the 2015 SL-Class stays true to traditional SL strengths, such as speed and comfort, while offering surprisingly satisfying handling when pressed.
What's New for 2015?
The entry-level SL400 debuts with a turbocharged V6 engine; it's the first 6-cylinder SL in the United States since 1997. Otherwise, the SL sees just minor equipment adjustments this year. See the 2015 Mercedes-Benz SL-Class models for sale near you
What We Like
Bulletproof construction with a seemingly endless list of luxury features; satisfying performance across the lineup; hard to beat the SL-Class' heritage and brand equity
What We Don't
Lacks the visual appeal of earlier SL models; hardtop limits trunk space when folded
How Much?
$84,925-$217,475
Fuel Economy
All SL-Class models feature rear-wheel drive and a 7-speed automatic transmission, though the AMG models get a different version of the transmission with quicker shifts.
The SL-Class range starts with the SL400 and its twin-turbocharged 3.0-liter V6 (329 horsepower, 354 lb-ft of torque). According to the Environmental Protection Agency (EPA), it should return 20 miles per gallon in the city and 27 mpg on the highway.
The SL550 steps up to a twin-turbocharged 4.7-liter V8 (429 hp, 516 lb-ft), but it drops to 17 mpg city/24 mpg hwy.
The SL63 AMG boasts a twin-turbocharged 5.5-liter V8 (577 hp, 664 lb-ft) and nearly the same fuel economy as the SL550, checking in at 16 mpg city/25 mpg hwy.
The SL65 AMG tops things off with a twin-turbocharged 6.0-liter V12 (621 hp, 738 lb-ft) and the worst fuel economy of the bunch: 14 mpg city/21 mpg hwy.
Standard Features & Options
The 2015 Mercedes-Benz SL-Class is available in SL400, SL550, SL63 AMG and SL65 AMG trim levels.
The SL400 ($84,925) includes standard amenities such as 18-inch alloy wheels, xenon headlamps, fog lamps, LED accents in the front and rear, adaptive suspension dampers, a power hardtop with a panoramic glass roof, leather upholstery, active power seats with memory, the COMAND infotainment system with navigation, Bluetooth and a Harman Kardon audio system with USB connectivity.
The SL550 ($107,825) steps up to the 4.7-liter V8, plus keyless entry/start, massaging seats, neck-level heating vents, an advanced parking system with self-parking capability and a power trunk lid.
The SL63 AMG ($148,975) boasts the 5.5-liter V8 and all manner of styling, handling and interior upgrades befitting of its AMG status. Highlights include 19-in AMG wheels, special dampers with active roll resistance (known as Active Body Control or ABC), big brakes and performance telemetry.
Ultimate SL-Class performance comes from the SL65 AMG ($217,475), which features the only V12 in the lineup, plus 20-in rear wheels, a Magic Sky Control roof that turns from transparent to opaque on command, power-closing doors, an enhanced infotainment display and Bang & Olufsen audio.
Options include some of the higher trims' standard features, plus carbon-fiber trim (exterior and interior), black chrome trim and carbon-ceramic brake rotors.
The SL's trunk is pretty roomy by roadster standards, measuring about 10 cu ft. with the top up. Folding the top takes a big bite out of that space, though -- three cubes, to be exact -- so remember not to go al fresco if the boot's fully loaded.
Safety
Mercedes-Benz claims that the 2015 SL is "the world's safest convertible." Along with side and knee airbags, there's a pop-up roll bar, a driver-drowsiness monitor and the company's pre-collision system, which tightens seat belts and primes the brakes. On the options list are a blind spot monitoring system, active lane-keeping assist and adaptive cruise control with automatic emergency braking.
Behind the Wheel
The 2015 SL's construction is so robust that there's hardly a hint of body flex when driving over rough surfaces; the vehicle feels as rigid as a fixed-roof coupe. Acceleration is rapid yet buttery-smooth. Even the V6-powered SL400 zips from zero to 60 miles per hour in a fleeting 5.1 seconds, while the SL550 needs just 4.5 seconds and the SL63 AMG and SL65 AMG drop to 4.2 and 3.9 seconds, respectively.
Handling in any SL is quite capable by the numbers, thanks to wide tires and clever suspension engineering. This isn't a car that cajoles you to push the limits, however. SL roadsters have always been about brisk back-road motoring as opposed to true sports-car action, and that holds true for the current model, as well. Although the optional ABC suspension gives the impression of invincibility with its eerily flat cornering, the truth is that the SL remains more of a boulevard cruiser than a canyon carver. If you keep that in mind, you'll likely be pleasantly surprised by its athleticism through the bends.
Other Cars to Consider
2016 BMW 6 Series Convertible -- The drop-top 6 Series features four seats and a vinyl roof rather than a hardtop, but it's comparable to the SL in terms of power and technology.
2015 Jaguar F-TYPE Roadster -- Jaguar's first genuine sports car in years is stiffer and louder than the SL-Class, but that might be a good thing.
2015 Porsche 911 Cabriolet -- The open-air 911 has a soft-top, just like the BMW and Jag, but it also has timeless beauty on its side, not to mention the unique rasp of its flat-6, rear-mounted engine.
Used Bentley Continental GTC -- If you want to activate full baller mode, you can find a lightly used Bentley drop-top for the price of an SL. Just make sure you have some kind of warranty.
Autotrader's Advice
If the SL were just a little prettier to look at, it would be a virtually flawless luxury convertible. Even with that somewhat bulbous nose in the mix, it's still one of the finest automobiles on the planet. Find a Mercedes-Benz SL-Class for sale