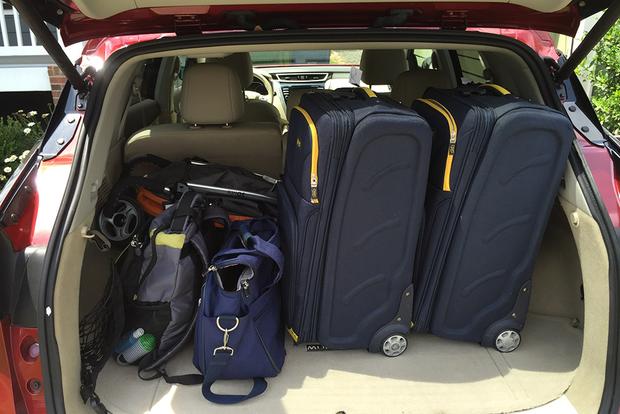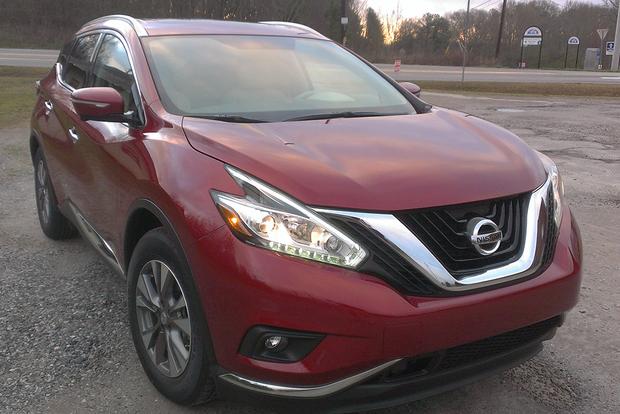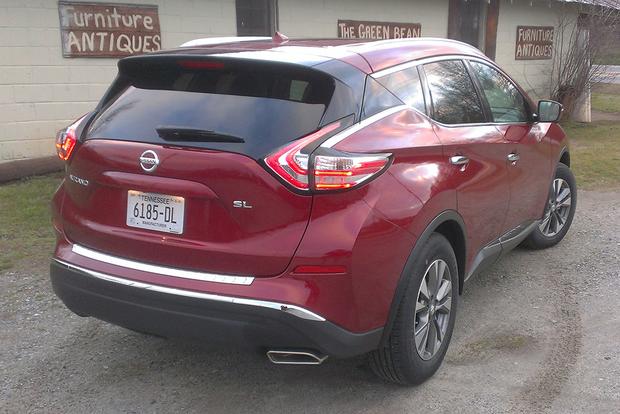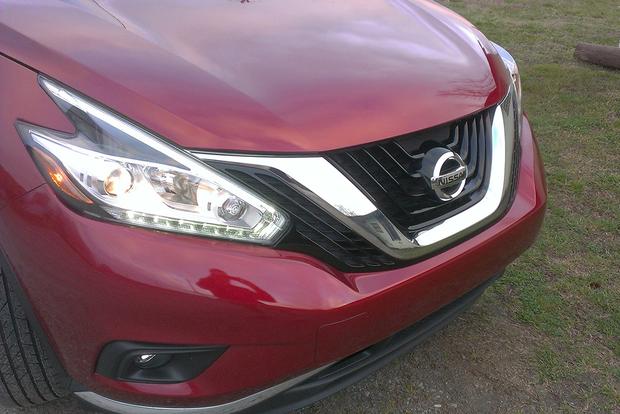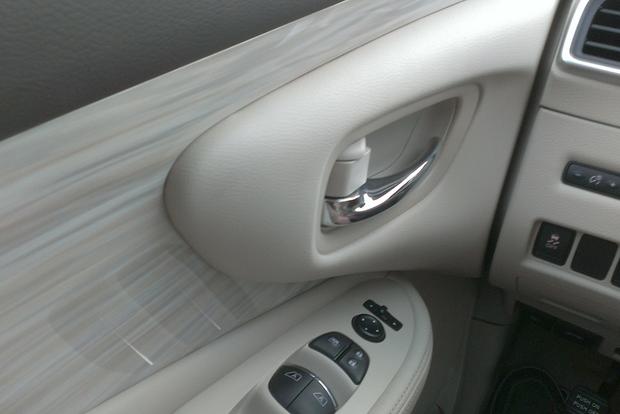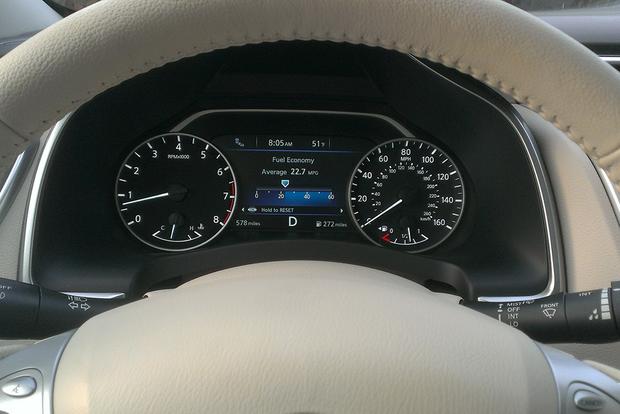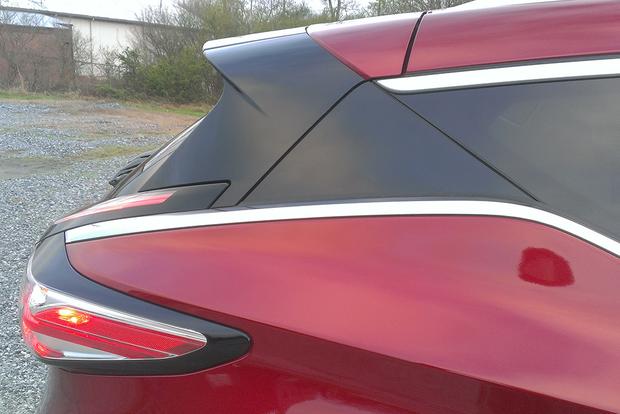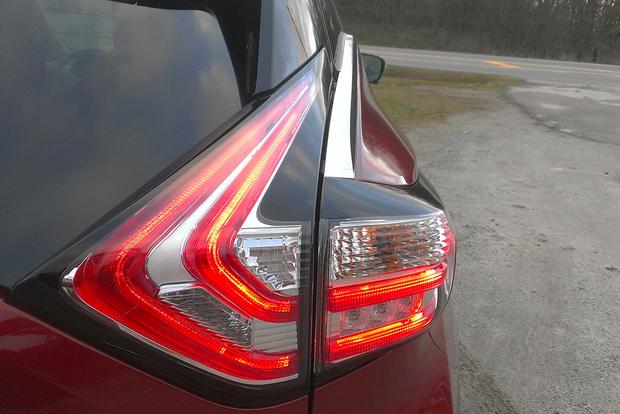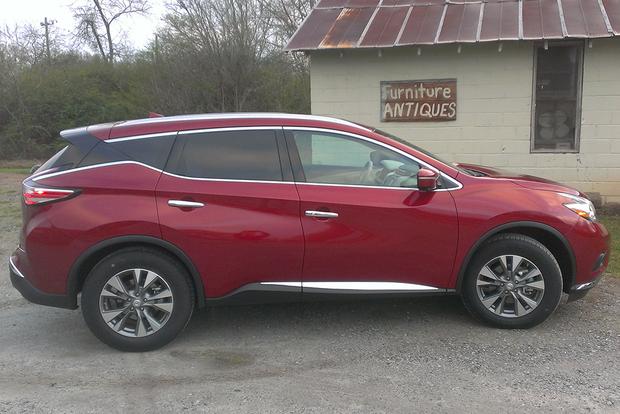 Since summer is quickly coming to an end, it's time for one last family vacation before the kids go back to school. One of our editors, Tara, decided to take our 2015 Nissan Murano long-term test car on her family vacation only to find out the crossover was incompatible with her vacation plans.
The Crossbar Problem
Tara is the mother of a 1-year-old and a 4-year-old, so she's always carting around a lot of stuff everywhere she travels with her kids. For her recent family vacation, she decided to use a rooftop cargo bag to store a few items she couldn't fit inside our Murano's cargo area. Then, she set off for the dealer in search of some crossbars that could fit the Murano's unusual roof rails, which are flush with the body rather than raised, like they are on some models.
The problem? Nissan doesn't offer any crossbars for our Murano. We have the popular Technology package, which comes with a full panoramic sunroof that Nissan says isn't compatible with crossbars. Initially, we thought this may be due to the way the sunroof opens, but after talking to a few dealers, it turns out the crossbars aren't compatible due to excessive wind noise. Drivers of the Murano with the panoramic sunroof aren't supposed to use roof racks, even if they need to carry rooftop cargo bags, kayaks, bikes, skis or other items.
The Solution?
Interestingly, the solution goes beyond just the 2015 Nissan Murano with the panoramic sunroof. The latest Murano is so new that Nissan dealers still aren't offering crossbars on any model, though the dealers we've talked to say they'll be out soon. Instead, Nissan dealers sent us to automotive accessories manufacturer Thule, who offers a set for around $300. Unfortunately, we didn't plan far enough ahead and didn't have time to get the aftermarket accessory installed. If you're considering a 2015 or 2016 Murano and have a lot of gear to haul, don't let this stop you, as the aftermarket accessory is still a reasonable option.
However, if you spend the $300 for the Thule crossbars, Nissan doesn't recommend to use these bars on any 2015 Murano model equipped with a panoramic sunroof. It seems like a comfort issue (due to wind noise) rather than a safety issue (due to glass breakage or sunroof opening problems), so we'd probably install them in our long-term Murano, if we absolutely had to carry something that couldn't fit in the cargo area.
There's one other minor point to be made here: Fancy isn't always functional. We love the Murano's panoramic sunroof, plush cabin and 360-degree Around View Monitor, but for Tara's trip, a minivan or a three-row SUV would have been a better fit for the job at hand due to the extra space needed for car seats, travel cribs, portable high chairs, strollers and more. If you have small children, you may have to sacrifice a little luxury for the sake of space until the kids are old enough to stop requiring most of those accessories!