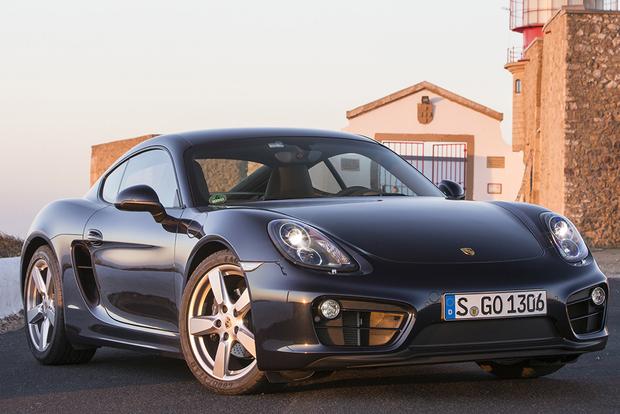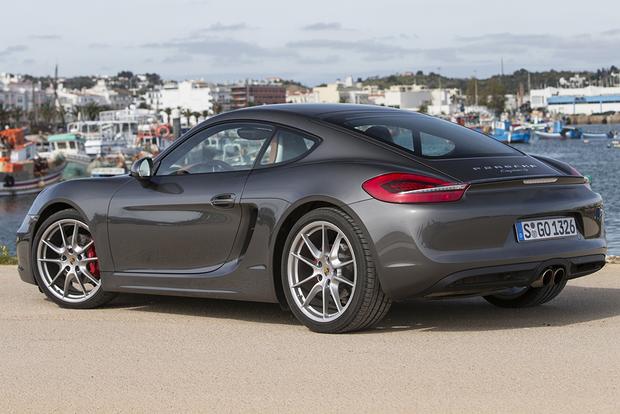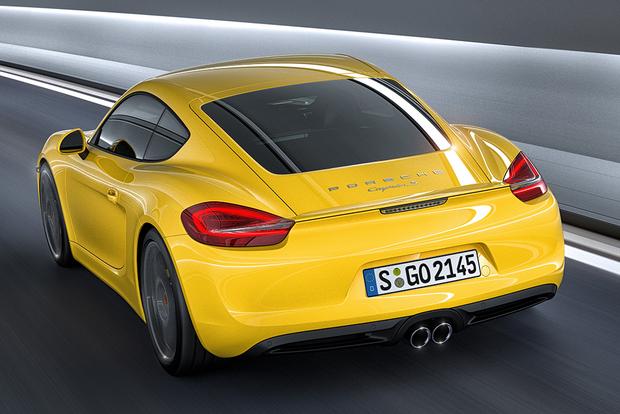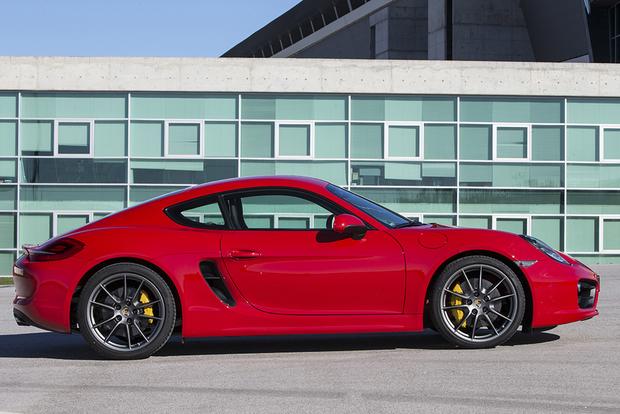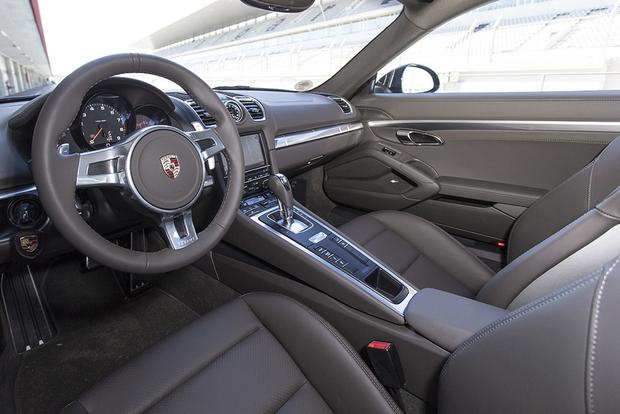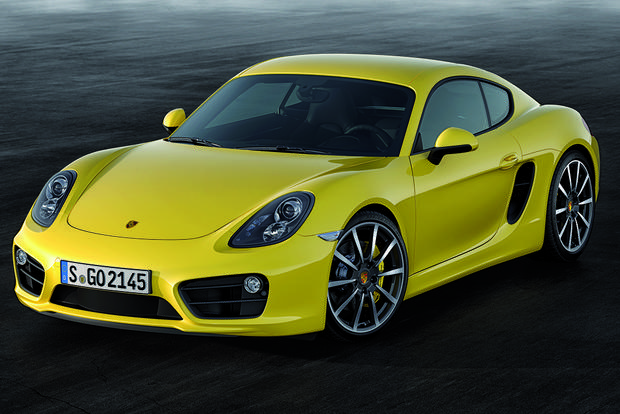 The 2015 Porsche Cayman offers all the thrills and good looks of its big brother, the Porsche 911, but with a smaller price tag and, dare we say it, a more playful demeanor. Thanks to its midengine configuration, lightweight construction and razor-sharp tuning, the Cayman delivers a different draw for performance-car shoppers, one that makes this small 2-seater a hidden gem nestled within Porsche's growing family of sports cars, SUVs and sedans.
What's New for 2015?
For 2015, a new GTS trim joins the Cayman family. The GTS distinguishes itself by adding more horsepower, 20-inch Carrera S wheels, sport seats and Alcantara fabric used throughout the cabin.
What We Like
Unpretentious, functional personality; incredibly intuitive handling; surprising comfort and smoothness; relative rarity compared to more mass-produced models
What We Don't
MSRP is quickly escalated by options; non-S model could use more power; multimedia interface feels long in the tooth
How Much?
$53,595-$130,000
Fuel Economy
The standard Cayman is powered by a horizontally opposed 6-cylinder engine producing 275 hp and 213 lb-ft of torque. Thanks to its relatively slight curb weight (which starts at a feathery 2,888 pounds), the base Cayman is rated at an impressive 20 miles per gallon in the city and 30 mpg on the highway with the 6-speed manual transmission, and an even thriftier 22 mpg city/32 mpg hwy when equipped with the 7-speed dual-clutch gearbox.
Opt for the S model, and the engine grows to 3.4 liters with a notable increase in output: The bigger powerplant produces 325 hp and 273 lb-ft of torque. The Cayman S is rated at 20 mpg city/28 mpg hwy with the manual, or 21 mpg city/30 mpg hwy with the dual-clutch 7-speed.
The GTS uses the same engine as the Cayman S but bumps horsepower to 340 and torque to 280 lb-ft. Environmental Protection Agency estimates for the GTS are 19 mpg city/26 mpg hwy with the manual and 22 mpg city/31 mpg hwy with the dual-clutch 7-speed automatic.
Standard Features & Options
The Porsche Cayman is available in three trim levels, all of which feature a midmounted engine and rear-wheel drive.
The base Cayman ($53,595) is motivated by a 6-cylinder 2.7-liter engine and is equipped with a 6-speed manual transmission or an optional dual-clutch automatic ($3,200). The standard model is equipped with 235/45-18 front and 265/45-18 rear wheels and tires.
Opt for the Cayman S ($64,795), and you'll get a bigger 3.4-liter engine with the same transmission options. The Cayman S receives larger 235/40-19 front and 265/40-19 rear wheels and tires.
The Cayman GTS ($76,195) brings more horsepower and torque plus 20-in Carrera S wheels, unique exterior body work and lower trim, Porsche Sport Seats, and Alcantara wrapping on the steering wheel, headliner and seat inserts.
Performance-related options include active suspension ($1,790), a Sport Chrono package ($1,850), a sport exhaust system ($2,825) and torque vectoring ($1,320). Also available are high-priced features such as ceramic brakes ($7,400).
Though reasonably well equipped out-of-the-box with items such as Bluetooth, an onboard computer and a hill-hold system, the 2015 Porsche Cayman has a lengthy list of available features that can make its starting price swell. For instance, no fewer than four seats are available for the Cayman: 2-way electric Sport Seats ($500), Sport Seats Plus ($800), 14-way Power Sport Seats ($2,320) and Adaptive Sport Seats Plus ($3,825). A Bose audio-equipped infotainment package with a 7-in navigation screen can be added for $3,990, while a tony Burmester sound system inflates the MSRP by $6,730.
Safety
Though it lacks the reassuring heft of some bigger, heavier sports cars, the Cayman's safety features are intended to protect its occupants in a crash. The chassis is steel/aluminum composite, which optimizes the car's structural integrity. Rounding out the Cayman's safety items are stability control and full-size and knee airbags.
The Porsche Cayman has not been tested by the Insurance Institute for Highway Safety or the National Highway Transportation Safety Association as of this writing.
Behind the Wheel
The Cayman's plain, utilitarian interior may lack the drama and premium feel of more upmarket models -- such as the 911, which starts close to $83,000 -- but the magic starts when you twist the ignition key (with your left hand, per Porsche tradition) and ease forward off the line.
Even at slow speeds, the Cayman conveys a sense of connectedness to the road, with an effortless air of maneuverability thanks to its taut suspension, small footprint and nimble dynamics. The base Cayman's power delivery is gradual and fairly mild, culminating with a little spike at the 7,400 rpm power peak. The faster you go, the more the Cayman comes alive with a sense of communicative, intuitive handling resulting from its accurate and stable steering, quick turn-in and copious grip.
Brakes are similarly balanced, with strong stopping capabilities when summoned. The real surprise comes on longer rides, when the Cayman's friendly ergonomics and surprisingly smooth ride quality make it an easy accomplice for hours on the road. We usually don't consider small, low-slung coupes to be great partners for long-distance drives, but the Porsche Cayman fits that bill and then some.
Other Cars to Consider
Audi TTS -- Nicely finished but not quite as magically tuned as the Porsche, this alternative from Ingolstadt, Germany, delivers more approachable styling with model-specific upgrades for heightened performance.
Jaguar F-TYPE R Coupe -- This hot new coupe from Jaguar offers thrilling performance and a more luxurious feel. It also tops out around $135,000 fully loaded.
Chevrolet Corvette -- Considerably larger than the Cayman (and, arguably, more of a 911 competitor), the C7 Corvette's performance upgrades make it a potential contender against the littlest Porsche.
Used Porsche 911 -- Believe it or not, a 2010-2014 Porsche 911 doesn't hold its value all that well, meaning for the price of new Cayman S you can get into a nicely loaded used 911.
AutoTrader's Advice
Though its thunder is often stolen by the famous, half-century-old 911, the redesigned Cayman's rewarding driving characteristics and nimble chassis make it an unexpectedly capable alternative to its legendary stablemate. For sports car shoppers willing to pay the Porsche premium, this latest Cayman makes a compelling argument for going with the entry-level alternative.