Editor's note: You may want to read more of Autotrader's model vs. model comparison car reviews as well as the 2015 Ram 1500 review and the 2015 Toyota Tundra review.
If you're searching for a full-size pickup, you only have a few options to choose from. Two of today's most popular models are the 2015 Ram 1500 and the 2015 Toyota Tundra. These brawny pickups offer muscular engines, bold styling and trim levels that range from bare-bones work trucks to high-end luxury vehicles. So which one should you get? Our latest comparison examines the two trucks in great detail to answer exactly that, but first, let's find out what's new with the Ram and the Tundra for the 2015 model year.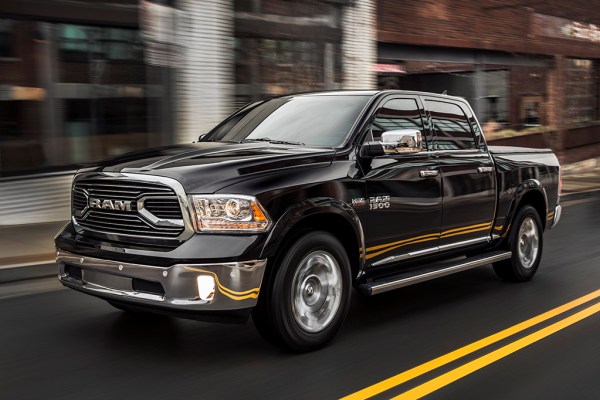 2015 Ram 1500
The Ram is largely unchanged for the 2015 model year, save for a new regular cab R/T trim level. See all 2015 Ram 1500 models available near you
2015 Toyota Tundra
The Tundra boasts two major changes for 2015. The biggest is the departure of the base-level V6 engine, which leaves only two remaining V8s. An off-road-oriented TRD Pro trim level is also newly available for 2015. See all 2015 Toyota Tundra models available near you
Reliability
According to reliability experts at J.D. Power, both the RAM 1500 and the Toyota Tundra earned an above average rating in the firm's reliability scores. As for warranty coverage, the trucks are about the same: Both offer 3 years or 36,000 miles of bumper-to-bumper coverage, and both tout 5 years of powertrain protection, but the Ram's 100,000-mile powertrain warranty slightly trumps the Tundra's 60,000 miles of powertrain coverage.
Due to their similar warranties and similar reliability scores, the RAM 1500 and Toyota Tundra are a little too close to call when it comes to reliability. We suspect that you'll have positive experiences with both models.
Fuel Economy
By dropping its base-level V6 engine for 2015, the Toyota Tundra has simplified its engine lineup to just two powertrains: a 310-horsepower 4.6-liter V8, capable of returning up to 15 miles per gallon in the city and 19 mpg on the highway, and a 381-hp 5.7-liter V8, capable of returning just 13 mpg city/18 mpg hwy.
Meanwhile, the Ram 1500 offers three different engines. A V6 is still standard, and it's rated at 305 hp and returns an excellent 17 mpg city/25 mpg hwy. Drivers who want more power can upgrade to a 395-hp 5.7-liter V8, which reaches as high as 15 mpg city/22 mpg hwy. Finally, shoppers looking to prioritize gas mileage can get a 3.0-liter turbodiesel V6 that offers 240 hp, 420 lb-ft of torque and a stellar 20 mpg city/28 mpg hwy.
Although those are a lot of numbers, you'll find that the Ram 1500 offers far better fuel economy in general — from the base model to the more muscular V8. And only Ram offers a fuel-efficient diesel engine in its light-duty pickups.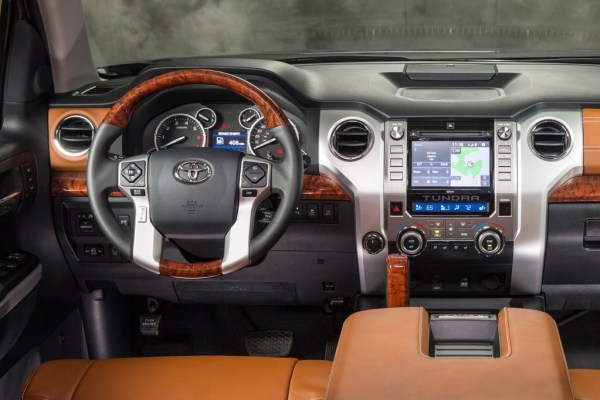 Safety
In crash-testing carried out by the federal government's National Highway Traffic Safety Administration, both the Ram 1500 and the Toyota Tundra earned 4-star overall ratings, which aren't perfect scores, but they're good for a pickup. Meanwhile, neither truck has been thoroughly tested by the nonprofit Insurance Institute for Highway Safety.
When it comes to safety equipment, neither truck offers much in the way of the latest gadgets and equipment. Standard items include side-curtain airbags and 4-wheel anti-lock disc brakes, while both trucks boast options such as parking sensors and a backup camera. The Tundra also has a few other optional features — such as a blind spot monitor and rear cross-traffic alert — but you have to upgrade to the truck's pricey high-end trim levels to take advantage. Still, that gives the Tundra a slight leg up over the Ram when it comes to safety.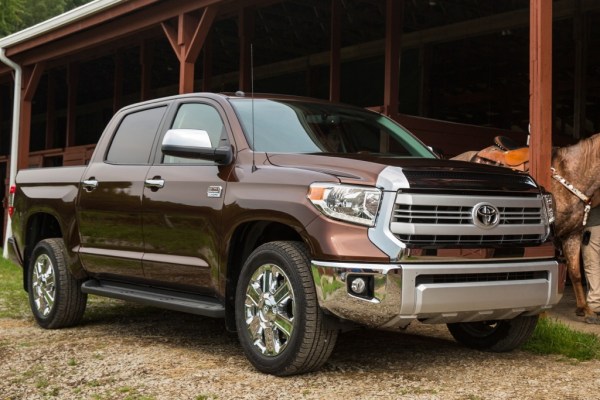 Technology
Although pickups were once go-anywhere workhorses designed for farmers and businesses looking to tow and haul, that's no longer the case. Modern trucks have a lot of features — and the Tundra and Ram 1500 are no exception.
Case in point: The Ram 1500 now offers automatic windshield wipers, automatic high beams, self-leveling air suspension, keyless access and ignition, and a remote starter. The Tundra offers a 12-speaker JBL sound system, a power rear window, ventilated front seats, driver-seat memory settings and blind spot monitoring with rear cross-traffic alert. Both trucks also boast a wide array of luxury trim options, including high-end leather upholstery, chrome accents and suede touches.
Although neither of these trucks is at the cutting edge of the automotive industry's technology boom, both tout lots of impressive features. We think the Ram offers just a little more technology than the Tundra, but we suggest that you drive both trucks to see which one offers more gadgets that you prefer.
Value
Although we like both the 2015 Toyota Tundra and the 2015 Ram 1500, we think the Ram offers a better value than the Tundra. Part of that is because there are many more Ram models to choose from than Tundra models, which means truck shoppers are more likely to find what they're looking for in the Ram lineup. More importantly, the Ram spans a wider range of prices — from low to high — and touts more powertrains, more body styles and more configurations. And if you want to go heavy duty, you can't do it with the Toyota. Yes, we think the Tundra is a good value, but we prefer the vast array of Ram choices.
Autotrader's Advice
If you're trying to decide between the Ram 1500 and the Toyota Tundra, we think you're already in a good place. Both are excellent trucks with a wide array of trim levels, engine options and body styles, and neither one has any major flaws that should have you considering something else.
If we were choosing between these two pickups, however, we'd go with the Ram. While the Tundra offers brawny styling, lots of muscle and a long list of standard and optional features, the Ram simply has more: more engine options, more body styles, more configurations, more technology and more trim levels. The Ram also offers cheaper versions for drivers who are on a more restrictive budget. Both of these trucks are stars, but to us, the RAM burns a little brighter than its Toyota rival.