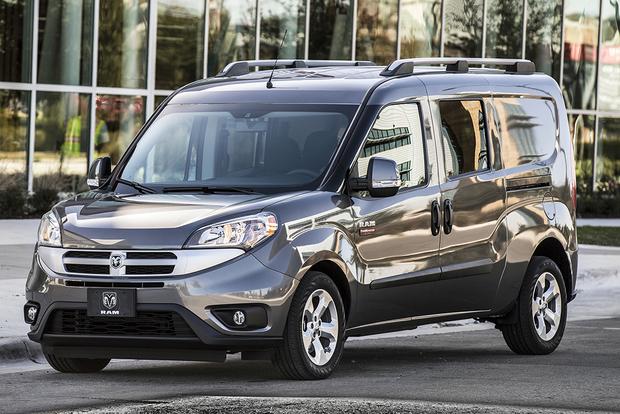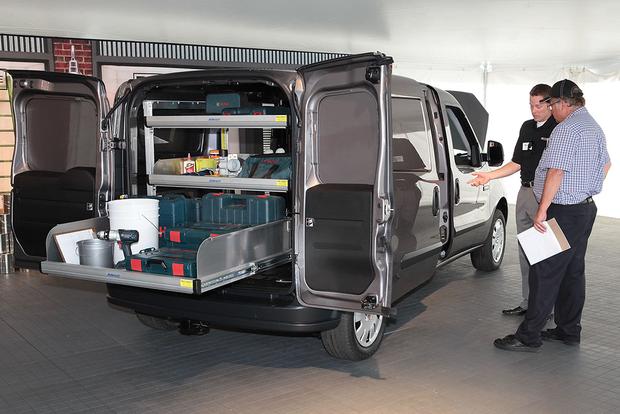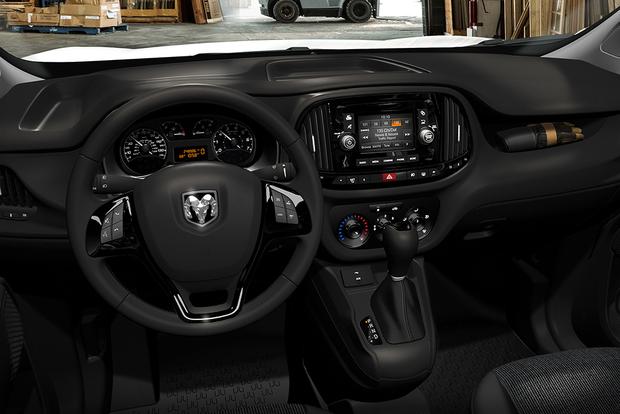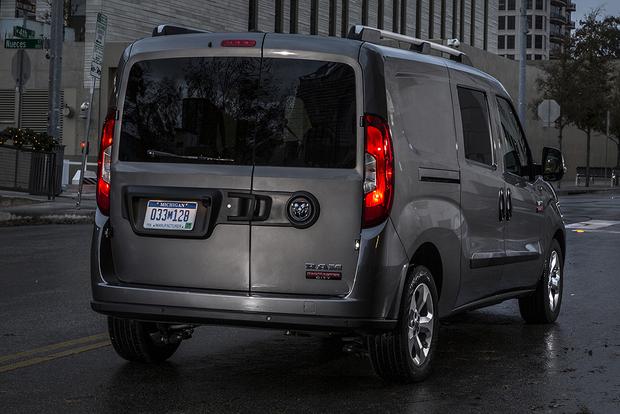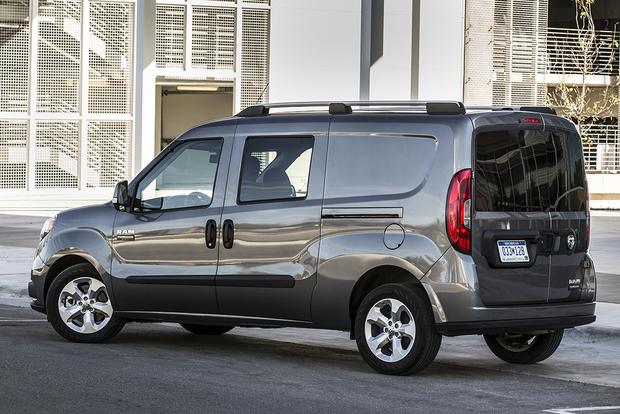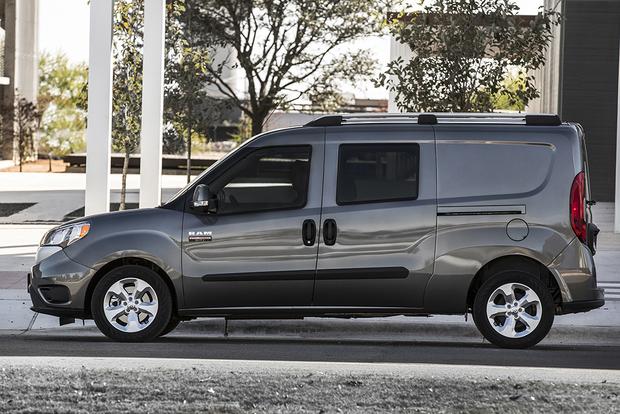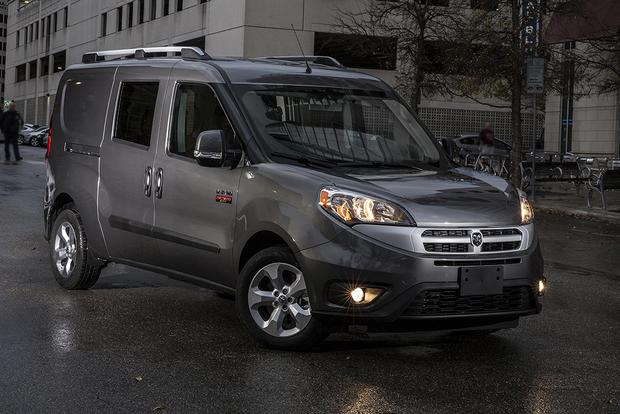 If you drive around Europe, you'll see very few pickup trucks. Instead you'll spot vans of various sizes. These vans are what contractors use to get the job done, and they're starting to come to the United States. Ford's Transit Connect was first, followed by Nissan's NV200. Now Chrysler wants in on the action with its 2015 Ram ProMaster City. Based on the FIAT Doblo, the ProMaster City is a European work vehicle that American buyers should find quite useful.
A Box on Wheels
Instead of having a bed like an American pickup truck, the ProMaster City has a big enclosed box behind the driver. And what a useful box it is. When outfitted as a cargo van, the box is 87.2 inches long, 61.8 in wide and 51.8 in tall, making it a total of 131.7 cu ft. of cargo space. That's 9 cu ft. more cargo space than the NV200 (and its Chevrolet City Express doppelganger) and 3.1 cu ft. more than the long wheelbase version of the Transit Connect. While the Ram's floor is about 9 in too short to fit plywood or drywall that's 4 feet by 8 feet, it's wide enough to fit them, and you'll have the same issue with all pickups that don't have a long bed. A 3-passenger rear seat is available in a passenger wagon configuration that comes with rear side windows. The rear seat reduces cargo space by 30 cu ft. and lacks legroom. We can't imagine why anyone would buy the ProMaster City to carry passengers instead of cargo.
A pair of sliding side doors makes access to the cargo hold easy, as does a 60/40-split rear door that is longer on the driver's side and opens to 90 degrees or, with the push of a button, 180 degrees. The van's walls are the most vertical on the market, making it easier to load a stack of pallets into the back. The floor has six D-ring tie-downs (four in the passenger version) to secure the load. That's a lot of nicely outfitted and very useful space.
Competitive Power and Economy
Power is supplied by Chrysler's Tigershark 2.4-liter 4-cylinder engine that produces 178 horsepower and 174 lb-ft of torque. In terms of power and fuel economy, it's competitive for its class. It's much more powerful than the 131-hp 2.0-liter 4-cylinder in the City Express/NV200, and it's right in line with the 2.5-liter and turbocharged 1.6-liter 4-cylinder engines offered by Ford. While the Tigershark is mated to a 9-speed automatic transmission, the competitors use a 6-speed automatic. Still, all of the competitors are within 1 mile per gallon of the ProMaster City's fuel economy ratings of 21 mpg in the city, 29 mpg on the highway and 24 mpg combined.
We drove the Nissan and the 2.5-liter Ford at the ProMaster City press introduction, and we found that the Tigershark engine felt the strongest. It's not quick; 0-to-60 mph takes just under 10 seconds, which is slower than most of today's passenger cars.
The Tigershark is capable of hauling the most cargo in its class. The Ram's max payload is a class-leading 1,883 pounds compared to 1,716 pounds for the Ford and 1,500 for the Chevy/Nissan. The Ram can also tow up to 2,000 pounds, which is matched by the Ford.
Drives Better Than a Truck, Worse Than a Car
The Ram ProMaster City is more reasonably sized than the aircraft-carrier-sized pickups that Americans love. That makes it much more agile and far easier to drive and park in the city, where buyers are likely to use it to make pickups or deliveries. The overall feel isn't like that of a typical van. It's more akin to a small crossover: It's smooth and controlled.
That's the good news. The bad news is that the ProMaster City is a commercial vehicle that's built to a price. It lacks sound-deadening material, so it tends to creak and rattle on the road. We did notice that it is considerably quieter than its competition. It also lacks amenities, and the quality of materials is cut-rate. The dash is almost entirely made of hard plastic, and it's hard to find anything close to a soft-touch surface. You're also not going to find niceties such as heated seats, navigation or even a decent radio. However, both Bluetooth and Wi-Fi connectivity are available from Ram's aftermarket wing, Mopar.
A Real Contender
With its pleasant dynamics, relatively quiet ride, and class-leading cargo space and hauling capability, the 2015 Ram ProMaster City is a worthy rival for the growing number of small work vans on the market. It would, in fact, be our choice. Its compact size and cavernous cargo hold also make it a fine alternative to the American pickup. Looks like those Europeans are onto something.