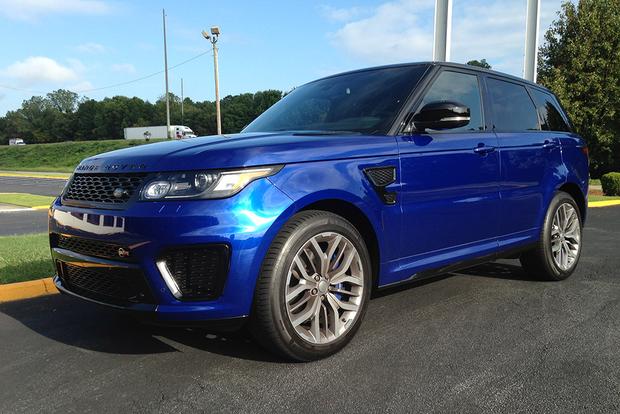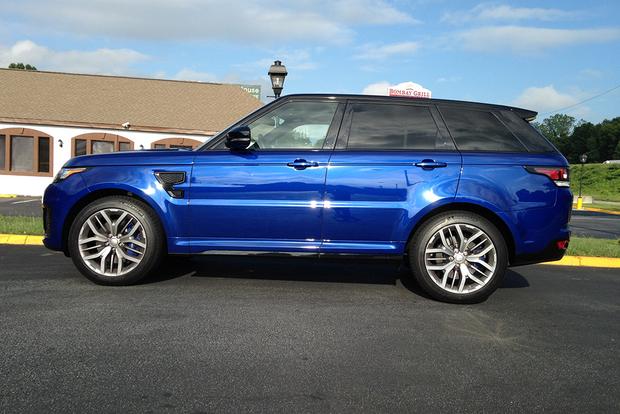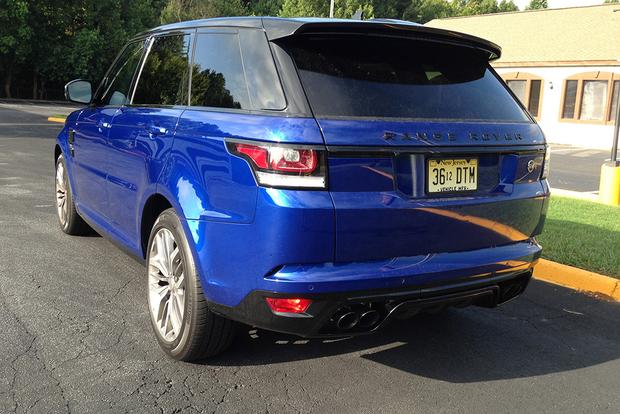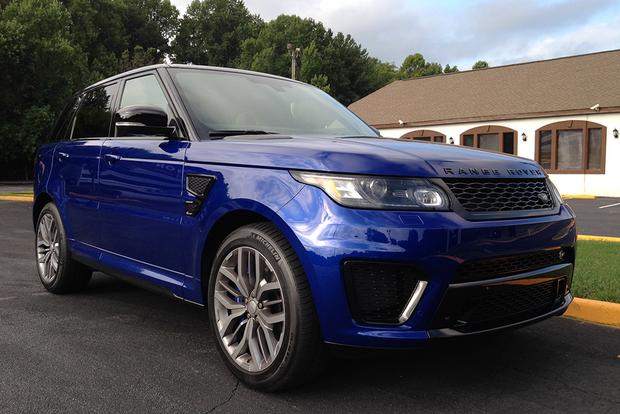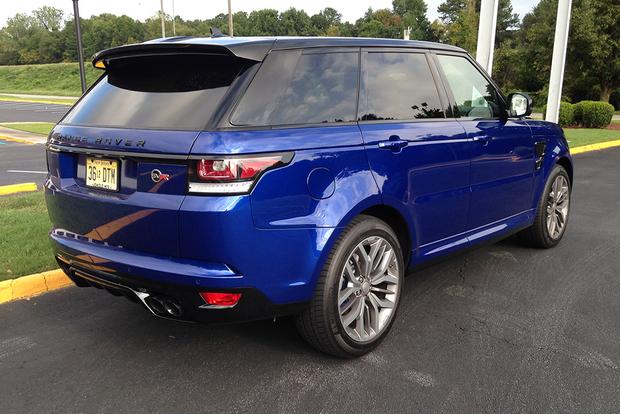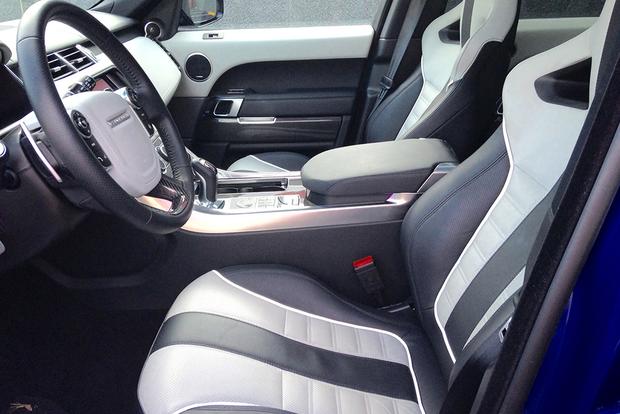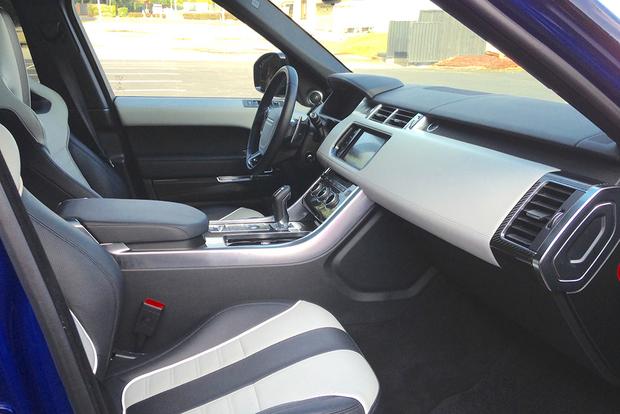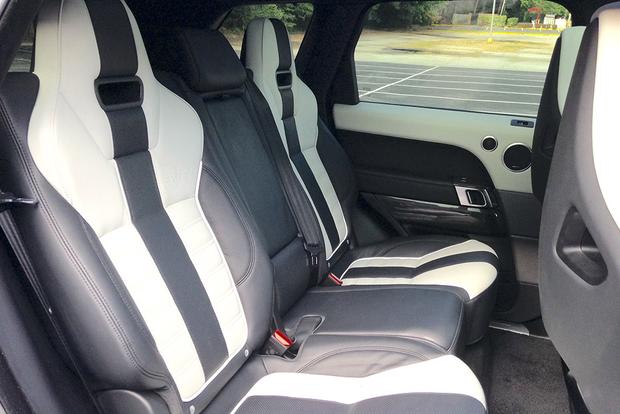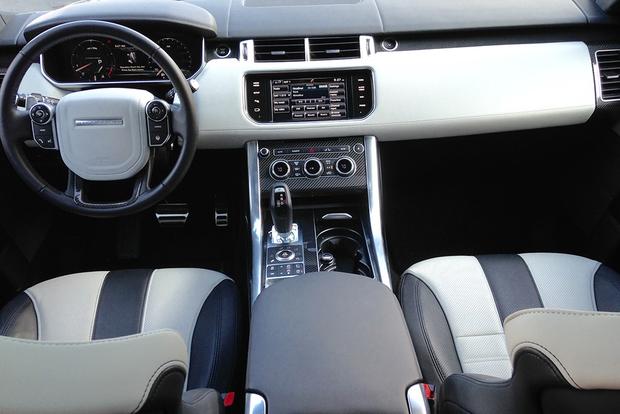 Everyone seems to be getting into the high-performance game these days, from Volvo's R Design to Audi's S-Line to Lexus' F Sport. Apparently, even SUV manufacturers aren't exempt, as the 2015 Range Rover Sport SVR shows us. Based on the standard Range Rover Sport, the SVR offers 550 horsepower, a 0-to-60 time in the mid-4-second range and a sports-car-like exhaust note. But how does the Sport SVR fare in the real world? We recently spent a week behind the wheel -- and here's what we think.
Amazing Performance
Everyone who climbed inside our Range Rover Sport SVR -- driver or passenger -- appreciated the SUV's impressive performance. After recently testing a Chevrolet Corvette, one editor, Ben, noted that he felt like he "wasn't missing out on much performance" in the SVR compared to the legendary Chevy sports car. Another, Dwight, remarked that "as of today, this is the most exciting SUV I've driven," noting that "you don't fully realize what you're stepping into until you push the start button and hear the cacophony coming from the tailpipes." Indeed, this thing hauls like few other SUVs on the market.
Luxury, Luxury, Luxury
But unlike some other high-performance SUVs -- the Jeep Grand Cherokee SRT comes to mind -- the Range Rover Sport SVR doesn't trade any luxury for its performance. Ride quality is still excellent, interior materials are still top-notch and the cabin's design is so upscale that you might even be fooled into thinking you're sitting in a nicer version of the standard Range Rover Sport until you mash the throttle, hear the exhaust and feel the amazing acceleration. In other words: The Range Rover Sport SVR really does it all, combining performance, luxury and capability in a way that few vehicles can.
Other Thoughts
Although most comments regarding our Range Rover Sport SVR are related to its performance or its luxurious interior and supple ride, we did notice a few other noteworthy items about the crossover -- the kind of things you can only discover after spending a few days behind the wheel.
For instancc, everyone who drove our Sport SVR test vehicle noted surprisingly excellent fuel economy. In fact, two of our test drivers returned nearly 20 miles per gallon, despite one of them openly admitting to driving the SVR in a way the Environmental Protection Agency test cycle has probably never seen.
"I can't believe that something this big can move like this, and still return 19.8 mpg," said Ben.
Another unique attribute: the bucket seats, which offer a racecar-like design both in front and in back. We weren't sure whether to love these or hate them, but everyone agreed they were more comfortable than expected.
The Drawback
Of course, there must be a "but" coming -- and in this case, it's the price. If you're wondering why you haven't seen many of these high-performance, high-luxury, do-everything SUVs on the road, it's because Sport SVR starts at $111,500 with shipping -- an almost unbelievable premium of $30,000 over the standard Range Rover Sport Supercharged. Yes, the SVR is amazing -- but with only 40 additional hp and 41 lb-ft of additional torque, we're not sure if it's worth an extra $30,000.
Our Take
We loved just about every aspect of the 2015 Range Rover Sport SVR -- from the performance to the luxury to the ride quality to the fuel economy. But we think it's really hard to justify spending $111,500 on this kind of SUV, especially since Land Rover depreciation hasn't historically been kind to first owners. If we won the lottery, we might stick a Sport SVR in our garage -- but otherwise, we'd wait a few years and pick up a certified pre-owned model for a more reasonable price.