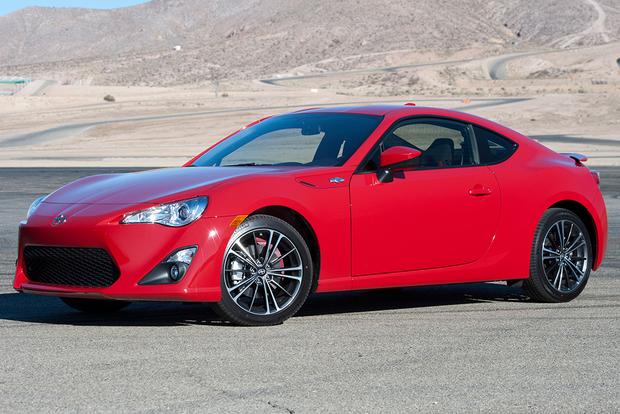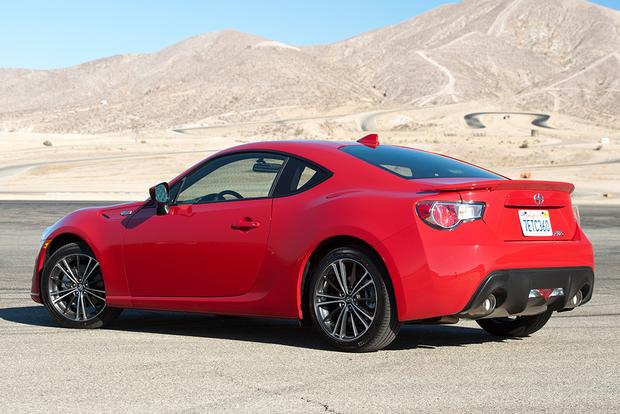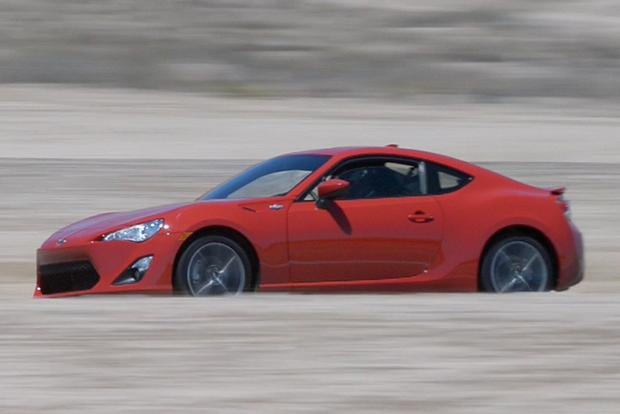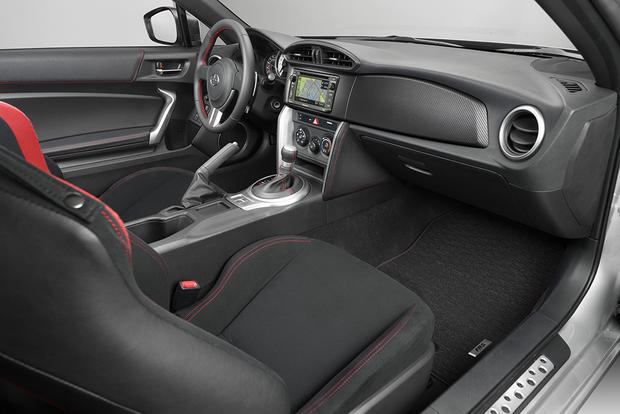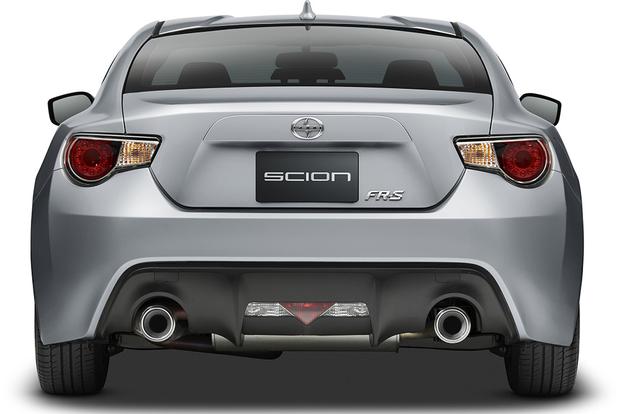 We spend most of our time reviewing practical, mass-market vehicles, but occasionally we need a break from the ordinary. The 2015 Scion FR-S provides just such a respite. Designed and engineered in partnership with Subaru, the rear-wheel-drive FR-S is a genuine sports car with exceptional handling. The rear seats even fold flat to accommodate a set of racing tires for track days. Nonetheless, you can buy a brand-new FR-S for the price of a generic midsize sedan, making it one of the hottest performance values on the market.
The FR-S will never be called a speed demon, as its sole engine is a modest 4-cylinder that makes only 200 horsepower. But if you're stuck on acceleration times, you're missing the point of the FR-S. This car is for those who find more thrills in corners than on straightaways, and it's refreshing indeed to find a reasonably priced modern-day sports car with such a focused mission.
What's New for 2015?
The FR-S receives mild styling updates and a few suspension tweaks to reduce body roll in hot corners.
What We Like
The essential goodness of a true sports car; simple specs and an affordable price; surprisingly satisfying interior quality; unusually responsive automatic transmission
What We Don't
Modest power; intrusive road noise
How Much?
$25,670
Fuel Economy
The 2015 FR-S is powered by a 2.0-liter flat 4-cylinder engine rated at 200 hp and 151 lb-ft of torque. A 6-speed manual transmission is standard, but Scion also offers an excellent 6-speed automatic with rev-matching capability on downshifts. Every FR-S comes with rear-wheel drive and a mechanical limited-slip differential.
Fuel economy is 25 miles per gallon in the city and 34 mpg on the highway with the automatic but just 22 mpg city/30 mpg hwy with the manual.
Standard Features & Options
The FR-S ($25,670) is offered in one well-equipped trim level.
Standard equipment highlights include 17-inch alloy wheels, dual exhaust tips, LED taillights, a height-adjustable driver's seat, a leather-wrapped steering wheel, a leather-wrapped shift knob (with a convincingly manual-like appearance on the automatic shifter), cruise control, Bluetooth connectivity and a 300-watt, 8-speaker audio system with a 6.1-in touchscreen, HD Radio and auxiliary/USB ports.
For smartphone devotees, Scion optionally provides BeSpoke audio, which offers a higher level of connectivity with Facebook, Twitter and Internet radio.
Other options include 18-in alloy wheels, bigger front brakes, fog lights, a rear spoiler, a cold-air intake, a performance exhaust and lowering springs.
Safety
The 2015 Scion FR-S delivers a full house in old-fashioned accident avoidance measures. Communicative steering, good visibility and strong brakes give a reasonably aware driver the tools to stay out of harm's way.
If, however, you fall victim to a collision, know that the FR-S comes standard with six airbags, including front-seat-mounted airbags and side-curtain airbags. For better or worse, no newfangled safety technologies are offered.
The government hasn't crash-tested the FR-S, but the independent Insurance Institute for Highway Safety (IIHS) gave the FR-S its highest rating of Good in every tested category.
Behind the Wheel
Getting in and out of the 2015 FR-S doesn't require the typical sports-car contortions, and once inside you'll find an expansive greenhouse, a great view over the hood and reasonable visibility to the sides and rear of the car. The front buckets provide a near-optimal balance between lateral support and long-distance comfort. Rear passenger space is negligible, but the rear seating area folds flat to increase utility. Overall, the FR-S offers an exceptionally well-engineered interior by sports-car standards.
If Ferry Porsche were mixing and matching today's production components into a low-volume coupe, the result might look a lot like the FR-S. The Subaru-sourced flat 4-cylinder is philosophically close to all that the Porsche family holds dear, as is the FR-S's understated styling. Of course, the motor's modest 200-hp output is a far cry from any Zuffenhausen product, and it's the FR-S model's weakest link.
You don't buy this car because of the engine, though: You buy it because you don't mind the engine given the excellence of everything else.
Indeed, the new FR-S pretty much had us at hello. Clean lines, a preternaturally balanced chassis and a starting price in the neighborhood of $25,000 make for a very compelling combination. The steering is telepathic, the brakes inspire confidence and corners are carved with exceptional poise. If a pure driver's car is what you're after, the FR-S is almost impossible to beat for the money.
Other Cars to Consider
2015 Subaru BRZ -- The FR-S's twin offers a slightly different take on the formula. It's certainly worth sampling to see which one you like better.
2015 Mazda MX-5 Miata -- For someone coveting the stripped-down simplicity of a compact roadster, Mazda's Miata remains compelling, and its manual shifter is one of the best we've ever sampled.
2015 BMW 228i -- The base 2 Series costs a few grand more than a loaded FR-S, but it rewards you with superior speed and refinement.
Used Porsche Cayman -- You'll have to go back a few years to find a Cayman in the Scion's price range, but they're out there, and the Porsche is a more complete sports car with its exuberant midmounted 6-cylinder engines.
Autotrader's Advice
We'd opt for the manual transmission and little else. Before you go nuts at your Scion dealer's parts counter, we recommend getting to know your FR-S in its most essential form.