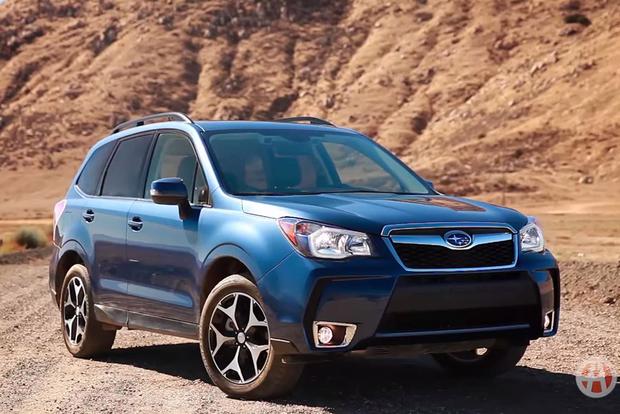 The 2015 Subaru Forester XT is a do-anything, go-anywhere kind of car -- mixing power, agility, space and economy. The turbocharged XT turns every trip into a thrill ride, and we have five good reasons to make it your next ride.
Addictive Power
The Forester XT's 4-cylinder boxer engine is turbocharged for 250 horsepower, and you can really feel it on the open road. Going from a standstill to 60 miles per hour takes about 6 seconds, which is sports-car territory. You can also get a nonturbocharged Forester with 170 hp -- but once you've gone turbo, it's hard to go back.
Real Off-Road Ability
We know Forester drivers, and they're a little different: When the time strikes, they're ready to hit the dirt and tackle some trails. That's why every Forester comes with all-wheel drive, and the Forester XT adds X-Mode, which automatically selects the best vehicle settings for tough terrain. Just press that X-Mode button next to the shifter, and you're good to go.
Decent Luxury
The Forester XT doesn't skimp on luxuries. Standard equipment includes a panoramic sunroof and 18-inch alloy wheels. The Touring trim adds a navigation system and even an auto-closing power lift gate.
Impressive Versatility
Want to haul a bunch of stuff? The Forester has one of the biggest cargo holds in this class, maxing out at a massive 75 cu ft. of space. Plus, the generous back seat lets adults ride in comfort. The Forester looks compact from the outside, but inside, there's room to spare.
Solid Fuel Economy
Given how fast the XT is, its overall fuel economy rating of 25 miles per gallon is a pleasant surprise. Credit goes to the new transmission, a continuously variable automatic that maximizes efficiency. Fuel economy used to be a weak spot for Subaru, but that's all changing now.
Autotrader Says
Starting at just under $30,000, the 2015 Subaru Forester XT is priced just right. If you want to spice up the daily grind, a turbocharged Forester is a great place to start.