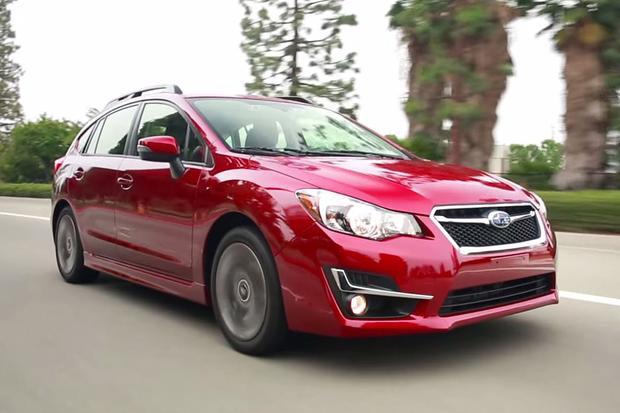 The 2015 Subaru Impreza is practically the official car of New England, but in other places, it's still catching on. If you're shopping for a compact car and you haven't considered the Impreza, you might be pleasantly surprised. Forget what you think you know about it, because the current model is vastly improved. Here are five reasons why Subaru has one of the best economy cars in the business.
Standard All-Wheel Drive
Like all Subaru models, the Impreza comes standard with all-wheel drive, so it's a no-brainer if you live in the snow belt. But even if you don't, all-wheel drive has plenty to offer, including enhanced grip when it's raining and better traction on twisty roads. And it's usually a pricey option, so there's a lot of value built into every Impreza. Just try to find another compact car with all-wheel drive for less than $20,000.
Pleasant Ride and Handling
All-wheel drive used to be synonymous with a stiff ride, but those days are long gone. The Impreza takes bumps in stride, and there's none of the harshness you expect in an economy car. We like the sporty steering response, too. Of course, you could pay a lot more for the turbocharged, performance-tuned WRX, but the regular Impreza drives well enough on its own. It's a surprisingly fun car.
Well-Equipped Cabin
The Impreza hasn't always been known for its generous equipment roster, but the current model comes loaded, even in base form. Standard features include a rearview camera, Bluetooth and a large touchscreen interface, and options include automatic climate control and leather upholstery. All of a sudden, the Impreza's one of the best-equipped cars in its class.
Spacious Seating
Although the Impreza looks pretty small from the outside, it has plenty of space for passengers. There's ample headroom all around, and you can easily fit a couple 6-footers in back. Subaru also sells the midsize Legacy, but honestly, the Impreza has all the space most folks will ever need.
Impressive Fuel Economy
Despite the Impreza's standard all-wheel drive, which tends to use more fuel, you'll see up to 28 miles per gallon in the city and 37 mpg on the highway with the continuously variable transmission. That's better than a lot of small cars without all-wheel drive. It's like getting extra all-weather capability for free.
Autotrader Says
There's a lot more to the 2015 Subaru Impreza than just the letters A-W-D. Take one for a spin, and see if you agree.