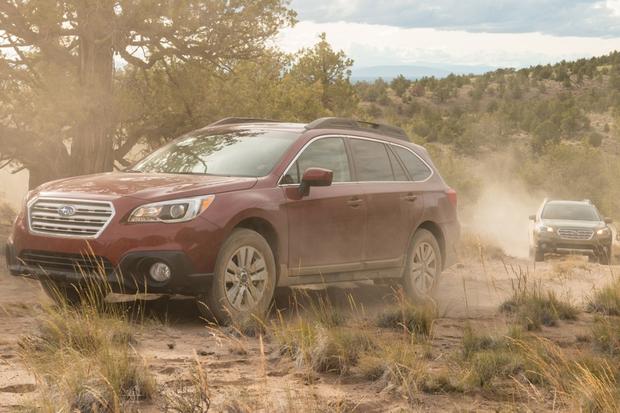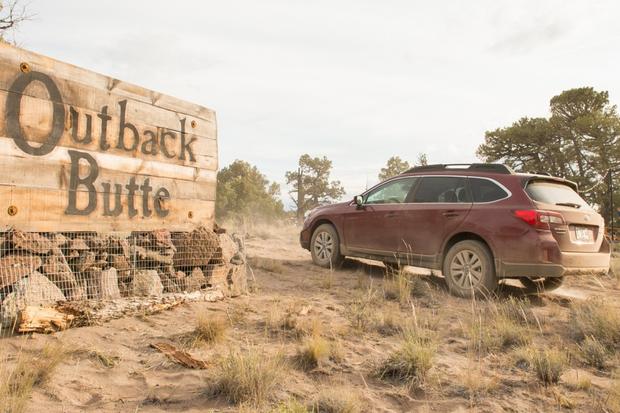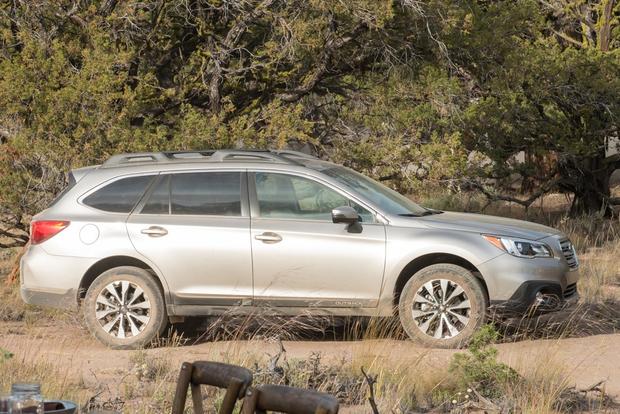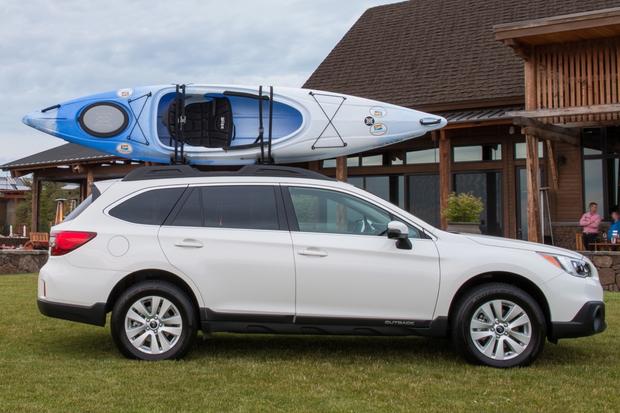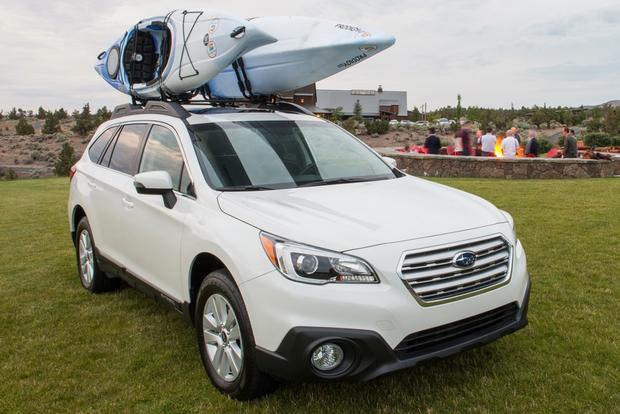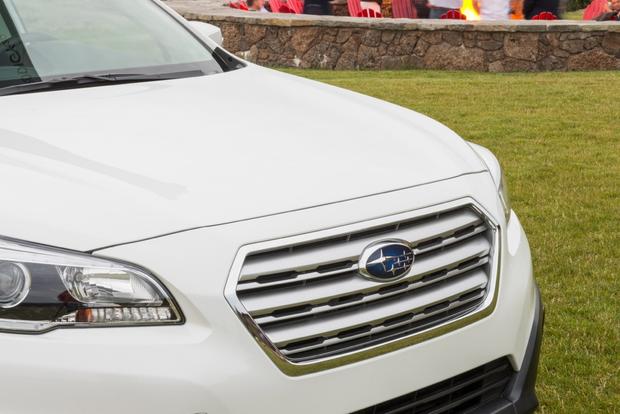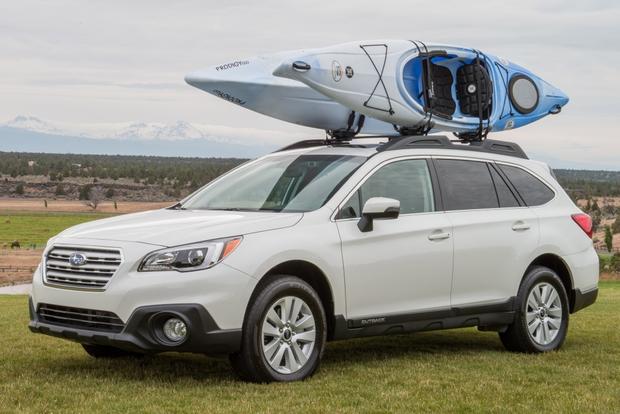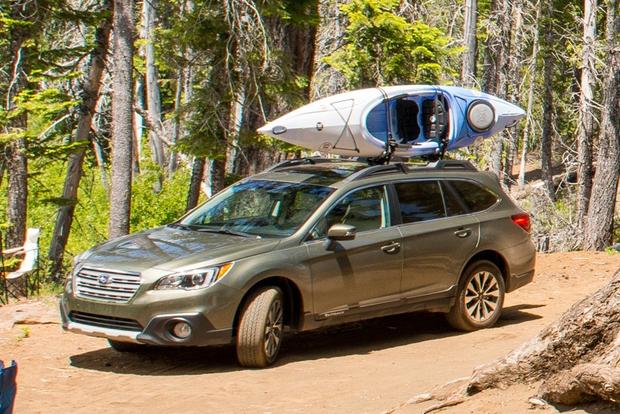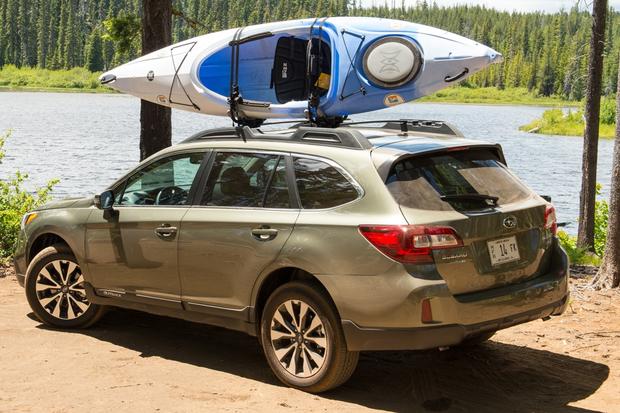 Subaru is a little like those odd kids from high school. In fact, maybe Subaru Outback owners are those kids. Either way, Subaru has typically been more like a marching-band kid than a cheerleader. Whether you see that as a positive or a negative probably says a lot about you and your likelihood of buying an all-new 2015 Subaru Outback. Subaru and the Outback are about to cross over into the cool kids' circle, and it's not as dramatic a transition as you might think.
On the one hand, the revised 2015 Outback is quirky, so direct comparisons with other car-based SUVs are difficult. On the other hand, it's really no different than a dozen car-based SUVs such as the Mazda CX-5 or the new Jeep Cherokee.
Even Subaru admits that having a car that looks capable is almost as important as having an Outback that can actually handle things once the pavement ends. To that end, the newest Outback gets some pretty typical Outback styling details -- features such as big fog lights, roof rails, a big grille and tall side windows all communicate a rugged look to the average shopper.
All Grown Up
There's something about this new Subaru Outback that's kind of sneaking under the radar like that dorky kid who suddenly got super-cool over the summer. For 2015, the Outback finally looks mature, like a grown-up's car that's maybe even a little classy.
We've always thought of the Outback as kind of a caricature, a car for people who want to shout "Hey everyone, I'm a runner (or cyclist or whatever)!" rather than for folks who are actually avid outdoor types. But the Outback seems to have stopped trying so hard. It now knows what it is and is OK with it, and the new look reflects that confidence.
A few tangible upgrades help, too. The 2015 Outback is bigger inside: It's 2-inches wider with 2 extra cu ft. of cargo storage. It also has much nicer materials inside and has ditched the Casio-keyboard-era gadgets.
Updated Tech
A 6.2-in touchscreen audio system is standard on Outback 2.5i models. It includes features that we've come to expect even in low-priced cars, such as smartphone integration, Bluetooth, and integration of third-party apps such as Aha Radio and Pandora Internet Radio.
The optional upgraded navigation unit gets a 7-in screen and incorporates spoken commands as well as pinch and swipe controls. We still think the head-unit look is a little generic, but it's much nicer than anything Subaru has offered before and really does get the job done. Navigation commands are easy to use and logical to execute.
Subaru gave the audio systems a serious upgrade. Even the standard system on the popular Premium version sounds good. Base/2.5i cars have a Clarion head unit with 4 speakers and 172-watt output. Premium cars have Fujitsu Ten head unit with 6 speakers with 192 watts. The base unit is adequate, but the Premium system is better with a fuller sound and more distinct bass
Audiophiles will want to check out the new Harman Kardon 12-speaker system. It uses GreenEdge speakers and an amplifier that delivers the equivalent of 576 watts. It sounds great with deep, defined bass and clearly separated highs and mids. Audiophiles know the sound quality of satellite radio is terrible, but Subaru's system manages to make even satellite radio sound good.
Off-Road for Real
It's not all fun and gadgets; the new Outback also takes its rugged roots seriously. For example, the new Outback is fitted with a very SUVlike feature called X-Mode, which is standard on all Outbacks. X-Mode incorporates features such as hill-descent control and hill-start assist and gives the new Outback more capability in conditions from ice and snow to mud and sand.
We tried X-Mode in the hills and mountains near the Three Sisters Wilderness area in Oregon, and we have to admit that it works well, easing us down rutted roads most RAV4 owners wouldn't attempt. The 2015 Outback also has 8.7 inches of ground clearance, which is more than many other car-based SUVs. We're not saying the car will shame a Jeep Wrangler, but the Outback is the real deal when it comes to venturing off-road. The low point? The suspension is firmer than before, so hard impacts can really be felt inside the cabin.
On-Road Feel
The real beauty of this new Subaru is how it feels on the road. Handling is better than before, and the interior is remarkably quiet even at highway speeds.
Most of the time, the combination of a stiffer suspension and off-road-friendly tires works, but the Achilles heel of this car is an old, patched-up and uneven stretch of blacktop. Lots of medium- to large-road imperfections upset the Outback's ride to the point where we suddenly see the wisdom of driving a soft-riding SUV such as the Toyota Highlander.
Engines and MPG
For 2015, the Outback's engines are essentially the same. Buyers have their choice of a 2.5-liter flat-4 or a 3.6-liter flat-6. Subaru says that the 2.5-liter engine has been revised to make it quieter, lighter and more efficient.
We prefer the 256-horsepower 6-cylinder engine to the 175 hp provided by the 2.5, but that adds to the price (the 256-hp six is only offered with the Limited trim) and lowers the fuel economy. The 2.5-liter engine should deliver 25 miles per gallon in the city and 33 mpg on the highway. Knock about 5 mpg off each number if you go with the 3.6-liter engine.
Price Matters
The base price is just over $25,000 for an Outback 2.5i. It includes the X-Mode system, the touchscreen audio system and plenty of standard features. The 2.5i Premium is about $2,000 more and includes more comfort and convenience features, such as dual-zone climate control and fog lights. The 3.6R Limited is $33,000, but you can still add options on top of that.
One option that's worth checking out is Subaru's new EyeSight system. It includes adaptive cruise control, pre-collision braking and lane-departure warning. The Outback will even bring itself to a full stop with no driver input if you're traveling at 30 miles per hour or less. All of these features, plus adaptive cruise control, help make the new Subaru Outback feel like a car for everyone, rather than just for a handful of triathletes, New Englanders and paddleboarders.
An Outback for Everyone
Thankfully, the new Outback still works for outdoorsy, athletic people by including real, useful off-road features, extra cargo space, a flexible roof-rack system, and a feature that lets you lock your keys in the car and get back in with a PIN code. It's these kinds of thoughtful features that will keep active folks buying Subarus. The improved quality and interior upgrades mean that the rest of us can get one, too.
Plenty of the rest of us are doing just that. In 2007, Subaru was selling about 170,000 vehicles per year, but by 2013, that number jumped up to nearly half a million. Remember that this period includes some of the toughest years for new-car sales, so Subaru is clearly doing something right.
If we're being completely honest, we have to admit that many of those weird kids from high school end up being the most interesting adults. The 2015 Subaru Outback is similar. It has grown up to be one of the more interesting choices in the world of car-based SUVs. Initially, it was kind of goofy and odd, but nowadays it's useful and interesting.