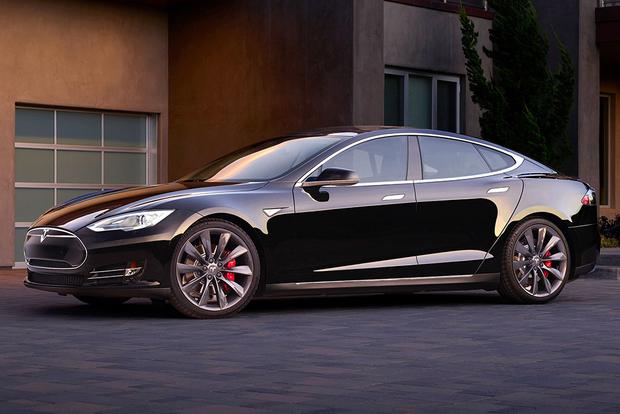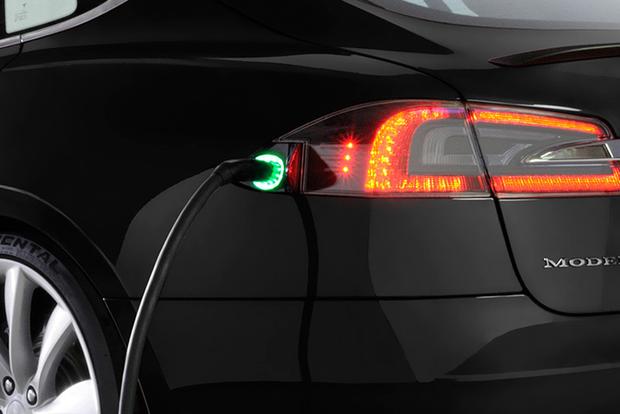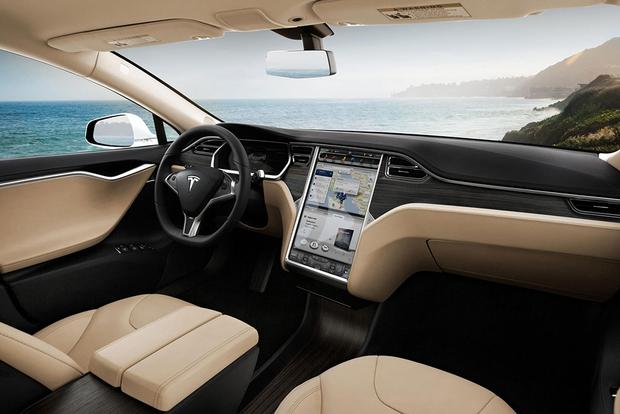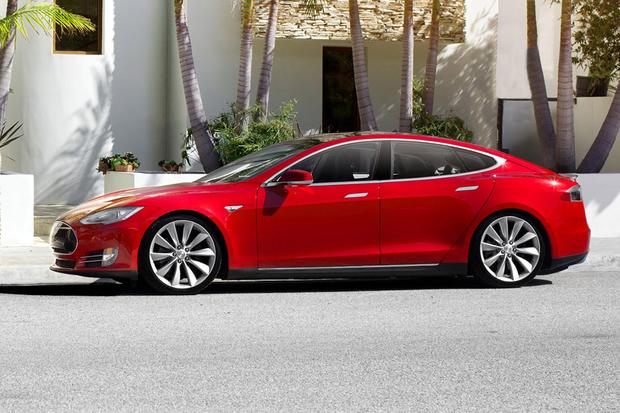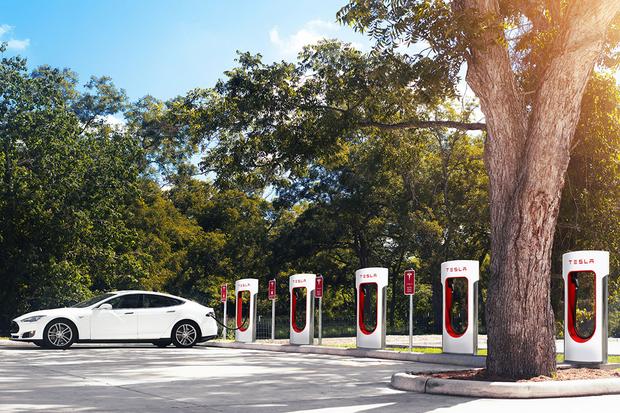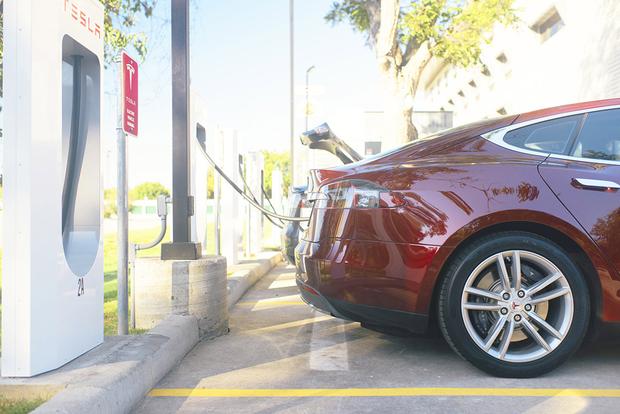 It's hard not to be impressed with the fully electric 2015 Tesla Model S. In just a few short years, the Model S has transformed California-based Tesla from an unknown startup to a major player in the luxury-car market, delivering huge sales and creating an all-new aspirational brand, seemingly out of thin air.
Even more impressive is that the Model S has managed its feat with totally new technology, developed largely in-house and well ahead of established brands with giant research and development budgets.
In essence, the Model S has made the electric car desirable, scoring legions of fans along the way, from owners who love their cars to admirers who hope to own one someday. We're also impressed, and we think most luxury-car shoppers will find it hard not to feel the same way from the moment they climb inside and push down the accelerator.
What's New for 2015?
Unlike other automakers, Tesla doesn't follow along with model years, preferring instead to immediately make updates and changes when they're ready. The biggest recent change, then, is newly available all-wheel drive, which debuted in late 2014 and comes in three forms: the base-level 70D, the midlevel 85D and the high-performance P85D (the D stands for dual motor).
What We Like
Impressive acceleration; excellent range; third-row seating; high-tech center control stack; affordable compared to rivals
What We Don't
Seats aren't long-drive comfortable; styling isn't especially head-turning; pricey compared to mainstream cars
How Much?
$76,200-$106,200
Fuel Economy
The Model S uses a fully electric powertrain, which means there's no fuel economy like a traditional gas-powered car would have. You're probably more interested in range, which breaks down into three levels.
Base-level Model S 70D versions feature standard all-wheel drive, 329 horsepower and a 240-mile range. Drivers who want more performance can upgrade to a rear-wheel-drive Model S 85, which boasts 362 hp and 265 miles of range. Next up is the all-wheel-drive Model S 85D, which offers 422 hp and 270 miles of range, while the top-level P85D boasts an amazing 691 hp and 253 total miles of range.
As for charge times, the Model S ranges from around 9 hours with a standard 240-volt outlet to 4.5 hours with a wall-mounted charger or under an hour using Tesla's impressive supercharger network.
Standard Features & Options
The 2015 Tesla Model S comes in four trim levels, largely organized around engine size and drivetrain.
Base models are called the Model S 70D and start at $76,200 with shipping. Standard features include automatic xenon headlights, voice control, a 17-inch center touchscreen, a navigation system, rain-sensing wipers, a backup camera, lane-departure warning, a blind spot monitoring system, parking sensors, power accessories, on-board Wi-Fi and Internet connectivity, Internet streaming radio, Bluetooth and automatic braking in case of an emergency. The 70D also includes standard all-wheel drive and a 329-hp motor with a 240-mile range.
Next up is the Model S 85, which starts at $81,200 with rear-wheel drive or $86,200 with all-wheel drive. Standard features are the same as the 70D, except for the powerplant. The Model S 85 boasts 362 hp and 265 miles of range in rear-wheel-drive guise or 422 hp and 270 miles of range if you opt for all-wheel drive.
Topping the Model S range is the P85D, which starts at $106,200 with shipping. In addition to a whopping 691 hp (221 hp in front and 470 hp in back), the P85D touts a 253-mile range. Other standard features are again identical to the 70D and 85.
As for options, the Model S offers several. The Autopilot Convenience Features package ($2,500) adds lane-keeping assist, an automated parking system, adaptive cruise control and automatic high beams. The Smart Air Suspension package ($2,500) adds adjustable air suspension. The Ultra High Fidelity Sound package ($2,500) adds SiriusXM radio and a 12-speaker sound system. There's also a Premium Interior and Lighting package, an Executive Rear Seats package with rear bucket seats rather than a bench, a Subzero Weather package and optional rear-facing seats that increase the Model S's seating capacity to seven for an additional $3,000.
Safety
All Model S cars come standard with a wide range of safety features, including anti-lock brakes, side-curtain airbags, a backup camera, a blind spot monitoring system, parking sensors, a lane-departure warning system and automatic braking if an impending collision is detected. Options include adaptive cruise control, lane-keeping assist, an automated parking system and automatic high beams.
In government crash tests, the Model S scored a perfect 5-star overall safety rating, earning five stars in frontal, side and rollover assessments. The Model S has not been tested by the nonprofit Insurance Institute for Highway Safety.
Behind the Wheel
Before you climb behind the wheel of the Tesla Model S, forget everything you know about electric vehicles (EVs). This is an EV in engineering only; otherwise, it's a cross between a high-class luxury sedan and an athletic sports car. And you'd be forgiven for forgetting about the whole EV thing if it weren't for the fact that the Model S is so amazingly quiet.
Speaking of quiet, let's start with the Model S's luxury-car capabilities. We love the 17-in center touchscreen, which feels incredibly futuristic, more so than any infotainment system in any other modern vehicle. We also like the fit and finish and the general cabin materials, which would be impressive for any automaker, let alone a startup brand such as Tesla. And the ride is soft and comfortable, particularly for a car with as much performance as the Model S offers. Our only gripe is the seats, which feel a little flimsy and not quite supportive enough for a luxury car.
When it comes to acceleration, handling and braking, the Model S offers impressive showings in virtually every arena. It's quick, with P85D versions capable of going from zero to 60 miles per hour in a supercarlike 3.5 seconds, and it's surprisingly fun to drive on any road, whether you're on the highway (where you can put down your foot and effortlessly pass slower traffic) or country roads (where it offers poised handling, predictable steering and impressive braking). The steering could use a little more weight, however; it feels a little light, which is a common complaint we have about many modern sporty cars.
Other Cars to Consider
2015 BMW i8 -- If you want a high-performance EV, you might want to consider the plug-in hybrid BMW i8. It isn't a sedan like the Model S, but rather it's a sporty coupe with low-slung, look-at-me styling. Pricing is a little higher, but there's a range-extending gasoline engine to back up the electric motor.
2015 Jaguar XJ -- For those who think the Model S's styling is a little bland, the Jaguar XJ is the antidote. It offers a handsome exterior and interior, along with Tesla-rivaling performance.
2016 Mercedes-Benz S-Class -- If you're still not sold on the whole electric thing, few cars do full-size luxury sedan better than the S-Class. You'll get more available equipment, similarly futuristic center screens and undeniable road presence that outshines even the Model S.
Autotrader's Advice
There's no question that the P85D is absolutely the model to have in the Tesla lineup, but at $106,000 with shipping (and before options), it's also the Model S's most expensive selection. We'd stick with a midlevel 85 (or 85D) with a few options, and we'd try to keep pricing below $90,000. It's still big money, but it's a veritable bargain compared to some full-size luxury-sedan rivals.