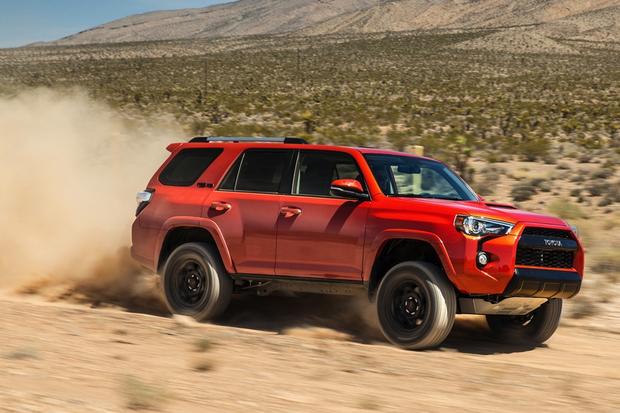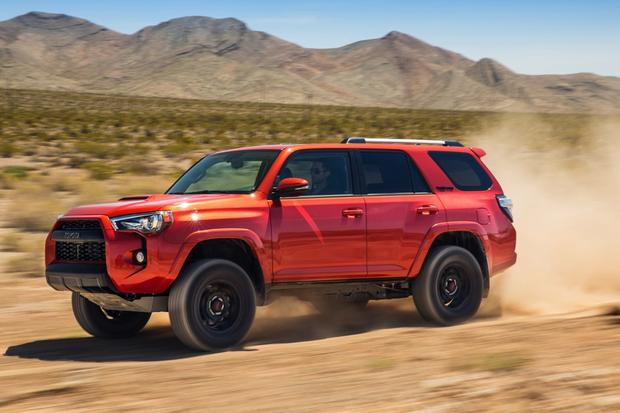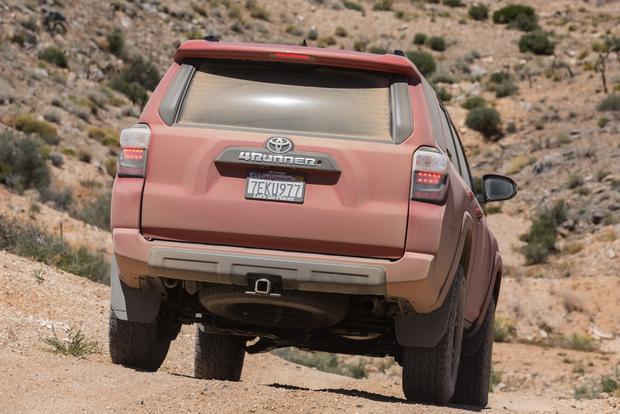 We're in the middle of the Nevada desert in a 2015 Toyota 4Runner TRD Pro, and the thing's not even breaking a sweat. A hidden ditch here, a sturdy cactus there -- whatever's in the path of this 4Runner, it just keeps on truckin'.
And yet, I have a confession to make: I've been through rougher terrain in a 4Runner, and that truck wasn't even a shiny new TRD Pro model like this one.
Last summer, you see, I was in rural Washington driving a 4Runner Trail through some ungodly middle-of-the-woods mud. It was bad enough that I only had three tires on the ground at times. We're talking mud-crawling of the highest order, with the enhanced wheel articulation of the Trail model's Kinetic Dynamic Suspension System (KDSS) in full effect. I've seen a lot of crazy things in this job, but even my jaw dropped at what the ordinarily docile 4Runner Trail could do in the muck.
So what, then, is the point of the new 2015 4Runner TRD Pro? Well, it's actually pretty simple. If your off-roading tastes prioritize high-speed desert runs over low-speed crawls, the TRD Pro is tailor-made for individuals like you.
Hardcore Hardware
One thing the 4Runner TRD Pro lacks is the KDSS, so if you're looking for a real rock-buster of an SUV, the Trail might be more your speed. But the TRD Pro does have a lot to offer folks who just like to take a sharp turn into the desert and throw caution to the wind.
For starters, it's got a TRD front skid plate that's plainly visible from the curb. You can imagine the aforementioned sturdy cactus getting trounced in a head-to-head matchup. Other enhancements include a 1-inch front suspension lift, an extra inch of wheel travel, 17-in black alloy wheels, beefed-up springs and TRD-tuned Bilstein shocks.
If you want a performance package like this anywhere else, chances are you'll be consulting aftermarket suppliers to finish the job. But the 4Runner TRD Pro gives you everything you need right off the lot, and of course it's all covered by the factory warranty, too. Throw in the TRD Pro line's special Inferno orange paint, and you're ready for pretty much anything that comes your way.
High-Speed Hijinks
Speed in the desert is relative. First of all, the government typically imposes blanket limits on off-road areas, so that's something to keep in mind. But even if you're just going 35 or 40 miles per hour, it can feel like the most exciting experience on four wheels when you're dealing with gnarly terrain. Imagine gliding over rock-strewn bumps and ruts with impossible grace, almost as if you were piloting a hovercraft. That's the 4Runner TRD Pro experience in a nutshell. Between the lifted suspension, the softer springs and the precision-tuned shocks, the whole point of this machine is to stay confident and composed, regardless of what the speedometer says. It's a unique off-roading experience -- one that hardly any other factory-built vehicle can approximate.
On-Road Review
You can't drive in the desert all the time, of course, so the 4Runner TRD Pro's performance on the pavement is at least somewhat relevant. Under the hood, the 270-horsepower 4.0-liter V6 doesn't lack for motivation, nor does it pull like the torque-rich V8 in the previous-generation 4Runner. If it were up to me, this truck would offer more oomph for those who wanted it, not to mention a more modern transmission in place of the workaday 5-speed automatic.
In other respects, though, this off-road warrior is surprisingly civilized. The ride is compliant, with potholes barely noticeable beneath that indomitable suspension. I really like the midsize dimensions, too: You sit up high like in a full-size SUV, but the 4Runner is narrow enough to fit in a regular parking space with no sweat. It may be engineered for the sand, but it's perfectly comfortable in an urban setting, as well. As long as you don't expect too much in terms of fuel economy, you'll likely be pleased by how well this truck fits in.
AutoTrader Says
The 2015 Toyota 4Runner TRD Pro takes the 4Runner's high-speed off-road performance to an unprecedented level, yet it retains the truck's fundamentally docile nature. Any 4Runner will have above-average skills in the dirt, but if you want the best, its name is TRD Pro.