Editor's note: You may want to read more of Autotrader's model vs. model comparison car reviews as well as the 2015 Toyota Camry review, the 2015 Mazda6 review and Buying a Used Toyota Camry: Everything You Need to Know.
If you're interested in a midsize sedan, we hope you have the 2015 Toyota Camry and the 2015 Mazda6 on your shopping list. Both models are among our favorites, offering just about everything you could want from a family sedan — from excellent safety equipment and modern technology to reasonable pricing and roomy interiors. But which one is better? And which one should you get? Our latest article compares the two in depth to find out, but first let's see what's new with both sedans for the 2015 model year.
2015 Toyota Camry
The Camry is thoroughly updated for 2015, though it isn't quite redesigned. It boasts new styling, an improved interior, revised handling for a sportier feel and several new features — including a range of new safety equipment. See all 2015 Toyota Camry models availble near you
2015 Mazda6
Following a full redesign last year, the Mazda6 receives only minor changes for the 2015 model year. See all 2015 Mazda6 models available near you
Reliability
According to the experts at J.D. Power, the Mazda6 and the Toyota Camry both offer the same above-average level of reliability. With that said, J.D. Power has not yet rated the newly face-lifted 2015 Camry — though we suspect it will earn the same excellent reliability score given its mechanical similarities to last year's model.
Considering that the two cars also share the same warranty length — 3 years or 36,000 miles of bumper-to-bumper protection plus 5 years or 60,000 miles of powertrain coverage — we think the Mazda6 and Toyota Camry are too close to call when it comes to reliability.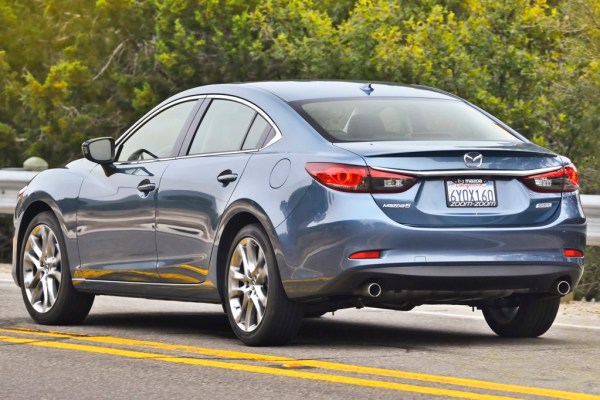 Fuel Economy
The Mazda6 offers one engine: a 184-horsepower 2.5-liter 4-cylinder capable of returning up to 26 miles per gallon in the city and 38 mpg on the highway in normal guise or 28 mpg city/40 mpg hwy if you opt for the fuel-saving i-ELOOP feature. Front-wheel drive is standard, and automatic or manual transmissions are offered.
The Camry, on the other hand, offers three engines. Base models use a 178-hp 2.5-liter 4-cylinder, which is most closely competitive with the Mazda6's engine. It returns 25 mpg city/35 mpg hwy. Drivers who want more power can opt for the 268-hp 3.5-liter V6, which touts 21 mpg city/31 mpg hwy. Finally, shoppers especially interested in fuel economy can choose the Camry Hybrid, which uses a 200-hp hybrid 4-cylinder engine and returns up to 43 mpg city/39 mpg hwy.
While those are a lot of numbers, here's the main thing to keep in mind: The Mazda6 offers better gas mileage from its standard engine, while the Camry offers better available fuel economy if you're willing to pay extra for the Camry Hybrid.
Safety
In crash testing carried out by the federal government's National Highway Traffic Safety Administration, both the Camry and the Mazda6 earned a perfect 5-star overall score. Likewise, both cars earned the excellent Top Safety Pick+ score from the nonprofit Insurance Institute for Highway Safety.
As for safety features, both cars are very well-equipped. Standard features include side-curtain airbags, anti-lock brakes and a backup camera, while options include rear cross-traffic alert, a blind spot monitoring system, lane-departure warning, a forward-collision warning system and an automatic braking system that can slow down or stop the car if it detects an impending collision. In other words, neither the Camry nor the Mazda6 offers a major advantage over the other when it comes to safety, and both cars tout just about everything you could possibly want.
Technology
Just like we discovered in the safety section, the Camry and Mazda6 are highly similar when it comes to technology and features. So similar, in fact, that — once again — neither car boasts a major advantage over the other. Both offer all the latest safety features, all the latest high-tech options, easy-to-use infotainment systems and more. If you're a technophile and you're interested in a midsize sedan, either of these cars will certainly have you covered.
Value
If you've paid close attention so far, you'll probably realize that the Camry and Mazda6 are very close in a lot of ways, and that's especially true when it comes to pricing, as the two cars are only a few hundred dollars apart once you account for transmission differences (the Camry comes standard with an automatic, while Mazda6 buyers must pay extra for one).
So what does this mean? When you compare the Camry and the Mazda6, you have two midsize sedans with excellent safety ratings, excellent fuel economy numbers, impressive reliability scores and a long list of technology — all for about the same price. Neither one is a better value than the other, though we're pleased to say that both cars offer roughly the same excellent overall value, which should be highly appealing to most midsize-sedan shoppers.
Autotrader's Advice
When it comes to midsize sedans, the 2015 Toyota Camry and the 2015 Mazda6 are at the top of the game. Both offer everything you need: roomy interiors, lots of features, excellent reliability records and strong safety scores. More importantly, neither car has any great benefit over the other — unless you count the Mazda's slightly sharper handling or the Camry's slightly simpler infotainment system. If you ask us, you won't regret buying either the Mazda6 or the Camry — so we recommend them both equally.
Find a Used Toyota Camry for sale