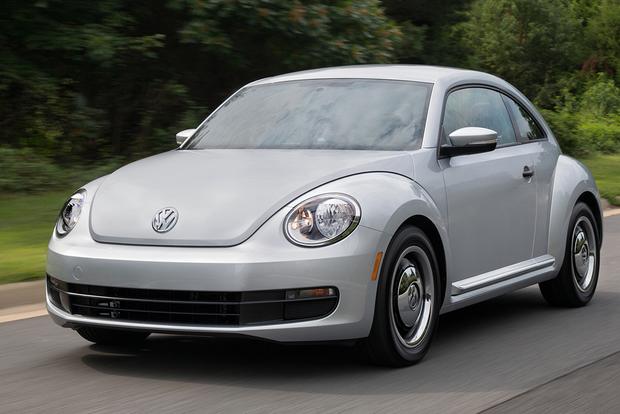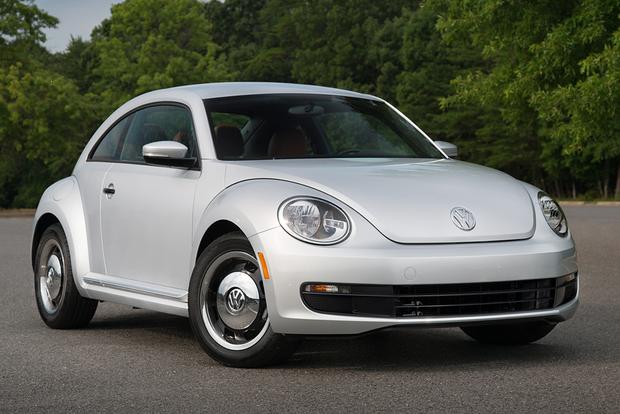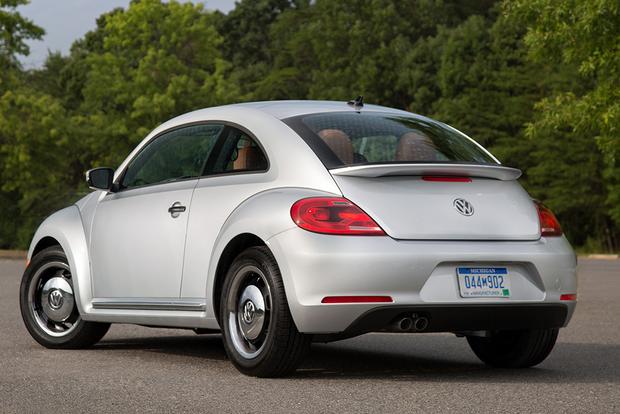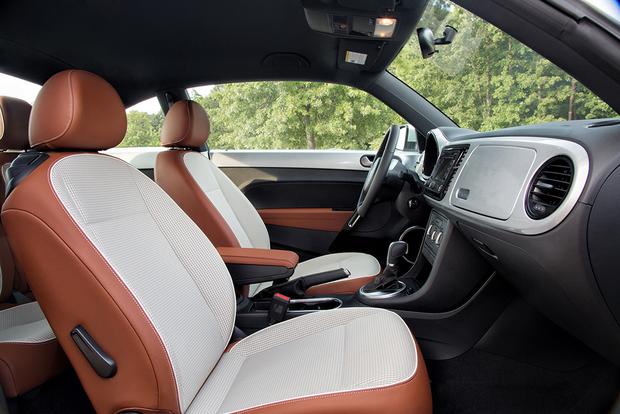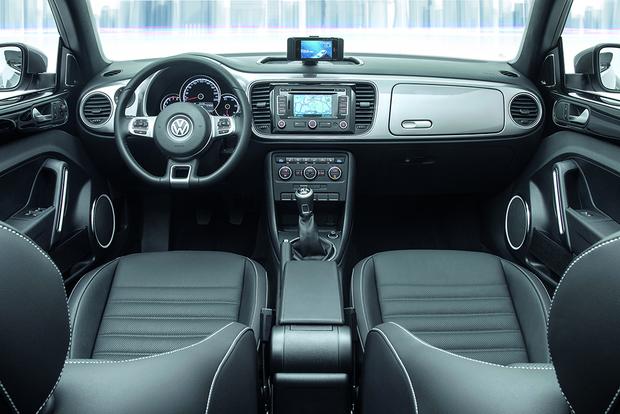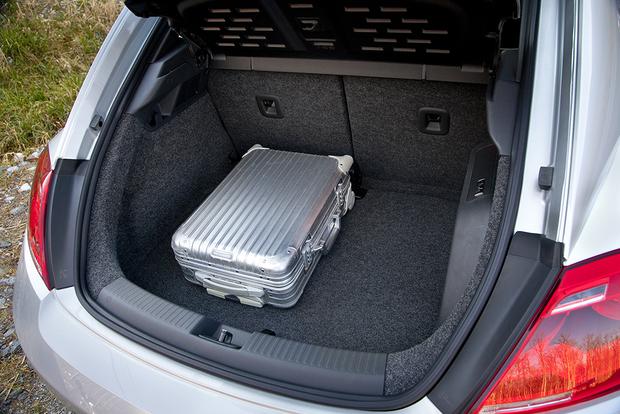 The 2015 Volkswagen Beetle may no longer have a flower vase on its dashboard, but it's still immediately recognizable as a descendant of the hippie-inspired 1960s Bug. The available reflective chrome wheels are even modeled after the Bug's hubcaps from decades ago. Under the surface, though, the Beetle shares most of its parts with workaday Volkswagens such as the Golf and Jetta. So is the Beetle a good car in its own right, or is it just an exercise in nostalgia?
We think the Beetle is a blast. It gives you most of the Golf's fundamental goodness while packaging those virtues in a uniquely eye-catching wrapper, particularly if you opt for the convertible. In other words, your inner flower child should be quite charmed by the 2015 Beetle.
What's New for 2015?
The 2015 Beetle adds a Classic variant that improves on the base 1.8T's features, while the diesel-fueled TDI gets a new engine featuring 10 extra horsepower.
What We Like
Plenty of power; distinctive looks; confident highway ride; optional convertible soft-top; great TDI fuel economy
What We Don't
So-so fuel economy with the gasoline engines; limited rear headroom; not VW's nicest interior
How Much?
$21,515-$30,715
Fuel Economy
The front-wheel-drive 2015 Beetle starts with a peppy 1.8-liter turbocharged 4-cylinder engine (1.8T) rated at 170 hp and 184 lb-ft of torque. A 5-speed manual transmission comes standard on the coupe, with an optional 6-speed automatic that's standard on the convertible. The Environmental Protection Agency (EPA) rates the 1.8T coupe at 24 miles per gallon in the city and 33 mpg on the highway with the manual, while the automatic returns 25 city/33 hwy. The automatic-only 1.8T convertible yields 24 city/32 hwy.
The Beetle TDI features a robust 2.0-liter turbodiesel inline-4 rated at 150 hp and 236 lb-ft of torque. The diesel Beetle coupe is an mpg maestro, checking in at 31 mpg city/41 mpg hwy with either the standard 6-speed manual transmission or the optional 6-speed dual-clutch automatic (DSG). The TDI convertible achieves 30 city/40 hwy with either transmission (yes, you can buy a diesel Beetle convertible with a stick shift).
The Beetle R-Line boasts a 2.0-liter turbocharged gasoline 4-cylinder engine that cranks out a healthy 210 hp and 207 lb-ft of torque. The DSG transmission returns 24 mpg city/30 mpg hwy in the coupe, while the 6-speed manual provides 23 city/31 hwy. The R-Line convertible gives you 23 city/31 hwy with the manual or 23 city/29 hwy with the DSG.
Standard Features & Options
The 2015 Volkswagen Beetle is available as a coupe or as a soft-top convertible in three trim levels that are distinguished by engine: 1.8T (1.8-liter turbo), TDI (diesel) and R-Line (2.0-liter turbo). Each trim has a few different optional packages.
The 1.8T coupe ($21,565) and 1.8T convertible ($26,415) come standard with 17-inch alloy wheels, leatherette upholstery, a leather-wrapped steering wheel, manual front seats with height adjustment, air conditioning, Bluetooth, a trip computer and an 8-speaker audio system with an auxiliary input and iPod connectivity.
The coupe-only Beetle Classic is basically a 1.8T with extra equipment, including wheels with a classic hubcap look, unique seat fabric, comfort front seats with adjustable driver lumbar support and a navigation system.
The Sunroof package starts with the 1.8T's equipment and adds a panoramic sunroof, plus keyless entry with push-button ignition and a touchscreen stereo display with HD radio and satellite radio. The Sunroof, Sound and Navigation package tacks on 18-in alloys, the navigation system and a 9-speaker Fender audio system.
The TDI coupe ($26,150) and TDI convertible ($30,495) start with the base 1.8T's standard equipment and add different 17-in alloy wheels, extra chrome trim, keyless entry with push-button ignition, a leather shift knob and upgraded gauges with a separate sport cluster atop the dashboard.
The TDI Sunroof, Sound and Navigation package includes the navigation system and Fender stereo, but it keeps the standard 17-in alloys.
The sporty R-Line coupe ($26,270) and R-Line convertible ($30,715) boast 18-in alloy wheels, larger brakes with red-painted brake calipers, a rear spoiler, glossy black mirror housings, fog lights, revised front and rear bumpers, a sport-tuned suspension, exclusive kick plates and R-Line badges, aluminum-look pedals, sport seats with cloth upholstery and the sport gauge cluster. The R-Line also gets an XDS electronic limited-slip differential that maximizes traction in fast corners.
The R-Line with the Sunroof, Sound and Navigation package includes the features previously listed for this package plus 19-in alloy wheels, bi-xenon headlights with LED running lights and leather upholstery.
Safety
The 2015 Volkswagen Beetle comes with 4-wheel, anti-lock disc brakes and four airbags (front and full-length side-curtain). Note that the R-Line's front brake discs are slightly larger.
VW's standard Car-Net connected services include crash notification, roadside assistance, stolen-vehicle location, remote vehicle access, vehicle health reports, and boundary and speed alerts, which are all accessed via a nifty smartphone app.
In government crash-testing, the Beetle received a perfect five stars out of five overall, including four stars for frontal impacts and five stars for side impacts. The Insurance Institute for Highway Safety (IIHS) deemed the Beetle Good (the top rating) in all of its crash tests except the small-overlap frontal-impact test, where the Beetle got a Marginal rating (second worst).
Behind the Wheel
The 2015 Beetle's interior uses nicer materials than that of the cut-rate Jetta, though the Golf still wins here. The Beetle's dashboard can be dressed up with body-color inserts (or carbon ones on the R-Line), which is a must when competing against MINI and FIAT. VW is very proud of the R-Line's standard Kaeferfach (Beetle bin) glove box, a heritage feature with an upward-opening door that reminds us of an inverted toaster oven. The TDI and R-Line also have a bank of three secondary gauges atop the dashboard, evoking Nissan's 370Z.
The Beetle's 2-person back seat is certainly usable, but headroom in the hatchback (or with the convertible top in place) is limited by the sloping rear roofline. Cargo space for the hatchback is a decent 15.4 cu ft. in the trunk, but maximum capacity is just 29.9 cu ft. with the rear seatbacks flipped forward. Given that the Beetle isn't a particularly small car, that's not much room.
On the road, the Beetle soaks up bumps with unusual grace by economy-car standards, while the handling is respectable, if not truly athletic. The R-Line's sport suspension improves at-the-limit capability, but unless you're cornering fast enough to activate the XDS electronic differential, you're not likely to notice. Even then, the Beetle R-Line can't match the agility of a MINI, but it compensates with a supple ride and extraordinary high-speed composure. There's a certain maturity to the way the Beetle drives that comes as a pleasant surprise.
Other Cars to Consider
2015 FIAT 500 Abarth -- The turbocharged version of the 500 has a seriously memorable exhaust note and enough power to keep up with the Beetle R-Line.
2015 MINI Cooper S -- Still the sports car of this group, the latest MCS boasts a phenomenal combination of acceleration, fuel economy and handling.
2015 Scion FR-S -- The performance-focused FR-S is a legitimate sports car, so if the Beetle doesn't feel sufficiently hardcore, give this Scion a try.
Used Volkswagen Golf/GTI -- The Golf and GTI have superior cabins in terms of both quality and capaciousness. A certified pre-owned model could be a great deal.
AutoTrader's Advice
Since the base Beetle comes with a cool turbocharged engine, the more expensive TDI and R-Line models are a tough sell. We'd stick with the base Beetle and save some cash.