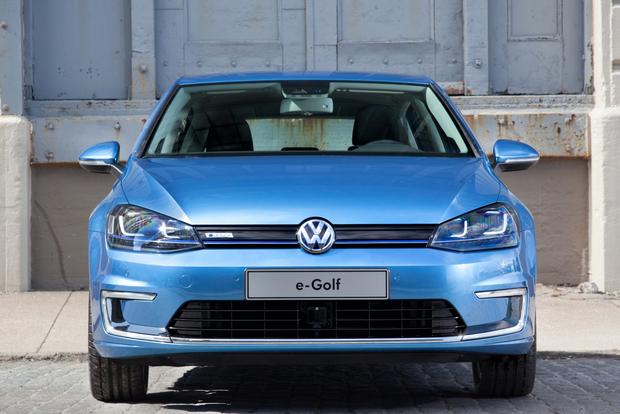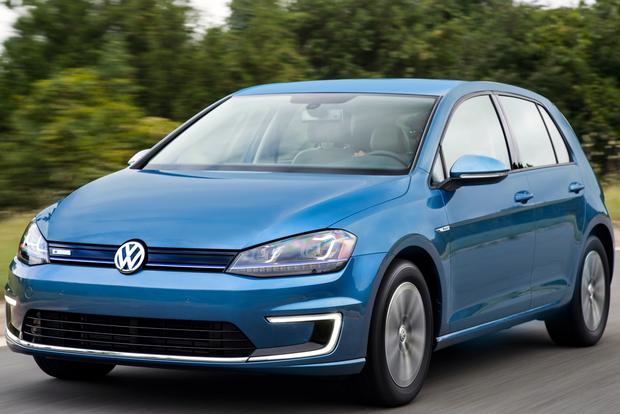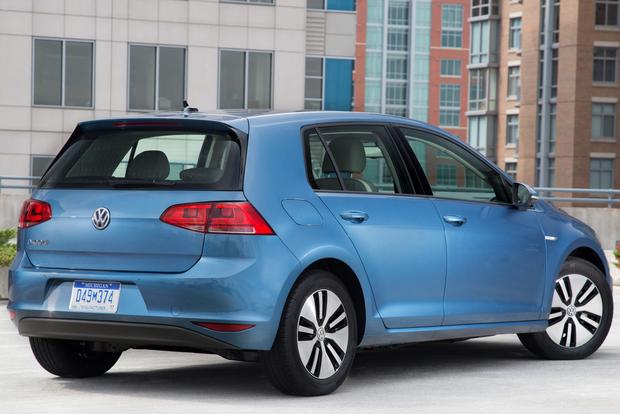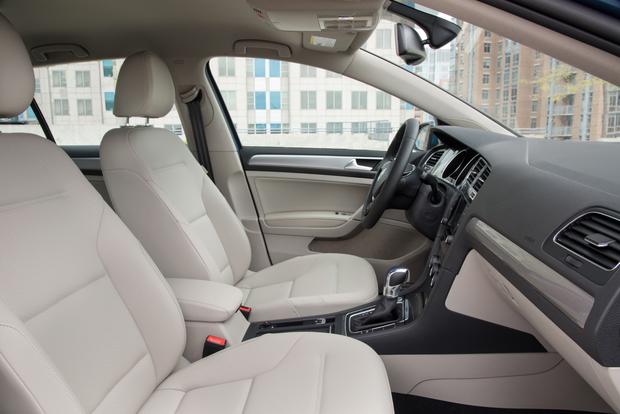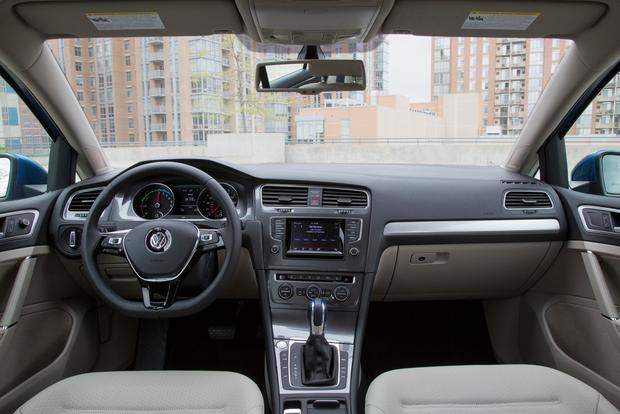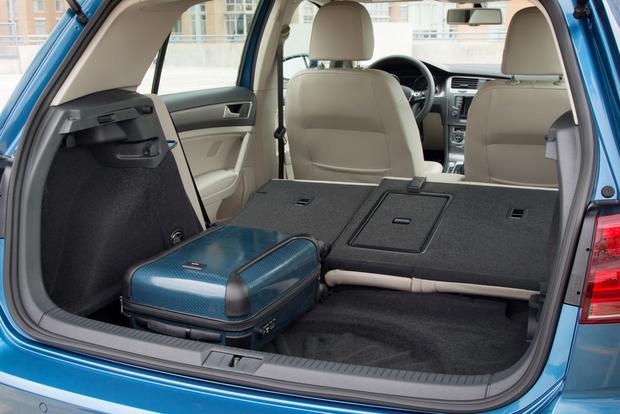 The 2015 Volkswagen e-Golf is the latest entrant in the growing electric-vehicle (EV) segment. Powered by a fully electric engine that makes 115 horsepower and 199 lb-ft of torque, the e-Golf offers a surprisingly traditional driving experience, despite its completely electric drivetrain. Of course, it also offers impressive practicality, touting the Golf's 5-door hatchback body style and 5-seater interior.
Does the e-Golf have what it takes to compete in the increasingly crowded world of the electric vehicle? On paper, it sure does, with reasonable acceleration, an impressive charge time of just 4 hours and a near-100-mile range rounding out its list of positive attributes. Its flaws? Well, there's the price, which starts north of $36,000 with shipping -- something we could potentially forgive with the right tax incentives and equipment levels.
We're more concerned about its limited appeal, however, thanks to Volkswagen's decision to offer it only in the handful of states that abide by California's strict emissions requirements -- meaning that a huge portion of American shoppers won't have the chance to buy an e-Golf.
What's New for 2015?
Though it's based on VW's newly updated Golf hatchback, the e-Golf itself is a completely new model for the 2015 model year.
What We Like
Long range; reasonable performance; practical interior; quick charge time
What We Don't
A little pricey; slightly compromised trunk space; severely limited availability
How Much?
$36,300
Fuel Economy
Although the e-Golf doesn't offer fuel economy per se, shoppers interested in the hatchback will probably want to know all of the electric powertrain's particulars. The e-Golf boasts 115 hp and 199 lb-ft of torque, making it a little more muscular than most rivals. Thanks to an onboard 7.2-kilowatt charger, the e-Golf can be fully recharged in just 4 hours with a 240-volt home charger, and while the Environmental Protection Agency hasn't determined an official range number for the e-Golf, Volkswagen says that the hatchback can do about 100 miles on a full charge.
Standard Features & Options
Although the 2015 Volkswagen e-Golf is pricey, VW makes up for the high cost with a long list of standard features. Only offered in one trim level, called SEL Premium ($36,300), the e-Golf includes a 5.8-inch center touchscreen, heated front seats, a navigation system, leather upholstery, LED headlights, 16-in alloy wheels, Bluetooth, satellite radio and a backup camera. It's a lot of equipment for a compact car.
Safety
In addition to the usual litany of safety features -- such as side-curtain airbags, anti-lock brakes, traction control and front side airbags -- the e-Golf also adds a few high-tech safety items. Chief among them is a unique post-collision braking system, which brings the hatchback to a stop after a collision has already occurred. It may seem unusual, but it can help stop the e-Golf from rolling into other cars if the driver is unable to stop the car after a collision. The e-Golf also includes a standard backup camera.
As for crash-test ratings, the e-Golf is simply too new to have taken part in any testing as of this writing. The same is true for the standard gas-powered Volkswagen Golf, which has been heavily updated for the 2015 model year.
Behind the Wheel
On the road, the e-Golf does a good job of keeping you focused on the fact that you're in a normal, everyday car capable of doing normal, everyday things -- not true for some electric vehicles that require big compromises. There are a few minor differences compared to a standard Golf, including the lack of engine noise (a plus), the low-end torque (also a plus) and the weak acceleration at higher speeds -- a big drawback for drivers who often leave crowded city streets.
Beyond those points, the e-Golf feels a lot like a standard Golf, which is to say a lot like most other compact cars, though it does boast a nicer interior than many rivals, along with sharper handling. Otherwise, expect strong visibility, reasonable front- and rear-seat room, and a well-sized -- but not cavernous -- trunk (especially with the batteries in place).
Fortunately, you'll also get a lot of equipment, because Volkswagen has packed the e-Golf full of luxury features to help shoppers justify its high cost. There's an excellent navigation system, impressive LED headlights and even a driving-mode selector that lets you choose if you want to be in Normal mode, Eco mode, or an especially efficient Eco+ mode that cuts hp but boosts range.
Other Cars to Consider
Chevrolet Volt -- While it isn't a fully electric car like the e-Golf, the Volt offers an electric motor capable of transporting it about 40 miles until a range-extending gasoline engine kicks in. That makes the Volt more practical than the VW. Its pricing is more affordable, too.
Honda Fit EV -- The Fit EV is similar to the e-Golf in that it's a fully electric adaptation of an existing small car. It also offers a similar base price, similar cargo room and a similar range.
Nissan LEAF -- The popular LEAF is cheaper than the e-Golf, but base models offer fewer features and a smaller interior. Still, it remains the overall leader in EV sales.
AutoTrader's Advice
We happen to like the e-Golf for its long list of equipment, its regular-car driving experience, its roomy interior, and its impressive charge time and range. Since there's only one model, we'd have to choose that if we were buying the e-Golf. Unfortunately, however, most shoppers won't be able to buy the e-Golf at all thanks to geographic limitations on where Volkswagen will sell it -- a disappointing fact that's probably the e-Golf's biggest flaw.