Car Review
2015 Volkswagen Golf GTI: New Car Review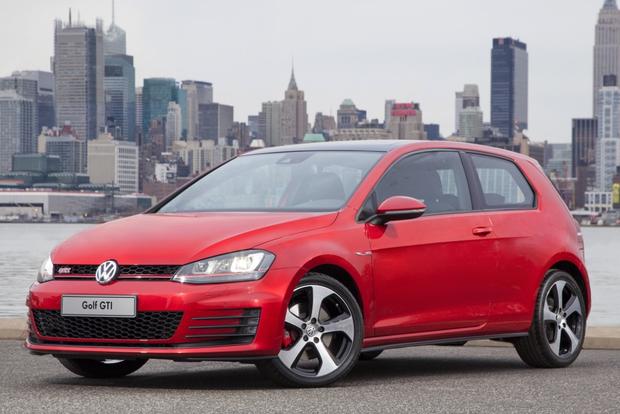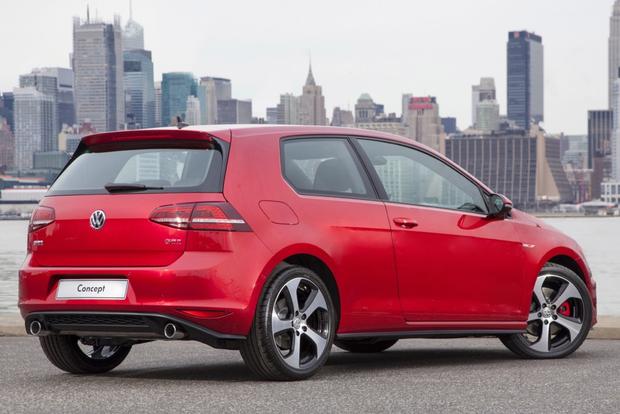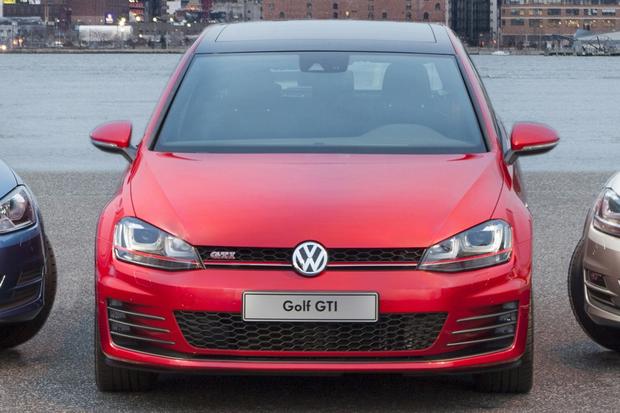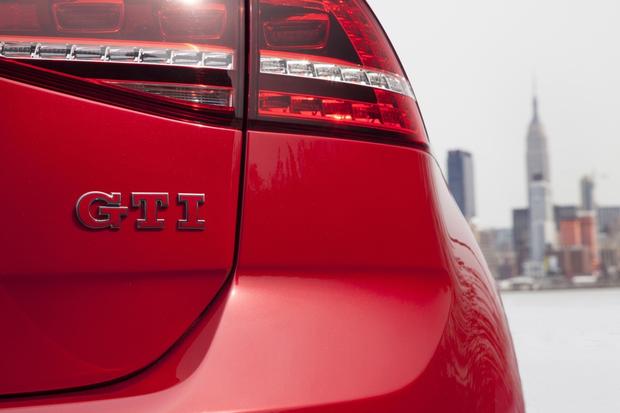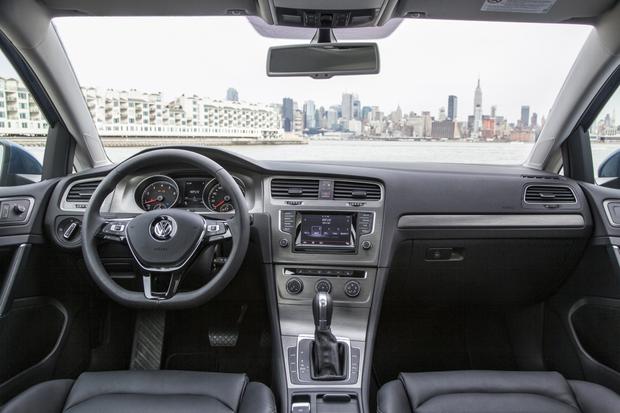 Pros: More power, better fuel economy, lighter weight; sleek sheet metal refresh doesn't disturb iconic GTI look; spunky personality abounds despite refinements
Cons: Upright silhouette belies sporty dynamics; buyers seeking ultimate Golf performance will need to spring for the R model
Introduction
While the new, seventh-generation 2015 Volkswagen Golf GTI is the descendant of the car that launched the so-called hot hatch phenomenon in the United States, this boxy little performance number almost didn't make it stateside. First introduced as a Europe-only model in 1976, the Mark I Volkswagen GTI entered the U.S. market as an experiment in 1983, becoming an instant hit thanks to its affordable cost of entry and surprisingly fun-to-drive personality.
The GTI has since sold more than 1.9 million units globally. With North America claiming the biggest share of its buyers, it was crucial for Volkswagen to uphold the essence of what has helped fuel the cult fascination with this small, performance-focused hatchback. Pricing has yet to be announced for the 2015 GTI, but Volkswagen has hinted it won't climb too far from the current model's $24,200 starting point.
What's New?
The 2015 VW Golf GTI receives a handsome, if light-handed, styling upgrade that maintains such signature touches as a red stripe around the front grille, tartan plaid seat upholstery, a golf-ball shifter (on manual-equipped cars) and a black border around the rear window. But, more crucially, the new GTI's mechanical improvements strive to incrementally increase performance while ditching weight and boosting fuel economy. That trifecta is achieved successfully: 55 pounds of mass have been shed, while the 2.0-liter turbocharged 4-cylinder -- now available with an optional Performance Pack -- produces incrementally more horsepower and significantly more torque than before. Interior volume has been boosted, as well, while tweaked overall proportions make the new car slightly longer, wider and lower than its predecessor.
Comfort & Utility
The Golf GTI comes standard with goodies, including Bluetooth, ambient lighting, an iPod/MP3 input and heated front seats. Options include navigation, a Fender premium audio system, keyless access with push-button start, leather seats, a power driver's seat and a rearview camera bundled with parking sensors. Though it's all but devoid of gratuitous bells and whistles, the GTI's interior surprisingly comes across as nicely finished and tastefully appointed, with a decently sized storage area and rear seats.
Technology
While the latest GTI is equipped with a few snazzy items, such as available bi-xenon headlights with adaptive functionality, its most notable tech feature is the XDS+ electronic differential, which comes bundled with the optional Performance Pack. This is the only hydraulically actuated, torque-sensing limited-slip differential in a front-wheel-drive car that can divert up to 100 percent of torque to one wheel, depending on road conditions. European versions of the GTI are available with a longer list of available tech features, including electronically adjustable shocks and a self-parking system.
Performance & Fuel Economy
Thanks to modifications to the cylinder head and various other components within its 2.0-liter turbocharged 4-cylinder engine, the seventh-gen GTI gains 10 hp for a total of 210 hp, or 220 hp if you opt for the Performance Pack, which also adds bigger brakes and an electronically controlled front differential. Torque takes a dramatic leap to 258 lb-ft -- an improvement of 51 lb-ft over its predecessor. Expect 0-to-60 mph to be attained in the mid 6-second range, dropping to the low 6-second range with the Performance Pack. The GTI sits 0.6 inches lower than standard Golf models, and comes equipped with 18-inch wheels mated to a tuned suspension for tighter handling. While official Environmental Protection Agency (EPA) numbers have not yet been released, the GTI is estimated at 24 mpg city and 34 mpg highway, for a combined figure of 27 mpg.
Safety
The new Volkswagen GTI gains a new automatic post-collision braking system to reduce impact in an accident. A pre-crash preventive occupant protection system also pre-tensions seat belts and closes the sunroof and windows when collision seems imminent. A radar-based city emergency braking system boosts brake pressure when sensors indicate the driver is not supplying sufficient force to slow down the vehicle.
Driving Impressions
It may look fairly harmless on the outside, but the GTI's snug seats and sporty steering wheel reveal this car's impressively deep wells of performance. While the 6-speed manual transmission delivers easy drivability through a light, progressive clutch, DSG-equipped models up the ante with a smooth yet quick-shifting dual-clutch automatic that responds to paddle shifter taps with impressive alacrity. The GTI magic comes alive at the middle and upper registers of the powerband, and strong acceleration is rewarded with a sweet but subtle exhaust hum. But the GTI's biggest surprise is its ability to negotiate corners. Thanks to the advanced front differential, torque steer has been all but eliminated, balancing power-on acceleration and accurate, intuitive steering.
Other Cars to Consider
Mazda MazdaSpeed 3: This Japanese hot hatch may lack the high-end interior details of the GTI, but it's distinguished by its lusty amount of power routed to the front wheels, which results in some seriously entertaining torque steer.
Ford Focus ST: Ford has made huge inroads in the performance hatchback category with their rally-bred Focus ST. Though it lacks some of the GTI's polish, this is still an immensely fun car to drive.
Subaru WRX: Long the choice of rain-ready Northwesterners and East Coasters, the all-wheel-drive WRX is a popular choice for driving enthusiasts willing to trade upscale details for performance features.
AutoTrader Recommends
If you're unfamiliar with why the Volkswagen GTI has become the standard-bearer within the increasingly competitive performance hatchback segment, we suggest you get behind the wheel and sample this latest generation version when it reaches showrooms in mid-2014. Sharp, engaging and as involving to drive as ever, the 2015 VW Golf GTI manages to combine rewarding driving dynamics with practicality, along with improved fuel economy and greater interior volume. Though its conservatively handsome styling may not be for everyone, it's hard to argue with the broad array of selling points of the seventh-generation GTI.