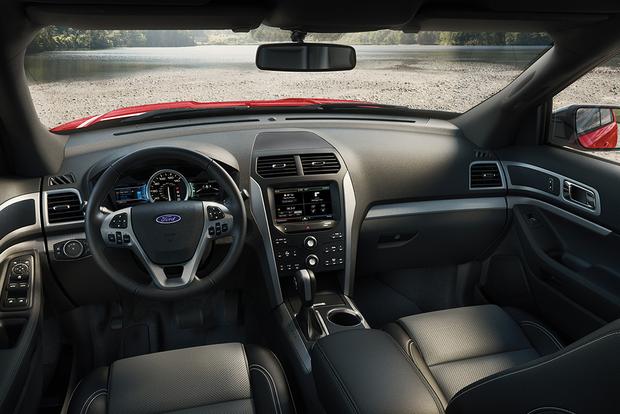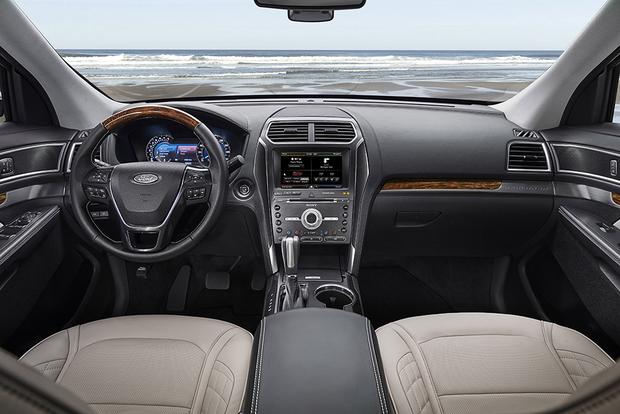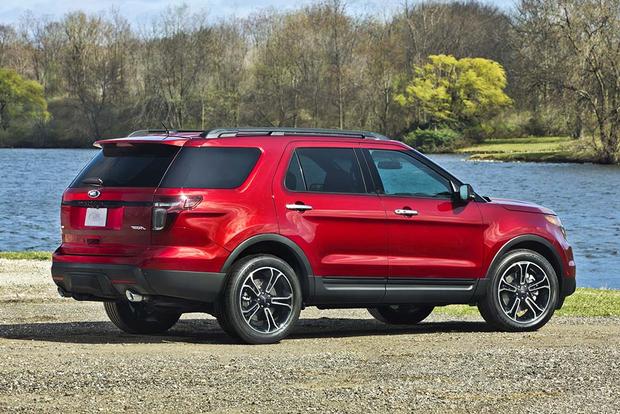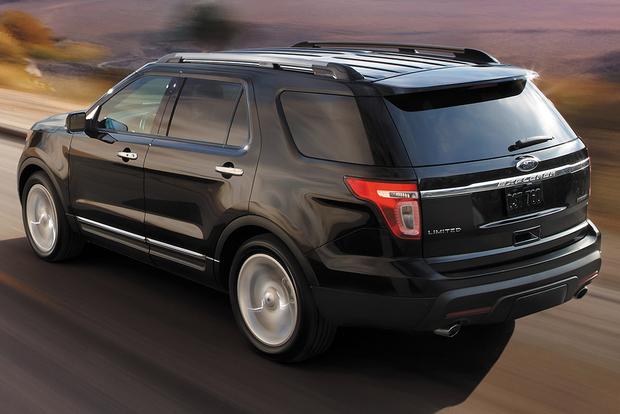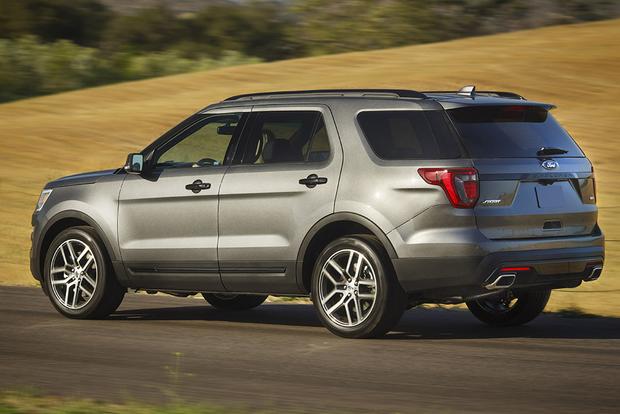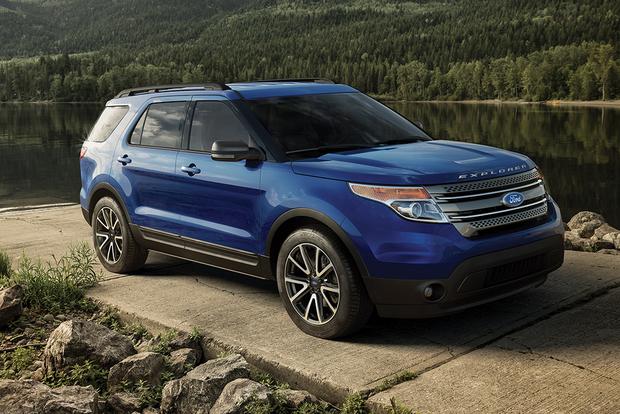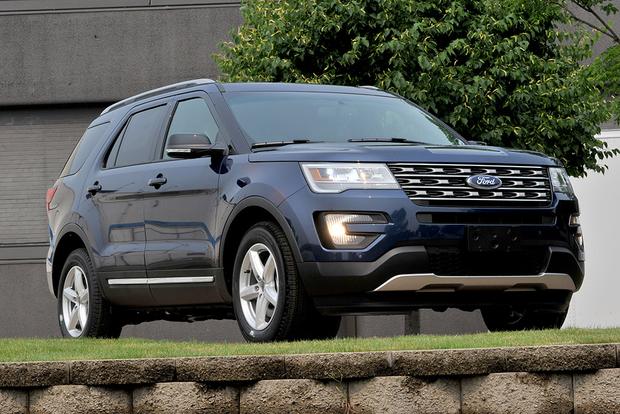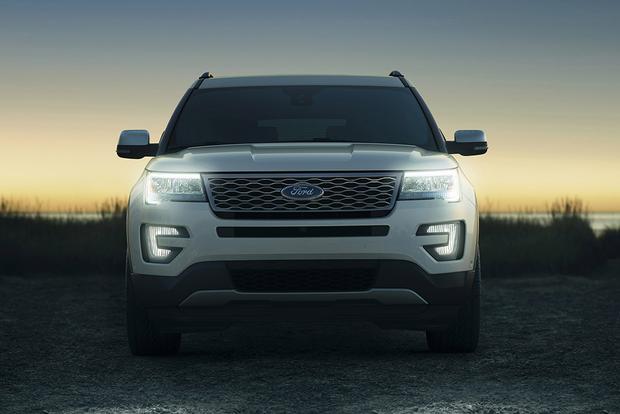 Ever since its revival for the 2011 model year, the Ford Explorer has enjoyed impressive popularity and won over thousands of SUV shoppers. However, with new competitors arriving every few months, the aging Explorer has needed an update, and that's exactly what Ford gave it for the 2016 model year. The 2016 Ford Explorer boasts a new look, new features and other revisions compared to the outgoing model. What has changed, and should you buy the new one or a lightly used 2014 or 2015 model? We've created a close comparison to help answer those questions.
Exterior
If you see a 2016 Explorer from the front, you'll immediately notice its major stylistic differences compared to last year's model. The latest version offers a totally new front end with squared-off headlights, an updated grille and a new front bumper. While the Explorer also makes changes in back, they don't go as far as the updates to the crossover's front end. Other revisions are limited to new wheels and a few new paint colors. After all, this update isn't a full redesign, but rather a thorough facelift.
Interior
Compared to the 2016 Explorer's thoroughly revised exterior, its interior doesn't receive such a thorough overhaul. There are a few noticeable changes, including some revisions to the center control stack, for example, along with the gauge cluster, the steering wheel and a few cabin materials. The Explorer's interior mostly soldiers along unchanged, which isn't necessarily a bad thing, as we didn't have too many complaints about the outgoing model's cabin.
Mechanicals
The only mechanical change to the 2016 Explorer is the addition of a new 2.3-liter EcoBoost turbocharged 4-cylinder powerplant in place of last year's 2.0-liter engine. Aimed at shoppers especially interested in fuel economy, the 2015 Explorer's 4-cylinder boasted 240 horsepower and fuel economy ratings of 20 miles per gallon in the city and 28 mpg on the highway, while the new 2.3-liter 4-cylinder offers 270 hp and up to 19 mpg city/28 mpg hwy. The Explorer's new 4-cylinder engine is also offered with all-wheel drive, which you couldn't have in the outgoing model.
The Explorer's other two powerplants, a standard 290-hp 3.5-liter V6 and an optional 365-hp 3.5-liter turbocharged V6 in the sporty Explorer Sport carry over unchanged for 2016.
Features & Technology
Since Ford has done a good job of updating the Explorer over the last few years, changes to the SUV's features and equipment are more evolutionary than revolutionary.
There are improved cameras, for example, which enhance the park-assist system, and front and rear cameras now come with built-in washers. There are newly available LED headlights, a new Sony sound system and a new top-level Explorer Platinum trim level boasting dramatically improved cabin materials, like quilted leather seats, brushed aluminum trim and upscale wood accents.
Still, don't expect any major changes or new features to accompany the 2016 Explorer's facelift. The SUV already offers most of the latest gadgets, touting a long list of options including forward-collision alert, lane-keep assist, adaptive cruise control and more.
Driving Experience
Despite changes in appearance and a few new features, the 2016 Explorer drives a lot like the outgoing model. That isn't a bad thing, as we appreciated the old Explorer's comfortable ride, its surprisingly stable handling and its powerful 3.5-liter V6. We also loved the Explorer Sport's 365-hp EcoBoost V6, though we're not sure why anyone would want a high-performance Ford Explorer.
With that said, Ford says they've made tweaks to the suspension and steering in the 2016 Explorer for better handling and a smoother ride. We didn't really notice any difference, and we suspect you won't, either.
The biggest change in driving experience relates to the base-level Explorer, as it trades last year's 240-hp 2.0-liter 4-cylinder for a new 270-hp 2.3-liter unit. The new power is both noticeable and welcome, as the Explorer no longer feels like it's too heavy for its 4-cylinder powertrain. As a bonus, the 270-hp engine is now offered with all-wheel drive, and it achieves about the same fuel economy as the 240-hp powerplant, too.
Safety
Although the 2016 Ford Explorer has not yet been crash-tested by the federal government's National Highway Traffic Safety Administration, we suspect it will achieve the same 5-star overall rating as its predecessor. It's the same story with the nonprofit Insurance Institute for Highway Safety, as the 2016 Explorer appears to have once again missed the firm's coveted Top Safety Pick rating after a less-than-stellar performance on the challenging new small-overlap front crash test.
As for safety features, the 2016 Explorer offers loads of them, but so did the 2015 model. The only real changes are an improved camera system, built-in washers for the camera system and newly available LED headlights that provide brighter illumination. Otherwise, the Explorer's wide array of safety features mostly stands pat for the 2016 model year.
Conclusions
The 2016 Ford Explorer is revised, but not redesigned, for the latest model year. Although it receives some big changes in a few key areas, such as updated front-end styling, a new 4-cylinder engine and a new high-end Platinum trim level, most drivers go with a middle-of-the-road V6 model that has only seen a few updates.
As a result, unless you plan to choose the new engine or the new Platinum trim level, or unless you really like the new front-end styling, we recommend considering a used 2014 or 2015 Explorer in addition to a 2016 version. A 1- or 2-year-old Explorer is available at a big discount from new, and if you go for a certified pre-owned model, it will also come with 7 years or 100,000 miles of factory-backed powertrain coverage.