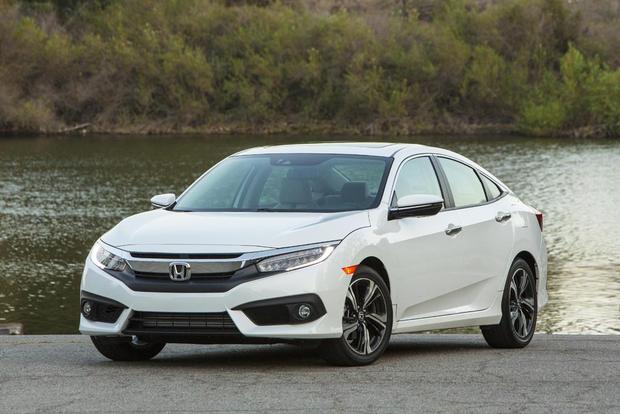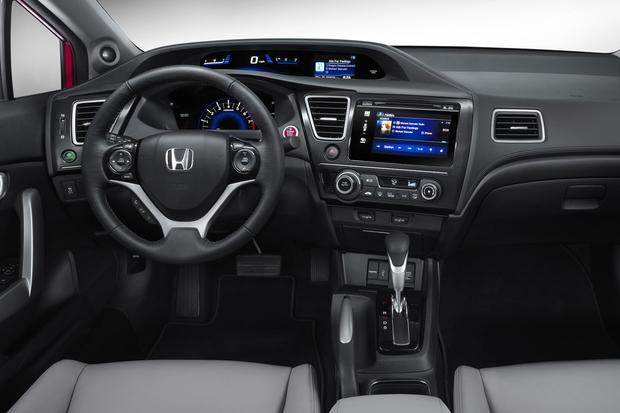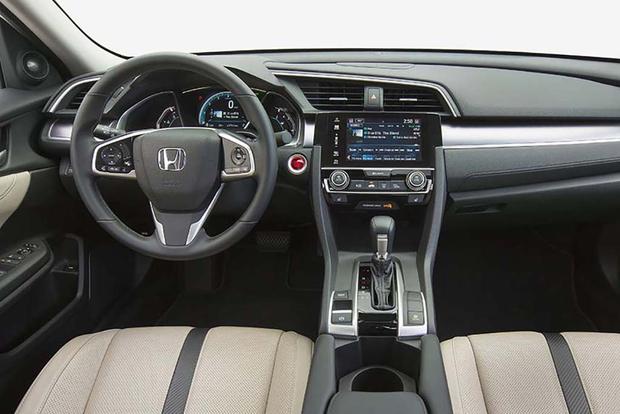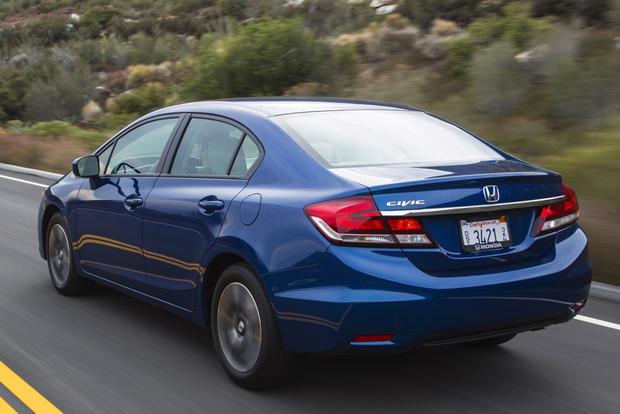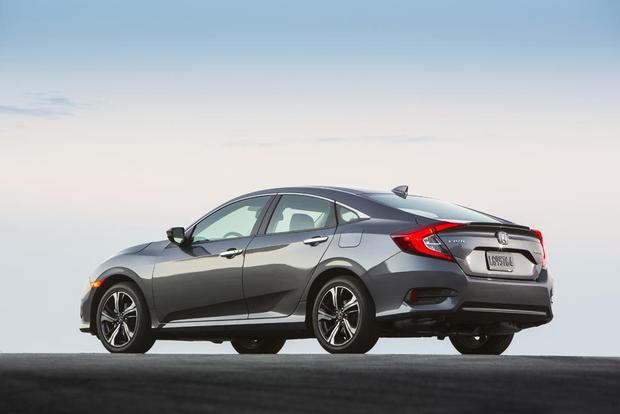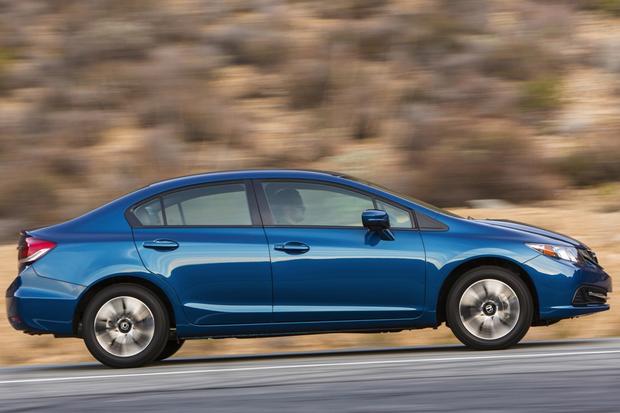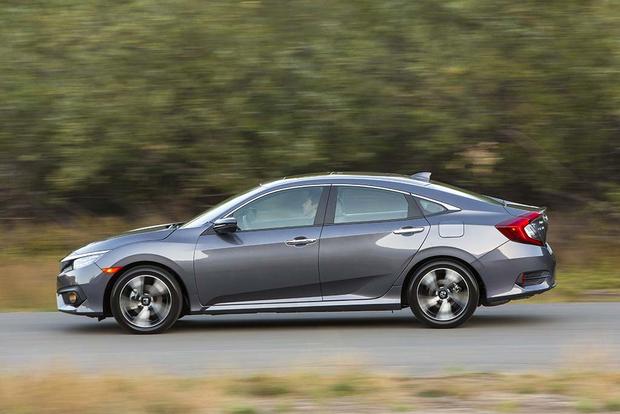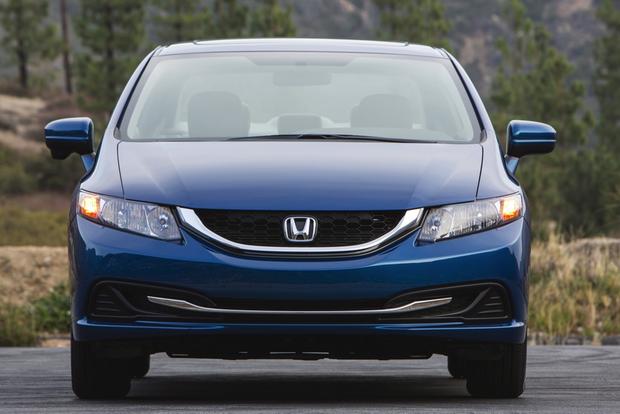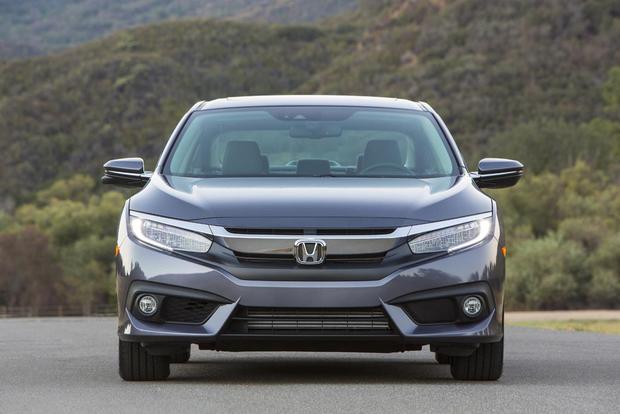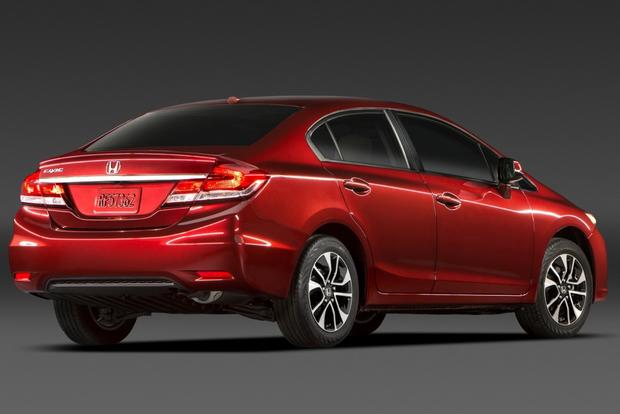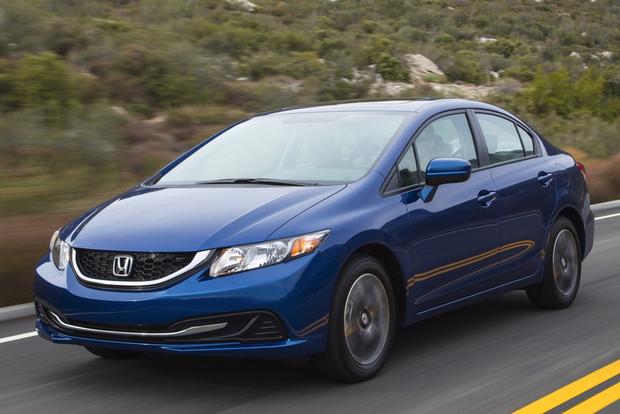 The Honda Civic is totally redesigned for 2016, featuring a completely new shape and a lot of other updates compared to last year's model. But what exactly is the difference between the 2016 Honda Civic and the outgoing 2015 version? And is the latest one worth the price premium over last year's model, or a certified pre-owned Civic? We've created a close comparison between the latest Civic and its predecessor in order to find out exactly what has changed -- and whether you should spring for the new model.
Exterior
Although many of today's latest models bear a striking resemblance to their predecessors, the 2016 Civic sedan definitely doesn't. Not only is the latest Civic sedan much larger than its predecessor (it's 182.3 inches long, which is an increase of more than four inches in length over last year's sedan model), but it also offers a new look from every angle, including a new front end, a new rear end with striking new taillights and a sloping roofline that gives it something of a coupelike shape. It's the same story with the latest Civic Coupe, which boasts similarly thorough stylistic updates over its predecessor. Simply put, you probably won't confuse the new Civic with the old one.
Interior
Although interior changes to the latest Civic aren't as dramatic as exterior updates, they're still fairly substantial. Specifically, the latest Civic offers higher-quality materials compared to its predecessor, along with more interior room -- especially in back. The latest Civic also boasts a totally redesigned gauge cluster, losing the unique digital speed readout at the base of the windshield that the model has offered for the last decade or so. The center control stack in the latest Civic is also redesigned for a simpler, cleaner look with more room for the central air conditioning vents.
Mechanicals
The 2015 Civic was offered with three powertrains. Most models used the base-level 4-cylinder, which was a 143-horsepower 1.8-liter unit that could be mated to a 5-speed manual transmission or an optional automatic continuously variable transmission (CVT). Optional powertrains included a 110-hp 1.5-liter hybrid 4-cylinder in the Civic Hybrid and a 205-hp 2.4-liter 4-cylinder in the sporty Civic Si.
Given its recent arrival to the market, the 2016 Civic doesn't yet offer the same array of powertrains. In fact, its engine lineup is limited to two choices for now. Base models use a 158-hp 2.0-liter 4-cylinder, which is offered in 6-speed manual or CVT automatic guise, while upscale EX-T, EX-L and Touring trims use a 174-hp 1.5-liter turbocharged 4-cylinder that's only offered with the CVT.
Although Honda has not yet confirmed details, we expect the Civic Si and Civic Hybrid to eventually make a comeback on the new body style.
As for fuel economy, the latest Civic delivers: While last year's model boasted 30 miles per gallon in the city and 39 mpg on the highway with its base engine (or 31 mpg city/41 mpg hwy if you went with the efficient Civic HF), the new one offers 31 mpg city/41 mpg hwy standard. Upgrade to the turbocharged engine and you'll get an even more impressive 31 mpg city/42 mpg hwy, despite the additional power.
Features & Technology
While the 2015 Civic was hardly light on equipment, the 2016 Civic offers an impressive array of the latest gadgets and features that now places it among today's top compact cars.
For example: The latest Civic now offers Android Auto and Apple CarPlay, which you couldn't get in the outgoing model. The 2016 Civic also boasts available features like a remote starter, LED headlights, lane-keep assist, automatic wipers, adaptive cruise control and forward-collision alert with automatic braking, none of which were offered in the outgoing model. Simply put, technophiles will find the new Civic to be a dramatic improvement over the old one -- and just about everything else in the compact-car segment.
Driving Experience
Although we never had any issues with the prior Civic's driving experience, we still think the new model manages to tout a big step up compared to the outgoing one. Specifically, the latest Civic is more stable and solid than the old model, boasting a flatter ride through on curvy roads and a more solid demeanor on the highway. Honda claims they benchmarked luxury cars like the Mercedes-Benz CLA and Audi A3 when designing the new Civic, and it shows.
The interior is also a big improvement compared to last year's model. Materials are a lot nicer, giving the latest Civic a more upscale look and feel compared to its predecessor, while interior room has been improved to the point where only the tallest passengers will complain about having to ride in back. That's something we've never been able to say about the Civic before.
In short, Honda's latest Civic offers some major updates compared to the 2015 model -- and they're easy to notice when you're behind the wheel.
Safety
In crash testing carried out by the federal government's National Highway Traffic Safety Administration, the outgoing Civic sedan earned a perfect 5-star overall score, while the Civic Coupe earned four stars overall. The latest model has not yet been tested, but we suspect those ratings will at least be met for 2016. It's the same story with the nonprofit Insurance Institute for Highway Safety, who gave the Civic a sought-after Top Safety Pick rating for 2015 -- a score we suspect will be increased to Top Safety Pick+ for 2016.
As for safety features, the 2016 Civic makes a huge leap over the outgoing model. The latest Civic offers lane-keep assist, forward-collision warning with automatic braking and adaptive cruise control, none of which you could get in the outgoing Civic. We also appreciate the Civic's available LaneWatch camera system, its optional lane-departure warning system and its standard backup camera.
Conclusions
No matter how you look at it, the 2016 Honda Civic is a major leap forward compared to last year's model. It offers a larger interior, more equipment, more safety features, better fuel economy and totally revised styling inside and out -- with a more upscale interior than its predecessor. Unless you're absolutely insistent on getting the best deal possible, you should pay the price premium for the latest Civic instead of opting for a leftover 2015 model.