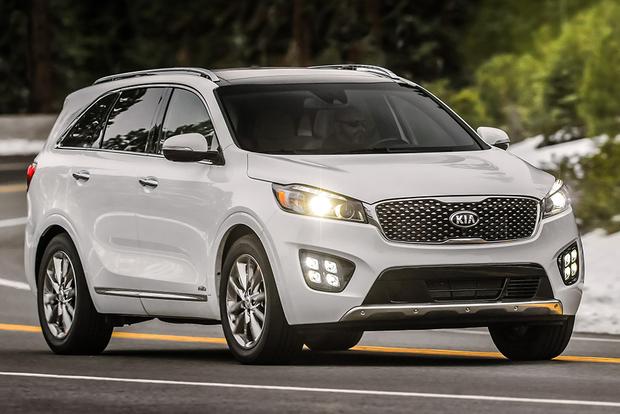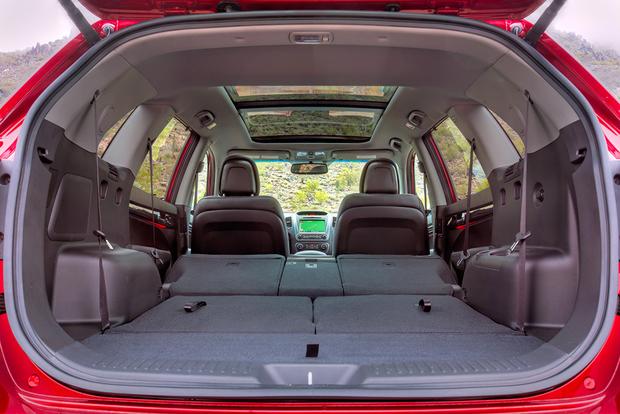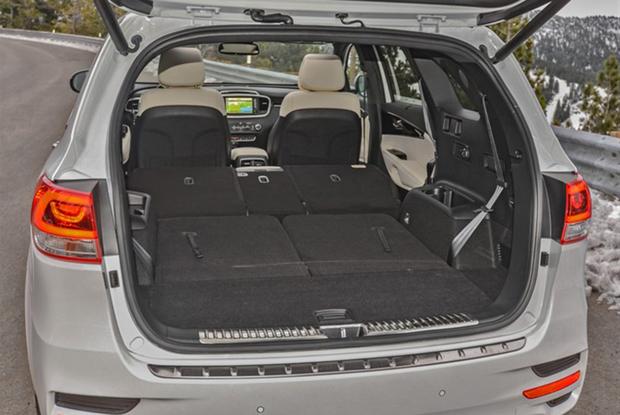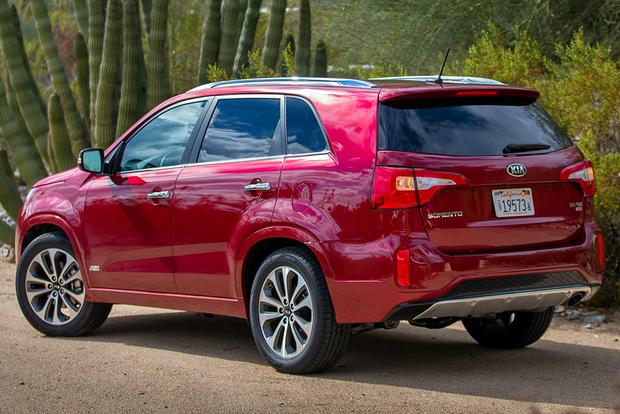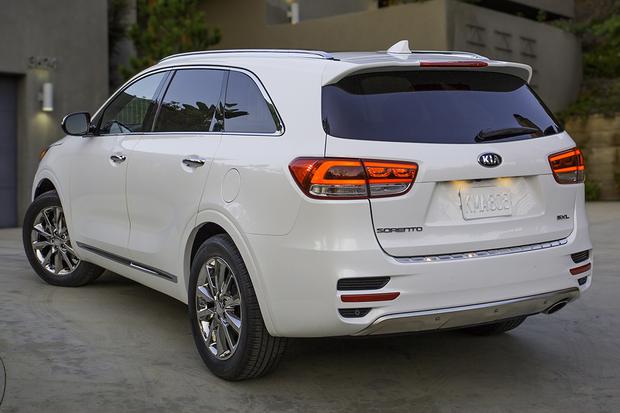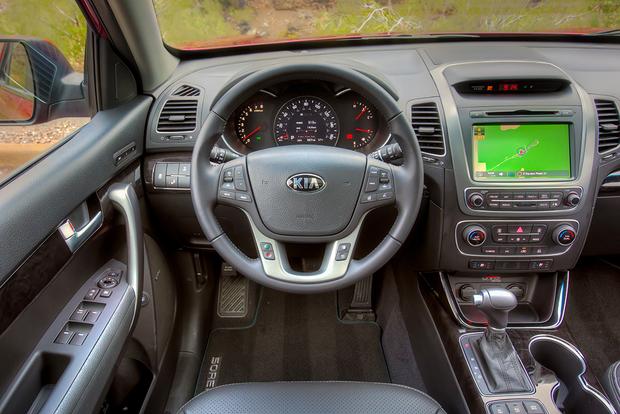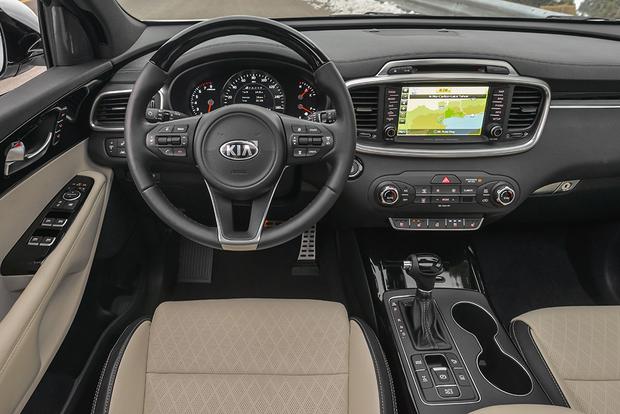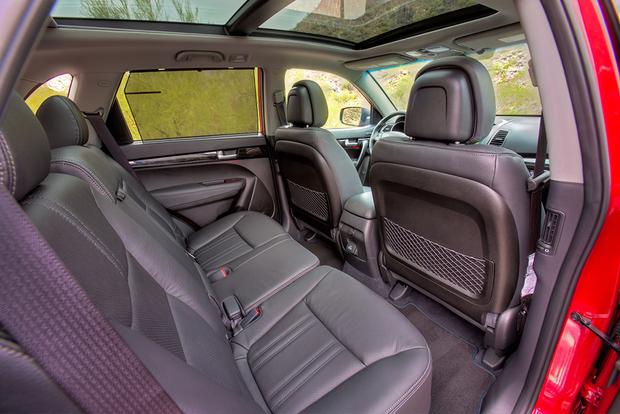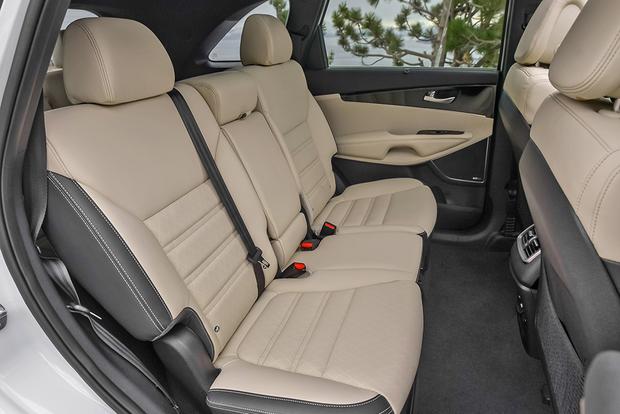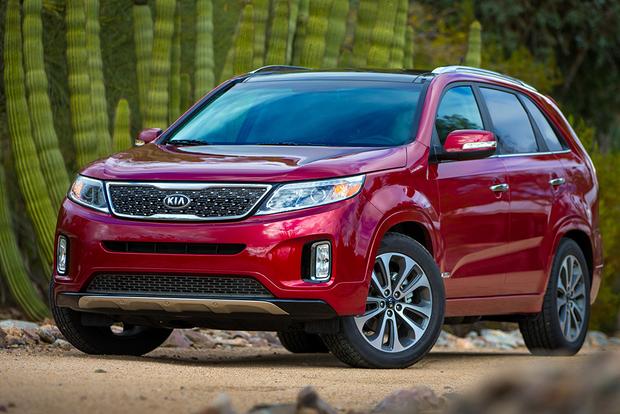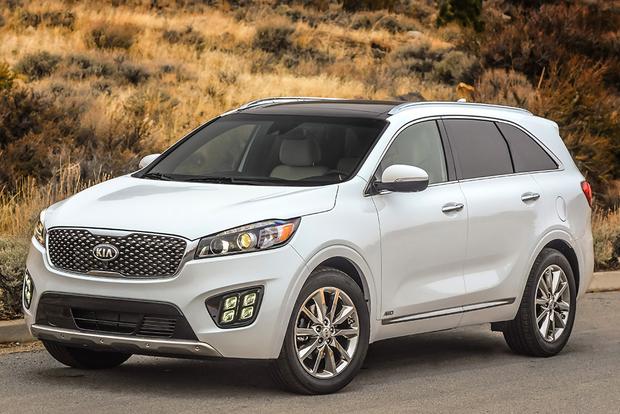 Over the last few years, the Kia Sorento has established itself as a major player in the midsize-SUV world, and rightfully so. It offers a long warranty, available 3-row seating, several engines and lots of desirable equipment. Now the Sorento has been redesigned for the 2016 model year to stay on top of its game. To find out exactly what's new with the 2016 Kia Sorento and to see whether it's worth its price premium over a certified pre-owned version of last year's model, we've created a close comparison between the new Sorento and the outgoing model.
Exterior
Changes to the Kia Sorento's exterior design are thorough but not dramatic; Kia probably figured that it was best to not rock the boat too much, considering the outgoing Sorento's resounding success. Still, there are a few noticeable updates, such as a larger grille, more rounded corners, a new rear end with updated taillights and, in some models, a unique fog-light style that utilizes four distinct lamps. The 2016 Sorento incorporates new wheel designs as well, but the latest Sorento also retains several touches from last year's model, including its overall profile, its unique sloping D-pillar and relatively similar sizing.
Interior
Kia made a bigger effort to overhaul the Sorento's interior, which we felt was beginning to look a little dated. There's a redesigned dashboard, an updated infotainment system, a new gauge cluster, a new steering wheel, a more expansive center console (complete with new buttons) and improved interior materials. Interior room has increased too, especially in the third-row seat -- a welcome change from last year's somewhat cramped cabin. Overall, we're impressed with the new interior. While some items are carried over, we think the new Sorento's cabin is more competitive with rival models than ever before.
Mechanicals
Unlike most midsize SUVs that only offer one or two powertrains, the Sorento has three -- an increase of one over last year. The model's base-level engine, a 2.4-liter 4-cylinder, carries over, though power drops slightly from 191 horsepower to 185 horses for 2016. Fuel economy reaches as high as 22 miles per gallon in the city and 29 mpg on the highway, which is a big boost over last year's 20 mpg city/26 mpg hwy. A 6-speed automatic remains the standard (and only) transmission choice.
New for 2016 is a midrange engine that stands between the base-level 4-cylinder and the Sorento's optional V6. It's a 2.0-liter turbocharged 4-cylinder, available in EX and SX models, and it features 240 hp. Fuel economy stands at 20 mpg city/29 mpg hwy.
Just like last year, the latest Sorento uses a 3.3-liter V6 at the top of its engine range. Power and torque figures are unchanged at 290 hp and 252 lb-ft, though fuel economy is up slightly from 18 mpg city/25 mpg hwy to 18 mpg city/26 mpg hwy.
Features & Technology
When it comes to equipment, the latest Sorento is head and shoulders above last year's model. For example, while the most technologically advanced safety features in the outgoing Sorento were a blind spot monitoring system and a backup camera, the new model offers adaptive cruise control, a multi-angle parking camera, lane-departure warning and forward-collision warning. It's a big step up.
Increases in feature content and technology aren't limited to safety equipment. The latest model also offers a hands-free power lift gate (it opens and closes when it senses the car's key), a display screen mounted in the gauge cluster and a new Clari-Fi sound system that's designed to improve the sound of digital music. Of course, interior materials are also upgraded, especially in the Sorento's higher trim levels.
Driving Experience
After just a few miles behind the wheel of the latest Sorento, you'll easily feel some crucial changes that separate the latest model from the outgoing one. Most notably, the SUV's suspension has been dramatically reworked to offer a smoother ride and more responsive handling than last year's model, and it works well in practice. That's especially true of the sporty SX version, which offers some of the best steering feel in the midsize-SUV realm.
Beyond its updated suspension and greater steering feel, the Sorento also boasts a commanding view of the road. That isn't a change from last year, the old model had it, too. But it's a big benefit over some midsize-SUV rivals, which continually pinch visibility with increasingly lower roofs and higher window lines.
Safety
Although the latest Sorento has not yet been crash-tested by the federal government's National Highway Traffic Safety Administration (NHTSA), the outgoing model earned a perfect 5-star overall rating, and we expect the same score from the new one. The 2016 Sorento has been tested by the nonprofit Insurance Institute for Highway Safety (IIHS), who gave it a Top Safety Pick score, stopping just short of Top Safety Pick+ because the Sorento's forward-collision alert system doesn't provide automatic braking.
As for safety equipment, the 2016 Sorento makes huge strides over its predecessor. While last year's model bragged about a blind spot monitoring system and a backup camera, the new one offers it all: adaptive cruise control, lane-departure warning, a multi-angle camera, rear cross-traffic alert and forward-collision warning. We only wish the Sorento's forward-collision warning system offered automatic braking, which is available in many rivals.
Conclusions
The 2016 Kia Sorento offers an evolution -- not a revolution -- compared to its predecessor. Styling is merely evolved, and while the interior is dramatically improved, it's still familiar territory for anyone who's spent a lot of time in the outgoing Sorento. Engines are largely carried over, save for the new midrange turbocharged 4-cylinder, and crash safety will likely remain similar to last year's model.
Where the new Sorento has an advantage is in the details: Ride comfort is improved, handling is better, the interior is larger and there's more tech for both safety and convenience. Whether that's worth the price premium over a certified pre-owned version of the outgoing model is up to you, and we strongly suggest driving both models to find out for sure.