Car Video
2016 Acura RDX: 5 Reasons to Buy - Video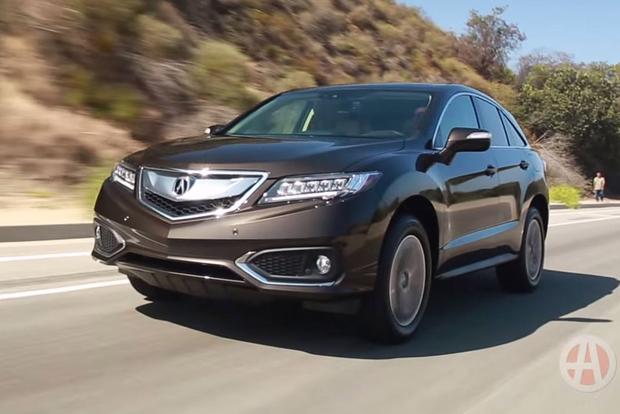 If you're looking for information on a newer Acura RDX, we've published an updated review: 2019 Acura RDX Review
The 2016 Acura RDX is a luxury crossover that seems to get lost in the shuffle sometimes. But that's definitely not the RDX's fault. Truth be told, the RDX is one of the best all-around crossovers in its class, especially when you take value into account. Here are five reasons to show this well-rounded Acura some love.
Powerful Yet Frugal
The RDX comes standard with some pretty heavy artillery under the hood. The 3.5-liter V6 engine pumps out 279 horsepower through a 6-speed automatic transmission with paddle shifters, so there's no shortage of acceleration when you need it. But here's what's really remarkable: According to the Environmental Protection Agency, the big V6 should return up to 29 miles per gallon on the highway. There are some wimpy 4-cylinder crossovers on the market that can't say that.
Luxury Trimmings
When you see an Acura badge, you expect a certain level of luxury inside, and the RDX nails it. Notable features include power front seats with memory, leather upholstery, dual display screens and a concert-quality ELS Surround sound system. The materials are nice too, including the supple dashboard covering and the nicely trimmed door panels. If you want luxury without breaking the bank, this Acura is where it's at. See the 2016 Acura RDX models for sale near you
Versatile Interior
Not surprisingly, the RDX has plenty of room for four adults, and even five in a pinch. But this isn't a very large vehicle, so you probably wouldn't expect all the cargo space it provides. With the rear seats folded flat and the front seats moved forward, you have access to a cavernous 76 cu ft. in the cargo hold, which far exceeds expectations for the segment. That's some serious hauling capability right there.
Upscale Ride
The RDX used to be a firm-riding performance vehicle, but these days it's all about enjoying the ride. The compliant suspension soaks up bumps and ruts like they're not even there, and the cabin stays quiet at all speeds. It's a classy way to get around. Plus, the handling is still there when you push it; Acura's engineers haven't forgotten how to tune a suspension for spirited driving.
Available All-Wheel Drive
Although the RDX comes standard with front-wheel drive for maximum fuel efficiency, all-wheel drive is a popular option. It keeps you planted on slippery surfaces, and you can even feel it helping on dry roads if you're cornering enthusiastically. Plus, it only costs you a single mpg. Sounds like a win-win if you don't mind the extra fee.
Autotrader Says
The 2016 Acura RDX is one crossover that deserves more attention than it gets. You have to go see it for yourself. Find an Acura RDX for sale