Editor's note: You may want to read more of Autotrader's model vs. model comparison car reviews as well as the 2016 Acura RDX review and the 2016 Mercedes-Benz GLC review.
If you're looking for a compact luxury crossover, your shopping list likely includes the 2016 Acura RDX and the 2016 Mercedes-Benz GLC, two of today's most popular new models, but which one is better and which one should you buy? To help you answer these questions, we've created a close comparison of both models. First, check out what's new with the RDX and the GLC for the latest model year.
2016 Acura RDX
The RDX received a facelift for 2016, with the latest model offering updated styling and a long list of new high-tech, in-demand safety features. See 2016 Acura RDX models available near you
2016 Mercedes-Benz GLC
The GLC is a completely new model for 2016. It replaces Mercedes-Benz's aging GLK with updated styling, a thoroughly revised interior, new powertrains and a long list of new features and equipment. See 2016 Mercedes-Benz GLC-Class models available near you
Reliability
Although the recently updated RDX and the fully redesigned GLC are too new to receive ratings from the reliability experts at J.D. Power, the outgoing RDX, which is mechanically similar to the new model, was given an above-average reliability rating by the firm. Meanwhile, the GLK received a best-in-class rating, but with an entirely new design and new powertrains, there's no way to be sure if the GLC will retain that score.
As for warranty coverage, both automakers offer 4 years or 50,000 miles of bumper-to-bumper protection, but only Acura offers additional powertrain coverage, which lasts for 6 years or 70,000 miles. The result? This category is a toss-up, though we suspect both the GLC and the RDX will offer excellent dependability.
Fuel Economy
The RDX offers one powertrain, a 279-horsepower 3.5-liter V6, which is only available with a 6-speed automatic transmission. Gas mileage is 20 miles per gallon in the city and 29 mpg on the highway with front-wheel drive or 19 mpg city/28 mpg hwy with optional all-wheel drive (AWD).
At the moment, the GLC also offers only one engine, a 241-hp 2.0-liter turbocharged 4-cylinder. It comes standard with a 9-speed automatic transmission and returns up to 22 mpg city/28 mpg hwy with rear-wheel drive or 21 mpg city/28 mpg hwy with AWD.
In this category, the GLC outshines the RDX in terms of gas mileage, but only barely, and the RDX offers more power. We suspect most drivers won't notice any real fuel economy differences between the two models.
Safety
In government crash testing carried out by the National Highway Traffic Safety Administration (NHTSA), the RDX earned a perfect 5-star overall rating. The GLC has not been rated yet. Likewise, the GLC has not been rated yet by the nonprofit Insurance Institute for Highway Safety (IIHS), though the RDX earned the firm's coveted Top Safety Pick+ overall score. Don't read anything into the GLC's lack of crash testing, though; it's such a new model that NHTSA and IIHS haven't been able to crash-test it yet.
As for safety features, both the GLC and the RDX offer everything you'll want, including standard anti-lock brakes, front-side airbags, side-curtain airbags, optional forward-collision warning, automatic forward-collision braking, a blind spot monitoring system, lane-departure warning and lane-keep assist. These are two of the safest SUVs on the market, and we don't think you can go wrong with either one.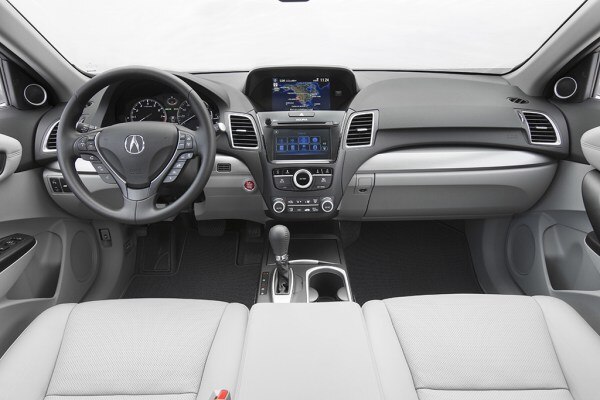 Technology
When it comes to technology, the GLC starts to pull ahead of the RDX, likely a function of its newer design. After all, the GLC was fully redesigned this year, while the RDX merely received a facelift; by contrast, the RDX hasn't been completely redesigned since 2013.
What does the GLC have that the RDX doesn't? Well, there's a 360-degree parking camera, compared to the Acura's simpler, traditional backup camera. The GLC also offers a head-up display, an automated parallel-parking system, a hands-free lift gate, an in-car Wi-Fi hot spot and a larger center screen than the RDX (8.4 inches versus 7.0 inches). Only the GLC offers a 14-speaker Burmester sound system, compared to the RDX's maximum 10 speakers.
Technophiles won't be disappointed in the RDX, which offers many of the latest gadgets and features, but only the GLC has all of them.
Value
The GLC starts at $39,900 with shipping, which is around $3,600 more expensive than a base-level RDX, a price difference that's exacerbated, not diminished, as the two models add options. As a result, there's little doubt the RDX is the better value here. Yes, the GLC offers more equipment than the Acura, but for drivers interested in stretching their dollar as far as it'll go, the RDX is an easier and better way to do so in the world of the compact luxury crossover.
Autotrader's Advice
The 2016 Mercedes-Benz GLC and the 2016 Acura RDX are two of today's best compact luxury crossovers, and it shows in this comparison, as both models tout excellent reliability, a lot of equipment, great safety features, impressive fuel economy and reasonable pricing. Most drivers would be happy with either one, though we also think the GLC's increased equipment levels, modern design and smoother, more luxurious driving experience give it a slight leg up over its Acura rival.
Find a Used Acura RDX for sale