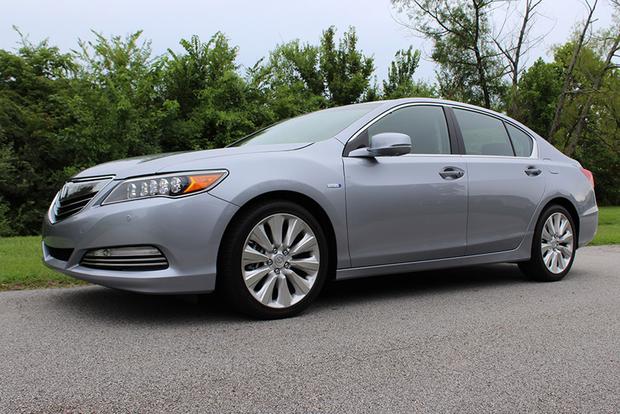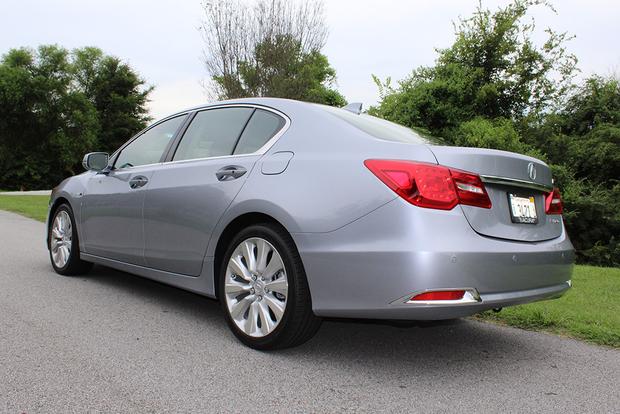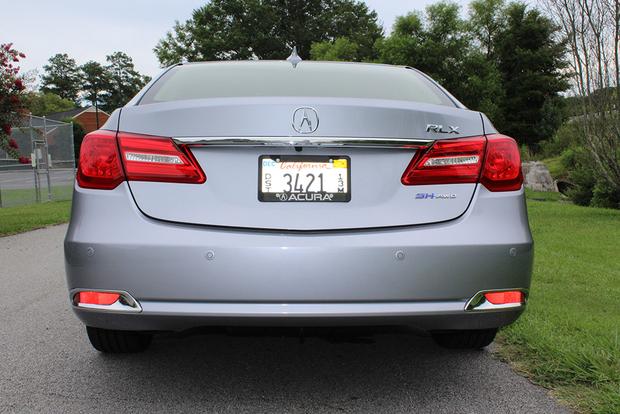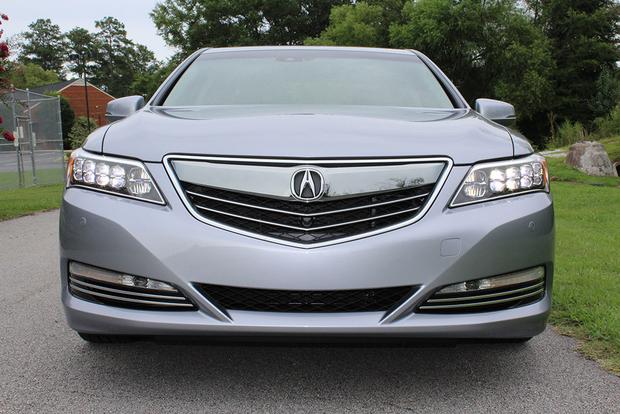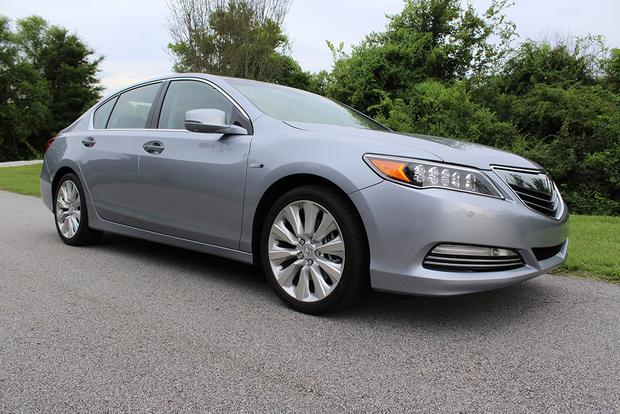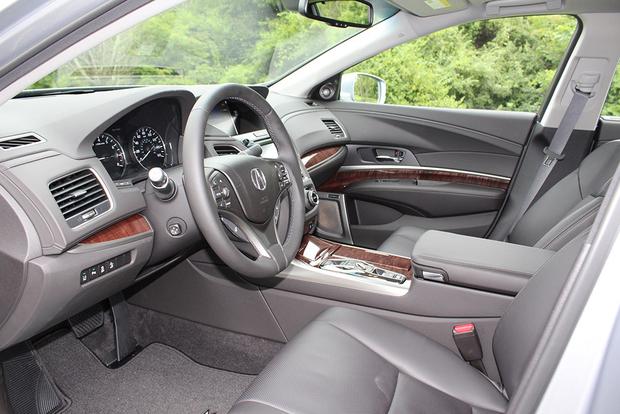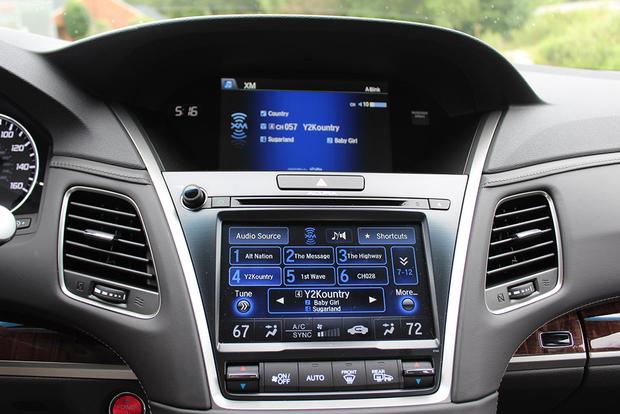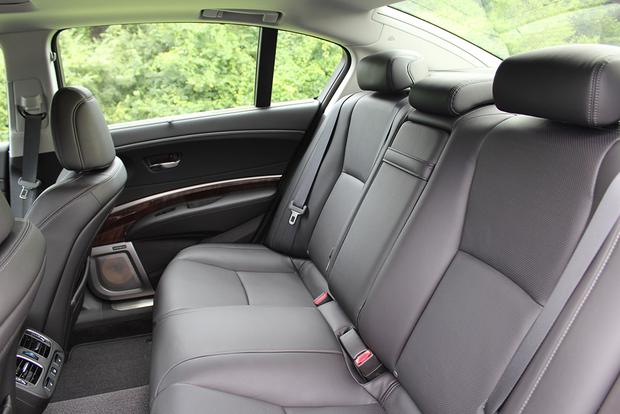 Like its full-size-sedan predecessors, the Acura RLX has barely made a dent in the competitive world of pricey luxury sedans, so in an effort to help increase sales and reach a wider audience, Acura rolled out a hybrid version of the RLX, dubbed the RLX Sport Hybrid, for 2014. To find out how it stacks up, we spent a week behind the wheel of the newest model: the 2016 Acura RLX Sport Hybrid.
Luxurious and Smooth
The Acura RLX is the pinnacle of Honda refinement -- and it shows. Our editors reported that the sedan is smooth, luxurious and quiet, with one going so far as to call it "one of the quietest cars I've ever driven." Another editor called it "one of the most luxurious hybrids I've ever driven," which is good news for shoppers interested in a little more of an upscale feeling from their hybrid in contrast with the conventional crop of mainstream-priced models.
Staffers who rode in and drove the RLX Sport Hybrid were also impressed with its long list of equipment, which includes all of today's latest safety features: adaptive cruise control, forward-collision warning with automatic braking, lane-departure warning and the excellent Acura Watch blind spot camera. Also included in our test car was a Krell audio system, whose sound quality was dubbed "amazing" by one tester. However, we still think the Mark Levinson systems found in Lexus vehicles are better.
With that said, we discovered a few minor issues with the technology. Namely, the dual-screen setup can be a little confusing to use, and we don't think it's quite different enough from the hardware you get in a much cheaper Honda. And although we like the adaptive cruise control's smooth acceleration up to speed, it can be a little abrupt when it senses another car ahead and starts to slow down.
Between the RLX's features and its luxurious, supple ride, a few staffers were moved to call this an excellent road-trip car -- one you can use to cover many miles while all of today's latest driver aids keep you especially safe.
Impressively Efficient
We also found the RLX Sport Hybrid to be impressively efficient in a segment where cars aren't usually known for their gas mileage. The Environmental Protection Agency notes that fuel economy stands at 28 miles per gallon in the city and 32 mpg on the highway, which is excellent for a large luxury sedan -- but what impressed us even more is the car's range. In 60 miles of mixed city and highway driving, one editor burned through just an eighth of a tank of fuel, suggesting a range of well over 400 miles. That's not bad for a luxury car, and it's just another benefit that makes us think this is a great vehicle for long-distance driving.
Another benefit of the RLX Hybrid -- and all Acura and Honda hybrids -- is the smooth transition between gas and electric power. This transition can be noisy or clunky in some hybrid cars, but it's highly refined in Honda and Acura hybrids.
Expensive -- and Hard to Justify
So the RLX Sport Hybrid is a smooth, comfortable, well-equipped, fuel-efficient luxury sedan -- but if it's so good, why don't you see any of them on the road?
The answer is very simple: pricing. The RLX is already a hard sell at its starting price of around $55,500 -- big money for a luxury sedan with an Acura badge and a V6 under the hood. But the RLX Sport Hybrid tacks an extra $5,500 on top of that figure -- not a small sum for eight extra mpg in the city and just one measly mpg more on the highway.
For the same $61,000 as a base-level RLX Sport Hybrid, drivers could buy a diesel-powered BMW 535d and still have several thousand dollars left over. Not only does the BMW get better overall fuel economy (26 mpg city/37 mpg hwy), but it, too, offers a lot of luxury -- and that all-important BMW badge on the hood. And this says nothing of the Mercedes-Benz E250 BlueTEC, which is more than $7,000 cheaper than the RLX Sport Hybrid and manages to return more than 40 mpg hwy.
So while we like the 2016 Acura RLX Sport Hybrid, its pricing simply isn't competitive against rival fuel-efficient luxury cars. This sedan is one that's best picked up on the used market after a few years of depreciation -- especially if you want a smooth, comfortable, high-tech car for driving long distances.