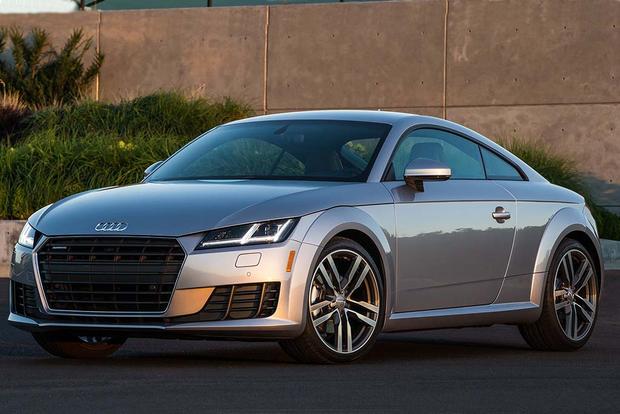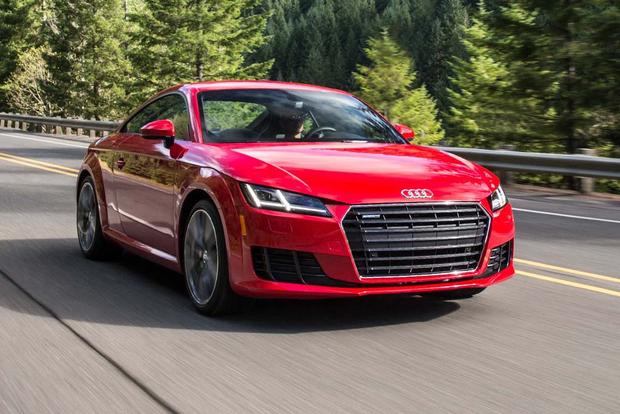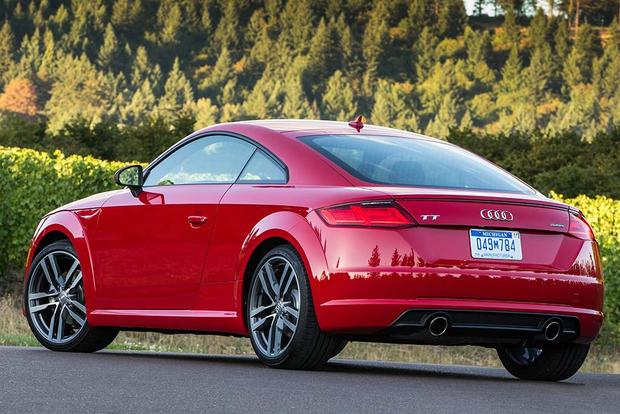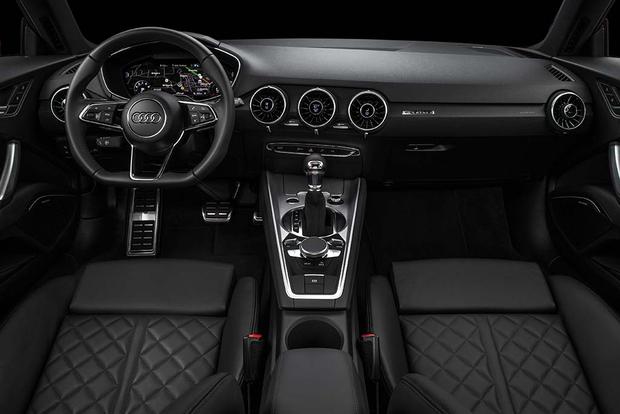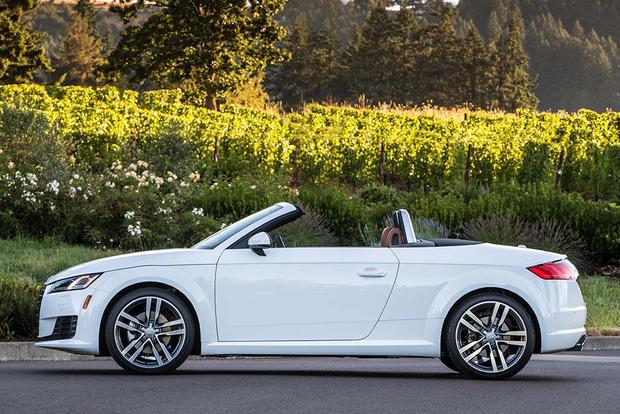 An icon is reborn. The 2016 Audi TT and TTS launch with fresh looks, new engines and new technology. This premium compact sports machine comes in coupe and convertible body styles, although the higher-performance TTS comes only as a hardtop.
The TT coupe is referred to as a 2+2, which means a pair of seats for normal people up front with accommodation for two elves behind them. We could put the ridiculously small back seat in the "What We Don't Like" section, but the TT has been in existence for more than 15 years, so it's not like it's some big unpleasant surprise.
Over those years, the TT has gone from being a touchstone for car stylists while not holding much sway among driving enthusiasts to something that drives quite well but loses some design mojo in the process. With the all-new 2016 model, the third generation of TT, Audi is aiming for both targets at the same time.
It's no coincidence that the new TT's look evokes the Audi R8 supercar. The R8 is a fantastic machine but is way out of most people's price range. The TT can bring some of that brilliance into the hands of more drivers.
What's New for 2016?
The TT is totally new for this model year.
What We Like
Sharp styling; sharp handling; sharp acceleration
What We Don't
No TTS Roadster version; cupholders are small; no convenient cubby for a cellphone
How Much?
$43,825-$52,825
Fuel Economy
Regular TT models use a turbocharged 2.0-liter 4-cylinder engine that develops 220 horsepower and 258 lb-ft of torque. The transmission is a 6-speed automated manual (it can be used just like an automatic, or the driver can get more involved with steering-wheel-mounted paddle shifters -- Audi calls this S tronic), and all-wheel drive is standard -- as always, Audi calls its all-wheel-drive system quattro.
The Environmental Protection Agency estimates fuel consumption at 23 miles per gallon in the city, 30 mpg on the highway and 26 mpg combined for both the coupe and the slightly heavier convertible.
The TTS has the same engine, but output is boosted to 292 hp and 280 lb-ft of torque. The transmission is also the same, and fuel consumption is 23 mpg city/27 mpg hwy/25 mpg combined.
Standard Features & Options
The 2016 Audi TT comes in coupe or 2-seater convertible (Roadster) form. The TTS is available solely as a coupe.
The TT Coupe ($43,825) comes with 18-inch alloy wheels, full LED lighting, an automatic rear spoiler, keyless entry/ignition, selectable drive modes, automatic climate control, a flat-bottomed steering wheel, rain-sensing wipers, rear parking sensors, heated front seats, leather/faux-suede upholstery, heated mirrors, an auto-dimming rearview mirror, 8-way power adjustable front seats, Bluetooth and a 9-speaker audio system with satellite radio, two USB ports, an SD-card reader and auxiliary input.
The TT Roadster ($47,325) has essentially the same equipment but, naturally, also features a power-operated soft-top, plus a power wind defector, rollover hoops and a microphone in the seat belt for voice control of the infotainment system.
An optional Technology package includes navigation, a rearview camera, front parking sensors and a blind spot monitoring system. Other options include 19-in alloys, leather upholstery and a Bang & Olufsen 680-watt/12-speaker audio system. The convertible also offers a warm-air neck-heating feature.
The TTS Coupe ($52,825) comes with 19-in alloys, a lowered suspension that's also adaptive, quad exhaust tips and that more powerful engine. It's also eligible for the Technology package and several other options mentioned above.
Luggage space in the coupe is 12 cu ft., and those small rear seats fold to create a little more trunk area. The Roadster's trunk measures 7.5 cu ft., so stowage space is not a TT strength, but that comes with the high-style territory. If someone really wants to play golf, perhaps they should look at another car.
Safety
Naturally, the new TT comes with mandatory safety equipment such as traction control and anti-lock brakes. The airbag count includes protection for the front occupants' knees, as well as front-side airbags. The coupe also comes with side-curtain airbags, while the convertible has specific rollover protection.
As of June 2016, no version of the new TT has been crash-tested in the United States.
Behind the Wheel
It isn't just the look of the cabin, which is great, but it's also the precision feel of the switches. Ergonomics play a big part in the experience. It's easy to slide one's knees under the flat-bottomed steering wheel and sink into the supportive sports seats. Space for the front occupants is not an issue.
There's no center console. The infotainment system and navigation (if specced) are all part of the virtual cockpit. This 12.3-in display is right in front of the driver, where the usual dials would be in less advanced cars. It's all configurable, but there's a shortcut button on the steering wheel to snap back to the full-size speedometer and rev counter.
The TT enjoys a smooth engine, superb grip, precise handling, a relatively quiet cabin and a ride quality that's obviously sporty but not jarring. The TTS amplifies those qualities just as it amplifies engine power. The TT and TTS are now fully qualified to compete with sporty compact coupes (and convertibles) from BMW and Porsche.
Other Cars to Consider
2016 BMW 2 Series -- The rear-drive 2 Series has less visual impact than the TT, but it's so rewarding from the driver's seat.
2017 Mercedes-Benz SLC-Class -- A retractable hardtop means not having to decide between a coupe or a convertible. The revamped SLK, now called the SLC, is on sale now.
2016 MINI Cooper S -- The Cooper S is quicker than ever and has more interior space without losing any of its inimitable style.
2016 Porsche Boxster -- The base 2.7-liter Boxster is a true sports car, and it gives away few (if any) fashion points.
2016 Porsche Cayman S -- The regular Cayman is a fine alternative to the regular TT coupe, while a potential TTS buyer really ought to test drive the 295-hp Cayman S.
Autotrader's Advice
If the budget can stretch to the TTS, so much the better. However, the regular TT still has all the style and most of the performance to please the majority of drivers.