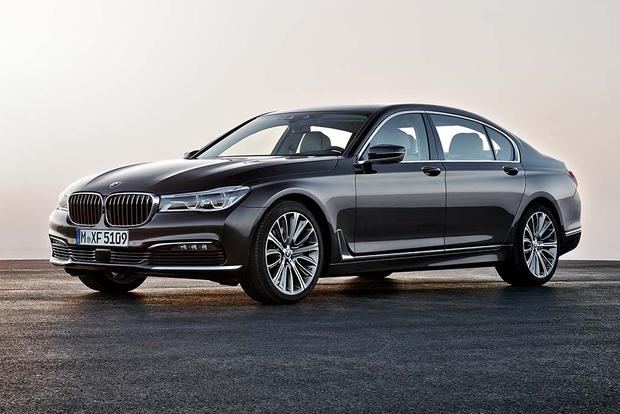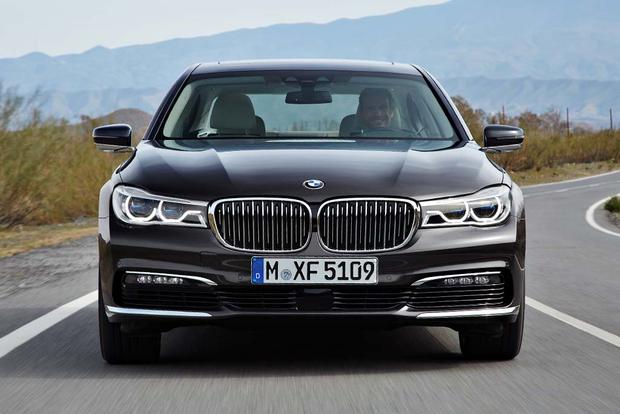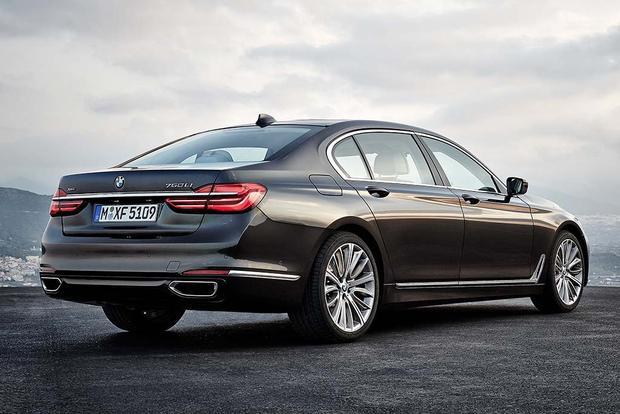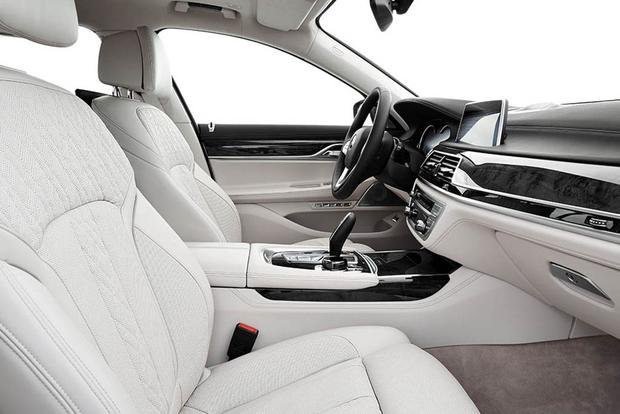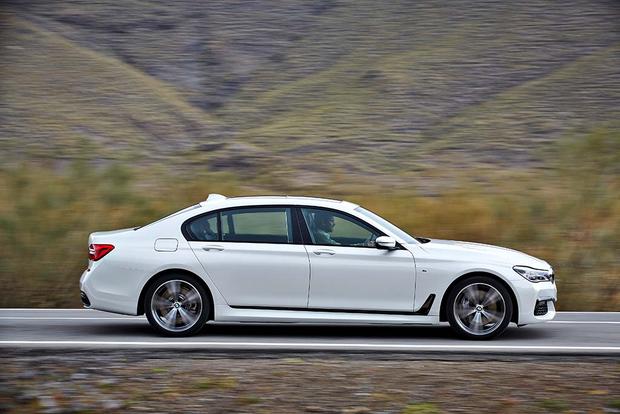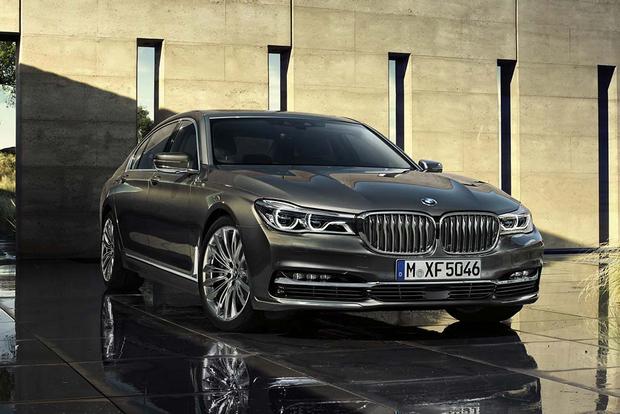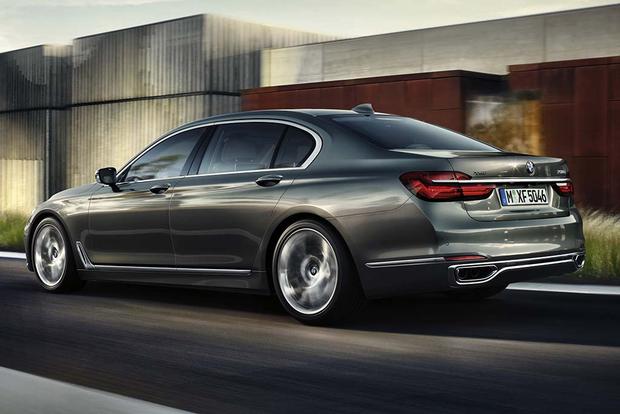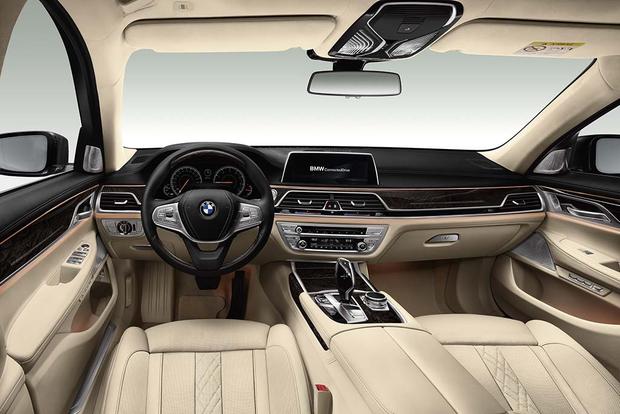 With the 2016 BMW 7 Series, what you see is only a fraction of what you get. The most spacious sedan BMW has ever made, the new 7 Series is around 190 pounds lighter than the previous generation. Much of that is because of the frame. High-strength steel, die-cast aluminum and carbon-fiber-reinforced plastic (CFRP) are all placed in the optimum locations. The relatively thin A-pillars have tubes of CFRP inside them that run from the top of the hood down to the trunk. An aluminum hood, trunk lid and door panels are then hung on this frame.
There are computers, cameras and sensors to make the car safer and more convenient than a 7 Series has ever been before, plus a standard-issue air suspension for total comfort and fine-tuned composure. This is a flagship, a technological showcase. To recline in the back is to be pampered: You can stretch out and enjoy more rear legroom than in the regular Mercedes-Benz S-Class. Or you could sit in the driver's seat and have a surprising amount of fun.
What's New for 2016?
This model year marks the debut of an all-new generation.
What We Like
Cutting-edge construction; fabulous engines; high-class appointments; remarkable suspension
What We Don't
Give us some time, and maybe we can try to think of something; as of this writing, nothing to report
How Much?
$82,295 to $95,395
Fuel Economy
The 740i has a 3.0-liter inline 6-cylinder engine that's turbocharged to produce 320 horsepower and 330 lb-ft of torque. An 8-speed automatic is the sole transmission, sending drive to just the rear wheels. The Environmental Protection Agency estimates fuel consumption at 21 miles per gallon in the city and 29 mpg on the highway.
The 750i uses a turbocharged 4.4-liter V8 developing 445 hp and 480 lb-ft of torque. It's the same 8-speed automatic transmission again, and rear-wheel drive is the basic setup. Fuel consumption is rated at 17 mpg city/25 mpg hwy, or 16 mpg city/25 mpg hwy with optional all-wheel drive.
Both versions have active grille shutters contributing to aerodynamic efficiency. A plug-in hybrid model is currently in the pipeline.
Standard Features & Options
The 2016 BMW 7 Series comes in 740i and 750i versions. Although not badged as such, they both have long wheelbases for maximum rear passenger space.
The 740i ($82,295) comes with a comprehensive list of standard equipment. This includes 18-inch alloy wheels, full LED lighting inside and out, adaptive air suspension, quad-zone automatic climate control, leather upholstery, selectable drive modes, keyless entry/ignition, hands-free trunk operation, a twin-panel panoramic sunroof, soft-closing doors, 10-way power adjustable and heated front seats with driver's-side memory settings, front and rear parking sensors, a rearview camera, rain-sensing wipers, Bluetooth, Wi-Fi, a 10.2-in display and a 16-speaker Harman Kardon audio system with satellite radio, HD Radio and a pair of USB ports.
The 750i ($95,395) has 19-in alloy wheels, upgraded leather, a heads-up display (BMW says it's the largest in the industry), a power sunshade for the rear window and 20-way multi-contour front seats. This model can also come with all-wheel drive, badged as the 750i xDrive.
Both versions are eligible for the Autobahn package, which uses cameras to read the road surface then prompts the computer-controlled suspension to react accordingly. It also includes variable-ratio steering and rear-wheel steering.
The 750i can be ordered with the Rear Executive Lounge package, where the reclining passenger-side rear seat feels more like first-class air travel, complete with a retractable footrest and a foldaway table. The package also brings a dual-screen rear entertainment system and a tablet to control various car functions, surf the web or act as a games console. The tablet is held in place by power retractable clips, a cool touch.
Other options include heated armrests, a cabin fragrance system, massaging seats, a 1400-watt Bowers & Wilkins surround-sound system with 16 part-illuminated speakers, night vision and other advanced safety features listed in the Safety section below. Trunk space is a capacious 18.2 cu ft.
Safety
In addition to all the mandatory safety equipment, the airbag count includes full-length side-curtain units as well as a couple for the front occupants' knees.
A Driver Assistance Plus package is available for both models and includes lane-departure warning, a blind spot monitoring system, forward-collision mitigation with automatic braking, automated parking and a 360-degree camera system. It's not until we get to the Driver Assistance Plus II package that adaptive cruise control is available (okay, perhaps that's the one thing we don't like). This package also has more autonomous technology, with lane-departure prevention and a traffic-jam assistant that brings a virtual hand to the steering wheel.
The 2016 7 Series has not yet been crash-tested in the United States.
Behind the Wheel
For a long-wheelbase sedan, the new 7 Series has incredible balance and agility. Plenty of owners will probably be captains of industry and need to sit in the back to work, but those who like to drive will be tempted to spend more time behind the wheel.
Yet for all this poise, there's not a hint of jarring or road noise. This is a true modern luxury sedan that happens to have some cornering skills when called upon.
Instead of the usual dials in the instrument cluster, the 7 Series has a configurable 12.3-in display with pin-sharp graphics. Gesture control is a cool feature. To answer a phone call, point to a designated spot. To decline the call, make a swiping motion. To turn up the audio, spin a finger clockwise; counter-clockwise turns it down. There's also the ability to save a gesture for a specific command, like telling the navigation to calculate the route home.
Other Cars to Consider
2016 Mercedes-Benz S-Class -- It's still quite new generation-wise, but the S-Class is utterly superb, packed with technology and has always been the segment leader.
2016 Audi A8 -- The A8 is renowned for its predominantly aluminum body. An update is on the way for 2017.
2016 Porsche Panamera -- The Panamera has a gorgeous interior and driving talent for days. A new generation is close to launching.
2016 Jaguar XJ -- The XJ is handsome and supple, with a mostly aluminum body. An update is due for 2017.
2016 Lexus LS -- Solid and dependable, the LS also has a new generation is coming for 2017. It's an exciting time for luxury-car buyers.
Used Bentley Flying Spur -- For that elite mix of space, luxury and driving ability, the options are few. The Flying Spur is one of them, with a hand-crafted cabin and a 552-hp W12 engine under its imposing hood.
Autotrader's Advice
Buy the chauffeur some gardening gloves; he's going to have more spare time.