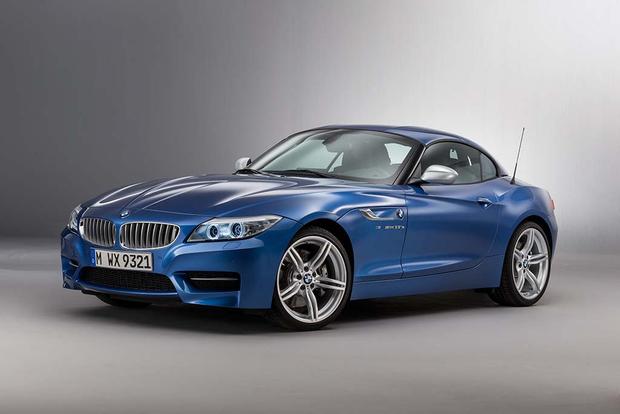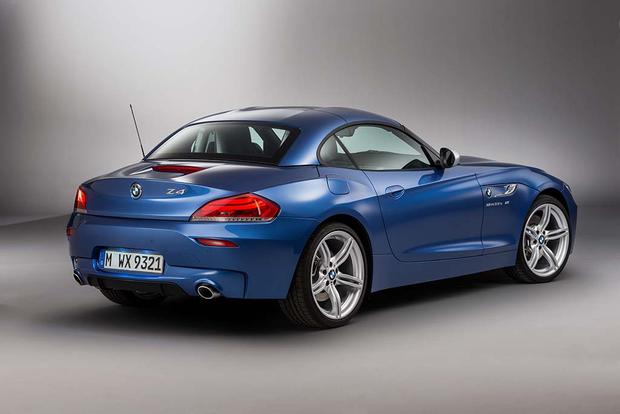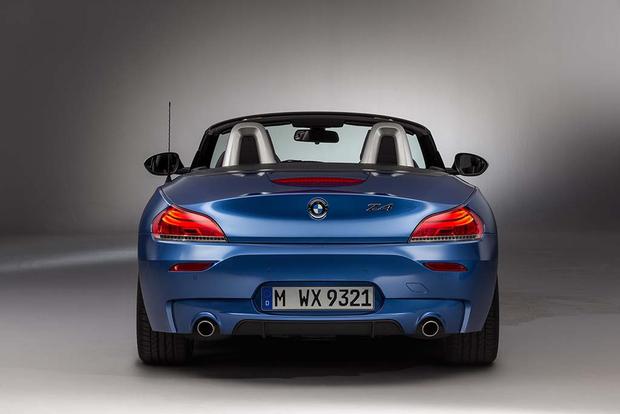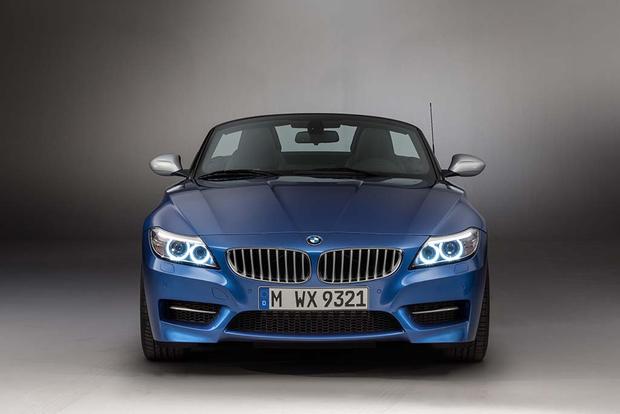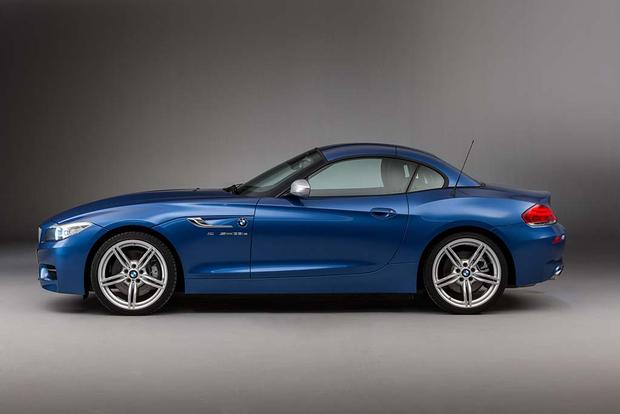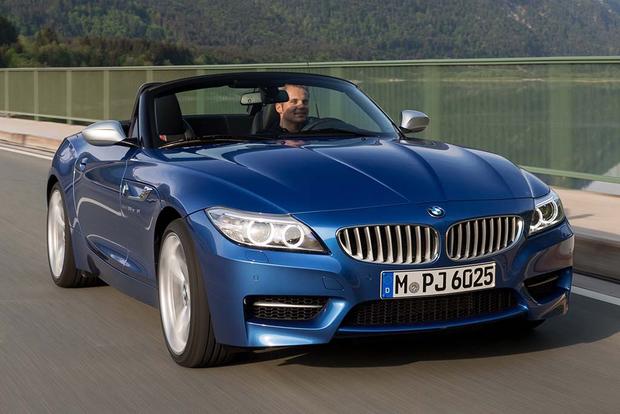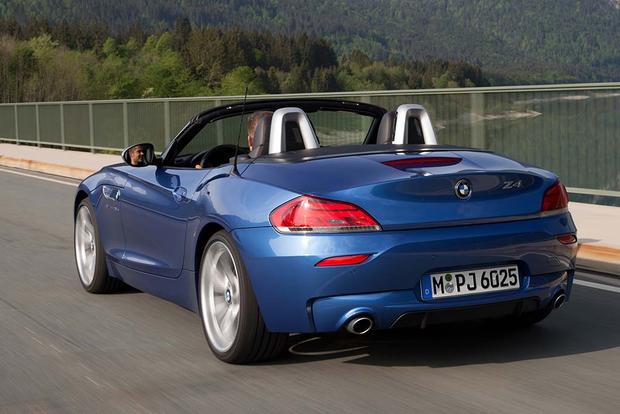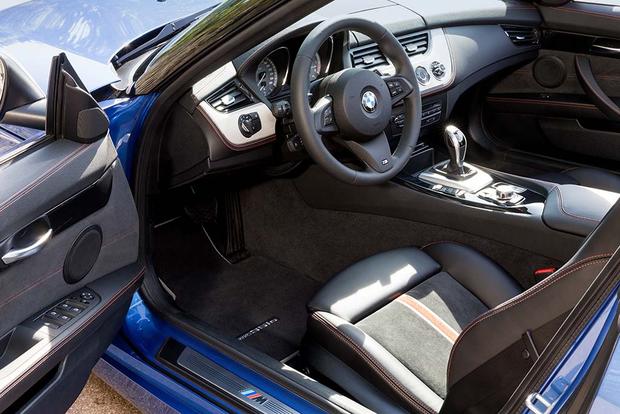 The 2016 BMW Z4 is a 2-seater from a company renowned for its sporty machines -- but the Z4 isn't one of them. It's a sophisticated compact roadster with a retractable hardtop. Luxury, technology, elegance and hardtop security are the virtues that draw people in.
Gripes about the less than tactile electric steering and forgiving, far-from-the-edge suspension count for little in a Z4 buyer's mind. So although this is a Porsche Boxster competitor in price, it's more of a compact, less-expensive Mercedes-Benz SL-Class in spirit. But it's a concept that works.
What's New for 2016?
Sport seats that were previously optional in the sDrive28i are now standard.
What We Like
Excellent turbocharged engines; impressive fuel consumption with the turbo 4-cylinder engine; accomplished handling; civilized ride; wonderful optional M Sport seats
What We Don't
Fancy automated manual transmission hurts fuel economy; die-hard enthusiasts might prefer something more focused
How Much?
$50,695-$67,345
Fuel Economy
The Z4 sDrive28i has a turbocharged 2.0-liter 4-cylinder engine making 240 horsepower and 260 lb-ft of torque. The standard transmission is a 6-speed manual; an 8-speed automatic is optional. According to the Environmental Protection Agency, this engine, paired with the manual transmission, returns an impressive 22 miles per gallon in the city, 34 mpg on the highway and 26 mpg combined. With the automatic, it achieves 22 mpg city/33 mpg hwy/26 mpg combined.
The sDrive35i sports a twin-turbocharged 3.0-liter inline 6-cylinder engine that develops 300 hp and 300 lb-ft. This is linked to a 7-speed dual-clutch automated manual transmission. Fuel economy is 17 mpg city/24 mpg hwy/20 mpg combined.
The sDrive35is has the same engine, but boosted to 335 hp and 332 lb-ft (increasing to 369 lb-ft for brief stretches at full throttle). Again, the 7-speed automated manual is standard. Fuel economy is unchanged from the sDrive35i at 17 mpg city/24 mpg hwy/20 mpg combined.
All models employ rear-wheel drive.
Standard Features & Options
The 2016 BMW Z4 hardtop convertible comes in three versions: a 4-cylinder sDrive28i, a 6-cylinder sDrive35i and the highest-performance sDrive35is.
The sDrive28i ($50,695) starts with 17-inch alloy wheels, electronically adjustable throttle and steering response, auto stop/start (requires the manual transmission), adaptive bi-xenon headlamps, fog lights, LED running lights, heated/auto-dimming mirrors, a soft-close trunk lid, leatherette upholstery, a leather-wrapped tilt-telescopic steering wheel, 8-way power seats with power adjustable side bolsters and driver's-side memory, dual-zone automatic climate control, push-button starting, cruise control, HD Radio, auxiliary audio input, and iPod/USB and Bluetooth connectivity.
The sDrive35i ($58,495) adds the 6-cylinder engine, 18-in alloy wheels and leather upholstery that's treated to be sun-reflective.
The sDrive35is ($67,345) runs with a lowered suspension with M-tuned adaptive dampers, a sport steering wheel with shift paddles and various M-themed styling cues.
Options include iDrive with an 8.8-in display and navigation, an M Sport package that features the sDrive35is model's standard seats and suspension, front and rear parking sensors, a Cold Weather package with heated seats/steering wheel and a premium audio system.
The Z4's power-folding hardtop is a veritable work of art, performing its intricate folding act in minimal time and with minimal fuss. Trunk space isn't bad for a compact hardtop roadster, measuring 10.9 cu ft. with the top up and 6.3 cu ft. with it folded down.
Safety
The Z4 comes with standard stability/traction control, 4-wheel anti-lock disc brakes, a rollover protection system and six airbags (front, knee and side). It has not been subjected to any crash tests by any agencies within the United States.
Behind the Wheel
The view of the road ahead is complemented by the classic long nose, which is fully visible from the driver's seat. You're almost sitting on the rear axle, like a goggles-wearing race driver from the 1930s. It's one way in which the Z4 and Boxster are different; the Porsche situates the driver right between the axles. Interestingly, BMW's iDrive system is optional, so it's possible to get a Z4 without a color infotainment screen protruding from the dash.
The sDrive28i feels like its turbo 4-cylinder puts out more than the official 240 hp. This is a quick little roadster that never seems to need more power. And the engine's noises evoke the eager MINI Cooper S. Sure, the inline 6-cylinder versions are quicker, but fuel economy plummets. And they only come with the (admittedly excellent) automated manual transmission. The 4-cylinder Z4 is the only version to offer a conventional 6-speed manual.
The Z4 has BMW's trademark solid feel at speed, and the cabin can be quiet with the top up. You could chat with a friend and not need to raise your voice. The top-down ride is also quite civilized, with wind buffeting kept in check. The somewhat-numb electrically assisted steering doesn't channel the spirit of older BMWs, but there's still fun to be had. Grip and body control are certainly there. The Porsche Boxster is sharper, but it's not as good at being a top-up touring car.
Other Cars to Consider
2016 Mercedes-Benz SLK-Class -- We've mentioned the SL, but that roadster is twice the Z4's price. This direct rival is about to be refreshed and renamed as the SLC-Class. Regardless of the lettering on the trunk, there's a glorious V8 in the AMG version's engine bay.
2016 Porsche Boxster -- As a pure driver's car, the Boxster is an easy choice.
2016 Chevrolet Corvette Stingray Convertible -- The Corvette and the Z4 are similar in price despite their different approaches. You might become a 'Vette convert after some quality time with its standard 6.2-liter V8.
Used Mercedes-Benz SL-Class -- The previous generation of SL (2007 to 2012) is kinda sporty, and its standard V8 (SL550) pumps out 382 hp.
Autotrader's Advice
By all means, you can get a 6-cylinder version and have fun. But you should also give the entry-level sDrive28i some serious thought. That 240-hp 4-cylinder engine has a lot of punch. It's also considerably less expensive and has slightly less weight in the nose for a better balance.