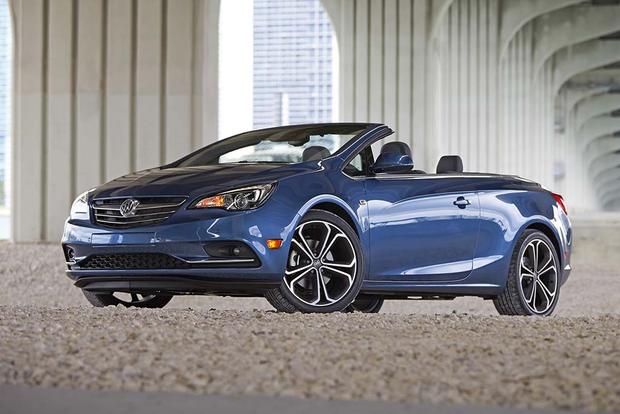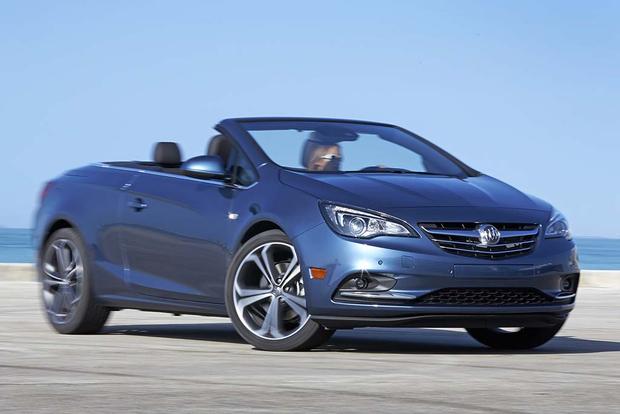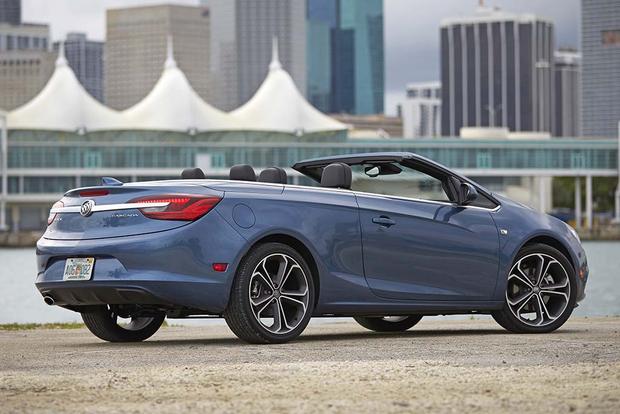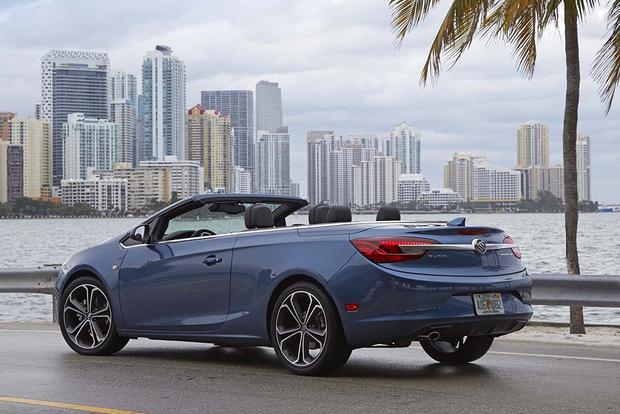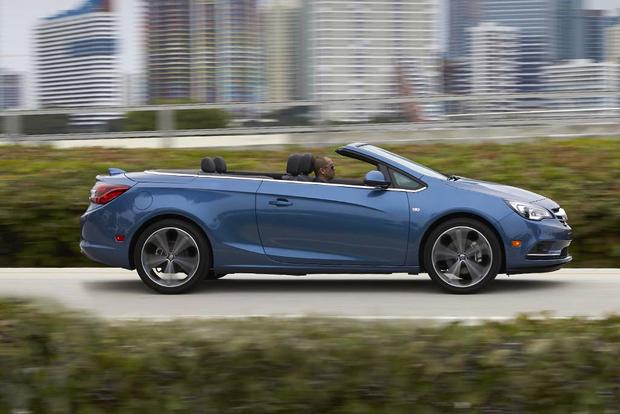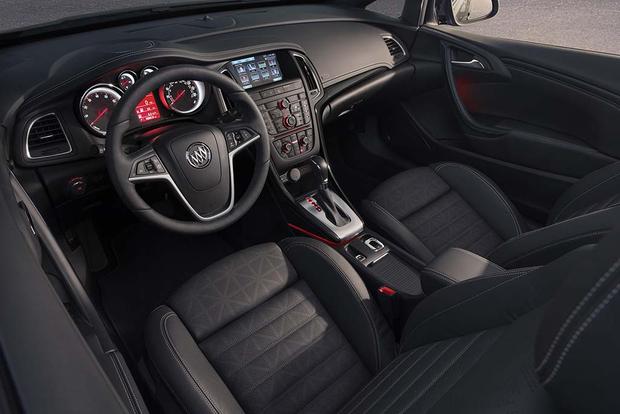 It's been 25 years since Buick's last convertible, but the automaker is back to try the drop-top market again with the all-new 2016 Buick Cascada, a 4-seat soft-top convertible that emphasizes style and sunshine over high performance.
Except, in some senses, the Cascada isn't really a Buick at all. Much like the brand's Regal sedan, it's imported from General Motors' European Opel division, where it's been sold as the Opel Cascada for years. Now it's on our shores with a Buick badge and some quirky touches -- such as a tremendously button-filled center control stack -- that separate it from U.S.-only Buick models such as the LaCrosse and Enclave.
But despite its quirks, we have a soft spot for the Cascada. Too many automakers focus solely on performance with their convertibles, while the Buick seems to be aimed at shoppers -- they must be out there! -- who just want a fun, relaxing ride with the top down. If that describes you, the Cascada is certainly worth a look.
What's New for 2016?
The Cascada is a completely new car for the 2016 model year.
What We Like
Handsome styling; impressive standard equipment; large-enough back seat; smooth ride
What We Don't
Ridiculous amount of interior buttons; old-school technology; expectedly small trunk space
How Much?
$34,000-$37,000
Fuel Economy
The Cascada offers one engine: a 1.6-liter turbocharged 4-cylinder that makes 200 horsepower and 207 lb-ft of torque. Available only with front-wheel drive and a 6-speed automatic transmission, it returns 20 miles per gallon in the city and 27 mpg on the highway.
Standard Features & Options
The Cascada offers two trim levels: a base model and an upscale Premium version.
The base-level Cascada ($34,000) touts a surprisingly long list of standard equipment that includes a power soft-top, a 7-inch center screen with Buick's IntelliLink display, leather upholstery with heated power front seats, automatic climate control, rear parking sensors, a remote starter, adaptive xenon headlights, a navigation system, a backup camera, a heated steering wheel and a USB interface for music.
Step up to the Premium ($37,000), and you get forward-collision alert, automatic wipers, front parking sensors, lane-departure warning and wind deflectors. The Cascada doesn't offer any options.
Safety
At the time of this writing, the 2016 Buick Cascada had not yet been crash-tested by the federal government's National Highway Traffic Safety Administration or the nonprofit Insurance Institute for Highway Safety. It does, however, offer a good list of safety features.
Standard on all models are rear parking sensors, front-side airbags, anti-lock brakes, a backup camera and traction control. Drivers who step up to the Premium will be rewarded with forward-collision warning, automatic wipers, lane-departure warning and front parking sensors. We only wish the Cascada offered a blind spot monitoring system and rear cross-traffic alert; both can be important for convertibles, which have notoriously large blind spots.
Behind the Wheel
Despite the fact that the Cascada isn't a high-performance convertible, we were impressed with its sporty handling characteristics -- something we weren't expecting from a car focused more on relaxed top-down style. Admittedly, the 200-hp engine dulls performance a little, as the Cascada is surprisingly heavy with its convertible architecture.
On the road, the Cascada is quiet and smooth, touting a relaxed, supple ride. With the top up, there's surprisingly little wind noise for a convertible. Top up or down, the interior is a little cramped for larger drivers, though the back seats are surprisingly large (while still not exactly roomy) for a car this size.
To us, the Cascada's biggest disappointment is its technology, which is no surprise considering that this car actually went on sale more than 3 years ago in foreign markets. It certainly feels like it isn't brand-new, with the center control stack cluttered by a multitude of buttons and a traditional key -- rather than common push-button starting -- used to start the engine. With that said, the interior has a high-end feel despite its clutter.
Other Cars to Consider
2016 Audi A3 Convertible -- Audi's soft-top A3 convertible is a recent addition to the brand's lineup. It's more expensive than the Cascada, and it offers less standard equipment, though it does boast the high-end Audi brand name.
2016 MINI Cooper Convertible -- Headed into a full redesign for 2017, the MINI is smaller and cheaper than the Cascada -- but also zippier and more modern on the inside.
2016 Volkswagen Eos -- The Eos is probably the Cascada's biggest competitor -- especially on paper, as both cars start from roughly the same price point and tout similar engine output. But the Eos feels even older than the Opel.
Used Audi A5 Convertible -- The A5 convertible offers more interior room than the Cascada, along with better available performance and optional all-wheel drive. Prices are steep, though, so you may want to consider a used model.
Autotrader's Advice
We'd go with the base-level Cascada. It offers a lot of equipment and reasonable pricing, and we're not sure if the Premium model's additional features justify its price increase. Still, we think both versions of the Cascada offer an impressive value.