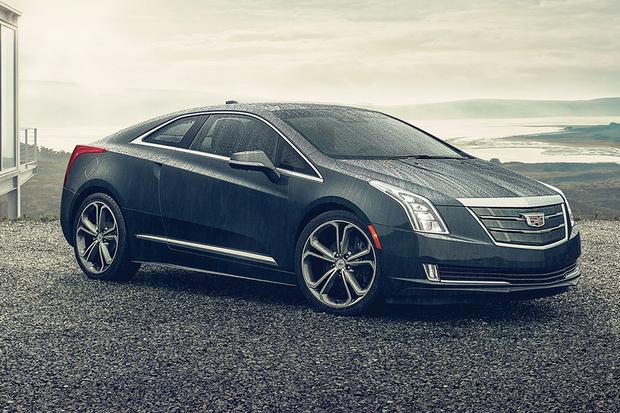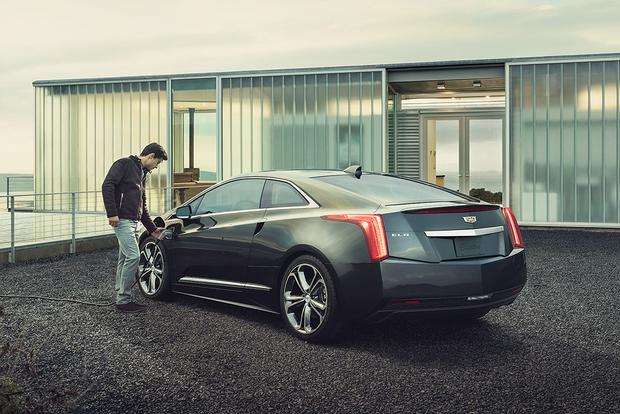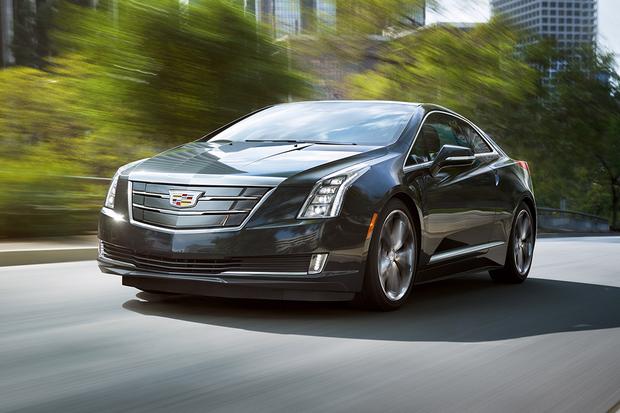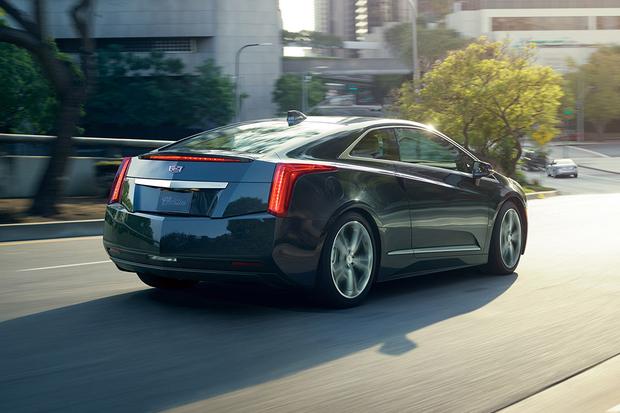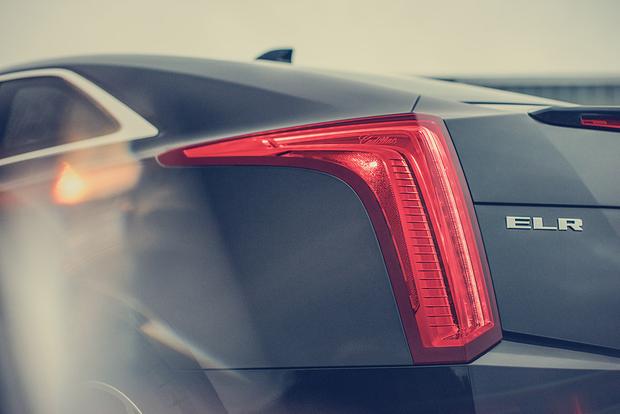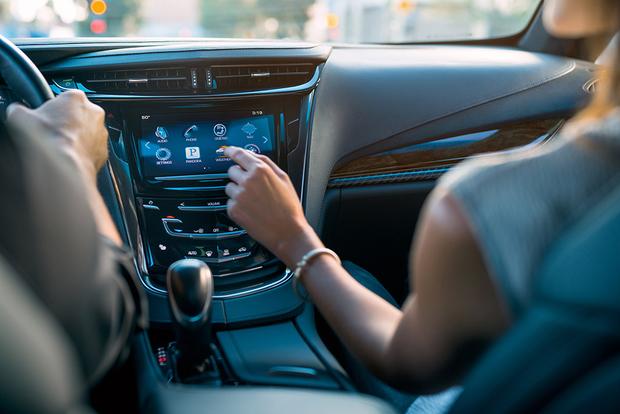 The demand for fuel-efficient cars is growing, and that means more and more automakers are adding plug-in hybrids and electric vehicles to their lineups. The 2016 Cadillac ELR is one example, as the edgy-looking coupe is Cadillac's first-ever plug-in hybrid vehicle.
On the outside, the ELR offers many of the touches we've come to expect from Cadillac, ranging from a dramatic shape to angular lines, sharp-edged headlights and taillights and a bold grille. It's the same story on the inside, where the ELR includes the modern, high-end look we've come to associate with Cadillac. But under the hood, the ELR is a whole different animal. That's because it uses a 1.4-liter 4-cylinder engine that's mated to an electric motor, which offers the ability to drive 37 miles on electric power alone -- the same powerplant you'll find in the popular Chevy Volt.
While the ELR might sound good on paper, it comes with a few drawbacks. Most notably, its price, which was so steep when it was released in 2014 that Cadillac took the 2015 model year off to clear out unsold inventory. The ELR also struggles to offer more value than the Chevy Volt, which is more practical and cheaper, or the Tesla Model S, which costs about the same and offers better performance and a longer range. Still, the ELR is worth a look for drivers who love the Cadillac brand and want a unique plug-in hybrid that'll stand out on the road.
What's New for 2016?
After debuting for 2014 and sitting out the 2015 model year, the ELR returns for 2016 with some updates. There's some new technology, including an onboard Wi-Fi system, new wheel designs and an enhanced CUE infotainment system. In addition, the ELR comes with a new performance package, a more powerful electric motor,and a substantial price cut that brings the coupe's MSRP down by around $10,000.
What We Like
Distinctive styling; excellent interior; strong electric-only range for a plug-in hybrid
What We Don't
Expensive for what it offers; two-door bodystyle makes it a little impractical; long charge times
How Much?
$66,000
Fuel Economy
The Cadillac ELR offers just one engine: an 84-horsepower 1.4-liter 4-cylinder mated to a 17.1-kWh electric motor. That electric motor has received a huge power boost this year for a total output of 233 hp and an impressive 373 lb-ft of torque -- not bad for a plug-in hybrid. Although the 2016 model hasn't yet been rated by the Environmental Protection Agency (EPA), the 2014 ELR's fuel economy stood at a combined 82 miles per gallon equivalent, which is how the EPA rates plug-in hybrids and electric vehicles. We don't expect that figure to change much for 2016.
If you're interested in an ELR, however, you're probably more concerned with range and charge time than mpg-e. To that end, the 2016 ELR offers 39 miles of pure electric range -- a slight increase over the 2014 model -- along with a total range of 340 miles. The coupe's charge time remains the same, at roughly 4 to 6 hours with a 240-volt outlet.
Standard Features & Options
The ELR comes in only one trim level and, as you might expect given the car's price tag, it's very well equipped. Standard features include keyless access with push-button starting, an updated version of Cadillac's CUE infotainment system, SiriusXM radio, a 10-speaker Bose audio system, GM's OnStar system with in-car Wi-Fi, dual power front seats, heated front seats, leather upholstery, a heated, leather-wrapped steering wheel, steering wheel audio controls, driver seat and mirror memory, a remote starter, dual-zone automatic climate control, 20-inch alloy wheels, LED headlights, front and rear park assist, Cadillac's Safety Alert Seat, a backup camera, lane-departure warning, rear cross-traffic alert, forward-collision alert and a blind spot monitoring system.
Options include adaptive cruise control and the new-for-2016 Performance Package ($1,295), which touts unique alloy wheels, a revised steering wheel, enhanced brakes and sport-tuned suspension.
Safety
Although the 2016 Cadillac ELR hasn't been crash tested by the National Highway Traffic Safety Administration or Insurance Institute for Highway Safety, standard safety features are plentiful. The coupe features side-curtain airbags, knee airbags, front and rear parking sensors, a rear view camera, forward-collision warning, rear cross-traffic alert, forward-collision alert, a blind spot monitoring system, lane-departure warning and Cadillac's Safety Alert Seat. For an extra $1,995, drivers can also add to adaptive cruise control to that list.
Behind the Wheel
If you've driven the Chevrolet Volt, you'll know exactly what to expect from the Cadillac ELR, as the two vehicles offer virtually the same driving experience. If you haven't driven a Volt, expect whisper-quiet acceleration, light steering, and a surprisingly plush ride, especially in the ELR. With that said, the Cadillac offers better acceleration and handling, especially with the optional Performance Package.
Despite the ELR's improvements in performance (it now scoots to 60 mph in around 6.5 seconds), the ELR is no Tesla Model S -- a fellow high-end EV with a knack for performance. In other words, the ELR probably isn't the plug-in hybrid for the shopper who's serious about attacking curvy roads during the weekend.
But the ELR does offer a smooth ride, thanks to an adaptive suspension system that's not available on the Volt. Also adding to the ELR's luxury experience is its high-end interior, which combines Alcantara, supple leather, wood or carbon fiber trim and the brand's useful CUE infotainment system. Of course, the back seat doesn't offer much room. Hip room and leg room is nearly nonexistent, and a sloping roofline cuts into the headroom of nearly any rear passenger.
Other Cars to Consider
2016 Chevrolet Volt -- If you're not looking for a luxury badge -- or if you need more practicality than you can get from a 2-door car like the ELR -- you might want to consider the Volt. It offers the same drivetrain as the ELR and a roomier interior for far less money. It also includes many of the same features, though they're optional -- rather than standard -- on the Volt.
2016 Ford Fusion Energi Titanium -- Ford offers the midsize Fusion Energi Titanium for around $36,700 with shipping. It includes a long list of high-end features, along with a range-extending gasoline engine -- just like the ELR. But it doesn't include the Cadillac's edgy styling or its upscale brand name.
Used Tesla Model S -- The hot-selling Model S isn't a plug-in hybrid, which means it doesn't have a range-extending gasoline engine. But it hardly needs it, considering that the Model S offers an available 300-mile range. Also included is a larger interior than the ELR, improved performance and a competitive base price that starts around $71,000 with shipping.
Autotrader's Advice
The Cadillac ELR is an excellent car for shoppers who value high-end luxury, impressive fuel efficiency and, above all else, an American brand name. But so is the Tesla Model S, which offers better performance, more advanced technology and a larger interior. Our advice: Only buy the ELR if you love the Cadillac brand and if you drive a lot, making it necessary to re-fuel the gasoline engine quickly. Otherwise, we'd strongly recommend a Volt or a Model S.