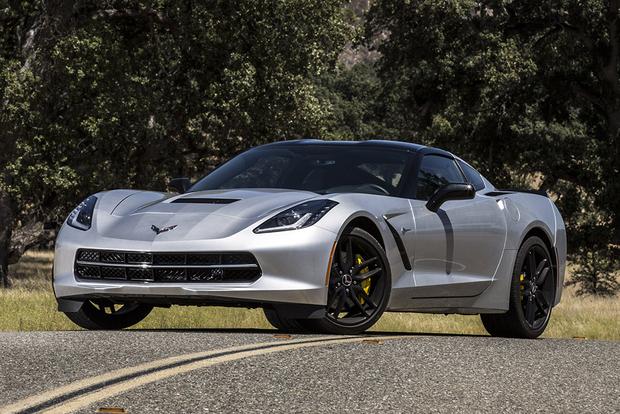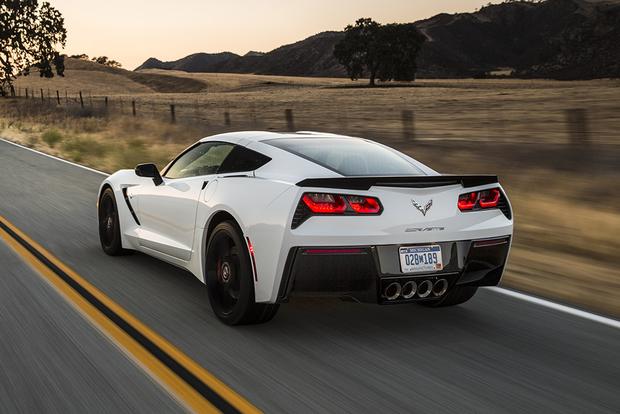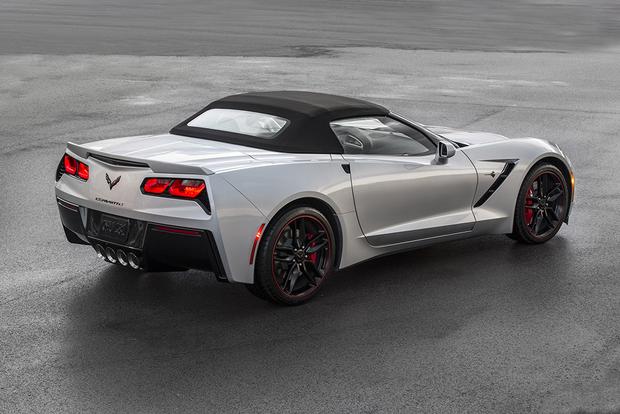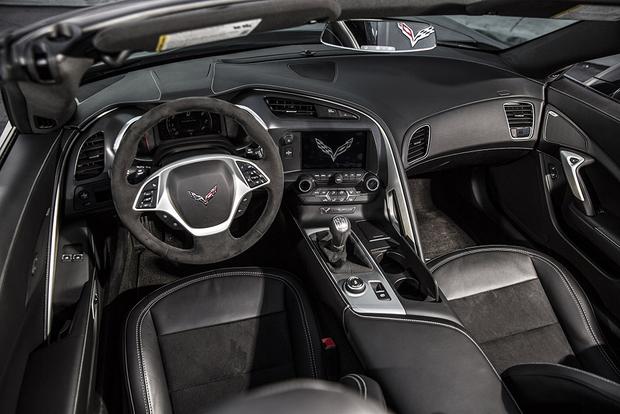 If you're looking for information on a newer Chevrolet Corvette, we've published an updated review: 2018 Chevrolet Corvette Review
The Chevrolet Corvette -- excuse us, the Corvette Stingray -- is entering its third year on the market since a full redesign in 2014. After ground-up changes in 2014 and a lot of tweaks for 2015, the iconic sports car mostly stands pat for 2016, though that's not necessarily a bad thing. The 2016 Chevrolet Corvette is still one of the most exciting, enjoyable performance cars on the market, and it touts an amazing array of benefits from a well-equipped interior with many high-end materials to an impressive 455-horsepower 6.2-liter V8 that can propel the car to 60 miles per hour in under 4 seconds.
Do we think this is the best Corvette yet? Although we'll always be partial to the styling of 1960s-era C2 models, this one certainly offers the best performance, the best interior and some of the most exciting styling in the car's long history. If you haven't checked out the Corvette in a while, it's worth checking again.
What's New for 2016?
After a major redesign in 2014 and several crucial updates last year, the Corvette receives only minor changes for 2016. They include new optional design packages, along with a newly available front parking camera for some high-end trim levels. See the 2016 Chevrolet Corvette models for sale near you
What We Like
Unimpeachable V8 power; world-class handling; improved seats and interior quality; excellent fuel economy; amazing value
What We Don't
Engine shakes at idle (but maybe you like that); gaudy graphics on the instrument panel
How Much?
$56,400-$85,400
Fuel Economy
The Corvette is powered by a 6.2-liter V8 rated at 455 hp (460 hp with the optional performance exhaust) and 460 lb-ft of torque. A 7-speed manual transmission is standard, with an 8-speed automatic available at an additional cost. Fuel economy with the manual stands at 17 miles per gallon in the city and 29 mpg on the highway, while the automatic comes in just shy of those numbers at 16 mpg city/29 mpg hwy.
The high-performance Corvette Z06 uses a supercharged version of the standard model's 6.2-liter V8, which makes a raucous 650 hp. Also offered with 7-speed manual or 8-speed automatic transmissions, the Z06 boasts 15 mpg city/22 mpg hwy with the manual or 13 mpg city/21 mpg hwy with the automatic.
Standard Features & Options
The Corvette is a 2-seat sports car offered in coupe (with a removable carbon-fiber roof panel) and soft-top convertible body styles. Chevrolet offers standard models in three trim levels, 1LT, 2LT and 3LT, while the Z06 is offered in one trim.
The 1LT coupe ($56,400) and 1LT convertible ($60,400) come standard with staggered-size alloy wheels (18-inch fronts, 19-in rears), a carbon-fiber hood, keyless entry with push-button start, leather upholstery, power seats, two 8-in color displays (one in the gauge cluster and one on the dashboard), a rearview camera and a 9-speaker Bose audio system with iPod/Bluetooth integration and satellite radio.
The 2LT coupe ($60,900) and 2LT convertible ($64,900) add color-matched console and door panels, heated and ventilated seats with memory settings and additional power adjustments (lumbar and side bolsters), Corvette seat emblems, a universal garage-door opener, auto-dimming mirrors, a color head-up display, a 10-speaker Bose audio system with dual subwoofers, a cargo net and a luggage shade (coupe only).
The 3LT coupe ($66,100) and 3LT convertible ($70,100) tack on a full-leather interior with Nappa leather seating surfaces, a navigation system (optional on lower trims) and a color-matched instrument panel.
Topping the range is the impressive Z06 ($80,400 for the coupe; $84,400 for the convertible), which adds an impressive array of sporty equipment. There's the bigger 650-hp engine, but there's also improved suspension, upgraded tires, a carbon-fiber roof panel and improved cooling measures for enhanced track capabilities.
The popular Z51 package ($5,000 extra) adds bigger wheels (19-in fronts, 20-in rears) with Michelin Pilot Super Sport ZP summer tires, a dry-sump oil system, an electronic limited-slip differential, more aggressive gearing, bigger front brakes (13.6-in discs versus 12.6-in discs), sport-tuned suspension components and lift-reducing aerodynamic tweaks.
Other notable options include adaptive magnetic-ride dampers with a track-oriented stability control system (Z51 only), sport seats, carbon-fiber interior trim, a suede steering wheel and a transparent roof panel (coupe only). Newly available for 2016 is a front parking camera, which is helpful given the Corvette's long nose and low ground clearance.
Safety
The 2016 Chevrolet Corvette comes with standard stability control, 4-wheel anti-lock disc brakes, a back-up camera, GM's OnStar system and four airbags (front and side). A front parking camera is newly optional for 2016. Due to its low production volume, the Corvette has not yet been crash-tested by the federal government's National Highway Traffic Safety Administration or the nonprofit Insurance Institute for Highway Safety.
Behind the Wheel
In our interior evaluation, we loved the cockpitlike feel of this Corvette. The door panel and central controls seem to wrap around the driver, creating an intimate sports-car atmosphere largely missing from the previous car. The vastly better seats are supportive in all scenarios, and either of the two available Bose stereos will keep the tunes cranking. This is a pretty cool place to spend some time.
Under the hood, the 6.2-liter V8 is all the engine most folks will ever need. Power is massive, with torque equally so, and the sounds are straight out of a drag-strip fantasy. The only part that gives us pause is how the engine shakes the whole car at idle; it's far from the refinement offered by overseas rivals, though some will appreciate the added character. The novel 7-speed manual transmission's active rev-matching feature is a neat parlor trick, and if you want to match your own revs, don't worry, there's an off button. We have yet to drive the Z06, though we expect it will offer astonishing performance and raucous levels of driving enjoyment rivaled only by high-end exotics.
On the road, the Corvette combines astonishingly athletic handling with genuine long-distance comfort, a combination few cars at any price can match. Road noise is reasonable, and highway pit stops should be infrequent given this near-supercar's 30-mpg potential. The coupe's standard removable roof panel means all Corvette drivers can have some fun in the sun, even those who forgo the convertible with its fast-acting power soft-top. The C7's gaudy performance numbers may get all the headlines, but it's the remarkable versatility of this car that gives it such broad appeal.
Other Cars to Consider
2016 Ford Mustang Shelby GT350 -- The 526-hp Shelby GT350 looks to give the Corvette a major run for its money when it comes out later this year. Although we haven't driven it, we love the regular Mustang GT, so we have high hopes for the Shelby version.
2016 Dodge Viper -- The attention-grabbing Viper is as outlandish as ever, though its high cost and edgy character limit its appeal.
2016 Porsche Cayman -- Considerably smaller than the Corvette, the Cayman boasts ultraprecise handling and exceptional engine refinement. It's not nearly as fast, however, even in S trim.
Used Porsche 911 -- If you like the Corvette but want a little more refinement, consider a 911. Pricing is high, so you may want to look at a used model, and while the 911 won't be as fast as the 'Vette, it offers a smoother, slicker package.
Autotrader's Advice
The 2LT is the sweet spot, adding desirable luxuries such as power side bolsters without inflating the price to 3LT levels. As for the Z51 package, it's up to you, but we'd have a hard time saying no to all that extra performance for $5,000. As for the Z06, it's primarily meant for high-performance driving and track use, and that means it'll be hard to pilot every single day. Find a Chevrolet Corvette for sale