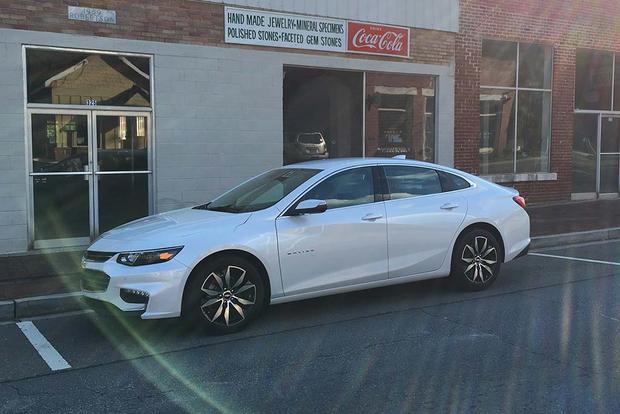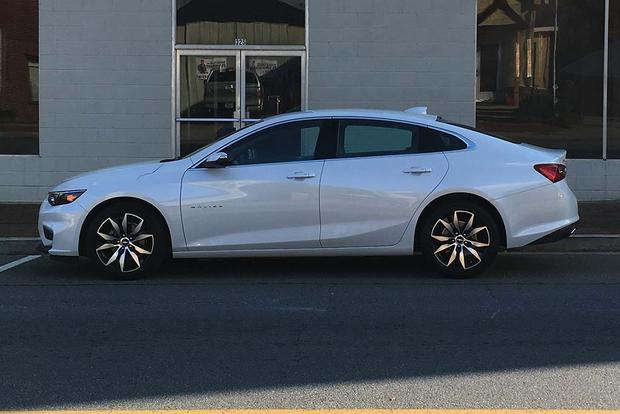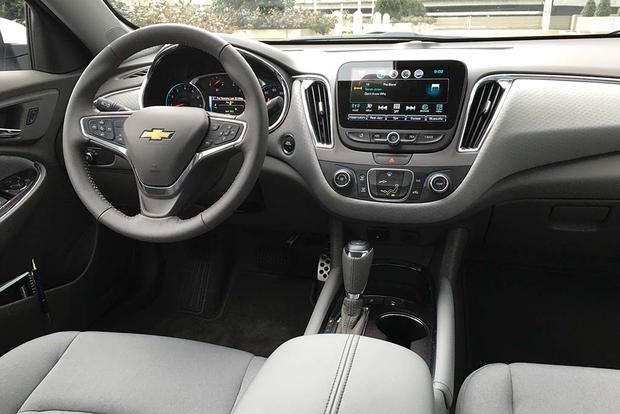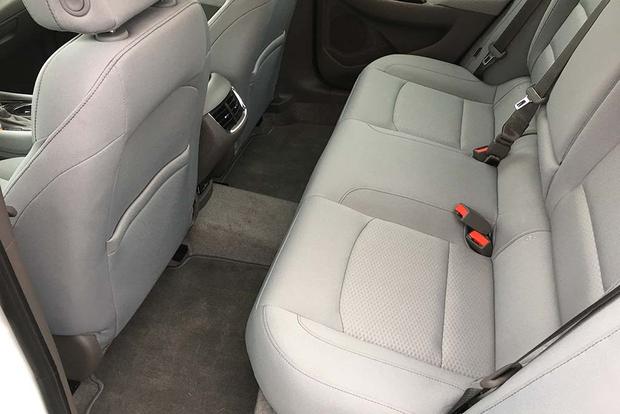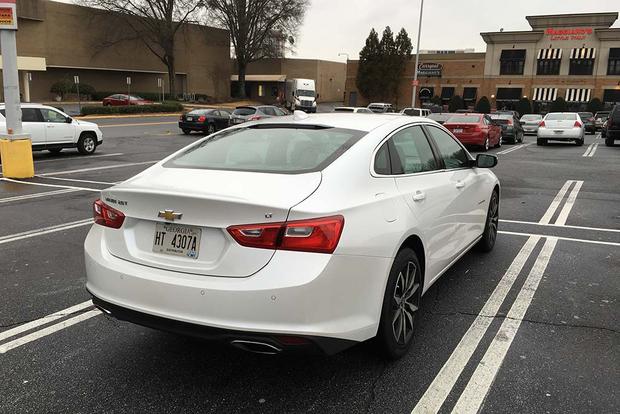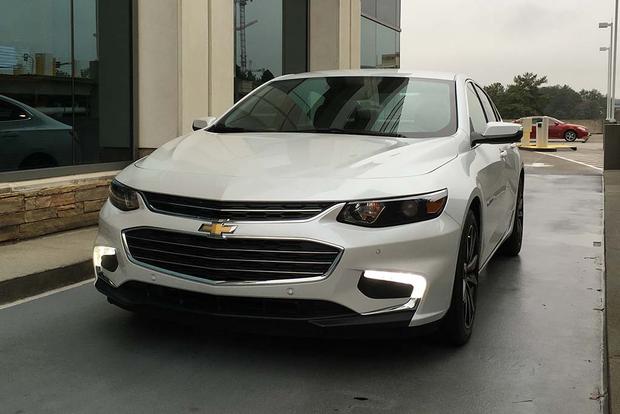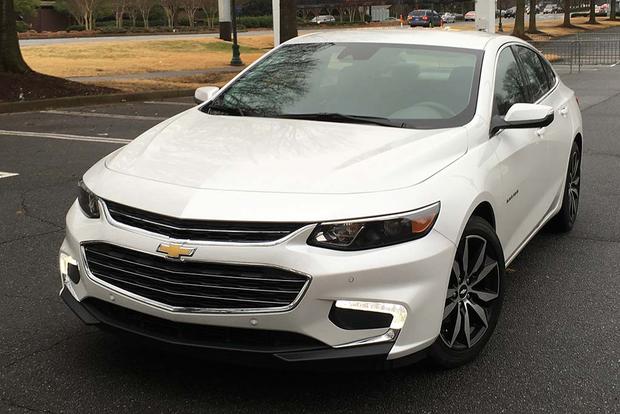 Although it seems like just yesterday that we picked up our 2016 Chevrolet Malibu long-term test car, we've already had it for 100 days, and that means it's time to give back the midsize sedan. But before it goes, we're summing up our experiences with the fully redesigned Malibu in one final, long-term wrap-up.
At First
We were impressed with the Malibu from the moment it arrived in our garage at the beginning of the year. We initially called the design "more aggressive and more attractive" than the style of rival models like the Honda Accord and Toyota Camry, and we also noted that its look represented a huge step up over the outgoing Malibu, which we deemed dull and bland by comparison.
We also quickly became fond of the interior. Not only is it roomy and comfortable, but the Malibu's cabin had a few impressive upscale touches, like the premium cloth seats that our editor's 9-year-old daughter assumed were more expensive than leather.
With that said, our thoughts on the Malibu's cabin weren't all positive. Some testers complained about cloth on the dashboard, which we declared "an unwelcome throwback to classic Malibu models." We felt that some drivers would want leather (and a sunroof), considering our Malibu test car's sticker price of around $30,000.
Performance
Looking back over the last 100 days, virtually every report on our Malibu praised its engine. That makes sense: Our Malibu was equipped with an optional 2.0-liter turbocharged 4-cylinder, rated at 250 horsepower and 258 lb-ft of torque, which gave it much more kick than a traditional midsize sedan.
The result was a lot of comments from surprised parents who took the car home for a night and came back into the office the next morning grinning from ear to ear. In one report, we called it "more fun than a Mazda6," while we later said that we loved the performance. Another editor praised the performance as near-perfect, while a recent report perfectly summed it up saying,"With the pedal to the floor, none of us can really believe that we're sitting inside a family sedan."
As for fuel economy, we saw an average of 22.83 MPG during our time with the Malibu. Our high was 26.57 and the lowest we saw was 18.22 MPG. While this is slightly lower than the EPA stated MPG, it is important to keep in mind the significant amount of time our Malibu spent idling, or driving at low speeds for various video shoots.
Technology and Equipment
Although the 2016 Malibu doesn't offer dramatically different technology from other midsize sedans, we still appreciated all the gadgets. We especially liked Apple CarPlay: Our editor Brian Moody noted that once you get a little taste of the feature, you won't be able to live without this awesome technology. He later commented, "From this day forward, I will simply not consider owning a car that doesn't have Apple CarPlay. This one feature makes my life so much easier that it just doesn't make sense to skip it."
There is other tech we like too. Our car came equipped with the optional $1,195 Driver Confidence Package, which includes automatic emergency braking, automatic high beams, front and rear parking sensors, a blind spot monitoring system, lane-keep assist, rear cross-traffic alert and forward-collision warning. That's a lot of tech for $1,195, and we're happy to see that all of these features are affordably trickling down to the midsize sedan world.
Drawbacks
Like any car, our long-term 2016 Chevrolet Malibu had some drawbacks. Chief among them was road noise coming from the rear, a problem our editors couldn't seem to shake. "It's almost as if Chevy spent all the sound-deadening money on the front half of the car," they wrote. And while we've already mentioned the dashboard materials as a drawback, some testers felt the door panels also looked and felt a little cheap.
Our Take
It's simple: After 100 days of trying out the new Malibu in a variety of settings, our editors agreed that the car is now a top-three family sedan, along with the Honda Accord and Ford Fusion. Really, it's that good. It's no wonder the Malibu was named to our 10 Must Test Drive Vehicles for 2016. If you're looking for a new midsize sedan, this year's Malibu deserves a spot on your shopping list.