Editor's note: You may want to read more of Autotrader's model vs. model comparison car reviews as well as the 2016 Chevrolet Malibu long-term review, the 2016 Toyota Camry review and Buying a Used Toyota Camry: Everything You Need to Know.
If you're interested in a new midsize sedan, we have no doubt that you already have the always-popular 2016 Toyota Camry on your shopping list. This year, though, we also think you should consider adding another model to that list: the 2016 Chevrolet Malibu, which has been fully redesigned with handsome new styling, a vastly improved interior and a lot of new benefits over last year's model. The new Malibu is so good, in fact, that you might be wondering whether it's better than the Camry, so we've created a close comparison to find out. First, let's see what's new with both models for the 2016 model year.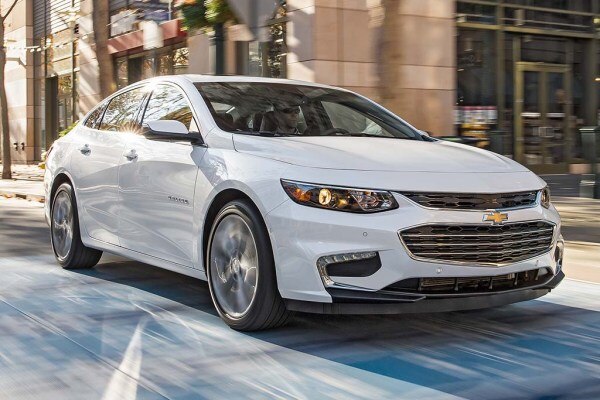 2016 Chevrolet Malibu
The Malibu is fully redesigned for 2016, touting new styling, new features, a revised interior and updated powertrains. There's also a fuel-efficient Malibu Hybrid on the way. See all 2016 Chevrolet Malibu models available near you
2016 Toyota Camry
After major updates last year, the Camry is largely unchanged for 2016. See all 2016 Toyota Camry models available near you
Reliability
Both the Malibu and the Camry offer excellent reliability. According to J.D. Power, however, it's the Malibu and not the Camry that tops the midsize-sedan segment. While the firm gave the Camry a better-than-average reliability rating, the outgoing Malibu earned J.D. Power's best-in-class score — a high honor. Warranty coverage is the same, as both models offer 3 years or 36,000 miles of bumper-to-bumper protection and 5 years or 60,000 miles of powertrain coverage.
While J.D. Power's ratings don't apply to the new Malibu, we're encouraged by the old model's scores — enough to say that this category may slightly favor the Malibu.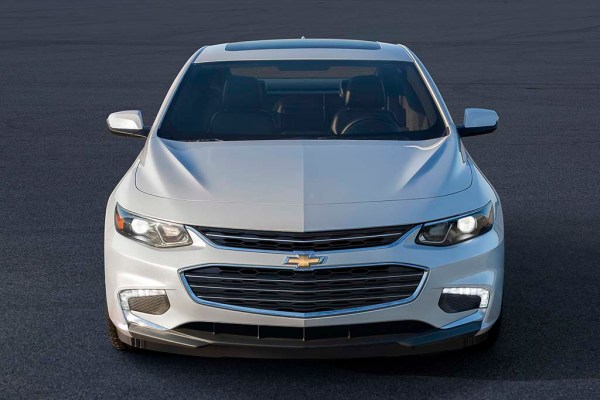 Fuel Economy
Both the Camry and the Malibu offer three engine choices. Base-level Camry models use a 178-horsepower 2.5-liter 4-cylinder, which returns 25 miles per gallon in the city and 35 mpg on the highway. Drivers who opt for the 270-hp 3.5-liter V6 will get 21 mpg city/31 mpg hwy, while the fuel-efficient Camry Hybrid boasts 200 hp and up to 43 mpg city/39 mpg hwy.
Meanwhile, the Malibu's standard engine is a 1.5-liter turbocharged 4-cylinder that offers 160 hp and up to 27 mpg city/37 mpg hwy. Drivers who want more power can step up to a 250-hp 2.0-liter turbocharged 4-cylinder, which returns 22 mpg city/33 mpg hwy. Official fuel economy details of the upcoming Malibu Hybrid have not yet surfaced but Chevrolet says the magic numbers are 48 mpg in the city, 45 mpg on the highway and 47 mpg combined. That's better than the Camry by a fairly wide margin and even allows for a slight adjustment down when the actual EPA number are known. At 47 mpg combined, the Malibu is better than many other hybrid sedans, but not better than the hybrid Honda Accord.
So which one is more efficient? Comparing gasoline engines, that would be the Malibu, though it's worth noting that the Toyota has more power.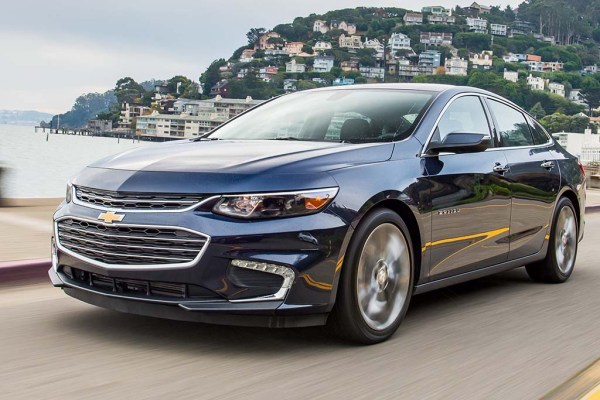 Safety
Because it's so new, the Malibu has not yet participated in crash tests carried out by the federal government's National Highway Traffic Safety Administration (NHTSA) or the nonprofit Insurance Institute for Highway Safety (IIHS). The Camry has earned stellar rankings, though, touting a Top Safety Pick+ score from IIHS and a perfect 5-star score from NHTSA. To equal those figures, the Malibu certainly has its work cut out for it.
As for safety features, however, both models offer a slew of gadgets and equipment. In fact, it's hard for one model to beat out the other since they each offer basically all the latest features, such as forward-collision warning with automatic braking, rear cross-traffic alert, blind spot monitoring systems and more. Although the Malibu's lack of crash-test scores prevent us from assigning a winner in this category, we suspect these are two of the safest midsize sedans on the market.
Technology
Both the Camry and Malibu are so recently updated that the two models each offer a wide range of today's latest gadgets and features. We've already covered the safety items, but that's not all: Both the Camry and Malibu also boast many modern convenience features, such as an excellent infotainment system, a large touchscreen, wireless smartphone charging and upgraded audio systems. Between those items and their available safety features, this category is virtually a toss-up. We like Toyota's Entune system for its simplicity and ease of use, but the Chevy MyLink system has more appealing graphics and the Malibu can be had with Apple CarPlay, which we prefer over almost every other in-car interface.
Driving Experience
On the road, both the Camry and the Malibu are dramatically better in corners than their predecessors, but it's the Malibu that really shines here offering a similar driving dynamic to that of the exceptional Honda Accord. The Malibu is actually fun in tight corners and has a level of refinement that's very similar to the more expensive Impala. Both the Malibu and Camry offer relatively dull base-level engines.
As for ride comfort, however, the Malibu and the Camry do well, offering a relaxed, smooth ride formerly reserved for full-size sedans. The two cars also offer excellent visibility, strong brakes, comfortable interiors and predictable handling, likely a result of many years of tweaks and refinements over past models. While the Camry SE and XSE have a firm, slightly sporty nature, every Malibu offers that near-perfect balance between a comfortable ride and tight handling that can be hard to find.
Autotrader's Advice
The 2016 Toyota Camry and the 2016 Chevrolet Malibu are undoubtedly among the best contenders in the midsize-sedan segment. Choosing between the two of them is difficult, since they both offer just about everything a midsize-sedan shopper might want: lots of equipment, comfortable rides, impressive technology, strong fuel economy, roomy interiors and good reliability. On paper, it's an absolute tie. However, get behind the wheel and the Malibu comes across as the better car. While both cars offer similar packaging and options, the Malibu feels like it's been engineered to a higher standard. That, plus the availability of Apple CarPlay puts the Malibu over the top.
Find a Used Chevrolet Malibu for sale