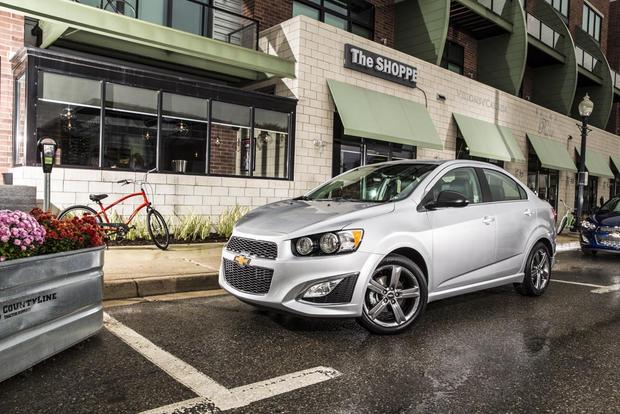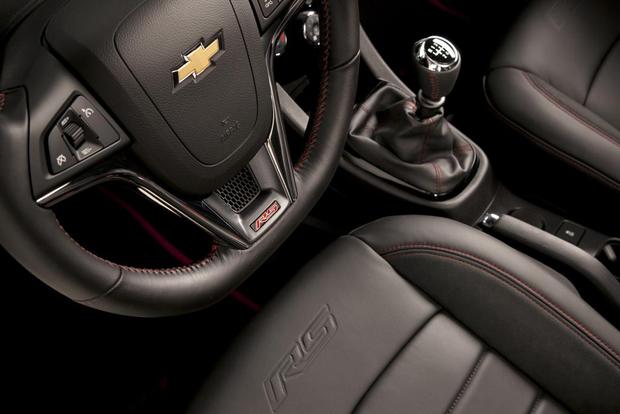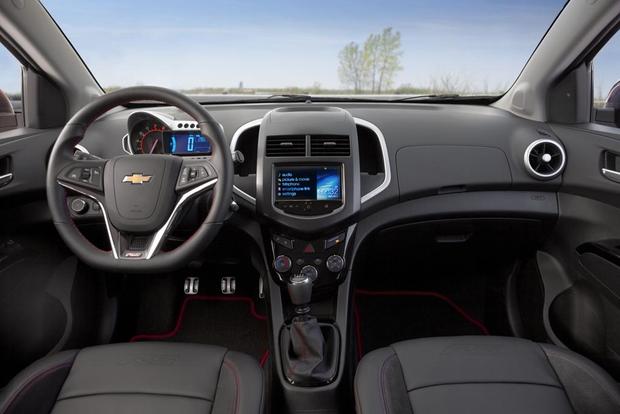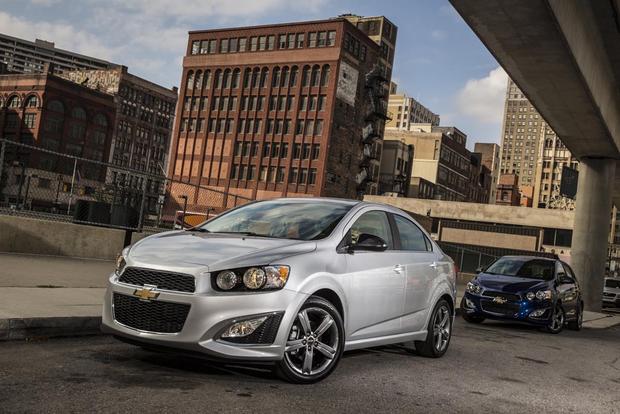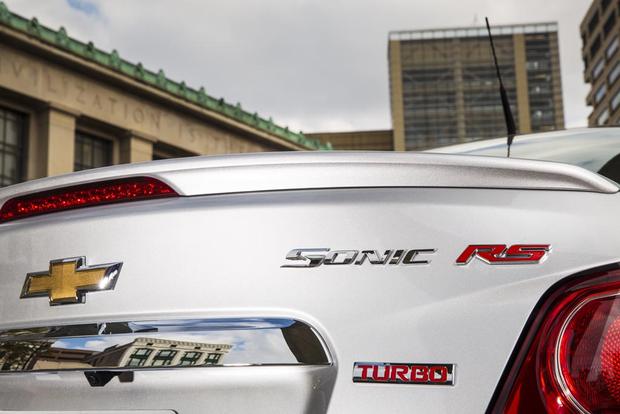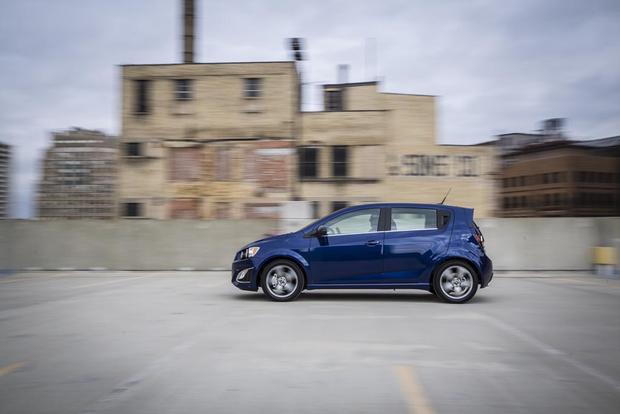 If you're looking for information on a newer Chevrolet Sonic, we've published an updated review: 2019 Chevrolet Sonic Review
Although Chevrolet has rarely been a leader in the competitive world of subcompact cars, it's a different story with the 2016 Chevrolet Sonic. Offering excellent equipment, good build quality, frugal engines and reasonable pricing, the Sonic deserves a spot on your shopping list. Of course, it isn't perfect -- but if you're in the market for an affordable pint-sized champ that won't make you feel second-class for driving it, the Chevrolet Sonic may have your number.
What's New for 2016?
The Sonic sees only minor updates for 2016. See the 2016 Chevrolet Sonic models for sale near you
What We Like
Good handling; great value; light-years ahead of Chevrolet's old subcompact Aveo; great gas mileage
What We Don't
No navigation system; high premium for the hatchback model; small engines can get winded on hilly roads
How Much
$15,200 - $22,500
Fuel Economy
Standard on LS and LT models is a 138-horsepower 1.8-liter engine with a 5-speed manual transmission. It returns a decent Environmental Protection Agency rating of 26 miles per gallon city and 35 mpg on the highway. Adding the optional 6-speed automatic transmission makes for more convenient in-traffic driving and reduces estimated city mileage by an almost imperceptible 1 mpg.
Although the 1.8-liter standard engine is a solid performer in this size category, the Sonic's dark horse is the optional 138-hp 1.4-liter turbocharged engine that it borrows from the Cruze Eco. Available with manual or automatic transmissions, the 1.4-liter Ecotec engine -- standard on the Sonic LTZ -- makes for some seriously fun driving. It returns 25 mpg city/33 mpg hwy with an automatic, or 27 mpg city/34 mpg hwy with a manual.
Options and Standard Features
The Chevrolet Sonic comes in four trim levels: base-level LS, mid-level LT, upscale LTZ or sporty Sonic RS.
The base LS model ($15,200 for the sedan or $15,800 for the hatchback) comes with premium 15-inch alloy wheels as standard equipment, along with air conditioning, remote keyless entry and a tilt/telescoping steering wheel.
Next up is the mid-grade LT (starting at $17,000 for the sedan or $17,600 for the hatch). It adds a 6-speaker sound system with XM radio, power windows with 1-touch up and down and heated exterior mirrors.
The upper-end LTZ ($20,700 for the sedan or $21,200 for the hatch) adds the turbocharged 4-cylinder engine. It also boasts a much higher level of smartphone integration, including a USB port and Bluetooth connectivity, along with steering wheel-mounted audio controls, heated front seats, cruise control, fog lamps and larger 17-in alloy wheels.
The sporty Sonic RS starts around $21,000 in sedan guise, or $21,000 if you choose a hatchback. In addition to performance-oriented items such as upgraded suspension and a sport-themed steering wheel, the Sonic RS boasts leather upholstery and 4-wheel disc brakes.
Safety
The Sonic boasts a slew of standard safety features, including a class-leading 10 airbags, electronic stability control, anti-lock brakes and crash-collapsible pedals to protect the driver's feet and legs. New safety options include a forward-collision alert system, a lane-departure warning system and a rearview camera.
The Sonic has received a 5-star overall crash-test rating from the federal government's National Highway Traffic Safety Administration. To earn that rating, it scored five stars in frontal- and side-impact tests and four stars in rollover tests.
Behind the Wheel
On flat to slightly sloping uphill runs, the 1.4-liter turbo was incredibly zippy. While we didn't measure it ourselves, Chevrolet claims the engine can get the car to 60 miles per hour in about 8 seconds -- a claim that our experiences certainly supported. However, the turbo tended to lose power on moderate-to-steep uphill climbs, requiring what we felt was an excessive amount of downshifting on the 6-speed manual to power through. Even with rather sporty driving at average speeds of about 40 mph in both the city and on hilly canyon roads, we were able to squeeze 32 mpg out of the 1.4-liter turbo with the manual transmission.
The nontraditional gauge cluster places a conventional tachometer to the left of a bright blue digital display that collects everything from current speed and direction to average fuel economy and distance driven into one easy-to-read package. While it took a bit of getting used to, after driving with it all afternoon we wouldn't be surprised to see other manufacturers start copying this gauge implementation.
When combined, the Sonic's supportive seats, excellent suspension, standard driver armrest -- a rarity in the subcompact market -- and tilt-telescoping steering wheel made for one of the most comfortable rides of any small vehicle we've driven. Over the course of the day, the seats blended into the background and never caused any noticeable dead spots or discomfort.
Other Cars to Consider
2016 Ford Fiesta -- Ford's smallest model comes in a sedan or hatchback body style. It also offers a great driving experience and frugal engines.
2016 Hyundai Accent -- The newly redesigned Hyundai Accent also comes as a sedan or a hatchback. Equipment is generous, but it can't match the Sonic for fuel economy.
2016 Nissan Versa -- Nissan's latest Versa can't match the Sonic for driving enjoyment. Pricing, however, is a strong suit, as the Versa remains one of the least-expensive cars on sale.
Used Chevrolet Cruze -- If you like the Sonic but want more space or more power, consider the larger Chevy Cruze. It's both bigger and more powerful -- though prices are higher, so you may have to consider a used model.
Autotrader's Advice
For our money, the 2016 Chevrolet Sonic is one of the best subcompact cars available. If we were on a budget, we'd choose the LS, since it offers basically everything you need in an affordable small car. But if we had a little more money to spend, the LTZ offers just about everything we could want. In each case, we'd take the hatchback for its improved practicality -- even if it means spending a little extra cash. Find a Chevrolet Sonic for sale