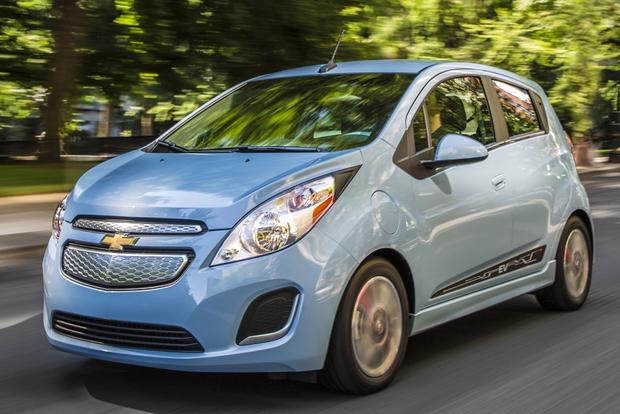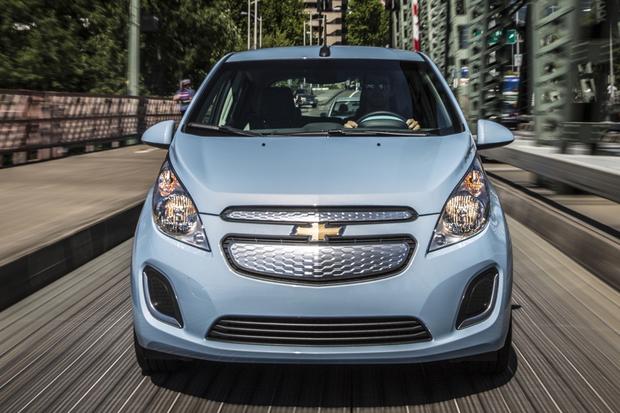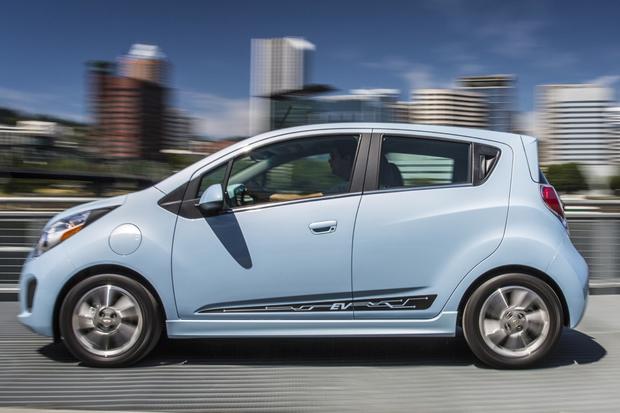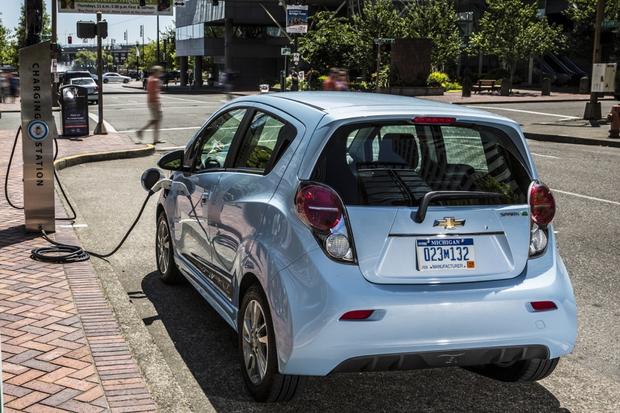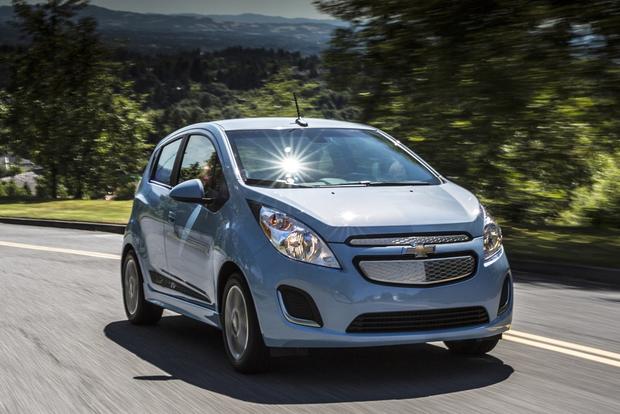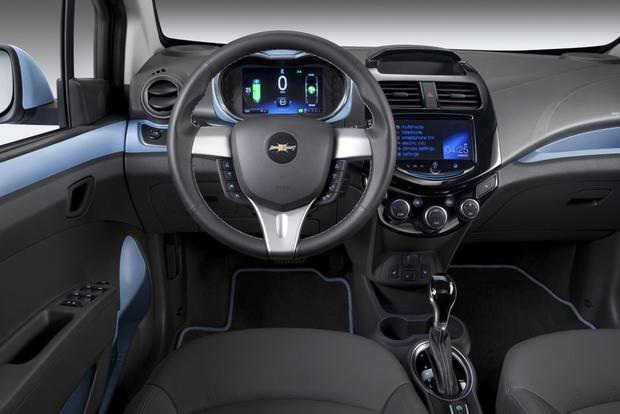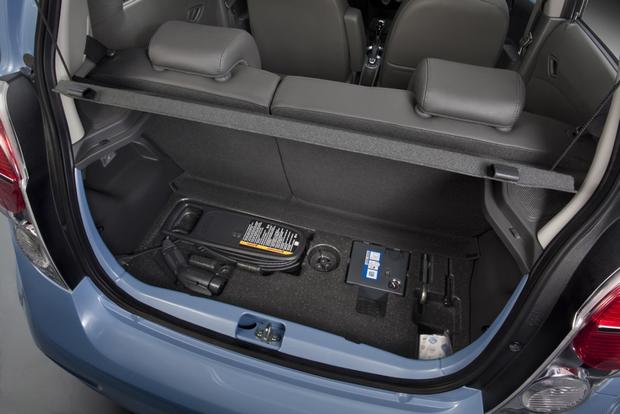 If you're interested in plugging in your car rather than filling it up at the gas pump, there's an ever-increasing list of vehicles available for you. Many automakers are jumping on the electric vehicle (EV) bandwagon, offering new models with fully electric powertrains that boast growing ranges and diminishing charge times. The 2016 Chevrolet Spark EV is one of those vehicles.
Chevrolet was an early adopter of electric power. The brand's 5-door Volt hatchback debuted for the 2011 model year to some success, beating most rivals to the market, including the fully electric Nissan Leaf. But the Volt boasts a plug-in hybrid drivetrain rather than a fully electric powerplant. While that means the Volt's range is longer than a typical EV's, it also means that shoppers who never want to use gasoline have to look to another brand.
But as of last year, that's no longer the case. With the Spark EV, drivers can now buy a fully electric Chevrolet rather than a plug-in hybrid like the Volt. And for around $28,000, they'll get an impressive 82-mile range -- a longer distance than the Nissan Leaf, and for less money. The only drawback? The Spark EV is only offered in Oregon, California and (for 2016) Maryland. But Chevrolet says it may soon expand the Spark's reach to many other U.S. states. We hope that happens sooner rather than later.
What's New for 2016?
Although the normal, gas-powered Spark was redesigned for 2016, the Spark EV carries over unchanged. Its only revision is the fact that it's now available in Maryland, in addition to California and Oregon.
What We Like
Quick acceleration from a stop; strong value; good starting price; low range
What We Don't
Limited availability; not as uniquely styled as the Volt; small interior; easy volume knob replaced by buttons
How Much?
$26,000-$26,400
Fuel Economy
Because the Spark EV doesn't have a gasoline engine, it doesn't offer gas mileage in the traditional sense. But the Environmental Protection Agency (EPA) rates the Spark EV at 128 miles per gallon equivalent (MPGe) in the city, and 109 MPGe on the highway. The EPA's MPGe rating is designed to roughly equal a fuel-economy rating for a gas-powered car.
According to the EPA, the Spark EV also returns 82 miles of electric range, though we think it can do even better if you drive conservatively.
Standard Features & Options
The Spark EV comes in just two trim varieties: the base-level 1LT and the upscale 2LT.
Choose the 1LT ($26,000), and you get a long list of equipment, given the car's size and economical positioning. Standard items include Chevrolet's MyLink infotainment system with a 7-inch touchscreen, an AM/FM stereo, heated front seats, 15-in alloy wheels, keyless ignition and entry, Bluetooth, steering-wheel-mounted audio controls and a split-folding rear seat.
Drivers who step up to the 2LT ($26,400) add just two features: a leather-wrapped steering wheel and premium vinyl upholstery.
While the Spark EV doesn't offer many options, it does include one major accessory: a quick charger. Pay the extra $750 for that feature, and the hatchback can recharge 80 percent of its battery capacity in just 20 minutes.
Safety
Like the regular Spark, the 2016 Chevrolet Spark EV is small on size but big on safety. It includes high-tensile steel to help crash safety and torsional rigidity, 10 airbags to improve your chances of surviving a collision and standard features like anti-lock brakes, traction control, stability control and a tire-pressure monitoring system.
Although the National Highway Traffic Safety Administration hasn't crash-tested the Spark or the Spark EV, the nonprofit Insurance Institute for Highway Safety gives an excellent Top Safety Pick rating to the Spark following strong performance in each of the organization's crash tests.
Behind the Wheel
Right out of the gate, the Spark EV feels fast, especially from a dead stop, thanks to its 400 lb-ft of torque. It may not look the part, but the Spark EV really pushes you back in your seat when you push down on the accelerator.
The Spark EV's electric powerplant also gives the car a refined feel, as the EV model feels more substantial and better-built than the standard, gas-powered Spark. Thanks to the electric motor, it's quieter and smoother, too.
We also appreciate the Spark EV's long list of standard features. Remote starting is great, as is the ability to heat or cool the car's interior while it's still plugged in, a useful feature for climates that experience extreme temperatures.
But we really enjoy the Spark EV's confidence gauge, a meter that tells the driver how much charge is left in the battery and how many miles the car can go without recharging. The confidence gauge gives two numbers, a high and a low, along with an estimate of whether your current driving conditions are trending towards the high number or the low one. It's an excellent system that helps eliminate the range anxiety commonly associated with electric vehicles.
Other Cars to Consider
2016 Ford Focus Electric -- The Focus Electric is larger than the Spark EV, and it's more expensive. But the Focus Electric's range is similar to the Spark EV's, and the Ford is more widely available.
2016 Honda Fit EV -- Honda's subcompact Fit EV also boasts a 5-door body style and a fully electric powerplant. More importantly, it's available for sale everywhere.
2016 Nissan Leaf -- Nissan's fully electric Leaf hatchback is slightly more expensive than the Spark EV, and its range is shorter. But interior room is a major step up over the tiny Spark.
Autotrader's Advice
The Spark EV is an excellent electric vehicle if you're looking to maximize your range for a reasonable price. We like its standard equipment, its styling and the fact that it starts around $20,000 after federal tax rebates. Our only gripe is that it isn't available nationally, though Chevrolet says that will soon change.