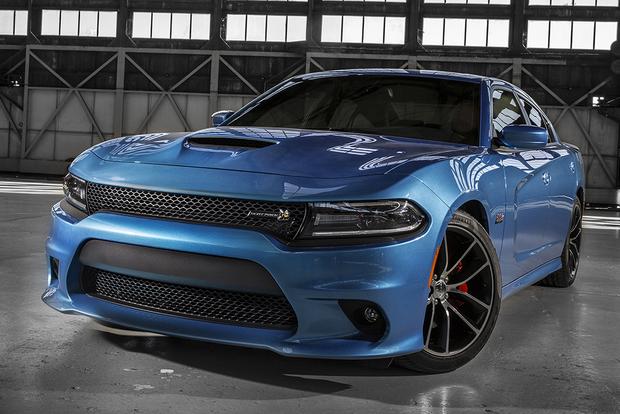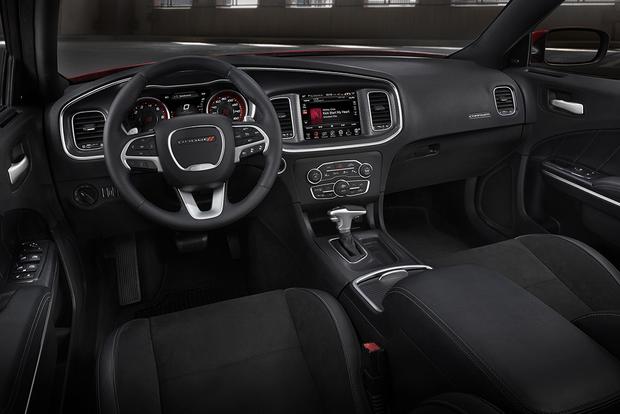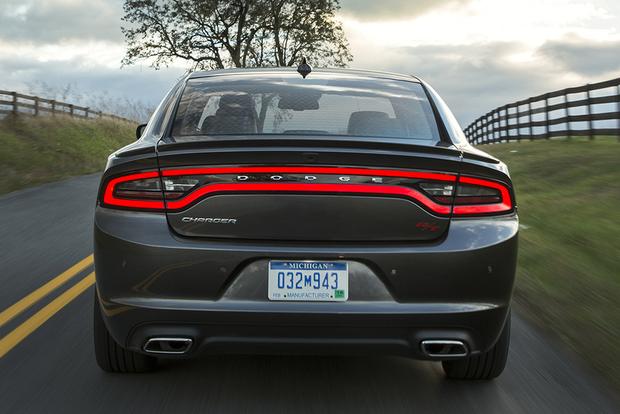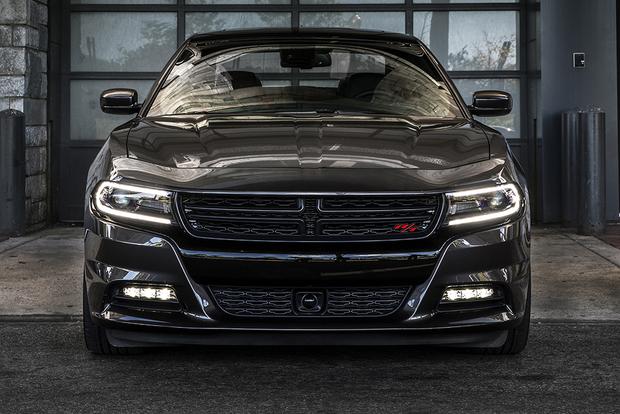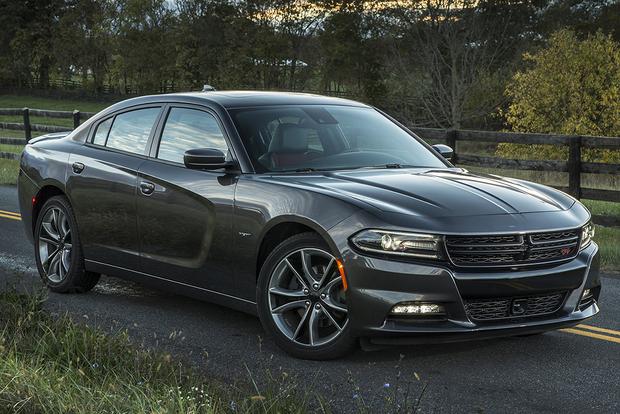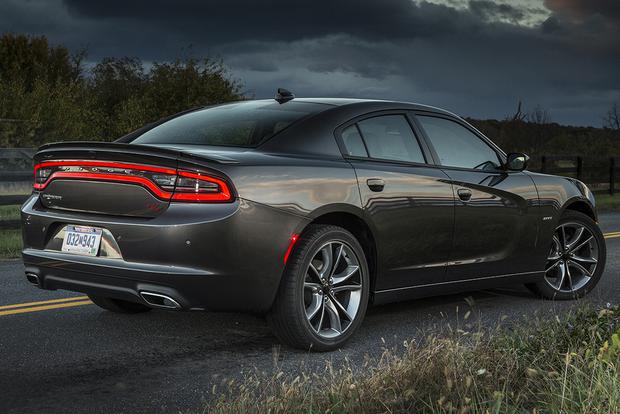 The 2016 Dodge Charger is a full-size sedan that offers a totally different take on the typical full-size sedan.
For one thing, it isn't designed solely for comfort, and it doesn't have innocuous, widely appealing styling like many of its rivals. Instead, the Charger boasts a bold look with a lot of muscle -- a design that was enhanced with some major stylistic revisions last year. And its rear-wheel-drive chassis is designed more for performance than for wafting over bumps. Love it or hate it, these features give the Charger a personality that most rivals can't match.
And then there are the sedan's powertrains: While the Charger offers a V6, like most rivals, it also offers several V8 options, including a high-performance Hellcat model that boasts more than 700 horsepower. You'll also find that the Charger offers many of today's latest gadgets and high-tech features, which makes it a great choice for any shopper looking to break the usual midsize sedan mold.
What's New for 2016?
The Charger sees only minor updates for 2016, including a new Blacktop Appearance package for SXT and R/T models, and a Performance package for the V6-powered Charger SXT.
What We Like
Smooth 8-speed automatic; amazingly powerful Hellcat model; large back seat; excellent infotainment system; more personality than most full-size sedans
What We Don't
You can't get all-wheel drive with a V8; base-level Chargers still feel cheap inside; full-size sedan buyers who want a cushy ride should look elsewhere
How Much?
$29,000-$68,500
Fuel Economy
The 2016 Dodge Charger is offered with four engines: a 3.6-liter V6, a 5.7-liter V8, a 6.4-liter V8, and the high-performance Hellcat model's 707-hp 6.2-liter supercharged Hemi V8. All are mated to an 8-speed automatic transmission.
The base-level 3.6-liter V6 offers 292 hp and 260 lb-ft of torque, though an optional Rallye Group bumps those numbers slightly (to 300 hp and 264 lb-ft). Either way, fuel economy is 19 miles per gallon in the city and 31 mpg highway with rear-wheel drive, or 18 mpg city/27 mpg hwy with optional all-wheel drive.
Step up to the Charger R/T's 5.7-liter V8 and you'll get 370 hp, 395 lb-ft of torque, and 16 mpg city/25 mpg highway. Above that, the R/T Scat Pack and SRT 392 offer a 6.4-liter V8, which touts an amazing 485 hp and 475 lb-ft of torque -- but just 15 mpg city/25 mpg hwy.
Finally, the 707-hp Charger Hellcat returns predictably bad fuel economy: Thanks to its enormous 6.2-liter supercharged V8, it gets just 13 mpg city/22 mpg hwy.
Standard Features & Options
For 2016, the Charger is offered in seven trim levels. V6-powered models are badged SE or SXT, while most R/T models feature the sedan's 5.7-liter V8. The R/T Scat Pack and SRT 392 offer the 6.4-liter V8, while the Hellcat comes with the supercharged 6.2-liter V8.
The base-level Charger SE ($29,000) comes standard with the 3.6-liter engine, along with keyless access and push-button starting, dual-zone climate control, automatic headlights, a Uconnect infotainment system with a 5-inch touchscreen, steering-wheel audio controls, Bluetooth, voice control, a power driver's seat, 17-in alloy wheels, a USB port for music and power accessories.
Step up to the midlevel SXT ($31,000) and you'll retain the V6 -- but you'll also get an 8.4-in touchscreen, heated front seats, SiriusXM radio, automatic climate control and 18-in alloy wheels.
Next up is the R/T ($34,500), which adds the 5.7-liter V8, along with a rear spoiler, sport suspension, upgraded brakes and 20-in wheels.
From there, drivers can upgrade to the R/T Road and Track ($37,500), which retains the 5.7-liter V8 but adds xenon headlights, a power passenger seat, power adjustable pedals, launch control, parking sensors, driver-seat memory, leather upholstery, a heated steering wheel, power adjustable pedals, and sport suspension, adjustable stability control, ventilated front seats, heated rear seats, and Dodge's Performance Pages feature in the car's Uconnect infotainment system.
Next up, drivers can choose between two models with the Charger's 6.4-liter V8: the R/T Scat Pack ($41,000) and the SRT 392 ($52,000). The Scat Pack builds on the base-level R/T (not the Road and Track model), adding a limited slip differential, a backup camera, improved brakes, adjustable steering, and aluminum pedals. The SRT 392 adds in the R/T Road and Track's features, along with xenon headlights, a sport steering wheel, adaptive suspension and a navigation system.
For drivers who want the last word in sedan performance, there's the Charger Hellcat ($68,500). Standard equipment levels are similar to the R/T Road and Track model, though the Hellcat also boasts a 707-hp supercharged V8 and a series of upgrades -- brakes, suspension and driver-selectable vehicle settings -- to help manage all the power.
The Charger also offers a wide range of options and upgrades. Safety upgrades include a backup camera, parking sensors, a blind spot monitoring system, and rear cross-traffic alert. Other options include a navigation system, adaptive cruise control, xenon headlights, heated rear seats and a heated steering wheel.
Safety
The 2016 Charger comes standard with all the safety features you'd expect, including side-curtain airbags, anti-lock brakes, and traction control with stability control. Options range from a backup camera to rear cross-traffic alert, parking sensors, a blind spot monitoring system and even adaptive cruise control.
Although the latest Charger has not yet been crash-tested by the federal government's National Highway Traffic Safety Administration, we expect it to perform similarly to the 2014 model, which received a perfect 5-star overall score. The Charger received mostly good marks in crash testing carried out by the nonprofit Insurance Institute for Highway Safety, though it fell short of the firm's Top Safety Pick designation due to a Marginal rating on the challenging front small-overlap crash test.
Behind the Wheel
Although heavily updated in many ways compared to the outgoing model, the latest Charger drives a lot like its predecessor. Expect a smooth, comfortable ride in V6 models, with rear passengers enjoying a palatial backseat for spreading out. Also expect surprisingly strong acceleration with the V6 -- enough to steer most drivers away from the thirsty V8.
If you do choose the V8-powered Charger, however, we suspect you won't be disappointed with the performance. Thanks to an additional 70 hp and a new 8-speed automatic, Charger R/T models boast impressive acceleration and the most eager powertrain in the full-size sedan segment. Handling is also surprisingly crisp in both V6 or V8 guise -- a big departure from the vague rental carlike steering of older Charger models.
As for the Hellcat, performance is truly impressive. If you want one, you probably already know it, as there's really nothing else like it on the market today -- except, of course, for the Hellcat version of Dodge's 2-door Challenger coupe.
Other Cars to Consider
2016 Dodge Challenger -- If you like the Charger's attitude and don't need the doors, consider the Challenger coupe. It offers the same exuberant powertrains and an even bolder look.
2016 Chrysler 300 -- The mechanically identical Chrysler 300 is the Charger's uptown sibling. That means you'll pay more, but you'll arguably get more, as the 300 is more of a true luxury car than the Charger.
2016 Ford Taurus -- If you like the Charger's size but not its styling or high-performance attitude, consider the front-wheel-drive Ford Taurus. It offers better gas mileage and more traditional styling for drivers who don't need the Charger's bold looks.
Used Hyundai Genesis -- The rear-wheel-drive Hyundai Genesis sedan has crept up in price, power and luxury over the years. To us, most Genesis models present a more elegant alternative to upper-end Chargers -- but with rising prices, you may have to consider a used model.
Autotrader's Advice
Unless you're a die-hard muscle-car fan, we recommend the V6-powered Charger SXT. It may lack the punch of a V8, but it compensates with impressive refinement, strong fuel economy and lower price. Of course, we'd also love to get our hands on a Hellcat -- but considering its cost and gas mileage numbers, it's certainly not for everyone.