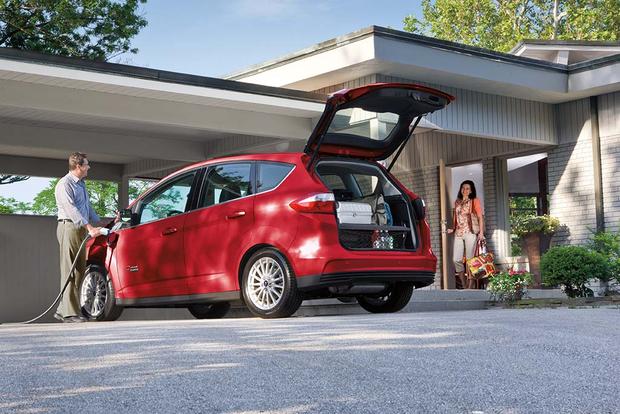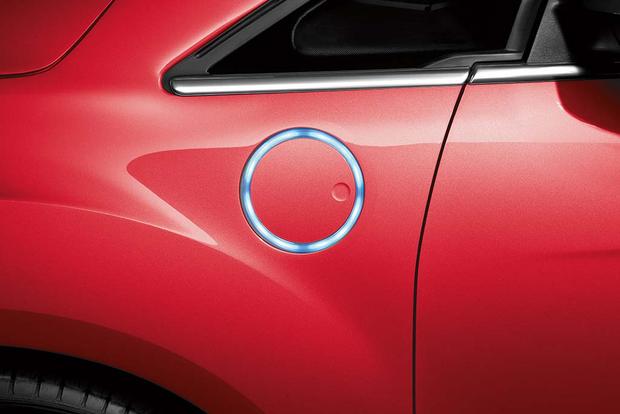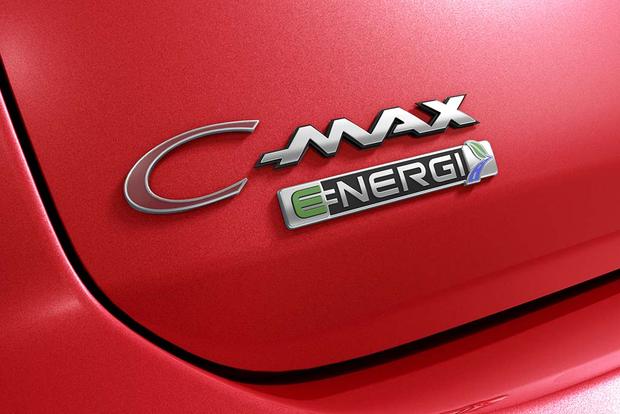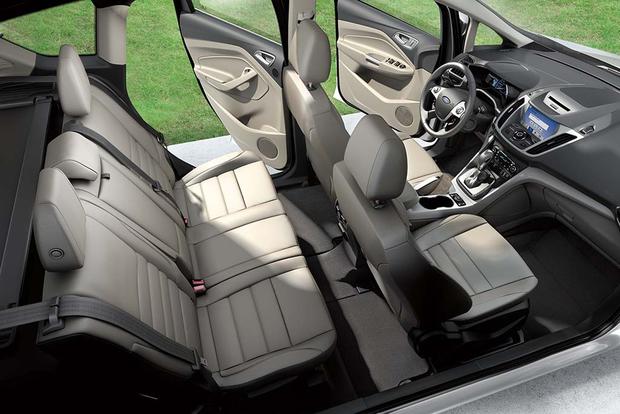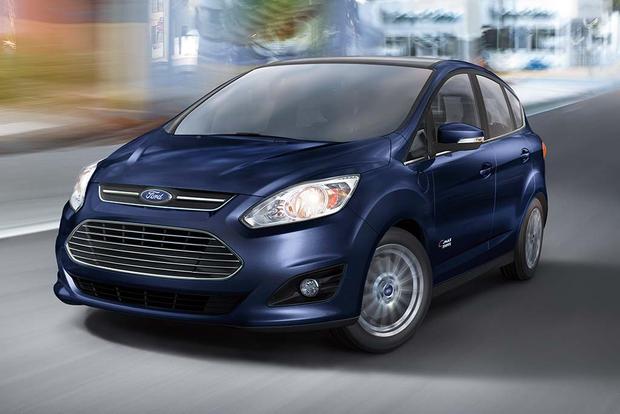 The 2016 Ford C-MAX Energi is a plug-in hybrid that has a compact-car footprint but also an elevated driving position. Buyers of mainstream cars might be put off by the notion of a plug-in hybrid, thinking it's perhaps too involved for a family when there are a million other things to think about. But this is a Ford, so it's as mainstream as it could be.
But just to make things clear, let's start with the basics. As a plug-in hybrid, the C-MAX Energi is basically two cars in one, featuring both an electric motor and a gasoline engine. Like the Chevrolet Volt but unlike the plug-in Toyota Prius, it has a true electric vehicle (EV) mode that keeps the gas engine off, even when you floor it. The beauty of this dual-mode system is that if the car runs out of battery power, the gas engine automatically starts up and turns the Energi into a regular car.
The C-MAX Energi is good for 550 miles of range between fill-ups, and its all-electric mode is tuned for real-world driving, so there's plenty of power and a top speed of 85 miles per hour. Throw in family-friendly seating for five, and you have one of the most well-rounded hybrid vehicles on the market.
However, the Energi may not be for everyone. For example, if someone wants to commute in EV mode only, the Volt is a better choice, as it offers 53 miles of electric range to the Energi's 19 miles. And although the Energi's tall wagon body style appears practical, take a look at the battery pack housing in the trunk and see if there's still enough cargo space for your needs.
That said, the C-MAX Energi combines Volt-like engineering with real-world usefulness, and that should be enough to put it on the radar of green-car shoppers and everyday car shoppers alike.
What's New for 2016?
A new user-friendly SYNC 3 infotainment system (featuring an 8-inch touchscreen with functions such as swipe and pinch-to-zoom) replaces the previous, user-unfriendly MyFord Touch.
What We Like
Drives like a tall Focus (that's a good thing); 550-mile driving range; quiet cabin; five seats; usable EV mode in real-world driving
What We Don't
Electric range limited to 20 miles; compromised cargo capacity; not a great value; noisy gasoline engine
How Much?
$32,645
Fuel Economy
The C-MAX Energi is propelled by a 2.0-liter 4-cylinder gasoline engine and an electric motor. A continuously variable transmission connects these sources to the road through the front wheels. Total system power is a respectable 188 horsepower.
A full charge using a 240-volt charging station takes about 2.5 hours. Double that time with a regular 120-volt outlet.
The Environmental Protection Agency has a methodology for electric vehicles to calculate the average distance traveled per unit of energy consumed --miles-per-gallon equivalent (mpge) -- and the C-MAX Energi averages out at 88 mpge.
For comparison, the 2016 Chevrolet Volt achieves 102 mpge, and the 2015 Toyota Prius plug-in hybrid manages 95 mpge. Using standard hybrid power, the Energi gets 38 mpg combined, close to the Volt's 42 combined mpg but falling far short of the 50 combined mpg obtained by the Prius plug-in hybrid.
Standard Features & Options
The 2016 Ford C-MAX Energi is offered in one well-equipped SEL ($32,645) trim level.
Among the standard features are 17-in alloy wheels, fog lights, rain-sensing wipers, rear parking sensors, keyless entry/starting, leather upholstery, heated front seats, automatic climate control, an external 120-volt/240-volt plug with LED perimeter illumination, SYNC 3 with Energi-specific EV displays, two USB ports, Bluetooth, a 6-speaker audio system and compatibility with a smartphone app that displays the Energi's vital signs remotely.
Options include navigation, the premium Sony 9-speaker audio system with HD radio, a rearview camera, a panoramic fixed-glass sunroof, a hands-free lift gate with a foot sensor, front parking sensors and an automated parallel-parking system.
Cargo space is something of an issue because of the lithium-ion battery pack that sits on the trunk floor. The official cargo area is 19.2 cu ft. behind the back seat and 42.8 cu ft. with the rear seatbacks folded down. When they're folded, there's a big drop-off from the battery shelf down to the seatbacks.
Safety
Standard safety features include stability control, 4-wheel anti-lock disc brakes and seven airbags (front, front-side, driver-knee and full-length side-curtain).
In government crash tests, the C-MAX Energi scored an overall four stars out of five: four stars for frontal impacts and five stars for side impacts. The Insurance Institute for Highway Safety gave the car its highest score of Good in most categories except for the tricky small-overlap front test, where the Energi still managed to achieve the second-best score of Acceptable.
Behind the Wheel
The C-MAX Energi drives almost exactly like a regular car. The one big clue that this is something extraordinary comes in full EV mode, in which the only sound is a gentle rush of the wind. There really isn't much noise at highway speeds (in marked contrast to the plug-in Prius). The ride quality is also comfortable and confident, giving the surprisingly athletic Volt some competition.
Even in full EV mode, the Energi has sufficient power, but the gasoline engine adds a welcome push for passing maneuvers. The one objection here is the intrusive drone of the engine during these moments.
Front-seat comfort is satisfactory, with plenty of height adjustability for the driver's seat. The rear section isn't exactly spacious, but two adults can fit fairly well, and the middle seat makes the Energi a more viable option for growing families.
Other Cars to Consider
2016 Chevrolet Volt -- The Volt is a must-drive if you're considering a plug-in hybrid. It still offers the best EV range in this category, and it's all new for the 2016 model year.
2016 Ford C-MAX Hybrid -- The C-MAX Hybrid doesn't plug in or offer a pure EV mode, but the regular C-MAX Hybrid is otherwise similar, and it's more affordable.
2016 Nissan Leaf -- The all-electric Leaf could be ideal as a second car for commuting. Its 107-mile EV range doubles that of the Volt.
2017 Toyota Prius Prime -- There's a new generation of the Prius plug-in hybrid due soon, and it's expected to achieve 120 mpge.
Autotrader's Advice
There's only one version of the 2016 Ford C-MAX Energi, and it's absolutely worth checking out.