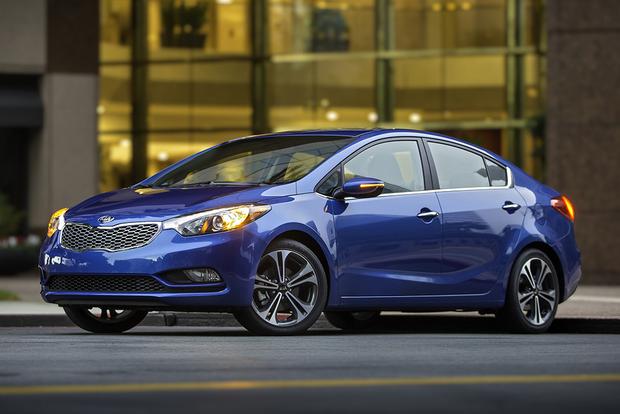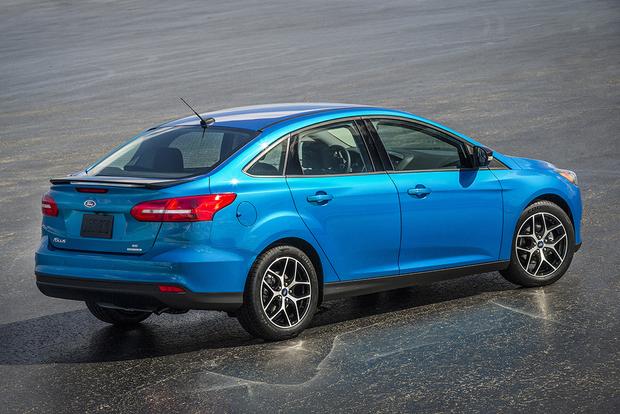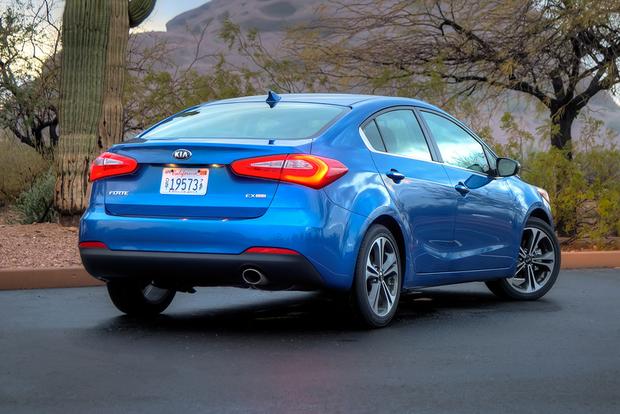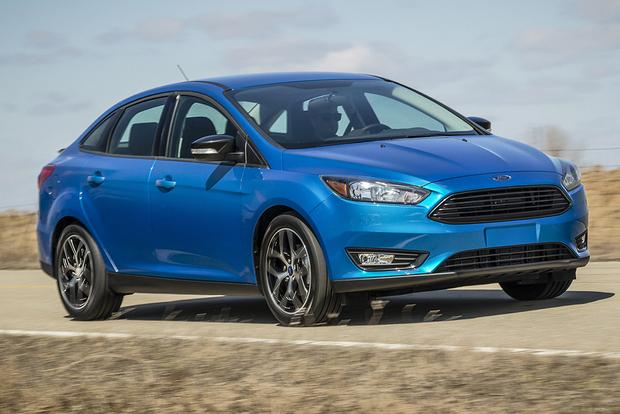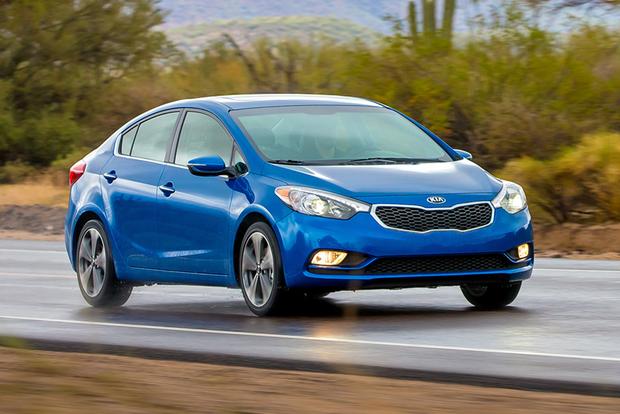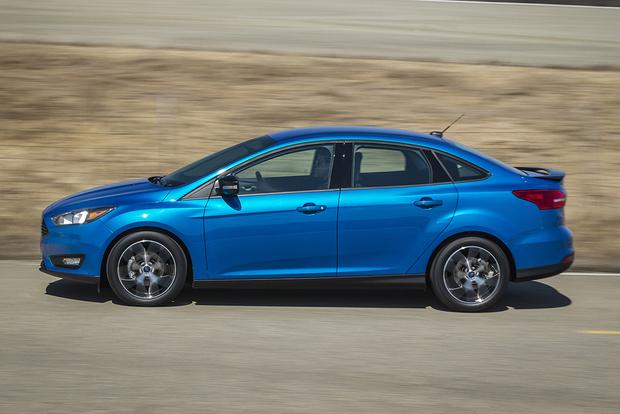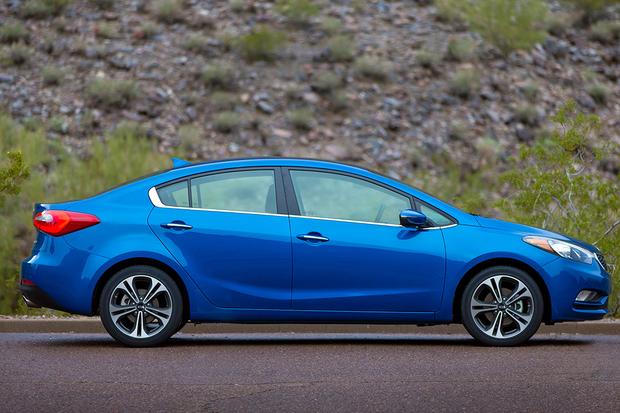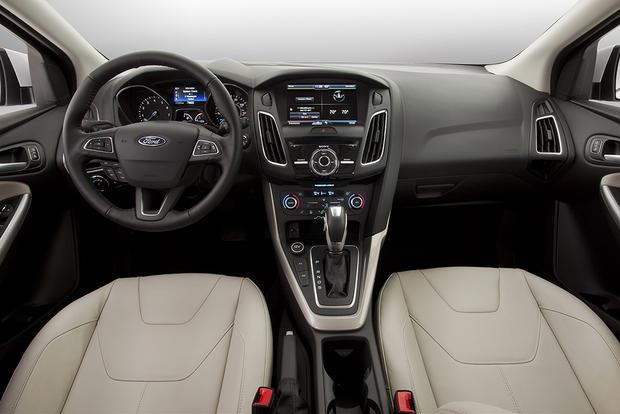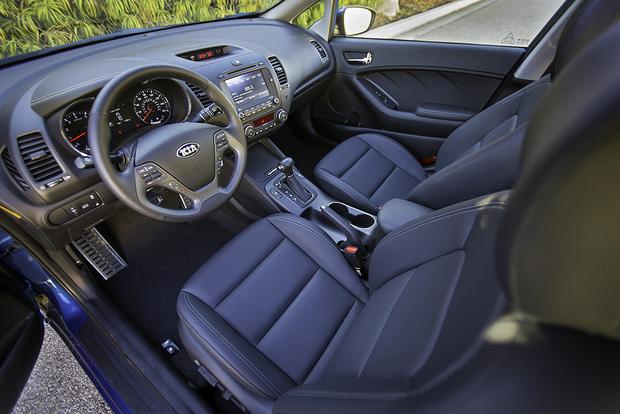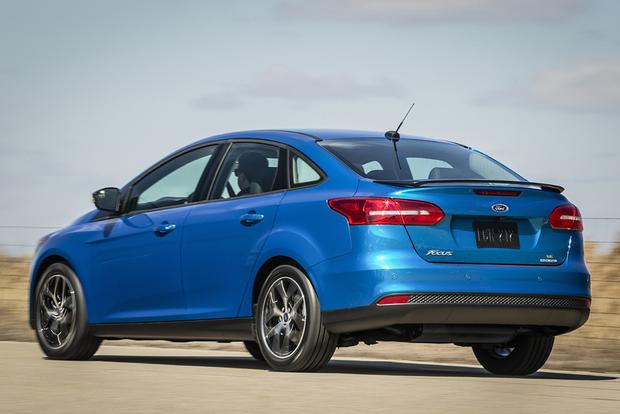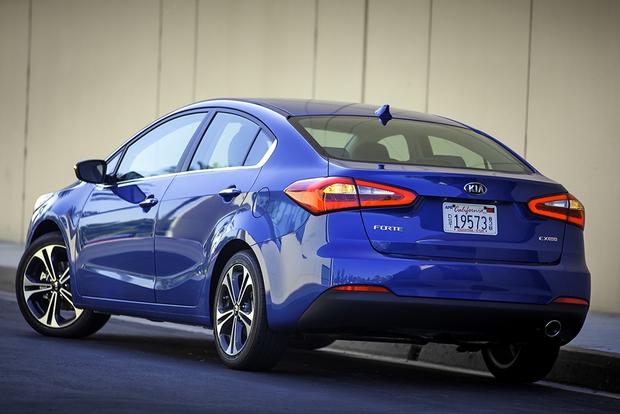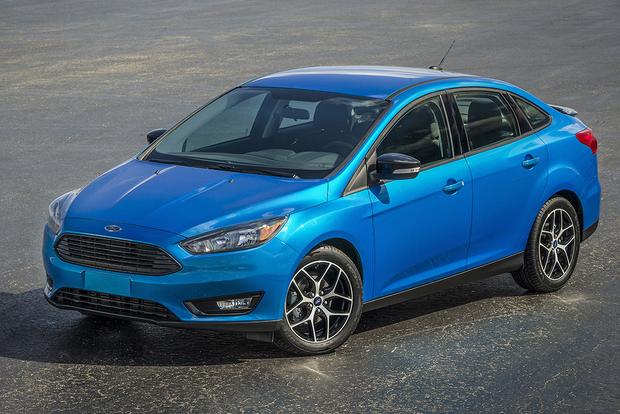 If you're interested in a new compact car, you're probably overwhelmed with all the choices -- from Toyota and Honda to Ford, Chevrolet and Kia to name a few. To help you decide on the right model, we've created a comparison between two of our favorite compacts: the 2016 Kia Forte and the 2016 Ford Focus. Both offer a lot of major benefits, from pricing to equipment -- so which one should you choose? We'll help you answer that question -- but first, let's see what's new with the Focus and the Forte for the 2016 model year.
2016 Ford Focus Changes
The Focus offers two major changes for 2016: a new automatic transmission option for its tiny 3-cylinder engine and Ford's latest "Sync 3" infotainment system.
2016 Kia Forte Changes
The Forte sees only one change for 2016: the model's base-level LX trim is now offered on the practical hatchback body style, in addition to the Forte sedan.
Reliability
According to automotive reliability experts at J.D. Power, the Kia Forte delivers Average reliability. Experts at Consumer Reports concur with that rating. While J.D. Power hasn't yet rated the latest Ford Focus, Consumer Reports gives it a Below Average reliability score.
The Forte also wins on warranty length, as it offers a 5-year or 60,000 mile bumper-to-bumper plan (compared to three years or 36,000 miles for the Focus) and 10 years or 100,000 miles of powertrain coverage (compared to five years or 60,000 miles for the Focus). As a result, the Forte is our choice if you're interested in reliability.
Fuel Economy
The Focus offers four engine choices. Most models use a 160-horsepower 2.0-liter 4-cylinder, which comes with a 5-speed manual or 6-speed automatic; fuel economy reaches as high as 27 miles per gallon in the city and 40 mpg on the highway with the automatic, or 26 mpg city/36 mpg hwy with the automatic.
Drivers interested in a more economical Focus can choose between two other versions of the compact car. One is a 3-cylinder model, which uses a 123-hp 1.0-liter turbocharged "EcoBoost" powertrain to get 29 mpg city/40 mpg hwy. Drivers can also opt for the Focus Electric, which uses a 143 hp all-electric powertrain and can travel around 75 miles between charges.
Meanwhile, drivers who want additional performance can opt for the Focus ST, whose 252-hp turbocharged 4-cylinder achieves excellent performance and gas mileage of 23 mpg city/32 mpg hwy.
The Forte has three available engines. Base models use a 145-hp 1.8-liter 4-cylinder, which returns up to 26 mpg city/39 mpg hwy with an automatic transmission or 25 mpg city/37 mpg highway with a manual. Step up to the EX and you'll get a 173-hp 2.0-liter 4-cylinder, which offers up to 24 mpg city/35 mpg hwy. Finally, the Forte SX touts a 201-hp 1.6-liter turbocharged 4-cylinder, which boasts up to 22 mpg city/30 mpg hwy.
Although that's a lot of numbers, the general gist is that the Focus touts better gas mileage than the Forte at nearly every level -- though base models offer relatively close figures.
Safety
In National Highway Traffic Safety Administration crash testing, the Kia Forte earned four stars out of a possible five. The Focus earned a perfect 5-star overall score. It's the same story with Insurance Institute for Highway Safety crash testing, as the Focus earned an excellent Top Safety Pick rating -- a designation the Forte couldn't capture after it scored a troubling Marginal rating in the firm's challenging front small-overlap crash test.
The Focus also offers an advantage when it comes to safety features. While both cars have everything you'll need (standard side-curtain airbags and anti-lock brakes, for example), only the Focus offers an optional blind spot monitor, rear cross-traffic alert, and a lane-departure warning system. Additionally, only the Focus boasts a standard backup camera -- it's optional in the Forte.
Technology
As you might expect given its safety equipment advantages, the Ford Focus offers some benefits over the Kia Forte when it comes to technology and features.
For example, only the Focus offers an automated parallel parking system, a remote starter and automatic high beam control. And we've already covered some of the safety advantages offered by the Focus, including rear cross-traffic alert, lane-departure warning and a standard backup camera.
That isn't to say the Forte is behind the times. Quite the opposite, in fact: it offers a heated steering wheel, xenon headlights, heated rear seats, a ventilated driver seat and an impressive touch screen infotainment system -- features not commonly found on compact cars. Its only problem is that the Focus offers nearly all of those items, too -- and then some.
Value
Although the Focus seems to beat out the Forte in a few crucial areas -- such as safety, equipment and fuel economy -- the Forte holds its own in those categories. The Kia also wins in reliability and warranty length, and it has another ace up its sleeve: pricing. While the Focus starts around $18,200 with shipping, the Forte is just under $17,000 -- a big difference in the world of compact cars.
Admittedly, the Focus offers a few more standard features that help to justify that increased base price -- such as a backup camera and a 4.2-inch display screen. But for drivers especially interested in getting a good deal on a new compact car, the entry price is crucial -- and the Forte certainly trumps the Focus. As a result, we consider the Kia to be the winner when it comes to value.
Autotrader's Advice
Choosing between the 2016 Ford Focus and the 2016 Kia Forte is difficult, because we think these are two of the best compact cars on the market. So in the end, our decision is a split one.
If you're on a tight budget, go with the Forte. You'll prefer its lower pricing and its improved reliability -- and you won't miss out on the high-end options, since you wouldn't have chosen them anyway. If you have a little more to spend, we'd go with the Focus, as you can get additional equipment, gadgets and safety features that aren't available in the Forte.