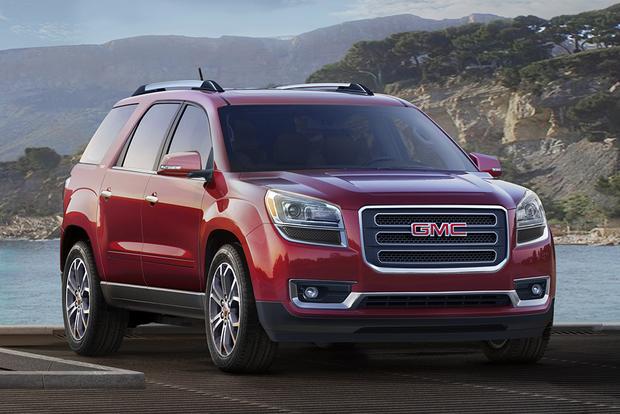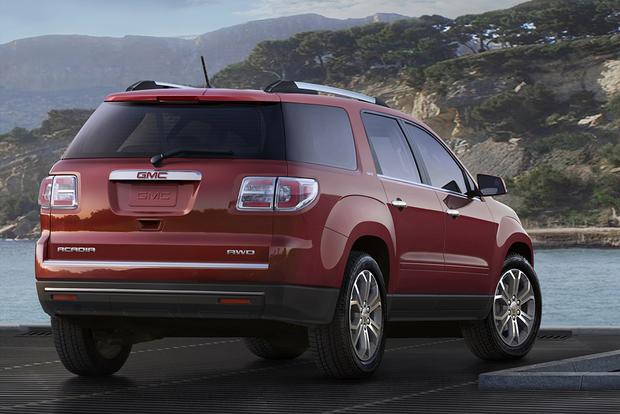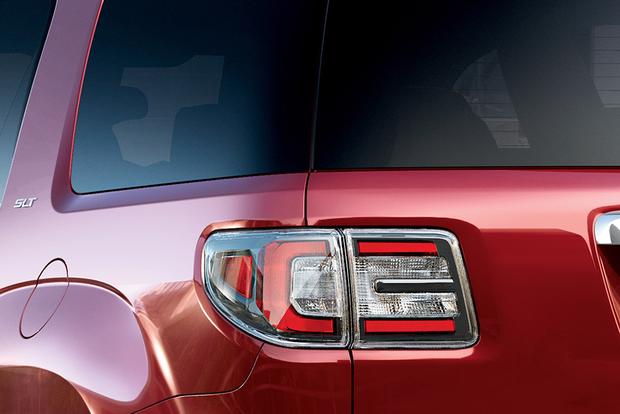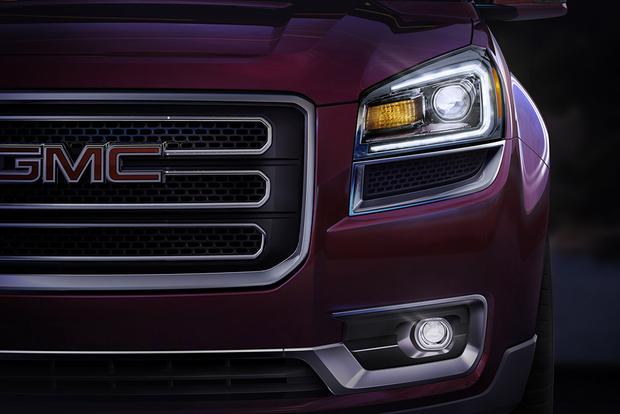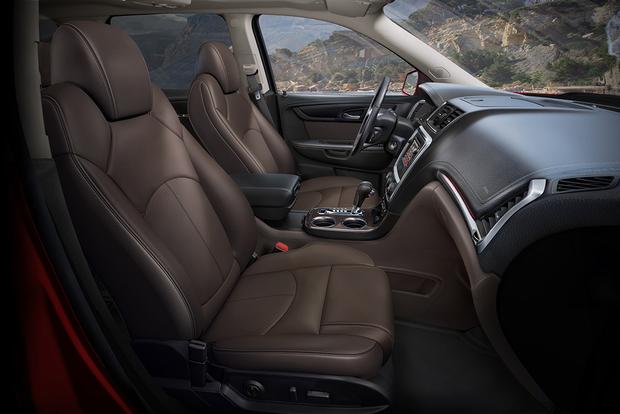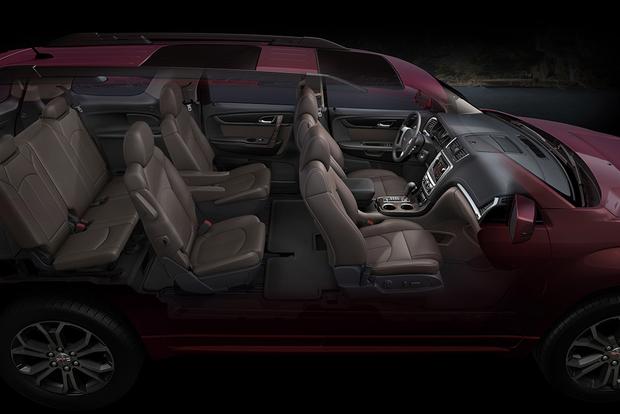 Like its nearly identical siblings, the Buick Enclave and Chevrolet Traverse, the 2016 GMC Acadia offers a complete package emphasizing passenger comfort, driveability, functionality, fuel economy and spaciousness. So spacious is the Acadia, in fact, that it can seat up to eight passengers and still retain a reasonable amount of cargo room.
Although the three large GM crossovers are mechanically and structurally the same, each establishes its own distinctive personality with unique features and design cues. While the Buick Enclave is the most upscale and the Chevrolet Traverse focuses more on utility, the GMC Acadia bridges the two by offering an even mix of practicality and rich user content. Furthermore, the Acadia distinguishes itself with bolder, squared-off styling that speaks to its GMC truck heritage.
Despite its bold and somewhat rugged exterior, the Acadia isn't based on a truck -- and it's not designed for heavy trailering or off-road adventures. For these kinds of activities, a full-size SUV such as the Chevrolet Tahoe or GMC Yukon is better. That said, the Acadia is still capable of towing a 5,000-lb boat and treading through virtually any kind of road condition when equipped with all-wheel drive. That kind of competence is more than sufficient for the needs of most American families.
What's New for 2016?
The Acadia makes two major changes for 2016. There's a new base-level SL trim, along with a revised version of GM's OnStar system that now includes 4G LTE Wi-Fi capability.
What We Like
Bold styling; seating for up to eight passengers; vast cargo space; car-like handling; very good fuel economy; compliant ride; comfortable interior
What We Don't
Not as capable as a true truck-based SUV; limited maneuverability; aging design; high-tech safety features aren't cheap enough
How Much?
$31,900 - $48,600
Fuel Economy
The GMC Acadia is available with front- or all-wheel drive. Power comes from a 3.6-liter V6 that makes 288 horsepower and 270 lb-ft of torque, while a 6-speed automatic is the only transmission. Gas mileage is rated at 17 miles per gallon city and 24 mpg highway with front-wheel drive, or 16 mpg city/23 mpg hwy with all-wheel drive.
Standard Features & Options
The GMC Acadia offers six trim levels. There's a new-for-2016 base-level SL trim, followed by the mid-level SLE-1 and SLE-2, the upscale SLT-1 and SLT-2 and the luxurious top-end Acadia Denali. Seven-passenger seating is standard on all trim levels above SLE-1, while 8-passenger seating is standard on SL and SLE-1 models, and optional on the rest.
The new SL ($31,900) includes only the basics, like a backup camera, rear park assist, OnStar with the new 4G LTE Wi-Fi hot spot, remote keyless entry, 18-inch alloy wheels, roof racks, automatic headlights, a leather-wrapped steering wheel with audio controls, power accessories and a 6.5-in center touchscreen. The SL is only offered with front-wheel drive.
Although the SLE-1 ($35,500) doesn't really offer any major improvements over the SL, it does come with available all-wheel drive and standard SiriusXM radio.
Move up to the SLE-2 ($37,700) and you get a power liftgate, a remote starter, power driver and passenger seats, voice control for the infotainment system and Bluetooth audio. As mentioned, the SLE-2 also trades in the SLE-1's second-row bench for second-row captain's chairs, which drops seating capacity to seven. The bench remains an option.
Choose the SLT-1 ($41,900) and you get leather upholstery, heated front seats, tri-zone automatic climate control, a Bose sound system, 19-in alloy wheels and heated mirrors.
Next up is the SLT-2 ($43,200), which boasts driver memory settings and power-folding mirrors. It also adds a few new options, including a Technology Package with xenon headlights, a heads-up display and audio controls for third-row passengers.
Topping the range is the Acadia Denali ($48,600), which includes the SLT-2's Technology Package as standard equipment. It also adds a few unique exterior touches, a panoramic sunroof, 20-in alloy wheels and a wood-trimmed steering wheel.
In terms of options, the Acadia offers a panoramic sunroof (standard on the Denali), a navigation system and a rear-seat DVD player. SL models feature very few options; drivers who want extra features must instead step up to an SLE, SLT or Denali model to make any additions.
Safety
The Acadia's roster of safety equipment includes an anti-lock braking system, stability control, traction control and six standard airbags, including third-row head curtains. The new front-center airbag, designed to provide a cushion between the driver and front passenger, is standard on all but the base Acadia SL and SLE models. Blind spot monitoring and rear cross-traffic alert are standard on the Acadia Denali, and available on most of the rest of the lineup. GM's OnStar emergency Telematics service is standard across the Acadia range.
In government crash tests, the 2016 GMC Acadia received a perfect 5-star overall score, comprised of five stars for frontal and side crash protection, and four stars in the government's rollover assessment. The Acadia hasn't yet gone through a full round of testing from the nonprofit Insurance Institute for Highway Safety to earn a rating from that firm.
Behind the Wheel
Above all, the 2016 Acadia delivers a comfortable and well-controlled ride. It's smooth and quiet without feeling floaty, which results in daily commutes that are high on driving enjoyment and low on fatigue.
Like its Buick and Chevy counterparts, the Acadia benefits from car-like handling, a function of its car-like unibody construction. It feels sharper and more secure than most other big SUVs, which inspires plenty of confidence in corners. Still, drivers must remain conscious of the Acadia's large size, which becomes apparent on narrow city streets or in crowded parking lots. Among other concerns, low-speed maneuverability is limited.
The Acadia's power gives it a smooth and confident manner. And when the need arises, it can accelerate strongly, both off the line and in passing situations at highway speeds. However, don't expect the same performance when the vehicle is loaded down with passengers and cargo, or when towing a heavy load.
Although it's not meant for off-roading, the Acadia is more than capable in harsh weather and on rough roads, especially when equipped with all-wheel drive. Available 19- and 20-in wheels are helpful in wet and snowy conditions.
Other Cars to Consider
2016 Chevrolet Traverse -- Based on the same GM architecture as the Acadia, the Traverse is very similar in all respects. The Acadia's interior materials are nicer, but the Traverse has a roll-mitigation system not found on the Acadia.
2015 Dodge Durango -- The Durango is more like a traditional SUV and offers more off-road and towing prowess. However, the Acadia is ahead in space, ride comfort and fuel efficiency.
2015 Nissan Pathfinder -- The excellent Nissan Pathfinder offers a car-like ride, a lot of luxury equipment and impressive fuel economy. It also touts a newer design than the Acadia, both inside and out.
Used GMC Yukon -- If you like what you see but you just want more, consider the GMC Yukon. It offers more room, more power and more capabilities -- for more money, of course. As a result, you may want to consider a used one instead of a brand-new model.
AutoTrader's Advice
Of the Acadia's five trims, a mid-level SLT-1 is our pick. It's equipped with the most balanced array of amenities for the money. The up-level SLT-2 and Denali models are perhaps overloaded with creature comforts, while the base SL and SLE are a bit too simple for our tastes. We suggest considering adding some standalone options such as navigation and the rear-seat DVD system to the Acadia SLT, especially for families who like to travel. And everyone, especially if you live in a cold climate, should consider the added traction of all-wheel drive.