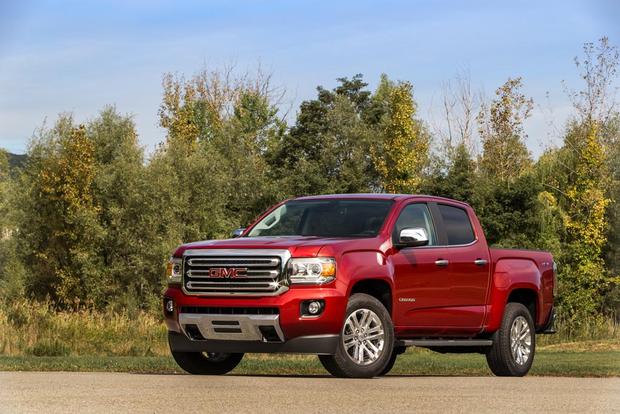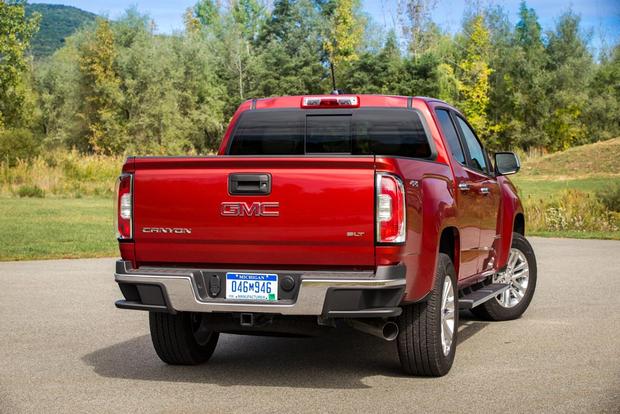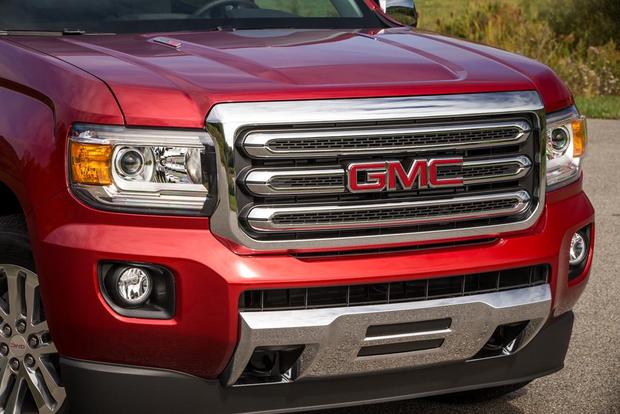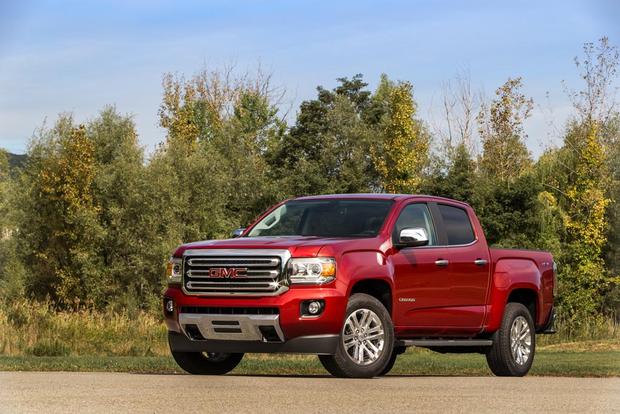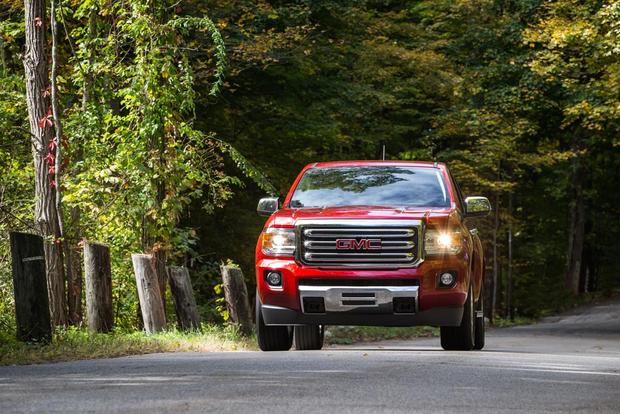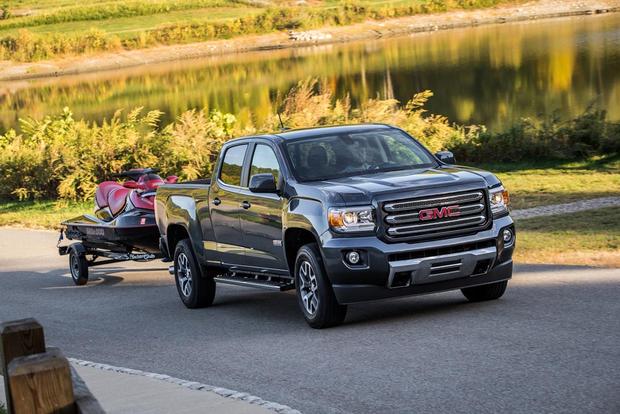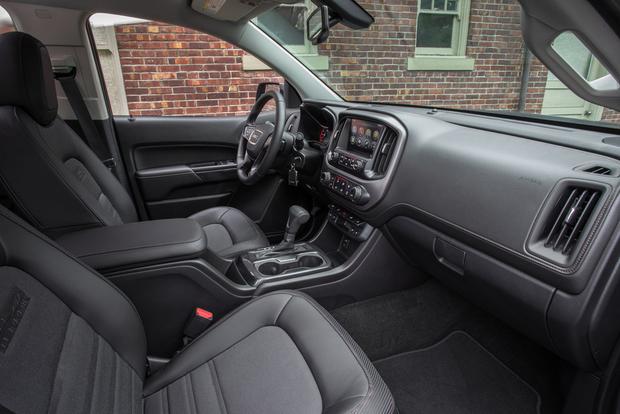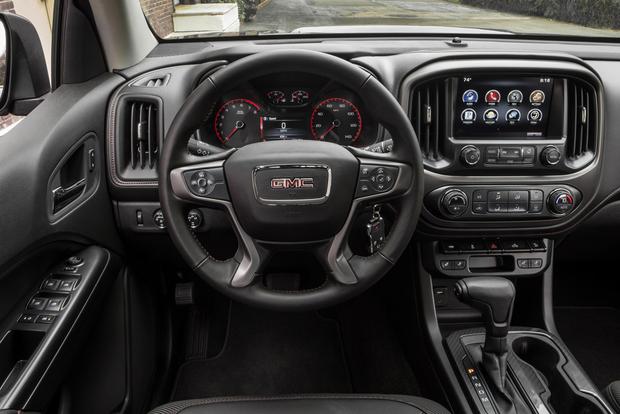 The 2016 GMC Canyon carries over the success of its freshman year in the North American market by going a step further and introducing a diesel option to the platform. Buyers looking for high torque and increased towing capabilities would be wise to consider this new package. Reappearing in 2015 alongside its Chevrolet Colorado cousin, this midsize truck made up a lot of ground when compared to the model that left the segment in 2012. For 2016, the General goes even further.
The Canyon (base price of $37,450) maintains its premium status by bringing the segment-exclusive Duramax 2.8-liter turbodiesel 4-cylinder engine to the mix ($3,730). Offering 181 horsepower and 369 lb-ft of torque and available from 2,000 rpm onward, it's the same diesel used in the global version of the Canyon but specifically tailored to the North American market. Along the way, it benefits by the addition of 700 pounds of towing capability, increasing that load to 7,700 pounds in 2-wheel drive.
When General Motors reintroduced the vehicle in 2015, there were already plans to bring a diesel to the marketplace. Not just an afterthought, the Canyon was engineered from the start to accommodate this newest high-torque powerplant. It can operate on traditional diesel or biodiesel fuel.
The Duramax is mated to a standard Hydra-Matic 6L50 6-speed automatic transmission with a centrifugal pendulum vibration absorber (CPVA) to assist with noise and vibration reduction.
Speaking of vibration reduction, the Canyon rides on a 2- or 4-wheel-drive (4WD) independent front suspension with coilovers and twin-tube shocks. Bringing up the rear is a solid axle with multileaf springs, twin-tube shocks and an available GM G80 automatic-locking rear axle that is standard on the All-Terrain version and available on SLE and SLT models.
A new smart diesel exhaust braking system allows for compression braking while going downhill and extends overall brake life. An all-new integrated brake controller is standard on diesel models, while a 2-speed transfer case can be ordered with 4WD systems. General Motors has not released Canyon diesel mileage ratings at this time.
If buyers are not of the oil-burning persuasion, they can also order the Canyon with either a 2.5-liter 200-hp/190 lb-ft of torque inline 4-cylinder gas engine or a 3.6-liter V6 that makes 305 hp and 269 lb-ft of torque. Cross shoppers of the Canyon will likely look at the Toyota Tacoma, Nissan Frontier and its corporate cousin, the Chevrolet Colorado.
Stylish Trim
The Duramax diesel will only be offered on high-grade SLE and top-range SLT Crew Cab versions of Canyons equipped with 2- or 4WD. The Canyon is complete with a chromed grille and signature C-shaped LED daylight running lights that make its Chevrolet cousin look like a wallflower by comparison. Off-road use might be hindered by the aerodynamically low sweep of the front fascia. Buyers can choose a 5-foot-2-inch or 6-foot-2-in cargo box, either of which includes GM's exclusive corner steps for easy access into the bed. Both feature 13 movable tie-downs to secure cargo or attach the GearOn system of cargo accessories. A factory-added spray-in bedliner is also an available option. The rear gate offers a standard rearview camera to assist with trailer hitching and backup and is included with an SLT-standard EZ-Lift and Lower damped tailgate for easy access.
Side-step and running-board options exist, but with the vehicle's already low stance, we think they only help to get pants dirty while getting in or out.
The interior is a carry-over from 2015. But carry-over doesn't mean designers shirked their responsibilities in outfitting this midsize pickup that thinks it's a full-sizer. Soft-touch materials are all around and make the cabin an inviting space to drive, work and play in. The available 8-in touchscreen returns with a suite of apps and is now complete with OnStar with 4G LTE and Apple CarPlay through GMC's IntelliLink platform. Our tester ($43,960 including a $925 destination fee) included the available Driver Alert package with forward-collision alert and lane-departure warning.
Our Crew Cab was equipped with a 60/40 folding rear seat that operates two ways for added convenience. The seatbacks flip down, and conversely, the seat bottoms flip up for expanded back-seat storage. A sliding rear window is now standard on the top-shelf SLT and included in the SLE Convenience package.
Behind the Wheel
The Canyon displayed loads of pulling power thanks to the Duramax 4-cylinder turbodiesel. With the cast-iron engine weighing in at 250 pounds more than the current gas-burning V6, we expected a subtle vibration that's telltale of diesels above the 2.4-liter range. Instead, and thanks to the CPVA, we were rewarded with a refined time behind the wheel of this midsized pickup truck.
The result is an exceptional driving experience. Noise, vibration and harness has been totally improved, and we were impressed with the quietly serene ride quality. Credit goes to the Canyon's triple-sealed doors. We felt there was a bit of play in the electric power-assisted steering, but it turned out to be well-suited for most driving situations that we encountered.
Driving through the streets of New York City, which is not as unlikely a place for a midsize pickup truck as you may think, gave us an opportunity to experience the 2016 GMC Canyon's versatility and handling prowess throughout our route. City potholes, expansion joints and irregular road surfaces, not to mention the feeling of being in the bumper-car rides at Coney Island, gave the Canyon's suspension a workout, but it still resulted in a quiet, nonjarring ride quality that was befitting of any type of premium-equipped pickup truck -- midsize or not.
To gain access to this information, Autotrader attended an event sponsored by the vehicle's manufacturer.